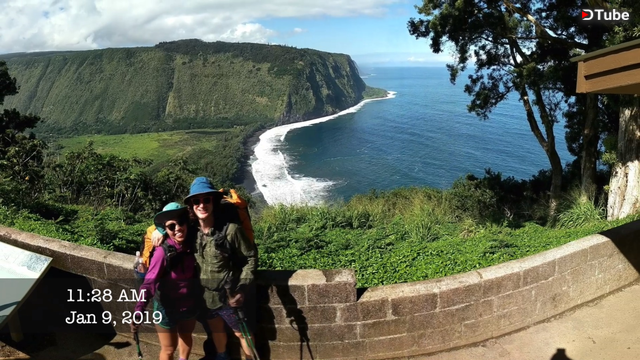 ---
The first thing @dhimmel and I did after attending a conference in Hawaii is hiking the Muliwai trail, which starts in Waipio and ends in Waimanu. On the second day, we extended the hike to Wai'ilikahi Falls, some of the tallest waterfalls in the US. The entire hike was ~ 22 miles and took us ~ 50 hours.
See, the thing is, I was overconfident and thus extremely unprepared. The only thing I knew about hiking in Hawaii was 30 seconds of watching someone talking while hiking to Mauna Loa (completely different terrain and climate).
Timing
We started late. Thinking "oh this 8-mile trail will take us at most 4 hours", we were straggling in the morning: went on a short hike on the other side of the valleys, made some conference calls while we still had signal, got ice cream, etc. Even when we got down to Waipio, we relaxingly had lunch. Big mistake! We were the last hikers to get to the campsite (7 pm).
Bug
I mean, in the Mauna Loa video, I saw no mosquitos. I falsely generalized this dry climate and lava rock terrain to the rest of Hawaii.

Located north of the island, this trail falls under the continuously wet climate in the 8 climates of the Big Island, and of course has many many mosquitos.

Gear
Instead of my usual hiking shoes, I packed my running shoes (with the intention to force myself to go run during the conference - which I did, but could have also done in my hiking pair) and a pair of sandals (which we left in the car). I immediately regretted my footwear choice when we started going from the car to the trail head: it was a steep, muddy, slippery, terribly paved road of which we estimated ~ 15 to 20% slope.
The trail was slightly better, until the rain came... Terrified of slipping and hitting my head hard, I took off my running shoes and wore my aqua socks for most of the hike. (You might guess, these socks were severely torn by the time I got to camp, and you would be right.) I was tired and hungry. I swallowed the guava @dhimmel found on the ground. The last 0.9 mile was the hardest because it was steep downhill in mud/rock/ferns/sharp palm leaves. In the dark. "Nature beats me, once again." - I told Daniel and started sniveling.
But that was not the end of it. We got to almost to the campsite and didn't know how to go across the river. We shouted for help. From campsite no. 3, Joe came out and showed us a spot to cross. What it looks like during daytime:

With no rain the day before and our adjusted expectation, the hike back was a lot drier and faster.

Now that I have told you all the challenging parts of the hike when the camera was not out, enjoy the video with many positive moments!
---
▶️ DTube
▶️ IPFS