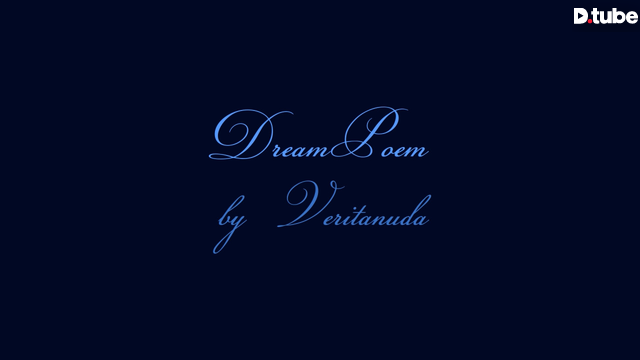 ---
After being inspired by Priscilla's Poem, @yidneth, about her waking dream I was reminded of a poem I wrote a few years ago. Maybe not as evocative and certainly not so polished.
But I promised I would share it and so here it is. I asked an artist friend of mine to help put the words to images and personally I love what she has done.
I hope you do too.
https://d.tube/#!/v/veritanuda/rin8q39bgy1

Sleep washes over like a tide of fate
Waves of fatigue do hold me down
My thoughts do slip, the hour is late
My face does relax, gone is my frown.
---
I am carried off on night's moonbeam
Carried to places so far from thought
Where even brave men dare to dream
Those better than I, hearts are caught
---
Taken to places beyond conscious thought
Confused by places and what they might mean
With things downside up and not as they ought
With anything possible in this world of dream
---
But through it all, one hope does stay true
One thought it does cling despite all my sins
That beneath the strangeness the truth is you
That you make me dream, make me see all things
---
You make me want to be asleep in your arms
Make me want to be helpless and weak
Capture me with your grace and your charms
Inspire my passions whenever you speak.
---
Each night we talk only a little, it's true
But a little is enough even for us
For you to know me and me to know you
To build up a bed of mutual trust.
---
Dare I to hope you might hold me the same
Perhaps yet maybe it could still be true
That you smile as you sleep on hearing my name
That you dare to dream dreams of me too
---
Sleep well my dream and take it from me
You do more to my heart than give it some rest
You are my nights muse, as anyone can see
As inspiration goes you are some of the best.

---
▶️ DTube
▶️ IPFS