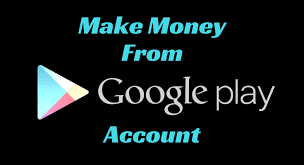 If you have an Android mobile then you visit Play store many times. Do you ever think How people publish their app on it or how they make money from apps? I will share the best method to make money from Google Play store.
In Google play store you can see there are lots of apps, games, Ebook, Movies. Lots of people daily publishing apps on play store. And they earning well from this apps.
So, What you need to do to a publish app on Google play store?
First, You need to create an android app and you need to buy Google play developer account. Google play developer account cost is $25. And then you can publish your app on Google play store.
ok, let's learn How to create an app and How to place ads in the app: –
Step 1: – Create an android app.
With Android Studio
If you have programming knowledge, then you can create an android app on Android Studio. Android Studio is the best platform to make an android app. With Android Studio you can customize your android app and put your own ads in this app.
If you really want to make a fully featured Android app then learn Android Studio. You can join tuition to learn Android studio. Or there are some online courses they teach how to use Android Studio. So, first learn if you don't have programming knowledge.
#With online partner
You can also create an app in just 5- 10 minutes. There are some websites like AppsGeyser who create an android app for you in free. But they put their ads in this app. You can also put your two ads with Appsgeyser. It is very easy and fast way to create Android App.
If you don't have knowledge about programming then create your app with this websites. But I will recommend you to learn Android Studio and create fully featured app.
Note: – If you want to make thousands of dollars a day from your app then create your own app with Android studio.
Step 2: – Create AdMob Account
AdMob account used for placing ads in your app. If you want to place ads in your app you can do it on AdMob. First, you need to create Ad Units in AdMob. Then you can place this codes in your app.
With Android Studio you can place your ad units in your app. Android Studio is the best way to place ads in your app. You can create four types ads like Banner ad, Interstitial ad, Rewarded Video and Native ad.
Step 3: – Sign up For Google Play Developer Account
Google play developer account
To publish your app you need to sign create an account on Google play developer account. But, it is not free, you need to pay $25 once to create your account. Then you can publish an unlimited app on your Google play developer account.
You need to have Credit or Debit card to pay for Google Play account. The best part of Google play developer account is your app is live in 142 countries.
What you need to publish your app on Google Play Console ( Developer account ) : –
Icon
short description of your App
long description of your App
privacy policy page
banner
Signed Apk
Screenshot of your Apk
Then publish it on Google Play. And the next step is marketing. When your App is new, then you need promote your app, without marketing, you can't get more downloads.
Marketing is only one way to get more downloads of your app when your app is new.
Make sure create a good quality app. Because if your app is not responding well or your app have less features people Uninstall it. And they give you less rating on your app. So, make sure create a good app, so your app gets more downloads and high rating.
How to promote your App
The best way to of promoting your App is Google Adwords. If you don't have Google Adwords account create one, it's free.
But then you need to add some money to your Google Adword account to run your ads.
With Google Adwords you can promote your app on this platforms: –
Google Search
Google Display Network
Youtube
Google Play Store
Sign in with your Adword Account. And then: –
Step 1: – Just click on create a new campaign button. Then You will see Plus Sign option click on this.
Click on Plus button
Step 2: – Click on Universal App option.
Click on Universal App Button
Step 3: – Select Android or IOS and your App name or Package name or Publisher name. And Click on continue.
Select your System and App
Step 4: – Then Fill some simple information and click on Save and Continue. And your application Ad will run in few minutes.
So, I hope you like this article. If you have any question comment down below....!!!
Thanks for reading follow me