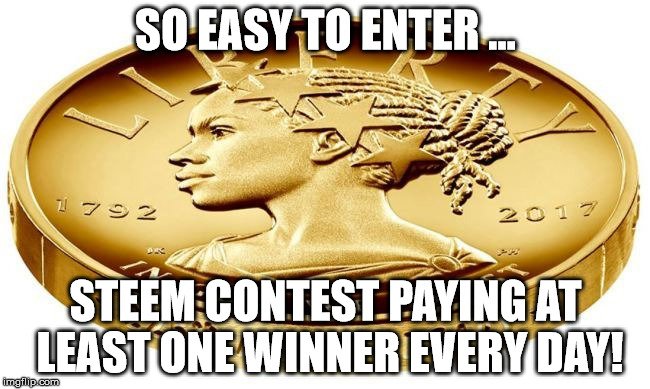 https://steemit.com/earthnation/@cryptkeeper17/1-free-membership-to-steembasicincome-contest-free-entry-links-to-other-contests-as-well-check-them-out
UPDATE:WINNERS ANNOUNCED HERE IN ABOVE LINK
--->THIS WEEK'S PRIZES TO BE WON:
------>2<-------- GRAND PRIZES OF A (LIFETIME) MEMBERSHIP TO STEEMBASICINCOME
GRAND PRIZES OF A (LIFETIME) MEMBERSHIP TO STEEMBASICINCOME
+1 DAILY PRIZE OF AN @treeplanter $0.10 UPVOTE of the post link submitted of the contestant that shows quality comment/participation/effort in the contest. (Total of 7 to be handed out among qualified entrants during this posting period).
+A ONE-TIME[$0.05 Steem Dollar "SIGNING BONUS"] to each participant that signs on and follows my curation trail on steemauto, cryptkeeper17 (curation trail name). In an effort to get the best new entrants noticed on the platform I am making it possible for you and the army of people you are talking to here to build yourself more quickly, at least than I did anyway, lol. Bonus to be paid after the competition is over and is available to eligible contestants
+AND UPVOTES FROM THE MANY OTHER WELL WISHERS HERE ON STEEM THAT ARE BOTH YOUR FRIENDS AND MINE.
I would like to congratulate @v3r the winner of last week's contest. Through a busy run up to the start of the week it took me about 24 hours longer than I would have liked to get her enrolled in the program but we do have a winner of what turned out to be a brutally tough call. The last group of contestants were stellar, I have never hosted a contest quite like this and was blown away by the great level of discourse and appreciation shown by our fellow steemit community!
+I would like to thank @joesephsavage at steembasic income for his participation, it's greatly appreciated to have someone around like that so readily available in the community.
+I would also like to thank @royaleagle, that guy is a steem workaholic, and knowledge hawk of all things in his life I am guessing, because he is all of the above since I have know him being lucky enough to chat with him on discord.
+++THE NEXT CONTEST WILL BE BASED ON INTERACTION WITH FELLOW STEEMIANS, VOTING EACH OTHER'S POSTS, COMMENTING EACH OTHER'S POSTS, IN A PERSONAL MANNER AVOIDING "SPAM-ISH," WHOLESALE VOTING AND COMMENTING. IN FACT, WHEN YOUR CONTEST ENTRY IS TAKEN YOUR VOTING POWER COULD POSSIBLY EFFECT YOUR STANDING IN THE COMPETITION. PICK YOUR FAVORITE LINK OF A FELLOW ENTRANT AND COMMENT WITH AN UPVOTE ON THE LINK OF THE POST.
+++EVERY CONTESTANT NEEDS TO UPVOTE THIS POST, RE-STEEM THIS POST, AND PLACE A LINK WITH THEIR MOST RECENT POST THAT CAN GET RECOGNIZED FOR THE REST OF THE WEEK (preferably no posts older than one day, please).
ANYONE WHO WISHES TO ENTER IS MORE THAN WELCOME, THE MORE THE MERRIER! I DON'T LIKE RULES AND GUIDELINES BUT I GUESS SOMETIMES YOU NEED SOME RIGHT? BEST OF LUCK TO EVERYONE COMPETING!
+I AM ALWAYS READY AND WILLING TO ANSWER ANY QUESTION TO THE BEST OF MY ABILITIES, SO PLEASE ASK!
Picture sources: imgflip.com (meme creation), https://lintvwdtn.files.wordpress.com/ladylibertycoin (coin picture)
UPDATE: EVERYONE WHO HAS ENTERED THIS CONTEST WOULD BE WISE TO ENTER THESE BOTH AS WELL---BOTH GIVING OUT MEMBERSHIPS TO STEEMBASICINCOME JUST LIKE I AM!
https://steemit.com/steembasicincome/@markkennard/2-steembasicincome-shares-giveaway
This one is stellar, giving out 7 memberships as well!
https://steemit.com/contest/@sisygoboom/win-lifetime-upvotes-from-steembasicincome-3-shares-worth-usd15