Hey JessIndividuals
If you've followed my blog for some time now or scroll down my feed, you'll find several posts ranting about how inefficiency tour finances and economy is but it was all papered over by continued debt financing from the future and money printing. It "worked" according to those in power and who benefited from it working this way so why fix it?
Now that a significant wrench has been thrown into the gears of this fragile system, we see the wheels fall apart. The trade war between the US and China had already started to have far-reaching effects, and now with the pandemic of Covid-19 supply chains are drying up. For the US's consumer-based economy this is a real problem, this was the fuel propping up the farse, it was the sugar rush keeping the economy from crashing.
Now as the slow down begins the Russians and Saudis are seeing the chink in the US armour and going after their oil production markets in a bid to price them out, driving further harm to the worlds largest economy.
The problem with this to me is if you make a beggar out of your neighbour, soon you'll only be living around beggars, but that's a story for another post.
Living for the moment - It's just business
There are so many reasons why the global economy is so fragile and inefficient, but one of those reasons is due to an over-reliance on the just in time system. Businesses don't hold their means of production any longer many are only an administrative front, a shell company if you will that takes a fee and passes on to the next person in the supply chain until the consumer gets their goods.
Because things have been pretty stable, these companies got increasingly good at knowing how much to keep on hand and how much to order to supply their demand and maintain a level of profitability. This was never about efficiency or price discovery only about sustaining margins, it was a short term view of business, and this is where it's all going to go to hell with this disruption in service.
Businesses without cash on hand to hold themselves over until demand returns will see operating costs eat into what was once their moving capital and start to eat themselves to death. There will be a purge of SMEs, luxury brands, airlines, travel agents, gig economy businesses, tech startups and more. I'm keen to see who the first few victims of their mismanagement will be; I think airlines will be the first to belly up.
Note: I could be wrong as this does depend on policymakers and banks not continuing to recklessly lend at zero to negative interest rates in the US and Europe to keep these zombie businesses open.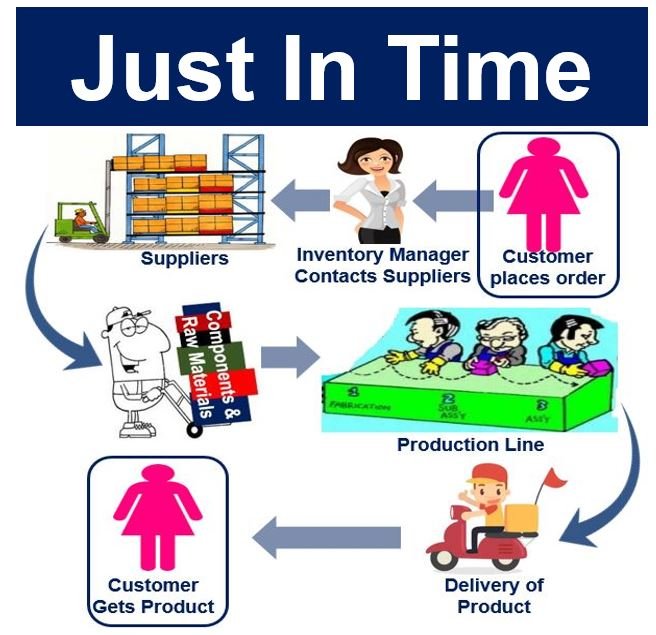 Image source: - marketbusinessnews.com
Living for the moment - It's just how we live
Then we come to the consumer; there are millions of people around the world living paycheque to paycheque and rely on work to make ends meet. They also live on a Just In time system whereas money comes in its then distributed to the store for groceries, to the bank or landlord for mortgage or rent and for the various services and goods they need with minimal left to store away for later.
This disruption in work, as well as businesses going under, will see these vulnerable people being forced out of their homes, forced into bankruptcy and deeper into poverty where they will most likely remain, and this is if they didn't get sick and stayed healthy. There is minimal upside for this part of the population, which is more significant than you think.
We often think of this as a poor person problem, but we don't know how overleveraged many of the middle class and even the rich are and once the bills pile up and the income dries up the deficit increases, and you can quickly find yourself in poverty.
This will be a purge of those who did not live within their means.
But what about insurance
Yes, you could be paying health insurance, life insurance, car insurance, credit card insurance and all that shit that's meant to protect you, if anything were to happen. Still, we must remember these are for-profit companies and have been built on a particular risk model. If this pandemic continues it will be way out of their risk model, and they will first opt to deny payout on various legal bullshit and then declare themselves insolvent because let's face it, insurance is a piece of shit and its an idiot tax for the most part.
Helicopter money
The only way I now see the US and affected European countries from going into complete depression and staying there for the next few years is through something I doubt would ever happen, are a nationwide debt jubilee and helicopter money. Given the fact that these are extraordinary circumstances, it may require exceptional solutions. So instead of bailing out the banks and businesses who were acting irresponsibly, we allow them all to go bust.
The funds that would otherwise be used to fail them out is then used to forgive individual citizens debt; this could be credit card debt, mortgage loans and student loans, this will give the consumer some breathing room and lift the boot off their neck.
Additionally, a divident could be given to consumers to start spending while a premium can be provided for those willing to start businesses or require funding for their small businesses. Rebuilding economies based on what is needed in that particular area instead of filling the cophers of the S&P 500, wall street and the silicon valley.
Do I think this will work? I don't know, but theoretically, it seems like a better option than what we've been trying since 2008 and only increased the wealth gap in the US, while Europe has been in a zombie state of low-interest rates and low growth after peaking out years ago.
Do I think this is an option policymakers will consider? No, they'll instead opt for civil unrest than give the people a fresh start like they do their friends and family in privileged positions.
Have your say
What do you good people of steem think? Will we see a depression rather than a recession?
So have at it my Jessies! If you don't have something to comment, comment "I am a Jessie."
Let's connect
If you liked this post sprinkle it with an upvote or esteem and if you don't already, consider following me @chekohler


---
| Buy & sell STEEM | Donate LikeCoin For Free | Earn Interest On Crypto |
| --- | --- | --- |
| | | |