To really discuss this topic, we need to set the definition of Inflation right. Contrary to Keynesians, the Austrian School of Economics formulates a much more accurate definition.
Inflation is the increase of money supply relative to available goods and services with the effect of rising price levels.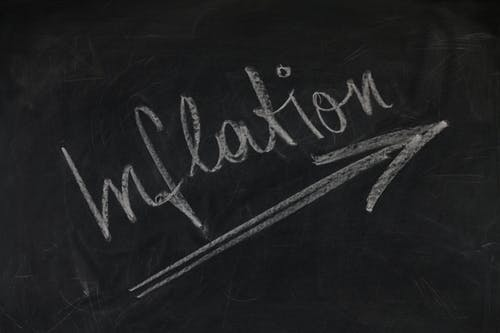 Falsely, but most commonly, Inflation is described as rise in price levels. This falsehood is seemingly spread purposely to distract from its real origin. Mainstream economists usually claim there is no correlation between inflating the money supply and rising prices. Actually, nobody has to have a deep understanding of economics to realize that if more money meets an unchanged amount of goods and services, that prices will naturally rise.
Many studies have proven that an 10% increase in money supply usually leads to a 10% price level increase, with roughly a years delay. It's important to note that not all goods and services become more expensive equally, some may even become cheaper. Instead this number is extracted from the overall market conditions and has proven fairly accurate.
The idea that there is no correlation between money supply and increasing price levels can probably be attributed to globalization. Chinese exports alone lead to price pressure formerly unprecedented. Another reason for this common misconception probably is that the floods of fresh money lunge at assets, rather than goods, making the acquiration of property much more expensive, whilst failing to decrease the cost of goods, even though the cost of production is sinking across the globe.
On a sidenote, this has another dire effect. Rising price levels of real estate allow people to take out bigger mortgage loans. This money can be used to e.g. buy stocks, artificially propping up their prices too. Rising stock prices allow to take out bigger loans, which can in return be used to buy into hedge funds. On paper, the wealth of people participating in this scheme is increasing substantially. In reality the wealth increases on the same level debt is ammased. It's really a ponzi scheme that favors those who get out early, pay of their debt and end up owning actual assets and goods.
Fact of the matter is that without increasing the money supply, price levels can not rise. Just like water levels in a bathtub can not rise without pouring in new water. What drives prices up across the board is the constant monetary inflation and expansion of the credit supply.
Inflation is a deceptive procedure. The inception already starts with the installment of a fiat money system, which is forged money. In times of silver and gold money, money forgers added less valuable metals to the coins, enriching themselves just like the political and financial class does by creating countless amounts of new fiat money. This system creates predatory net-winners and blameless net-losers.
Not only does this system treat the big majority of people unfairly, it also favors those who commit this crime against humanity. The market takes time to adjust to increases in money supply, in effect, those who get hands on the fresh money first, meet widely unchanged market conditions. Only after it changes hands so many times, the market reacts to this new conditions. The first recievers of the newly created money, namely the government, get to spend it for the first time, giving them a huge advantage over those who receive this money e.g. in forms of wages.
The effects on politics are just as bad as on economics. The free market is blamed for the ever increasing gap between the rich and the poor, even though the creation of money out of thin air is a direct violation of its rules. This has immense financial consequences to all of the common people, but also gives rise to popular opinion that capitalism has failed. It is a common misconception that capitalism is increasingly showing its weakspots, when in fact this system couldn't be farther from what capitalism is. Central planning and socialism become very appealing to people not seeing this through, putting the freedom of people at great risk. amirite ocasio cortez?
---
Earn Crypto for spending Fiat! 0.5% Cashback for every In-store purchase with Wirex!
Available in most countries, conveniently spend Fiat, LTC, ETH and BTC and earn cashback on every purchase!
Sign up
Trade BTC and Altcoins with high leverage at Bitmex. Increase your BTC holdings throughout the bearmarket by opening a short. Drinking the moonjuice? Go long and profit twice.
10% Trading fee discount when using my link.
Sign up
---