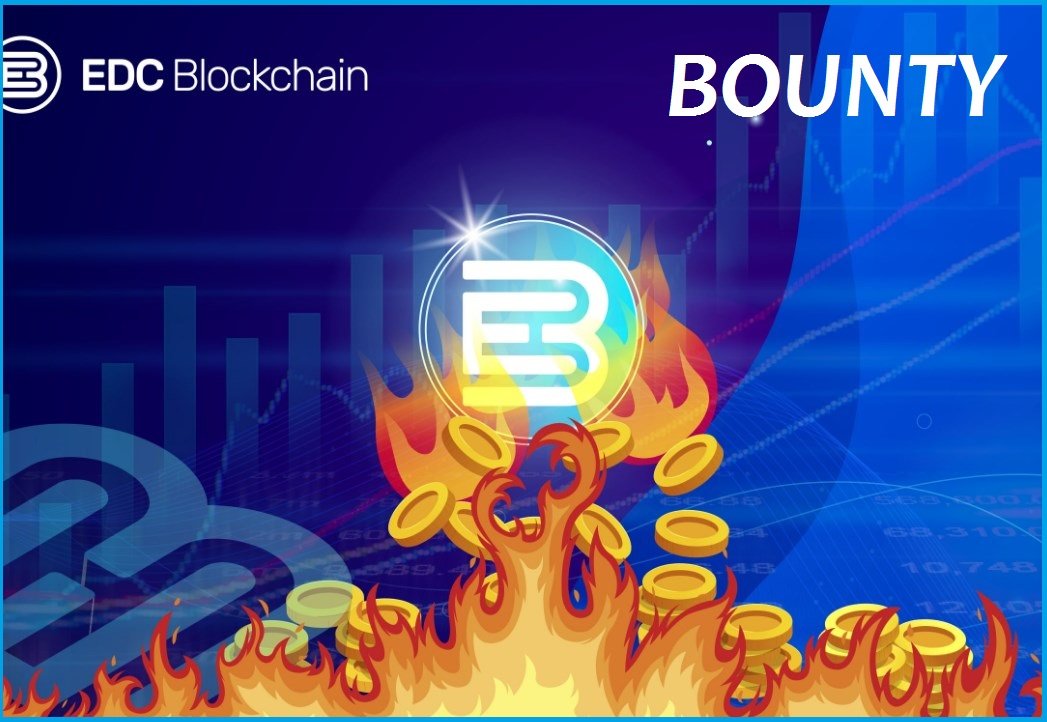 Friends - I decided to write another article affecting the EDC Blockchain. So in my previous articles I described the project itself, opportunities, prospects and mining available to everyone. Today I want to touch on another way to make money, which gives the EDC. So now the EDC Blockchain company has gained full speed, thanks to which you can not only increase your deposit noticeably, but also check the platform's performance and start mining very free of charge.
So let's see what exactly this bounty campaign stands out, because, as we all know very well, to find a good campaign now compare gold - the year 2018 taught us that, when the market began to fly down without stopping, projects could not even get softcap, not to mention the full launch and even those companies that reached the stock exchanges were selling their tokens well, at a very low price, which was much lower than the ICO price. And with EDC Blockchain, everything is exactly the opposite - let's list the undeniable advantages that should push you to participate in the bounty:
The EDC coin has been traded for a long time - the sales volumes and the number of exchanges make it possible not to think about the points of sale and the problems of the absence of the seller / buyer.
The platform itself has been operating since 2015 and has established itself from the best side. Recently, a rebranding was carried out and new services were launched. You can be confident in the viability and reliability of this blockchain.
Bounty is conducted on two cryptocurrency forums: bitcointalk and altcointalks, which further expands the campaign's audience, but does not in any way restrict everyone's payments, since the stakes are guaranteed and do not depend on the number of participants. If you are not familiar with the altcointalks forum, I advise you to read this article and register as soon as possible.
In this bounty, you need to create high-quality media and creative content. You are not limited by quantity, style, or other indications. You can create both an animation and write an article, make a video about the project, and in any quantity. The main thing that it was high quality and original.
Payments for the article, video range from 10 to 100 dollars, for creative from 0.2 to 5 dollars. All in your hands. To get a reward, you will need to register your own wallet (do not use the wallets of cryptocurrency exchanges) about the functionality of which I wrote in my previous article. I advise you to learn more about the functionality of this wallet and learn more about the mining (leasing) of this coin.
No need to go through KYC. By the way, the terms of this bounty will end approximately in the fall, so you should not hurry, but rather prepare and create really high-quality content.
That's all dear friends - thank you for your attention - develop and develop with blockchain technologies. Create strong communities, defend your right to a decent future with us !!!

Altcoinstalks BOUNTY - https://www.altcoinstalks.com/index.php?topic=118932.0 
Official site - https://blockchain.mn
Exchanges - https://blockchain.mn/exchanges/
MINING - https://blockchain.mn/leasing/
Telegram -  https://t.me/EDCBlockchain
---
Author: altcointalks - lesnik_utsa https://www.altcoinstalks.com/index.php?action=profile;u=28119
Telegram - https://t.me/lesnik_baunty 
---
This publication is informational. The article should not be considered as investment advice or advice. Readers of this review should make decisions based on their own judgment, taking into account financial circumstances, investment objectives and the risk limit before investing.