"I have never let my schooling interfere with my education" - Mark Twain
Behold a Failed Horse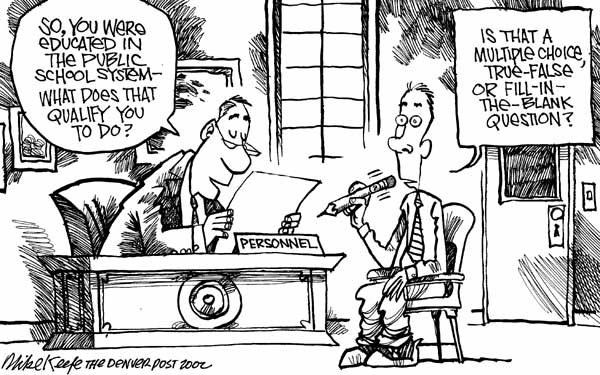 Are Educational Standards Measurable Over Time?
There are good arguments for public education. There are also good arguments for mandatory education. But, as the humilitainment trend seems to highlight, putting the two of them together as "mandatory public education" appears to be a singularly poor idea. But why? As the research of Gatto and Iserbyt have detailed in depth, mandatory public education is about indoctrination and control, not education and empowerment.
This post was originally inspired by the desire to know just how much educational standards have changed over time. I believed it might be possible to determine this based on the difficulty of standardized testing over time. By comparing testing difficulty over time, I hypothesized, it would be possible to determine if educational standards were flat, increasing, decreasing or perhaps laterally transformative (i.e. equally difficult with a different focus or applying different scoring or weighting criteria).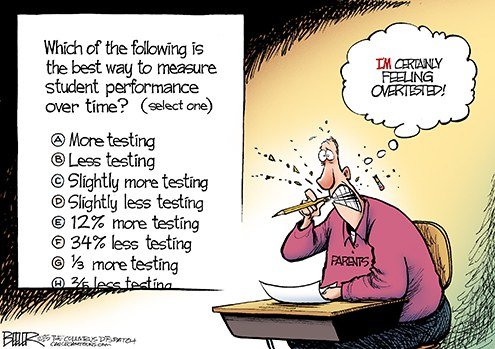 Many educators will relate, based on their own experience, observe that educational standards have decreased over time. Further, the increased emphasis on standardized testing means that isolated knowledge sets are more important in modern testing than the ability to apply critical thinking skills, making schooling success about memorization and regurgitation, not competency. (Note, I do not say educational success, but schooling success, because education and schooling are two very different things.)
I am of the opinion that standardized testing doesn't actually measure educational quality. There is a wealth of literature to support this perspective, but given the argument from the other side of the aisle on this topic that standardized testing is the only reliable metric, I considered it worth at least trying to investigate the changes in testing over time to see if there was a noticeable change in competency at an intergenerational level.
I considered this worth doing because there are a number of old exams floating around the internet being used as examples of how educational standards have decreased over time. The most popular are an 8th grade exam from 1912(included at the end of this post) and an 8th grade exam from 1895, both of which use terminology that is unfamiliar to many although the concepts are familiar when expressed differently. Are they then really evidence of reduced standards?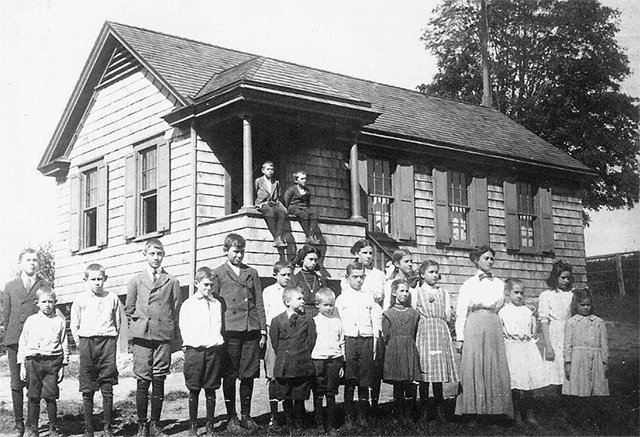 The best way to investigate this topic, I postulated, was to examine the changes in standardized testing difficulty over time. I was surprised how, despite almost endless qualitative articles on how standardized tests like the SAT and GRE were changing in difficulty, I was unable to identify any quantitative research addressing standardized testing difficulty over time. There were however a number of discussions as to why comparing standardized testing difficulty over time is invalid.
If it isn't possible to compare the difficulty of testing over time, how are we to know the actual results of the education system over time in any reliable way? If the ideal is that each generation enjoys greater competency than the previous, how are we to ascertain if our education system is fulfilling its function? Given there are no quantitative metrics and only qualitative descriptions of changes, I asked myself if there was any way to approximately determine the current state of affairs without instituting a large scale study.
My work around was to compare reading, math and science scores over time with dropout rates. This is, admittedly, not reliable in the sense that it is a quantitative and qualitative study that examines test books over the years and establishes a baseline against which change can be measured. It does however allow us to compare scores (competency) to failure rates (dropout rates). There are of course factors other than exam difficulty that contribute to dropout rates, but the general trend may allow us to gain a general impression of competency over time.
As we can see in the graphic below, reading, math and science scores were either flat or negative from 1970 to 2012. For over 40 years, math and reading scores appear relatively flat, though we may speculate an increase of ca. 1%. Science scores are only available through ca. 2000, but show a noticeable decrease of ca. 5% overall.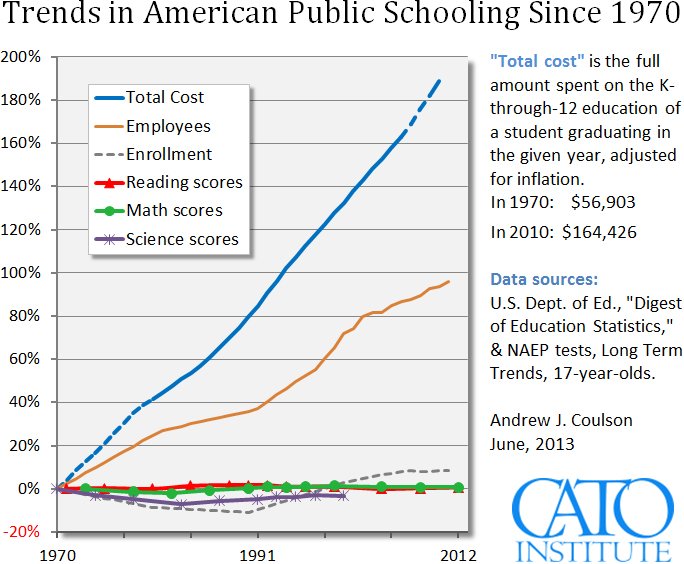 In order to compare resources invested vs. these results, note the skyrocketing increase in total costs (adjusted for inflation), the modest increase in enrollment of ca. 10%, and the impressive bloat in the number of employees (almost doubling), the majority of which are non-teachers.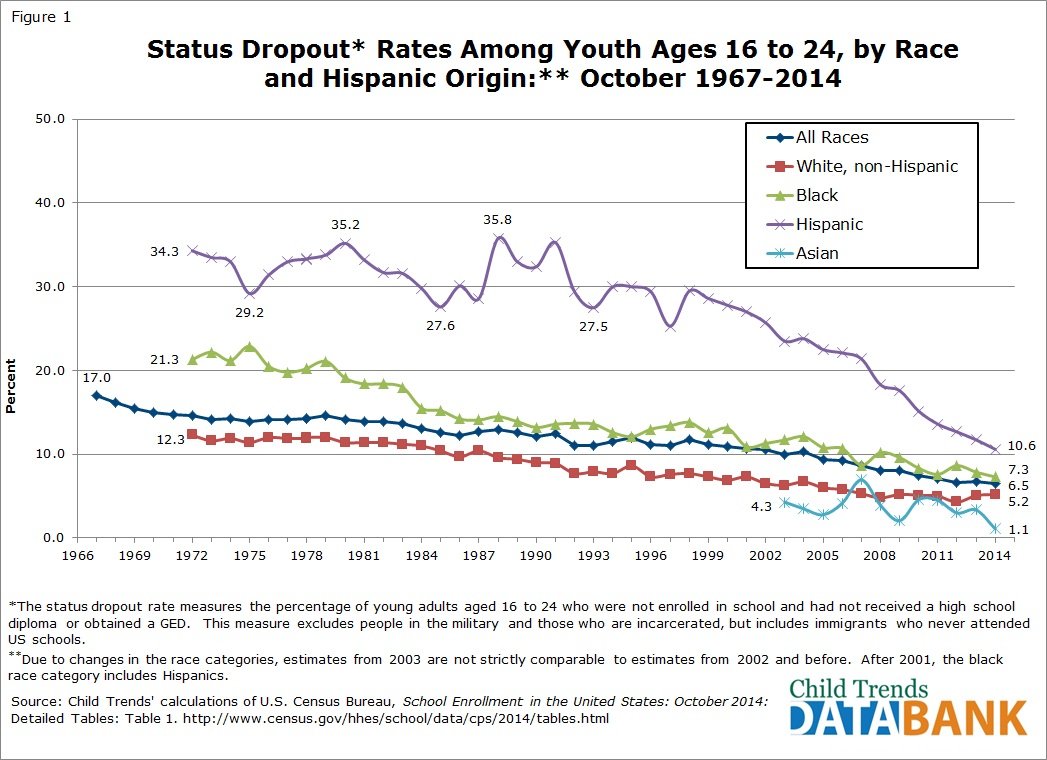 The next graphic shows dropout percentages in various ethnic populations over time from 1966 to 2014. Notable is that all populations have experienced more than a 50% decrease in dropouts. How is it possible to have reduced dropout rates if achievement in reading, math and science is net negative since 1970? There are certainly other contributing factors, but it appears relatively clear that educational standards have decreased significantly over time.
This result suggests that the schooling system as it exists today is failing our children more than our children are failing it. If the objective of our schooling system is supposed to be to educate children to be better informed, more competent and more productive than their parent's generation, to give them a steed, if you will, to carry them into a more successful future, well... behold a failed horse.

...



.
.
.
Shot with a golden arrow,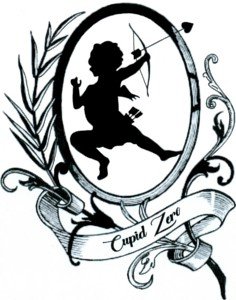 Cupid Zero
.
I consider requests to write on a topic of your choice.
.
Don't forget to upvote, follow and resteem! Comments always appreciated.
.
Support the @informationwar / #informationwar !
.
.
.
.
.
.
.
.
All gifs courtesy of giphy.com
Image sources: 1 2 3 4 5 6
.
.
.
.
If you aren't on Steemit, please consider supporting my work with a gift of:
Bitcoin: 1fruAGn9JcKqJJscreUpS2XurfLzksBe8
Litecoin: LQf19ExcdSFDjYj6NktRgzBnJ7NScVgikA
Ethereum: 0xEe3005b1D2D8963a85E1Ca4ff511acCd98A1E29D
education homeschooling society informationwar life