Hi steemians,
Ever since I have been into blockchain technology,I have always been puzzled by some major problems and limitations of the blockchain and possible solutions to such problems,this is what led me to the discovery of ELISIA which is a new and revolutionary dapp platform.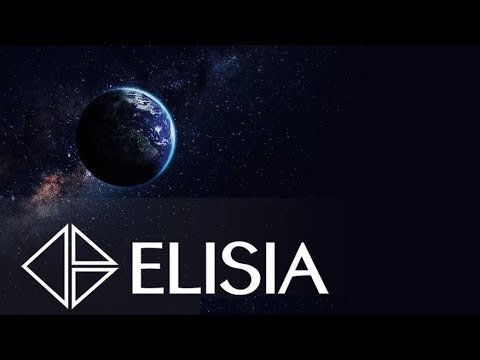 The blockchain technology is a product of the internet invented by a pseudo personality known as SATOSHI NAKAMOTO in 2008 to serve as an open space for cryptocurrencies to exist.In simpler terms,the blockchain is a cryptographic distributed ledger for storing transactions and hosting decentralised applications and currencies- amec 2018
Ever since the advent of the blockchain in the technological atmosphere...there have been a rapid injection of projects and crypto currencies on the blockchain.
However, the blockchain technology is plagued with a lot of problems such as slow speed of transactions,transaction fees,security and easy worldwide adoption among other various notable upgrades for better usability such as blockchain bridges[intereoperability] and migration of dapps onto a single chain.
This is specifically why a new dapp platform known as ELISIA was created as I mentioned earlier to create solutions to these problems to enhance the usability and efficiency of the blockchain technology,below is a precise definition of the elisia dapp platform.
WHAT IS ELISIA
Elisia is a blockchain capable of building dapps on its chain as well as on other existing blockchains,it is also possible to migrate dapps and businesses inbetween blockchains with just few or minor changes on the Elisia platform.
THE SIGNIFICANCE OF ELISIA IN BLOCKCHAIN TECHNOLOGY
SPEED-:- elisia is built to be highly scalable and fast,it runs on a dpos consensus model with 51 active block producers that makes it amazingly fast with just 5 seconds block confirmation time.
Most dapps needs to run very fast in operation to satisfy the purpose they were created for,especially if its linked to finance or money in real time and entertainment such as games...high speed of seconds are needed and that is exactly what elisia provides.
DAPP MIGRATION-:- dapps are an essential part of the blockchain because they aid the usability and applications of the blockchain technology.
Elisia is built to be a dapps platform capable of interconnecting and integrating with other dapp platforms as well as migration of dapps inbetween various blockchains easily.
NO FEES-:- Elisia is built on a dpos consensus model that eliminates transaction fees through its inflationary model by block producers which makes all transactions absolutely free on the elisia blockchain.
Free transactions are very important to facilitate
world wide usage and adoption of blockchain technology especially when it comes to dapps.Most dapps platform executes thousands and millions of transactions every day and it's only reasonable for such transactions to be free to cut down costs.
SECURITY-:- Elisia is an absolutely secure dapps platform that is highly secure and even immune to hacks by quantum computing which is a major threat to the blockchain industry.
FUNDING
Elisia had an ico and has successfully raised 41278 ETHEREUM...the ico is now closed
**conclusion-:- elisia is a dapps platform that is free,fast and secure to use for dapps deployment and migration in a seamless way that will facilitate mass blockchain adoption in the blockchain industry and beyond!

THANKS A LOT TO EVERYONE FOR READING THROUGH,I HOPE YOU HAVE MORE KNOWLEDGE ABOUT ELISIA AND BLOCKCHAIN TECHNOLOGY, AS USUAL KINDLY FOLLOW ME AND RESTEEM FOR VISIBILITY....COMMENTS,CONTRIBUTIONS AND CRITICSMS ARE ALSO HIGHLY WELCOMED.