Dear Steemians, the blockbuster-friendly type of science fiction once practiced by the late Michael Crichton was always heavier on fiction than science. Still, there was something inherently plausible in the premise of Jurassic Park that turned Steven Spielberg's 1993 big-screen adaptation into more than just a popcorn ride. It was a tentpole that dared to noodle on Big Ideas like: Yeah, cloning dinosaurs can be done, but should it be done?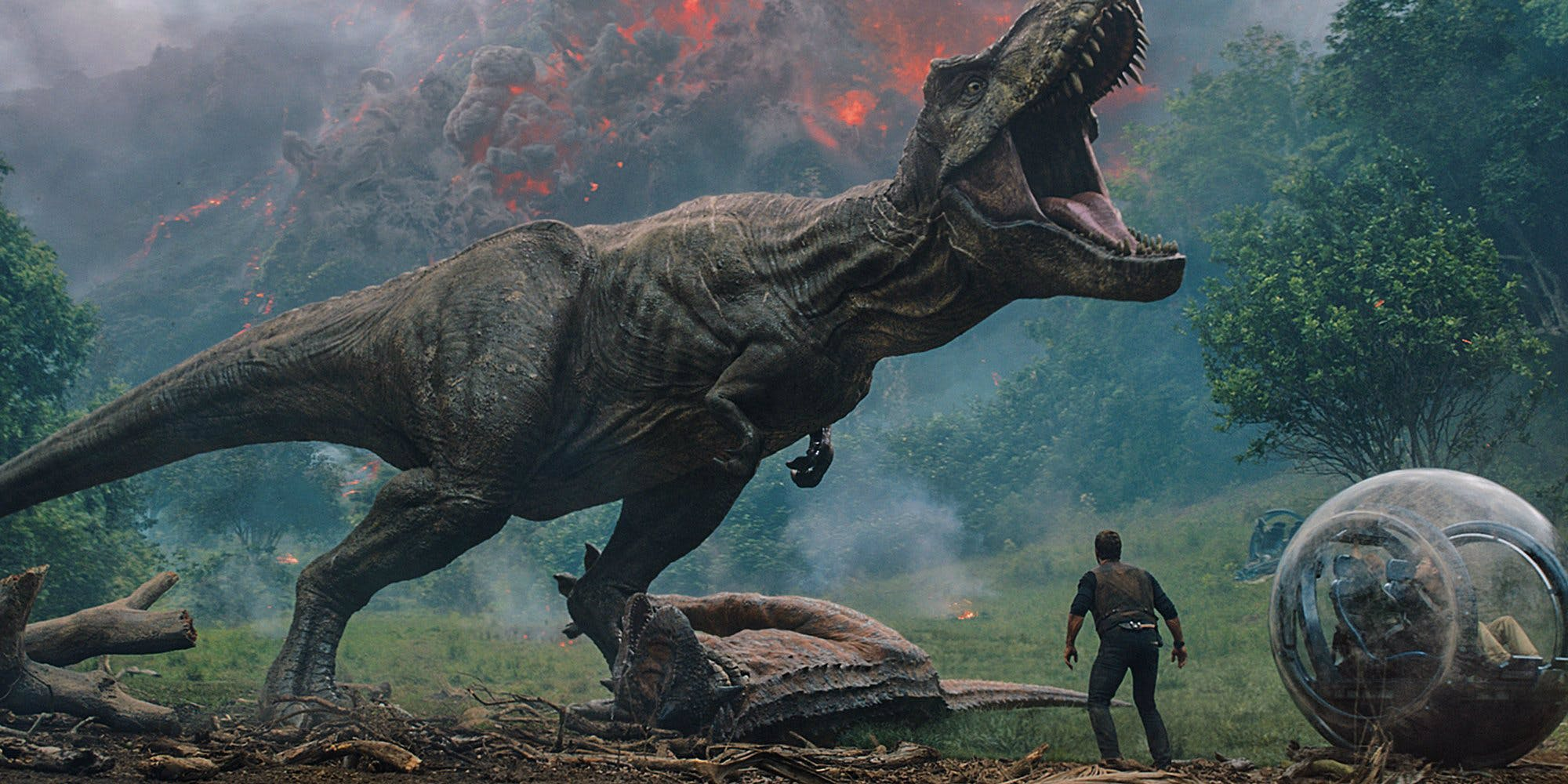 Image Credit: Zoom.hu
As the Jurassic series has evolved, those ideas have taken a backseat to pure jack-inthe- box sensation. Take the fifth and latest installment, Jurassic World: Fallen Kingdom. It may be the silliest and most preposterous entry yet, but the less you try to dissect it, the better off you'll be. Directed by J.A. Bayona (The Orphanage), the film also has a sense of humor about itself. For example, Bryce Dallas Howard's Claire Dearing has finally traded in her much-criticized high heels for more sensible combat boots. But I'm getting ahead of myself...
The movie opens back on Isla Nublar, where all hell broke loose three summers ago. There, two pilots in an underwater pod cruise through the depths looking for the skeleton of an Indominus rex to harvest. One turns to the other and says, "Relax, if there was anything alive we'd be dead by now." With those famous last words, the body count begins. As pre-credits sequences go, it's damn near perfection.
When a volcano threatens to destroy life on the island, the powers on Capitol Hill debate whether the dinos deserve to be protected as endangered species or if they should be left to die out. Jeff Goldblum swings by for a brief but welcome cameo to weigh in. Meanwhile, Claire gets her chance to save the creatures when Benjamin Lockwood (James Cromwell), partner of the late John Hammond, sends her with a reluctant-but-not-too-reluctant Owen Grady (Chris Pratt) to transport the dinos to a nearby preserve. Along with a paleo veterinarian and a computer nerd (Daniella Pineda and Justice Smith), they find themselves working with heavily armed mercenaries led by The Silence of the Lambs' Ted Levine (kudos to the casting director). Honestly, when will these idealists learn?
To give more away might spoil your fun, which Fallen Kingdom has plenty of. Needless to say, idealism butts heads with greed, children are put in peril, double crosses abound, and a menagerie of CG raptors and rexes line up to answer the dinner bell— both on the island and at Lockwood's haunted-house-style California estate. Howard, thankfully, gets more to do this time around; Pratt flexes his brand of cando heroism mixed with deadpan sarcasm; and the screenwriters push absurdity to its breaking point, especially in the forehead slapping final half hour. Until then, though, Fallen Kingdom is exactly the kind of monster escapism you want it to be.