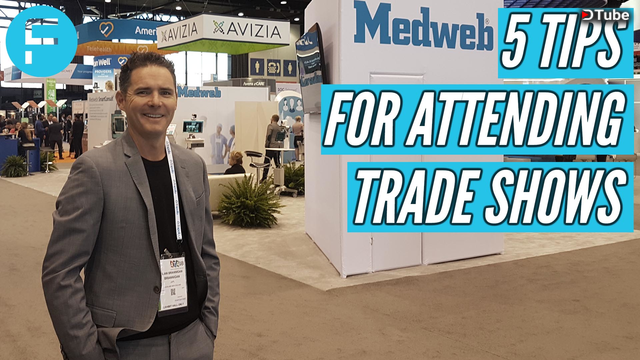 ---
In this video I offer 5 trade show tips for entrepreneurs. This is specifically targeted at Entrepreneurs, founders and owners of Startups, small businesses where cashflow is tight but you are looking to attend trade shows in order to secure more investment or business development.
Attending trade shows can be costly and time consuming so a business needs to think carefully before it decides to invest in a show. This applies even more so to start-ups where cash flow and key resources are usually scarce.
So — is it really worth it?
According to the Centre for Exhibit Industry Research, nearly all attendees (90%) plan to make a purchase within the next 12 months. In addition to the percentage of prospective customers, the vast majority of attendees (80%) are decision makers or have some influence on the business they represent. In addition to being prospective customers, 30% of trade show attendees have a definite interest in your product or service. Over 75% of trade show attendees are looking for new suppliers and buy 1 or more products. Finally, (26%) of trade show attendees purchase products at exhibitions.
These statistics suggest that it can be a worthwhile investment.
With this in mind the 5 tips for attending trade shows are outlined below:
1 Be Clear on the purpose of attending a trade show.
Cash flow is king in any business but especially critical for start-ups. Cash is usually generated through investment and revenue from sales.
Therefore, in my opinion, you should only be attending trade shows to secure either of these things or both. Leave the 'fact finding' and interesting market and technical conferences for a later time when the business has reached sustainable break-even.
Get the best return on investment for attending a trade show.
Attending trade shows can be expensive. There's the cost of attending and/or exhibiting, travel to the event, hotels, food and entertainment etc. Make sure you choose the most cost-effective path.
Simply attending as a standard delegate with a targeted approach to meet investors, customers, partners or suppliers can be much more effective than forking out thousands of dollars on exhibitor booths for example. Even then, check the pricing tiers to see what works best for you.
Set Clear Goals and Define Success Critera for attending a trade show.
In order to understand your RoI of attending a trade show you need to have clear goals and a target outcome of attending. This can only be measured by assigning clear success criteria.
Secure speaking engagements and press coverage at a trade show.
Being a guest speaker and getting great media coverage will provide you with a much better RoI than standing in a booth all day.
This is not always easy when you are just starting out, but you could look for a particular 'Subject Matter Expert' angle in terms of pitching to speak. It might be that you get assigned the slot of the last hour on the last day of the show where no one attends but it's a start.
You'll at least get published on the website as a speaker which you can milk for all it's worth! You may even get a copy of the recorded session which you can publish on your website.
If you can't get press coverage at the event, come up with your own social media campaign. Get selfies with the keynote speakers, tweet on the assigned hashtags, anything to build you profile at the event.
Networking at a trade show is more important than learning.
Let's be clear, learning about a market or a new technology is important. However, as we stated earlier, your main purpose for attending a trade show should be to generate cash.
By all means attend some of the talks and seminars that are on offer. Just don't spend MOST of your time there. You will ultimately learn more by talking and socialising with people anyway, with the added benefit of forming useful business relationships.
Try to get invited and/or pay to attend the evening events such as the opening night networking session, awards night or formal dinner. This can be a great way to mingle with the movers and shakers in your industry.
SUBSCRIBE to our YouTube Channel Here: https://www.youtube.com/channel/UC3B7...
Founder Cave on Social Media:
https://www.facebook.com/founderscave
https://twitter.com/founderscave
https://medium.com/@foundercave
https://steemit.com/@nalabra
---------Cameras and Gear Used To Shoot This Video -------
https://kit.com/FounderCave/video-fil...
DISCLAIMER: This video and description contains some affiliate links, which means that if you click on one of the product links, we may receive a small commission. This helps support the channel and allows us to continue to make videos like this. Thank you for the support!
Take care,
Alan
---
▶️ DTube
▶️ IPFS