Since I wrote the original guide on how to register your EOS address on the EOS network via Exodus I figured I would write a follow up guide on how to use that address to interact with the EOS chain and general things you can do.
First off all just want to say congratulations if you have held your EOS to this point as now you are starting to see the airdrops flowing into your account. Secondly congratulations on being part of the early adopters of the most powerful chain yet.
Now to the cool stuff, Ill show you some of the basic things you will want to know how to do and be comfortable doing in the EOS ecosystem like how to find your EOS account name, finding and using your EOS mainnet private keys and places/things you can do on the EOS chain with said keys.
Checking your EOS account status and Airdrops
First thing is grab your ETH address that your original EOS account registration was done on (like in this guide) and paste it into https://eospark.com/ havent done already. This will take your ETH address and tell you what your EOS account name is on the EOS mainnet. All accounts are given a unique (semi-human readable) username automatically by the EOS network, you can also register unique names as well!
From EOSPark you can see the status of your account, all of its transactions, contracts and tokens/airdrops it has received. You cant really interact with anything on the EOS chain from EOSPark yet, but im sure they will be adding this in the future like MyEtherWallet from the Ethereum network.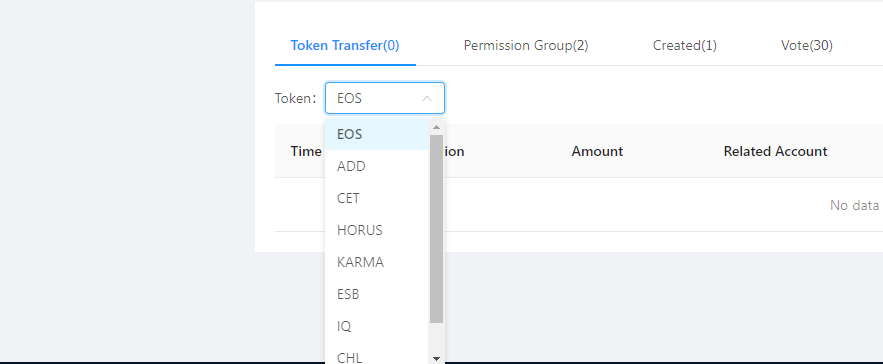 Exporting private key from Exodus wallet
First we need to enable the developer mode on our Exodus wallet to unhide the tools needed to export the keys
Windows - CTRL + SHIFT + D
macOS - Menu > Developer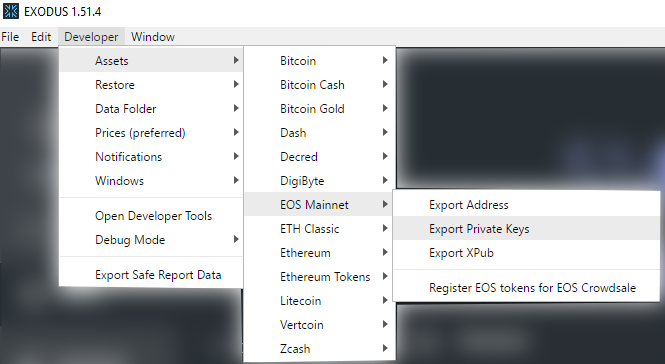 This will automatically export a text file in a folder to your desktop. Inside of that file will have both your address and your private key, all you really need is your private key as most chain explorers and tools can automatically determine your public address with your private key. Secure this private key very well, some people do this whole process on a computer offline to be more secure, some people do it on their normal computers, just depends on what level of security preference you have.
Interacting with the EOS chain
I recommend using Scatter (https://get-scatter.com/) as its probably the most secure and vetted tool that is used by most of the EOS community as it allows you to interact with the chain without putting your private keys into any websites. Make sure you get comfortable using scatter as you will probably be using it a lot!
Once you have your key pairs and identities setup you can then use this to interact with the chain for say things like voting for block producers, trading RAM, creating new accounts, or using any of the dAPPs coming to the EOS network.
Check out my previous Steemit blog: EOS Guide - Everything you need to navigate the EOS space!
Hope this helps and if you have any questions feel free to ask me below, or if im missing anything that you think will help people I can add!


Twitter https://twitter.com/dailycryptodata
Instagram https://www.instagram.com/dailycryptodata/
If you found this helpful or liked it, please upvote, follow and resteem!