Does Ethereum stand a chance after EOS is live?
EOS vs ETH
This is a common question I get asked when talking about EOS and how its going to reshape the future for dApps and general/enterprise blockchain solutions. Lets back up a bit and talk a little about Ethereum and what it has done in the 2 years it has been in existence. Ethereum was the first protocol to really have any use outside of a currency and with it being the first to do so comes its issues. Similar to the Bitcoin vs Litecoin concept, Bitcoin was the first, it was slow, heavy and not the best at handling transactions. Litecoin came a long and did exactly that, made it lighter and more useful. So the same concept is applied here, Ethereum was the first to allow companies and people to build dApps on top of its blockchain and with it being first, didn't have solutions and scaling in mind from the start like EOS.
Protocols
EOS from the get go has had scaling in mind, the concept of building a blockchain that can handle the demands of mass adoption in a realistic way. The concept of doing away with actual mining (PoW) has done two things, one has removed the cost of transactions and the need for lots of people to buy mining rigs to process transactions for the network. The introduction of block producers is genius (DPoS), it basically just moved the mining from rigs and burning a ton of energy, to nodes process transactions and in turn they are rewarded with EOS.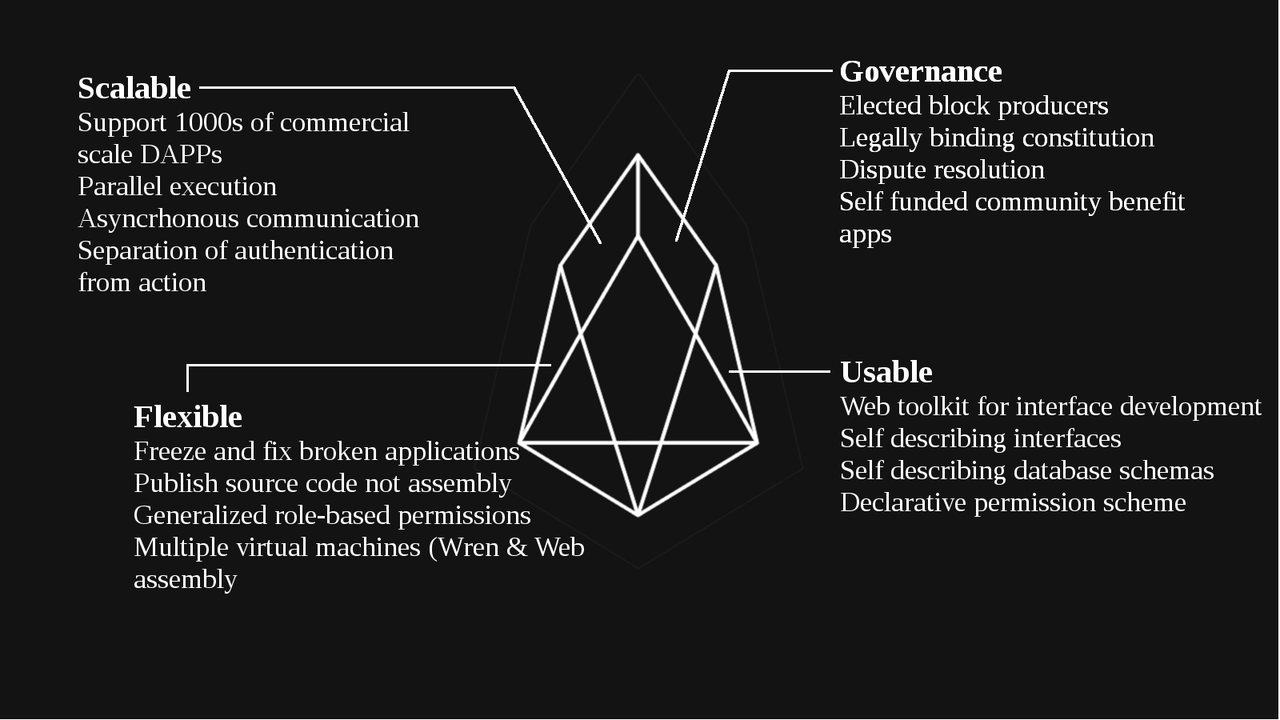 Scalability and Programming Language
On top of removing fees and being able to handle thousands per second (to start, but could get into the hundreds of thousands per second) EOS offers a lot more as its able to utilize recent technological advances in the crytpo space. Another important thing to mention is the programming languages EOS uses allows users to use pretty much any language that can be complied in Web Assembly (WASM) or C++. Ethereum on the other hand requires users to learn and use their native language Solidity which isn't used as commonly as WASM or C++. I see the programming language options alone being a huge upside to EOS as many more dApps will be built since the pool of developers will be much larger.
Price Predicition
Im not huge on price predictions, but I figured with the amount of time I have spent on EOS research and the love I have for the project I figured I would try and make a guess for a price by the end of 2018. This may be a bit biased as I am obviously invested in EOS financially and very interested in the project in general. With that said lets get to the price prediction!
Dan Larimer mentioned in some interviews that he was being approached by companies that have released their token/project on ETH that had intentions of moving to EOS. He also mentioned that many similar companies and were waiting to do their ICO or release their project until EOS was live. So I think that says something that some of the wealth may move from ETH to EOS. The scalability of EOS I think will play a huge role in its success as well, with the amount of potential enterprise solutions utilizing its blockchain and protocol that ETH could never do because of its limitations, I think will really move the price of EOS up the charts.
Taking all of this into consideration as well as the fact that EOS isn't live yet and is in the $12 price range during the time of this article being written says a lot for the coins future. I would say its safe to assume that the price will get pumped in the days after the mainnet launch to say somewhere around $20-30 and will probably have a dip after that to say around where we are now, $12 or so. Then after that initial dip a steady rise to the $40-50 range by the end of the year (assuming the market stays exactly the same as it is now) isnt out the question.


Twitter https://twitter.com/dailycryptodata
Instagram https://www.instagram.com/dailycryptodata/
Telegram https://t.me/dailycryptodata
If you found this helpful or liked it, please upvote, follow and resteem!