BetDice, the social gaming platform Dapp on the EOS blockchainhave today launched their new poker game 'Texas Hold'em' which, at the present moment, is one of the most popular forms of poker played throughout the world.
Click or tap here for Betdice.one link
This version of poker is believed to have originated from Robstown, Texas and was formed in the early 1900's. The game was introduced to Las Vegas in 1963 and became hugely popular throughout the rest of the 1960's. Click or tap here to find out more interesting facts about Texas Hold'em poker.
The are a whole host of other games included on this site which are Dice, Baccarat, 21 BlackJack, Sicbo, Roulette and a few others to keep you occupied for a good while.
There are alternative tokens you can bet with and 50% of all profits accumulate in the payout pool and are distributed once per hour to DICE token holders who have staked their DICE to DiceBet. Your portion of the payout will be credited to your balance. Claiming is done manually and unstaking takes 24 hours. Dividends are not paid for tokens being unstaked.
Dividends paid out hourly at this time and consists of these tokens which can be claimed: EOS, DICE, EBTC, EETH, EUSD, BLACK, BT, MEETONE, EGT, TPT, ZKS, KARMA, TGC, TEA, POKER, DBET, ZKSPLAY, EPT, OCT, LT, PIXEOS and OSDS.
If the new poker game gets popular (and I think it will,) then, this could greatly increase the price of the DICE token as will as return greater dividends to it's stake holders.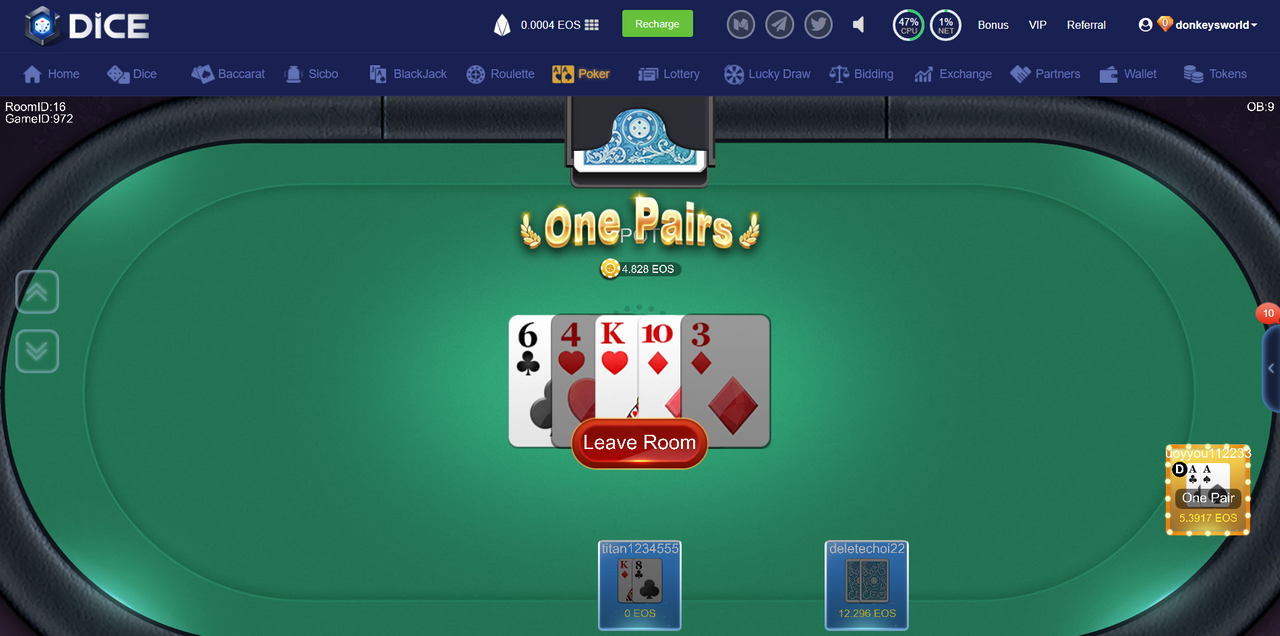 eos: donkeysworld
Music by:
Artist: Gonzaciste
Title: Night Lights
https://www.hooksounds.com
Click or tap here for Betdice.one link
Thanks for looking!
@donkeysworld.