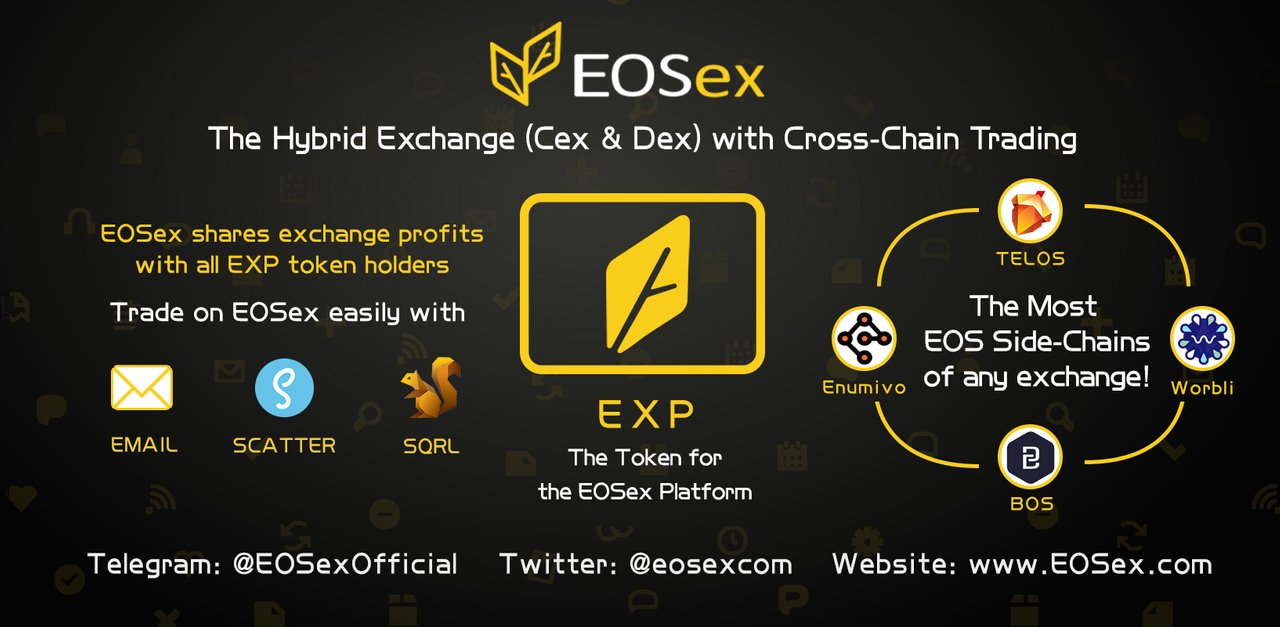 What is Eosex ?
It's a hybrid exchange and leverages the power of the EOS platform to create a unique business model, which shares 100% of exchange profits with EXP token-holders, thereby creating a truly fair, open, and community-based exchange that is owned by all token-holders. In addition to the trading of cryptocurrencies, EOSex will also offer trading in CFDs, as well as on-chain token trading - thereby satisfying the needs of all types of investors. The founding team was an early adopter of the EOS platform, having already worked on a number of successful EOS-based projects. Thus, the team was able to clearly see early on the strong potential of the EOS platform and of the EOS community and moved to establish the EOSex.com website to begin building a platform that could capitalize on the coming explosive wave in digital asset trading on the EOS platform.
(EOSex Proof)
EXP is proof of membership in a community created by and based on EOSex. It does not
belong to a single group or team; but, rather, it is owned by the entire community. Its purpose is to assist with the development of the community and to give everyone a say in that
development.
About trading competition:
The Trading Competition will run from 6 P.M. Mar 2, 2019 to 6 P.M. Mar 8, 2019 (HK Time / GMT+8).
The top-10 traders by volume each day will win EXP tokens .
The top-2 traders by volume for the entire 7-day competition will also win 1,500 USD and 600 USD (EXP equivalent).
More info can be found here : https://eosex.zendesk.com/hc/en-us/articles/360023914092-EXP-Trading-Competition