Hi everyone! So its Memorial Day here in the US and it's a holiday. So in honor of spending more time with the family and less time worrying about ICOs and Cryptocurrency markets (which are down by the way!) its good to take time away from the hustle and bustle of worry and focus on what really matters…because hey, you can't take it with you. I'm reminded that at your death bed, one never looks back and think about that trade you wish you did but rather, how did you spend time with your wife, father, children, or loved ones.
So today, I wanted to just focus very briefly on EOS's token exchange. There are two great article that I'm Linking here. It was very helpful to see how to participate in the EOS token exchange. AGAIN, most of what I listed below is just snap shot of what i read on the articles...but summarized for simpler read.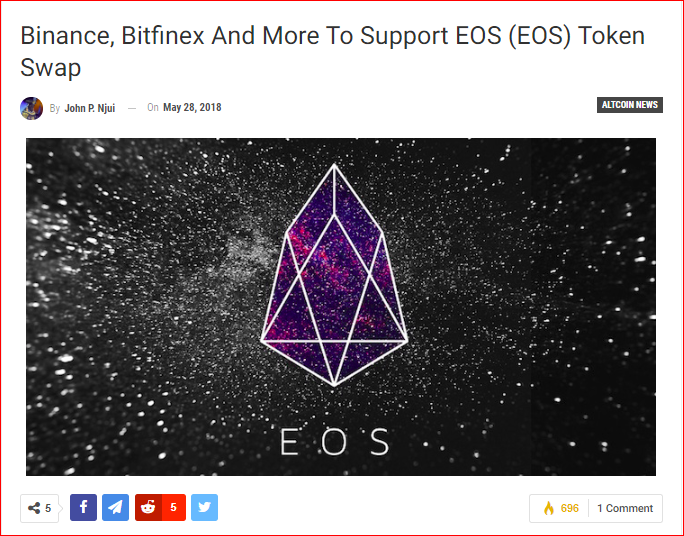 https://ethereumworldnews.com/binance-bitfinex-and-more-to-support-eos-eos-token-swap/
https://ambcrypto.com/eos-mainnet-launch-in-6-days-exchanges-move-forward-with-token-swap/
The current countdown to the EOS (EOS) MainNet launch reads 5 Hours, 9 Hours and 50 Minutes at the moment of writing this. At exactly 11pm UTC on June 2nd, EOS tokens will become frozen on the Ethereum blockchain and the MainNet launch will occur shortly afterwords.
What does that mean? It means, the EOS' will now go live and the EOS token swaps will have transpired.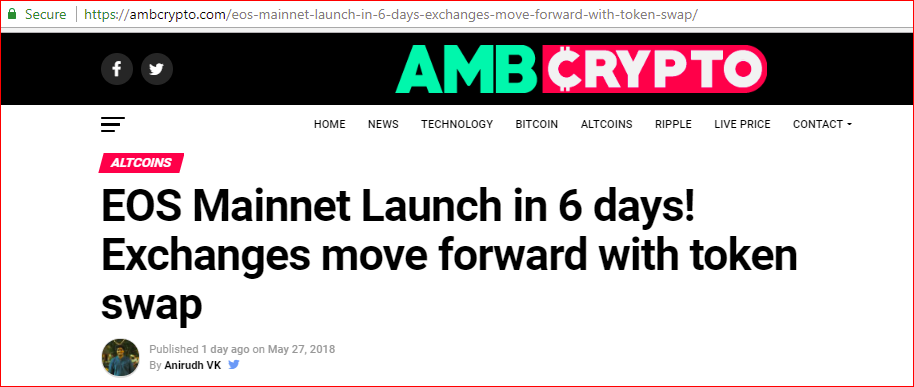 Here are the list of 7 exchanges that will honor the Swap.
Binance – The popular exchange made the announcement less than 8 hours ago that it will be supporting the token swap. EOS deposits and withdrawals will be suspended from May 31st, 0:00 am (UTC) and the swap will be initiated. The exchange also added two more trading pairs for EOS: EOS/BNB and EOS/USDT. Binance is one of the first exchanges to support the EOS mainnet launch, with them announcing support almost 3 months ago. They released their statement after EOS announced that they would be migrating to a mainnet.
Bitfinex - Bitfinex announced a month ago that they would also be adding support for the mainnet launch. They also announced that they are aiming to be one of the 21 block producers who run the application. exchange reassured users that it will be managing all the technical requirements related to the swap to ensure a smooth transition.
Kucoin exchange made the announcement via its twitter page and gave similar instructions of halting withdrawals and deposits on the 31st of May. The exchange also requested that you deposit your EOS onto their exchange as soon as possible for them to facilitate the swap for you. You can then withdraw your EOS once the swap is complete
Cobinhood prides itself as being on of the few exchanges that do not charge trading fees for each transaction on the exchange. The exchange also announced it will be supporting the token swap just today
BigONE exchange announced that it will be supporting the EOS swap two days ago on its website. The exchange has similar plans to suspend trading during the said time period
Bitbns will be carrying out the token swap for its users with the exchange handling all the technical details
Kraken made the announcement on its website that it will be supporting the token swap.
There are another 7 other exchanges that will participate I'm not sure if there are more that will come through over the next day.
In terms of price, EOS is trading at around the $12.30 after a drop earlier this week. It saw a gradual decline over 3 days from its high of $14.17. The token then decreased to close to the $10.50, It quickly rallied up to the $12.20 mark within a few hours after its drop. It stayed constant around the $12 mark and is currently trading at close to $12.70. The EOS token swap could see some selling on the EOS. So important to avoid getting whipsawed in this environment.
For me, I plan to go to either Kraken and binance. Unfortunately, the process will take a long time to open an account. But if you're holding ETH, it makes sense to swap it over to the other exchange and collect a few extra dollars. What is sad is that Coinbase, which I think a lot of my US compatriots are using won't be on board with EOS. So if you don't move your ETH, you unfortunately, won't be participating.
Follow Me @epan35