It's been a while since the last time we blogged... Work...
Langchain staffs are working at our best...
It's a blockchain that started because of our needs but...
The technique of blockchain is enormous and strong to be considered under the frame, starting point.
Langchain was created to hold the translation industry based on what we understand and experience the best of.
Many platform types of blockchain networks have come out in the market.
The new generation of networks is maturing enough of the technology that dApp can leverage.
Langchain is a project to fill up the industry in this platform network.
Ciceron's steemit translation project also plays a big role.
The platform is huge and can contain everything, but paradoxically it is not appropriate to include until last part of the industry.
It can be seen as a sort of wholesale and retail relationship in the retail industry.
The Langchain is DApp..
We were in the process of choosing a network that had more of the basic specifications than we were considering when switching the MainNet of many networks.
Recently .. Langchain has introduced as an icon DApp at D.camp Icon's New Kids on the Block Chain event.
We chose EOS as the first priority
On June 2nd, EOS is scheduled to launch Main net. EOS holds a hackathon for dApp throughout the year and for DAC.
We are registering for #EOSHackathon starting in Hong Kong.
We are going to complete the prototype of inserting record of Langchain into block data through hackathon. This allows us to realize the benefits of the EOS network that we think of.
we need your supports. The rankings will be based on the amount of likes on YouTube.
Like! and please share!
The Langchain is a solid blockchain project based on substantiation.
Through supports from various communities, we are encouraged to progress.
Below is a description of the Langchain written in the KOREOS community and we received a lot of support.
We express our gratitude to the KOREOS community and 서리 who is perfectly managing its community.
---
Hello. This is Langchain who is applying for #EOSHackathon.
EOSHackathon is a hackathon for DAC service using EOS, which plans to switch MainNet on June 2nd.
It will be held in Hong Kong, Sydney, London, Tokyo, and one city that's not decided yet. The Grand Final will be held in December. It is a great opportunity for teams considering EOS DApp
.
Langchain is applying for the first hackathon held in Hong Kong from June 9th to 10th. For this hackathon, contestants upload their project as a video on YouTube and based on votes by the community and then through evaluation, 5 teams will be participating in the Hong Kong hackathon.
We are hoping to explain about the Langchain project and also ask for support.
Three lines summary.
We are registering for EOS hackathon.
We need supports from you by liking our Youtube video and also promote about our project to others.
As a team participating in a Korean community, we will try to make it to the grand finals.
Background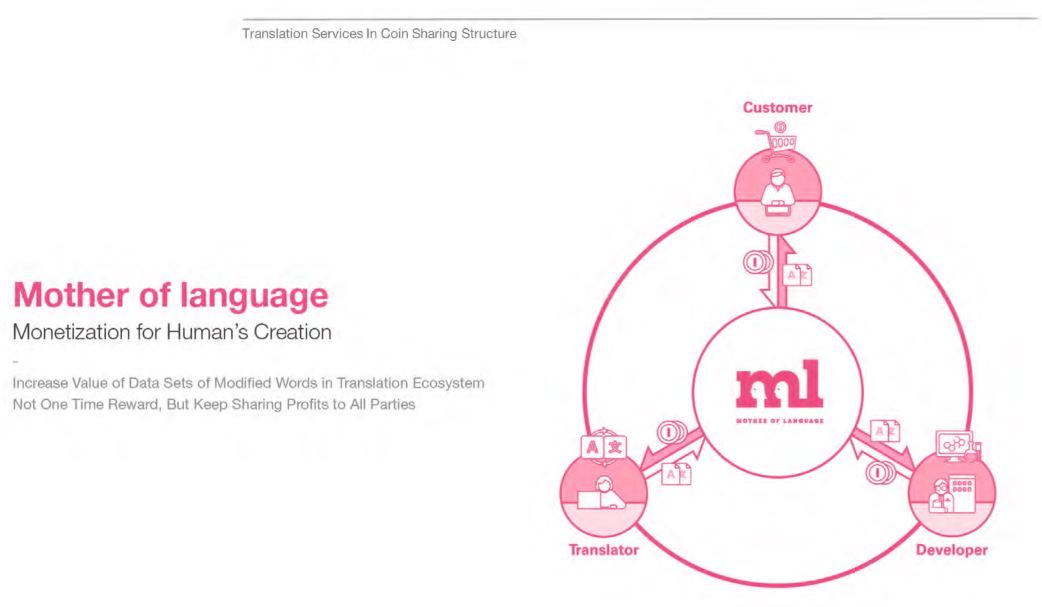 Langchain is a project to put the translation industry into blockchain, as it is felt in the name.
At the heart of the translation industry are translators' translation data. In the traditional translation industry, the consumer paid for translation data (translation).
In traditional industries, such translation data was efficiently utilized through software tools called CAT. CAT has helped to manage the translation data to prevent wasting on re-translating. As such, the data became competitive with each translator and became exclusive.
The development of AI technology has a great impact on the translation industry. Actually, many say that automatic translators that use NMT model will soon replace the translators. To conclude, it is not true.
.
AI technology companies have broken the industry's trust structure by unfairly acquiring translated data. AI technology still needs a lot of development. This requires new data and data with better quality. Therefore, it is necessary to reconstruct industrial trust and to form a virtuous circle structure of data.
Langchain creates transparent and fair trade structures with TOKEN and points.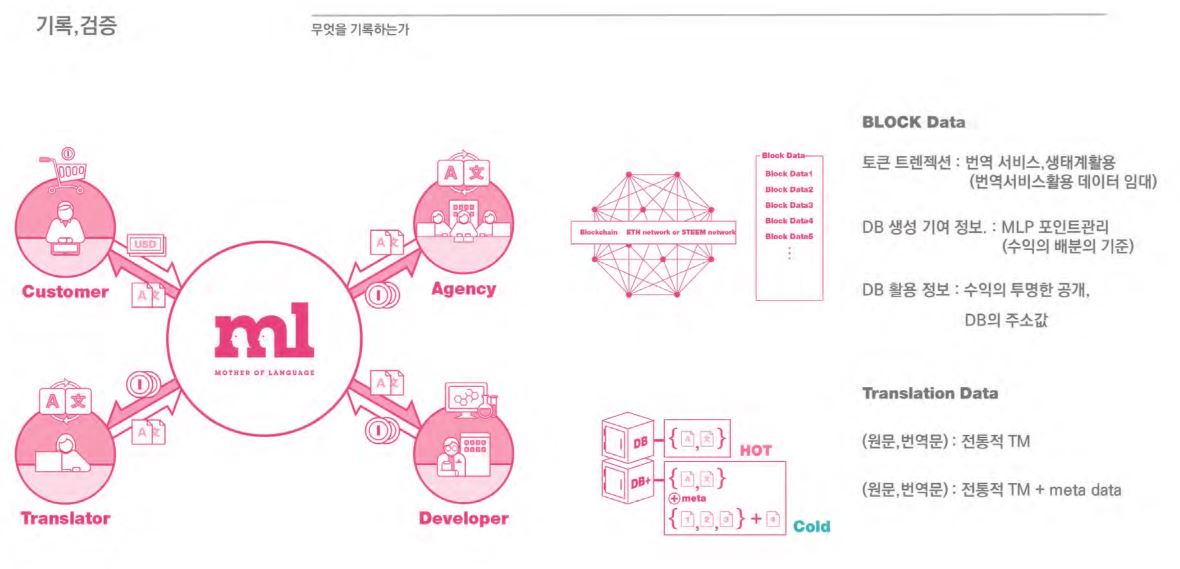 Langchain transparently records transactions in the translation industry (TOKEN); generation and utilization of point-based data; and the activities of Langchain apps on blocks of the EOS network. Translators are rewarded with fair compensation through the Langchain, and can contribute to the development of AI translation technology.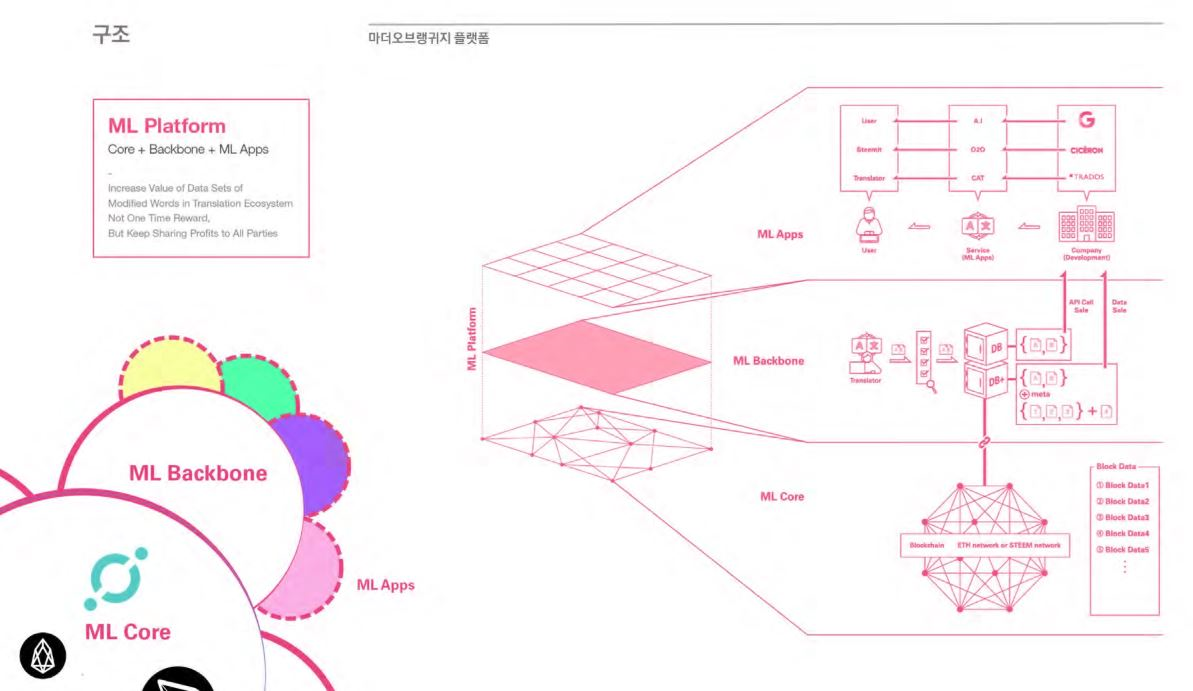 .
The Langchain aims for DAC. EOS, ICON, SMT and many other platform-type blockchains are being released.
We expect the chain to be structured as an EOS sub-structure on an industry-by-sector basis for each platform.
We will obtain the backbone layer above the EOS network and provide it to other dApp in translation. Only through this hierarchical structure the real translation industry can be created.
Based on the backbone layer of the Langchain, which has industry-specific functionality in the EOS network, the industry is included in the EOS through the construction of translation services (dApp) that are like the capillaries of a body.
.
We are currently developing early 'services' and 'tools' for the Langchain.
One is a service that supplies the demand for a new translation market of blockchain services such as the existing translation market and Steemit, Everipedia. Another, is the Cloud CAT (visual confirmation, mycattool.com-private) which make it easier to work and use Langchain more simply for translators.
.
Langcchain's 'TOKEN' is used as money the translation service. The current translation market is divided into translation markets for each country. The biggest reason is the size of transaction costs between countries. TOKEN will be a new alternative, like Ripple.
.
Through Langchain, AI technology and traditional translation market can be integrated into one and be composited into EOS network.
.
Our team will participate in the Hong Kong hackathon and complete the prototyping of the Steamit translation service and prototype recorded on EOS main block which is data created from mycattools.com
At the stage, EOS's strong network is best suited for the Langchain, a DApp.
.
We will prove this at hackathon and make it into the final round.
.
Likes and please vote for Langchain!
Thank you.
References.
Slide share links
KR : https://www.slideshare.net/youngseonyoon/mother-of-languages-langchain
EN : https://www.slideshare.net/JunhangLee/mother-of-languages-langchain-95416686
The disclosure of detailed white papers will be released after the legal review is completed.
Please support us by joining the telegram.
https://langchain.io
Telegram EN : https://t.me/Langchain
KR : https://t.me/langchain_kr