A pluralistic society is the future of Europe. And Islam is one of a source of diversity in Europe. "Islam is Europe and Europe is Islam", just like "Islam is Aceh and Aceh is Islam. Islam and Muslims have a major influence on European society. This has a major influence in the future and must be accepted by the European community as a fact, not a source of fear for Europe.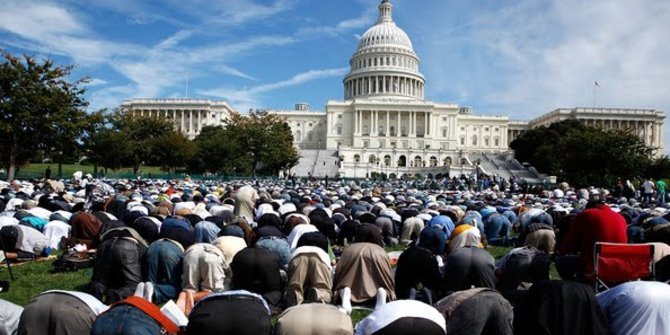 [Source]
Because of that, it is not something strange and impossible if Islam is a factor forming the face of Europe at this time and will come. Islam will become a reality that cannot be denied anymore. Although many parties do not want that to happen in Europe. However, that is the reality, it's the reality must be received.
Islam is not ISIS. Islam is a peaceful religion. Even ISIS itself is most opposed by Islam and its people. Because the ideology built by ISIS is very detrimental to Islam. ISIS builds a radical ideology that is very inhuman (violating human rights).
Actually, which the European community must fear is the ideology of ISIS, not Islam. When three major religions in Europe: Christianity, Islam, and Judaism united with the involvement of religious leaders from all three religions it would be possible to discuss the harmonization of the life of plural society in the face of radical ideologies such as ISIS ideology. Discussions to create a more peaceful life between followers of religion are needed in the face of radical ideology to protect young Europeans from the influence of ISIS ideology.
Radicalism will be a threat to European politics and Islamic. Then there is nothing wrong if Islamic young people in Europe are involved in politics with the aim of finding solutions so that life in Europe becomes more harmonious.
The European community of highly respected diversity, so they accept both parties who continue to strive to create harmony and peace in a European society. Especially with its high position in the European Union, its influence will certainly be very large, not only in European countries but also in the world.
So it is not surprising that Islamic leaders in Indonesia often mention that Islam will rise and prosper again in Europe. Because there are many signs and indicators of the rise of Islam in Europe. The truth about the rise of Islam in Europe, you can recite and study the word of God in the Qur'an Surah An-Nur verse 55 below.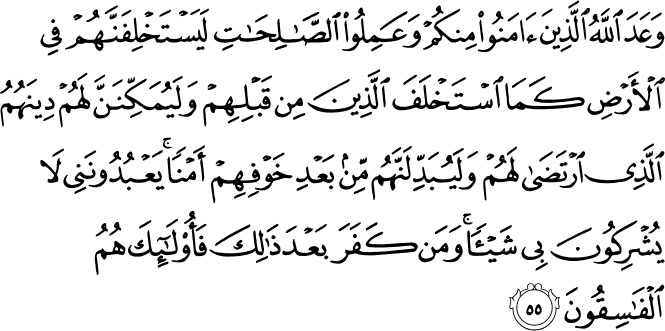 [Source]
Meaning: "And Allah has promised those who believe among you and do good deeds that He will truly make them rule the earth, as He has made those who before to power, and indeed He will confirm for those religions whom He has accepted for them, and He will truly change (their circumstances), after they are in fear of being safe sentenced. They still worship Me by not associating anything with Me. And those who (remain) unbelievers after (the promise), then they are the ones who are wicked".[Al-Qur'an An-Nur: 55]
What God has promised in His words above is a time that is truly dreamed of by all Muslims seems to have begun to show signs. This can be seen from the development of Muslims in Europe and America which is increasing rapidly. Islam has become a religion with very fast growth in several European countries.
When the rampant anti-Islamic actions in the western world, it makes Islam even stronger and grows in minority areas like Europe. Even though at present, Muslims are in a difficult situation. Many terrorist acts the name of Islam, ultimately make the image of Islam worse in the eyes of western society.
However, in the midst of the issue of Islamophobia, it turns out that some countries in Europe have a Muslim population that grows rapidly.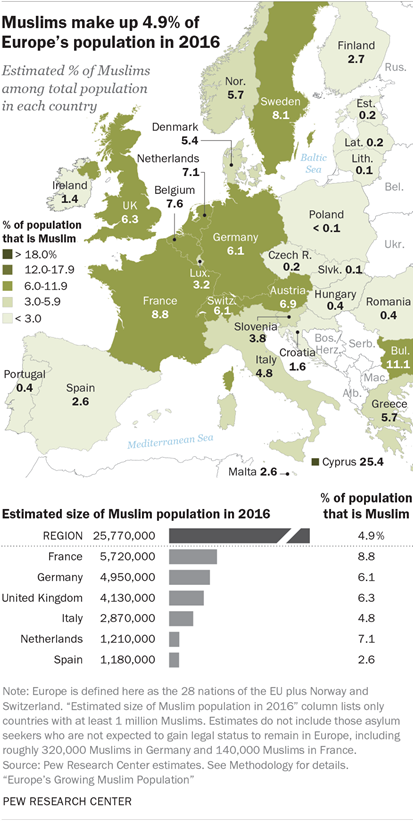 [Source: pewresearch.org]
Although currently the majority of Muslims in Europe are dominated by immigrants, Islam has become the second largest religion in Europe after Christianity. Besides that there are indigenous people of Europe who embraced Islam in the Balkans.[Wikipedia]
So the signs of Islam will rise and grow rapidly in Europe is very clear. In the sense that a few years later, Islam will become a characteristic of Europe, and become the new face of European formation in the future.
Thanks For Reading