Hi all, this time I want invite you for to see the mist beautiful mountains in our country, Indonesia
Bromo mountain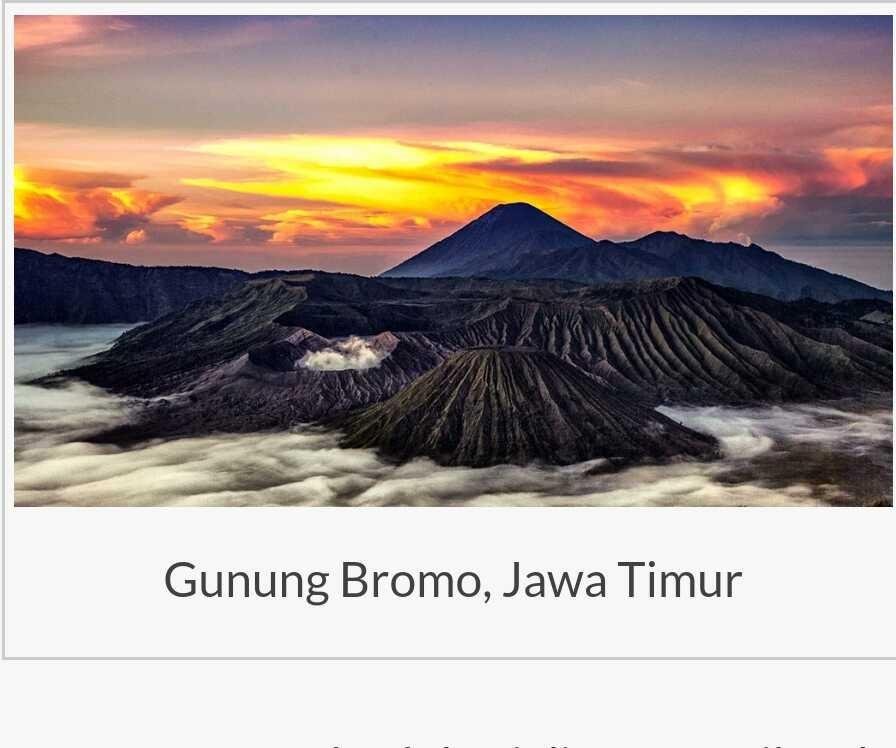 Mount Bromo is located in four different areas, namely Malang, Pasuruan, Lumajang and Probolinggo. Its strategic location makes the most beautiful mountain in Indonesia can be easily accessed from various places. Mount Bromo is famous for breathtaking sunrise views. The sunrise scenery in Indonesia's most beautiful mountains is well known to all corners of the world, so you will find many foreign travelers mostly from China, Thailand and Europe.
In addition to enjoying the sunrise, other activities you can do is climb the mountain to see the crater of Bromo which has a diameter of about 800 meters from north to south and 600 meters from west to east. Do you want to get great photos? Go to Teletubbies Hill and the savanna. Do not forget also to explore the sea of sand which is the location filming Pasir Berbisik.
Rinjani mountain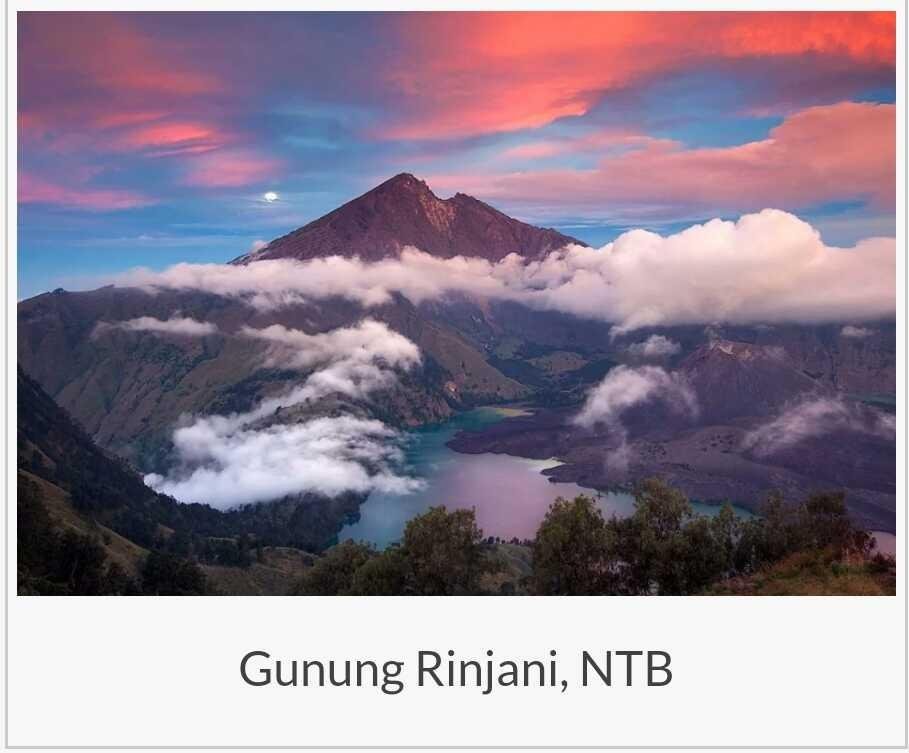 Lombok Island in West Nusa Tenggara not only has the exotic beauty of the beach is stunning. Here also there is a mountain that is famous for its beauty, especially among mountaineers. The mountain is Mount Rinjani. Mount Rinjani touted as the best trekking tour in Southeast Asia.
With a height of 3,726 meters, the most beautiful mountain in Indonesia is also managed to become the third highest mountain in Indonesia. Mount Rinjani offers a variety of stunning natural scenery, ranging from savanna overgrown edelweiss flowers, Lake Segara Anak, until the sunrise views are beautiful and second to none. Estimated time you need to climb this mountain is between 7 to 10 hours, therefore you must prepare the condition of the prime body before leaving.
3.Tambora mountain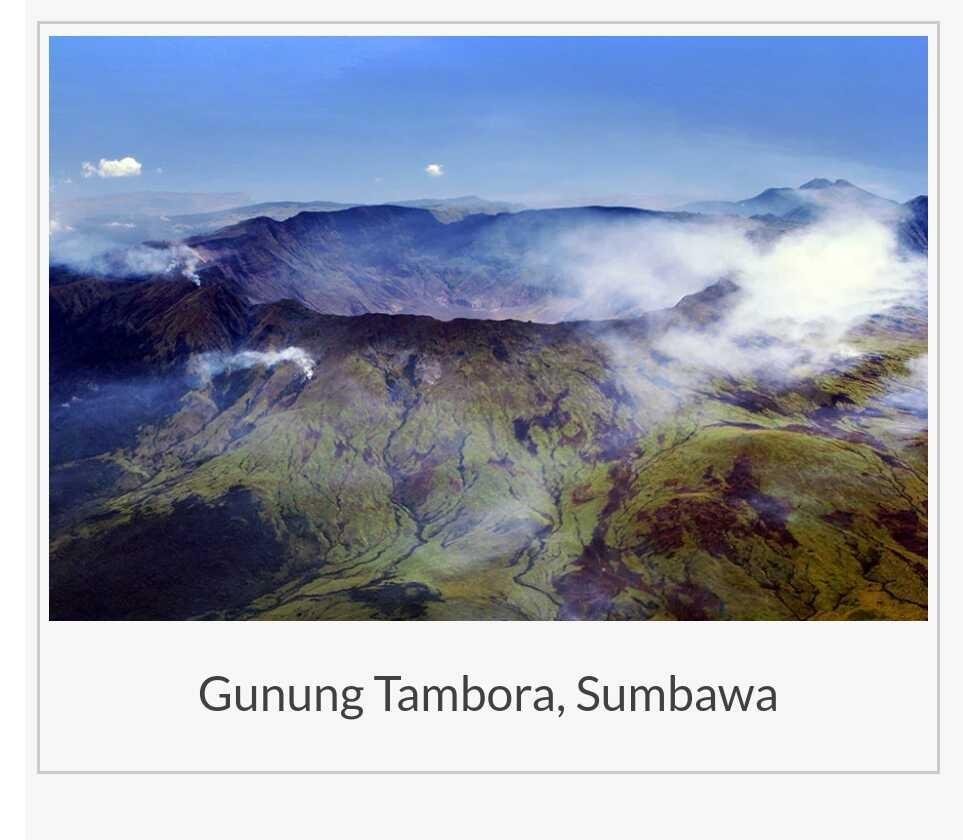 The eruption of Mount Tambora that occurred in 1815 has removed the most beautiful mountain peak in Indonesia. Because of these great eruptions, the largest and most beautiful caldera formed in Indonesia. Equipped with a lake in the middle of the caldera filled with many flowers Edelweiss, no doubt that Mount Tambora is one of the most beautiful mountain in Indonesia.
Gede mountain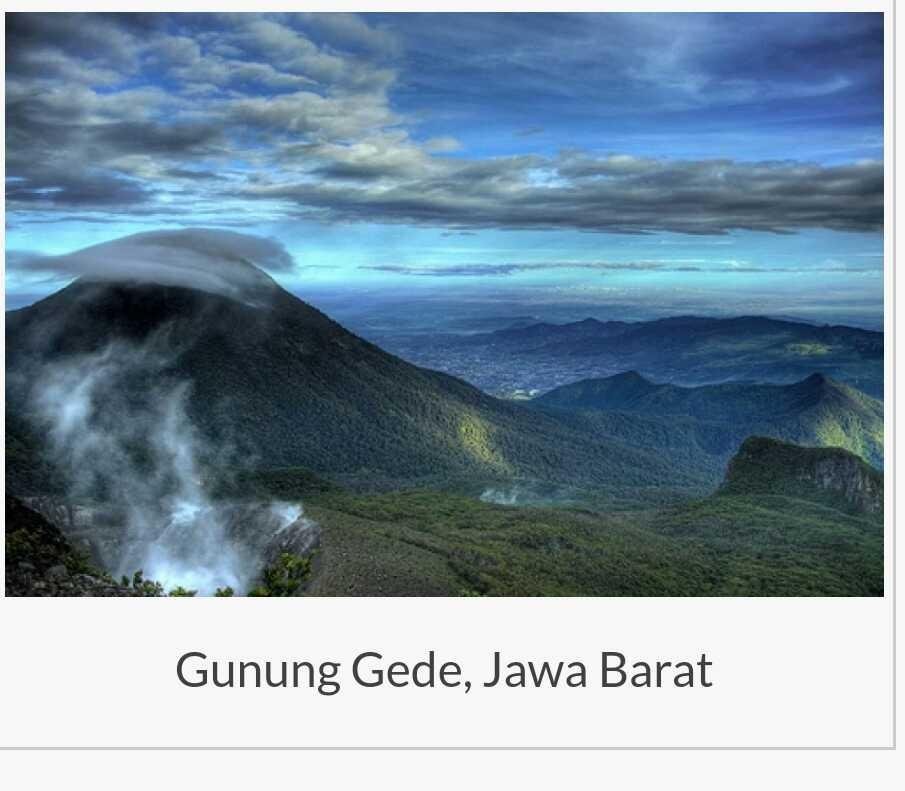 If East Java has Mount Bromo and Semeru as the best-selling mountain among tourists and climbers, West Java has Mount Gede. Mount Gede is located within the Gede Pangrango National Park, precisely between Bogor, Cianjur and Sukabumi regencies, West Java. Gunung Gede has many interesting places that you can visit.
Places of interest include: Telaga Biru, Cibeureum Waterfall, Stone Cage and Bada Cage, Suryakencana Square, and Gunung Gede Peak. One of the most beautiful places and a favorite tourist spot of climbers in Mount Gede is Suryakencana Square. The square of Suryakencana is a 50-hectare savanna field at 2,750 meters altitude overgrown by Edelweiss flowers. Although there are many Edelweiss flowers here, you are prohibited from picking because this beautiful flower is a protected flower.
Prau mountain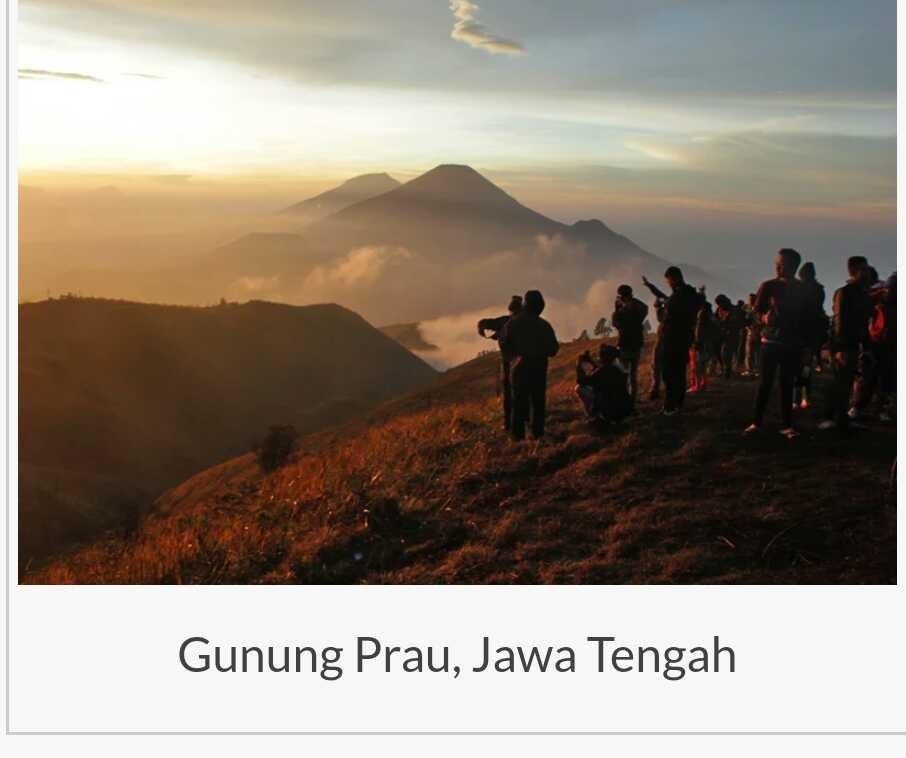 Mount Prau is one of the most beautiful mountains in Indonesia which has become a favorite destination of mountain climbers in Central Java and surrounding areas. The peak of Mount Prau is the best spot in Southeast Asia to enjoy the beauty of the rising sun. Mount Prau is in the Dieng Plateau area and is at an altitude of 2565 meters.
Its relatively short peak with a relatively easy climbing path when compared with other mountains makes this mountain a suitable mountain for beginner climber.
Kerinci mountain of Sumatra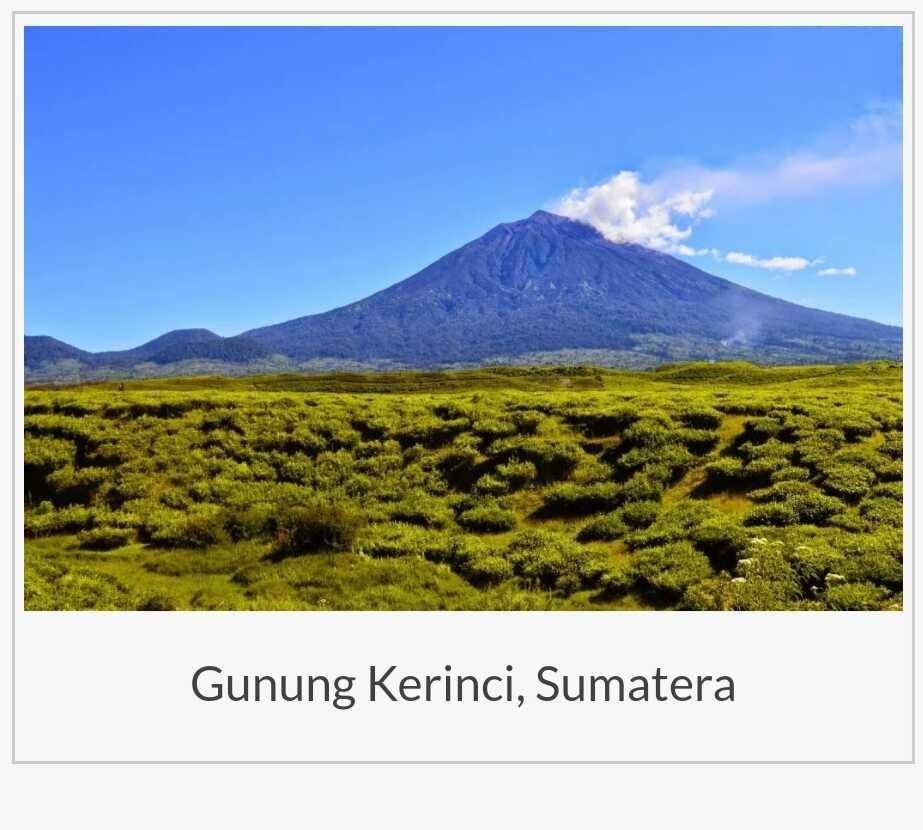 Mount Kerinci is the highest mountain in Sumatra and is the highest volcano in Indonesia. Mount Kerinci is located in Jambi Province bordering West Sumatera and included in Kerinci Seblat National Park area. Being in the National Park area, this most beautiful mountain in Indonesia is also the habitat of Sumatran tiger and rhino protected by the government.
At the peak of Mount Kerinci at an altitude of 3,805 meters, you can enjoy the whole view of the City of Jambi, Padang, and Bengkulu, complete with the blue Indian Ocean. Similar to Mount Ijen, this mountain also has a large crater with a very beautiful blue-green water.
Puncak jaya mountain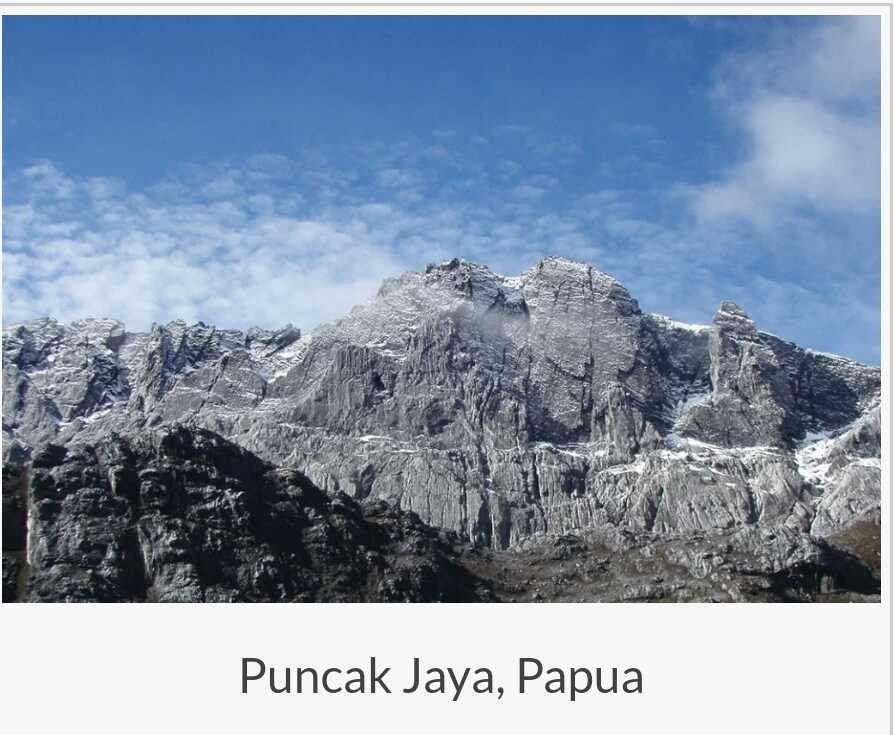 Although located in a region with a tropical climate, Puncak Jaya is a mountain covered by snow. Puncak Jaya has a height of 4,884 meters which makes it the highest mountain in Indonesia. Although Puncak Jaya is the only mountain in Indonesia covered with snow, the eternal snow covering Puncak Jaya is estimated to be thinning or even drying up.
This is in accordance with the conclusion of the researchers, namely that the ice deposits in Puncak Jaya from year to year increasingly thinning result of global warming. Carztens Pyramide is another name for Puncak Jaya taken from the name of a Dutch adventurer Jan Carstenz. He was the first to see snowy mountains in the tropics.
I hope my post ia useful for you all
Don't forget to upvote and coment
See you next time