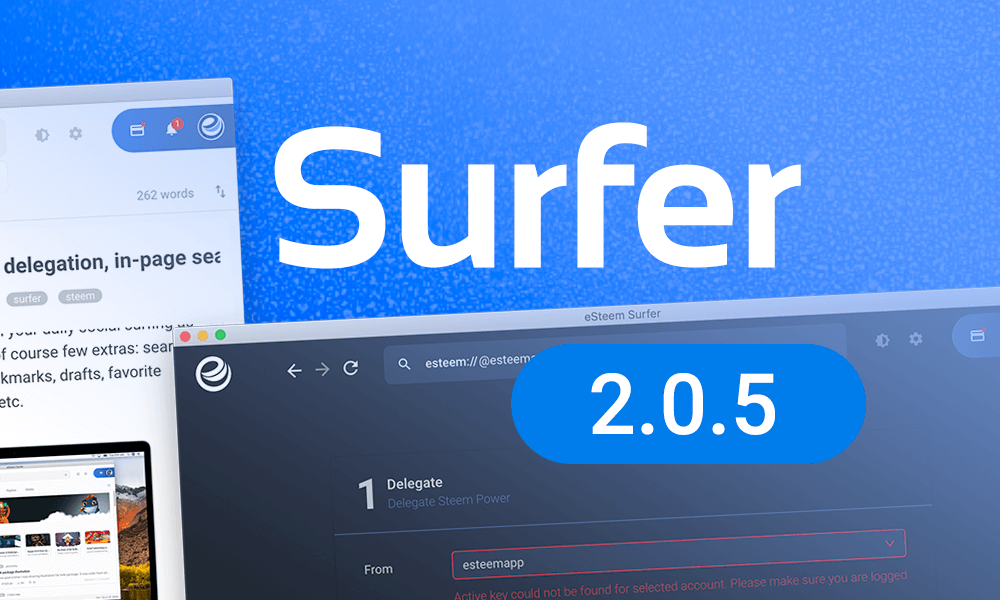 Fresh Surfer 2.0.5 build is ready to download! What it it? It's a Steem Desktop client (available for Windows, Mac and Linux) with many handy features. In this update we've implemented delegation support, long awaited in-page search, fixed and tweaked a lot of things and added few small details like power down amount display in wallet, recent usernames list in transfers etc.
Delegation
Finally you can delegate any amount of your Steem Power to any user using your eSteem Surfer wallet page.
If you are wondering how to undelegate and get your Steem Power back just initiate another delegation transaction to same user but enter zero amount for that transaction.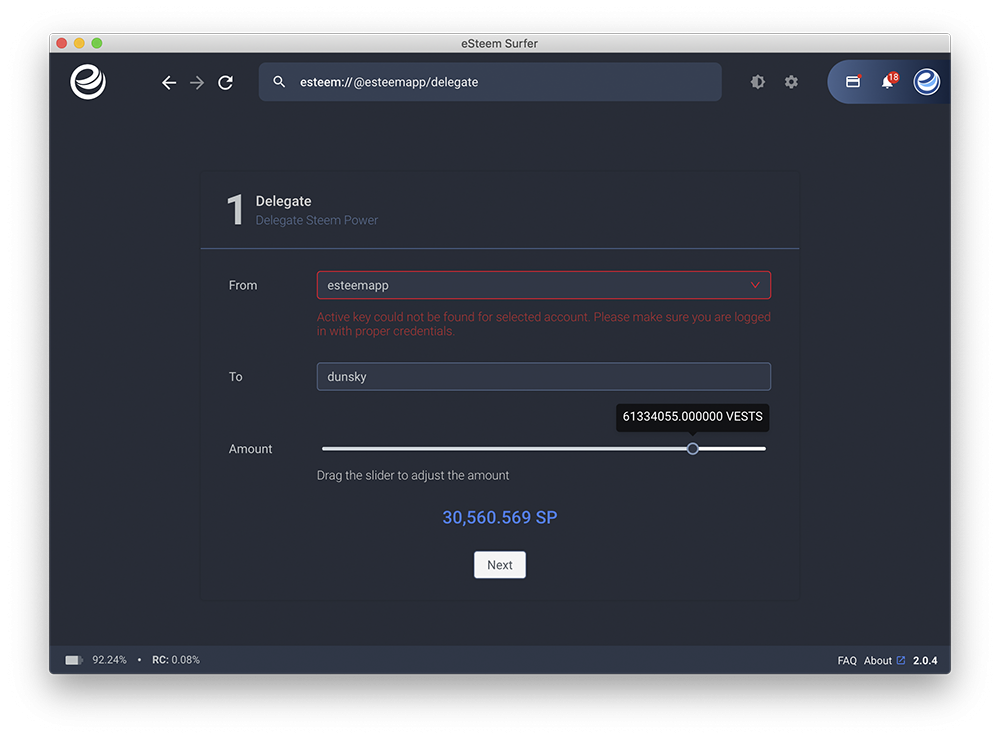 In-page search
Just press Cmd/Ctrl+F and start typing anything you want to search in current page. You can do it in your feed, inside any post/comment section, inside your editor during writing a post or even in the wallet searching for particular transactions. Superhandy!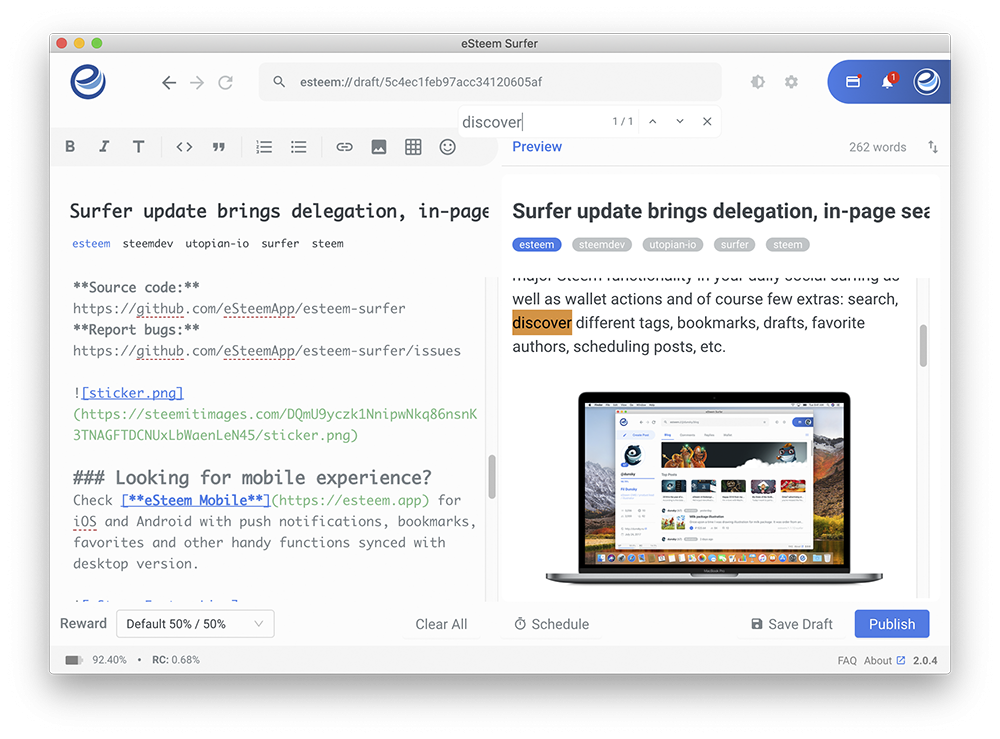 What is eSteem Surfer 2
It's a desktop client you can use on Windows, Mac or Linux to surf your steem friends feed/trending/hot/etc pages, upvote, comment, read replies, do all the other major Steem functionality in your daily social surfing as well as wallet actions and of course few extras: search, discover different tags, bookmarks, drafts, favorite authors, scheduling posts, etc.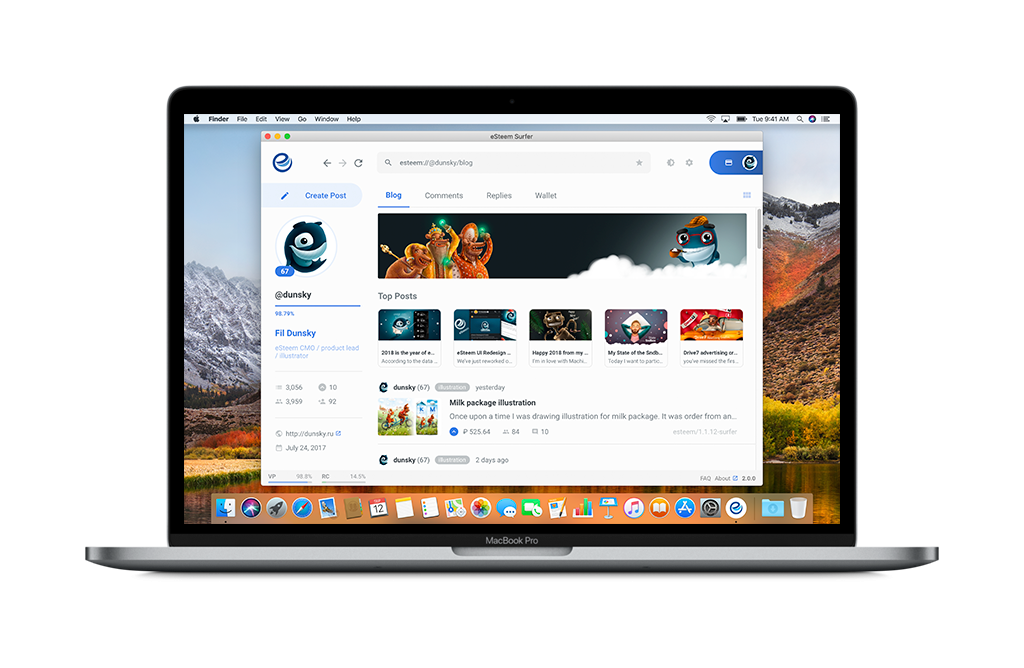 What's New in Surfer 2.0.5
Special thanks to our translators and proofreaders to helping us to present you Surfer in your native language! We will enable new languages and updates in each release.
New Delegation
New In-page search
New Spanish (@kingaustral, @aronexxon), Portuguese (@charlie7), Polish (@froq), Hungarian (@erikah), Dutch (@altrosa) languages
New Power down amount display
New Voting power & Resource credits display improvements
New Footer design update
New Recent username list in transfers
Improved Comment field opens by default now
Improved Vote value estimation
Improved PIN code control
Fixed Emoji picker supports editor title now
Improved Auto https prefix support for links
Improved External link handling
Improved json_metadata
Improved Market data
Improved Code
Fixed Bug fixes
*.exe file for Windows users
*.dmg, *mac.zip file for Mac users
*.deb, *.rpm, *.snap, *.AppImage, *.freebsd, *.tar.gz, files for Linux users
Source code: https://github.com/eSteemApp/esteem-surfer
Report bugs: https://github.com/eSteemApp/esteem-surfer/issues

Looking for mobile experience?
Check eSteem Mobile for iOS and Android with push notifications, bookmarks, favorites and other handy functions synced with desktop version.

| iOS | Android |
| --- | --- |
| | |

Together, we build the future!

info@esteem.app
🌐eSteem.app | 👨‍💻GitHub | 📺YouTube
✍🏻 Telegram | 💬Discord | Patreon