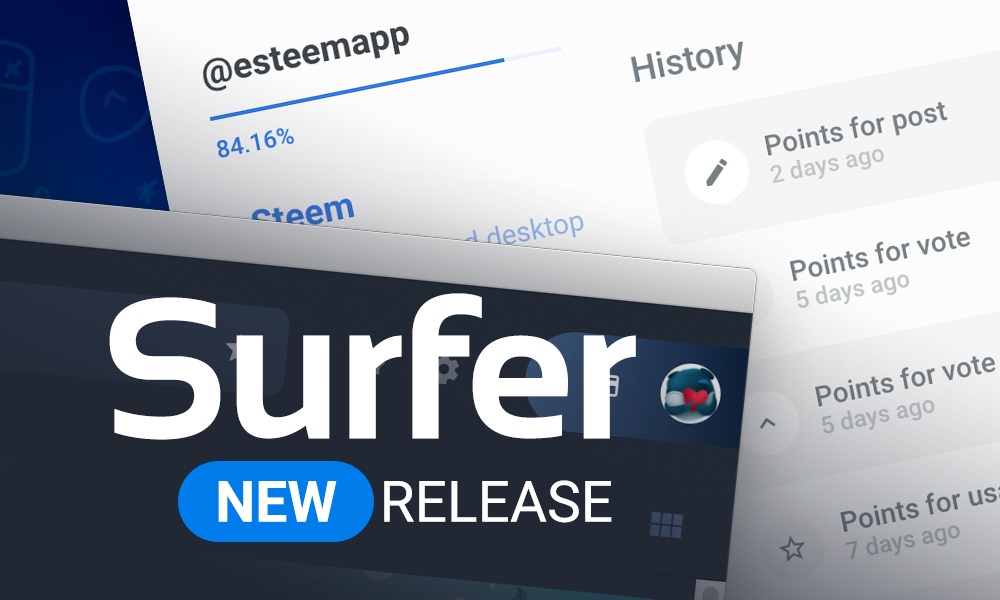 Recent eSteem Surfer 2.1 build is ready to download! Meet new pointing system integrated to eSteem Surfer and eSteem Mobile family. You are able to get additional rewards using eSteem applications now. In fact if you were using old Surfer 2.0.7 and Mobile 2.0.9 versions you already got some rewards but now there is a user interface for to display that and you can claim your eSteem Points in new version.
What is eSteem Surfer 2
It's a desktop client you can use on Windows, Mac or Linux to surf your steem friends feed/trending/hot/etc pages, upvote, comment, read replies, do all the other major Steem functionality in your daily social surfing as well as wallet actions and of course few extras: search, discover different tags, bookmarks, drafts, favorite authors, scheduling posts, etc.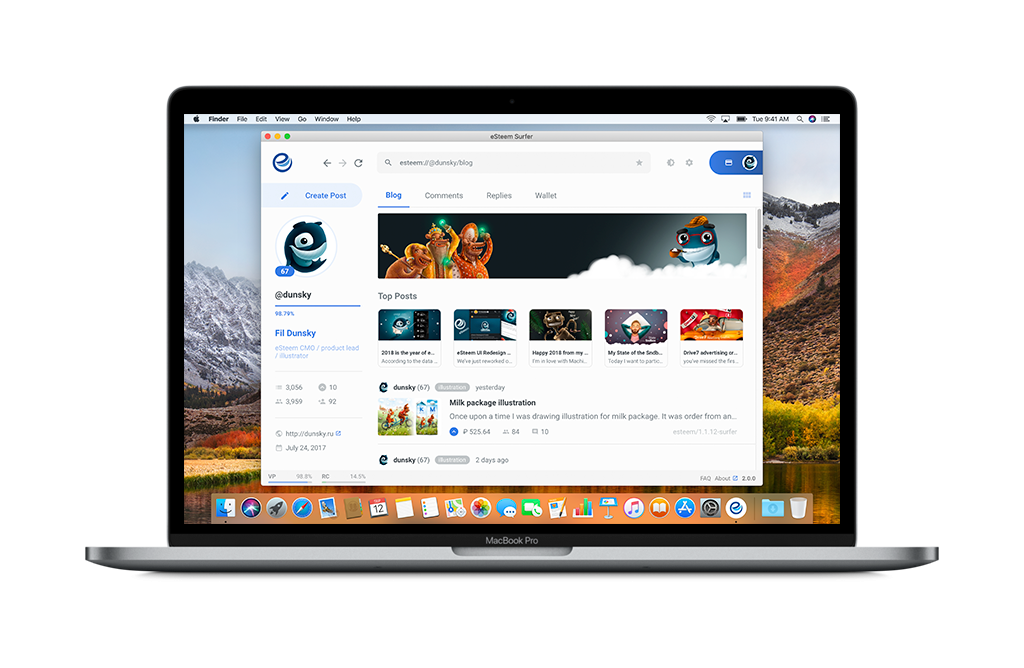 PIN protection
Application start up is protected with PIN code. Your keys are stored locally on your device encrypted. Once you start the app it decrypts your key with your PIN.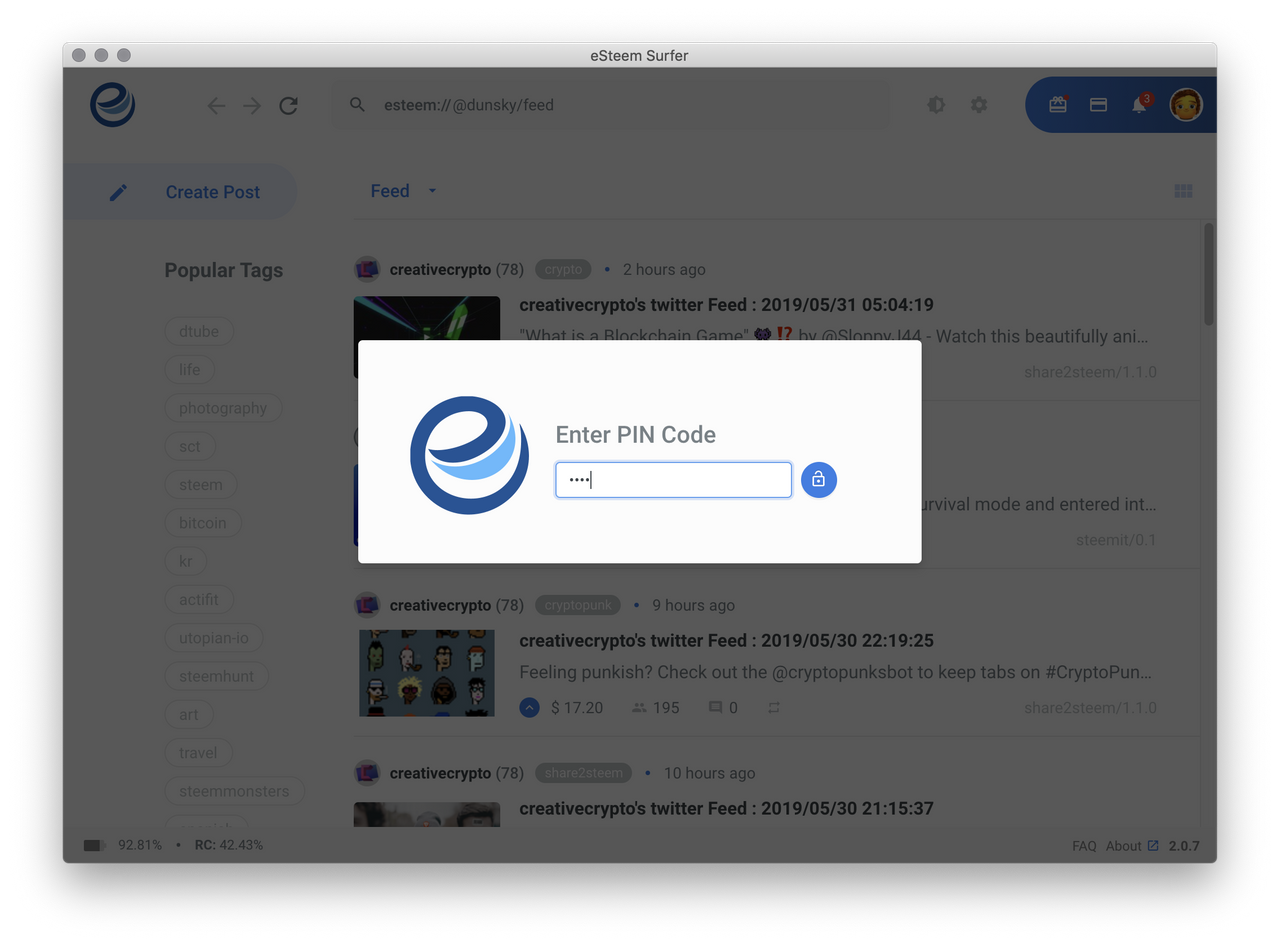 Drafts
One of the most used feature let you start composing the post on your Mac or PC and continue on your Mobile on the go or vice versa.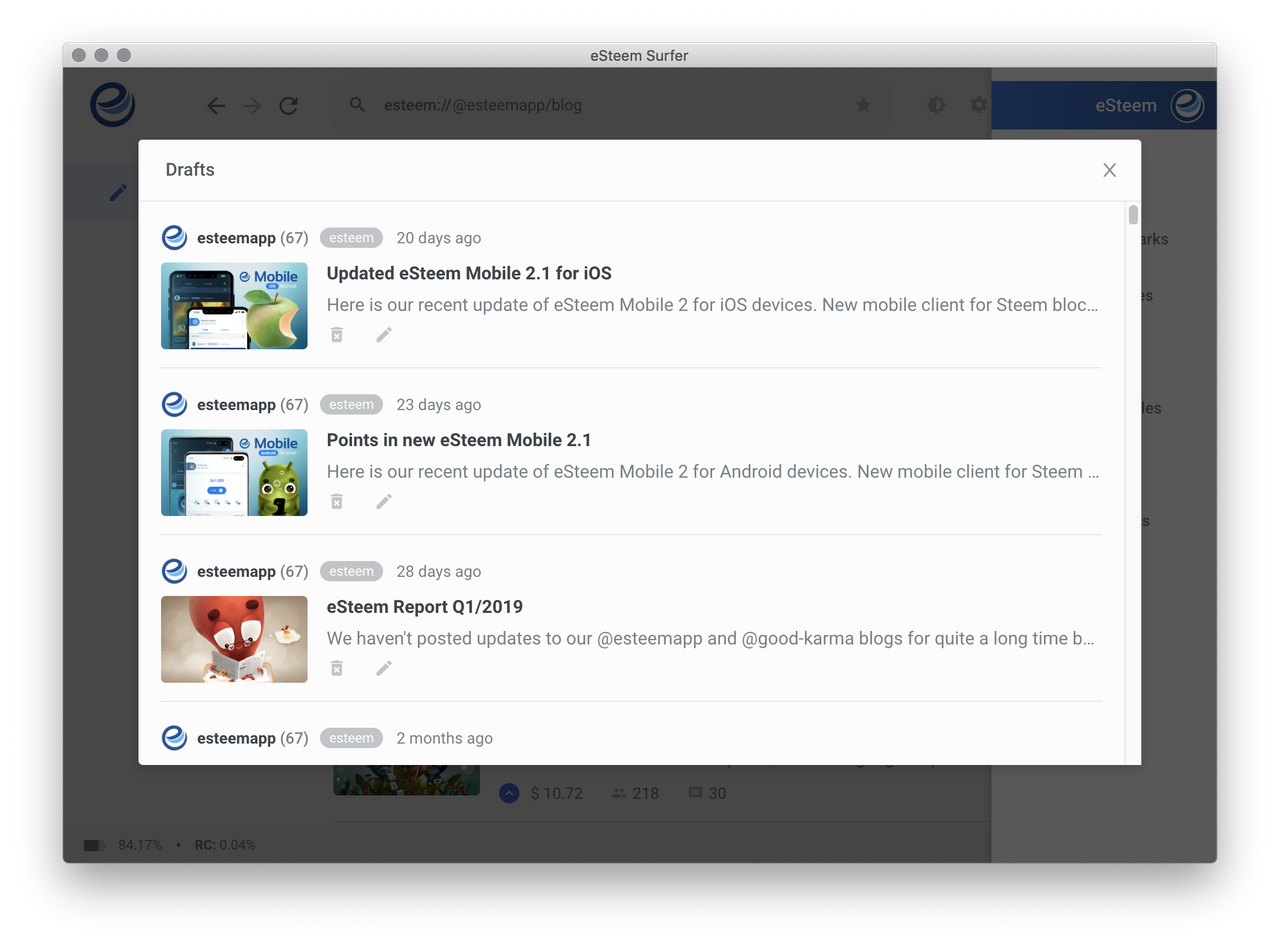 Wallet
You can manage your wallet in a handy and beautiful way with eSteem Surfer. Claim rewards, send and receive Steem and SBD tokens, Power Up or Power Down your Steem Power, lock your funds into the Savings account for additional security and check current Steem/SBD rates.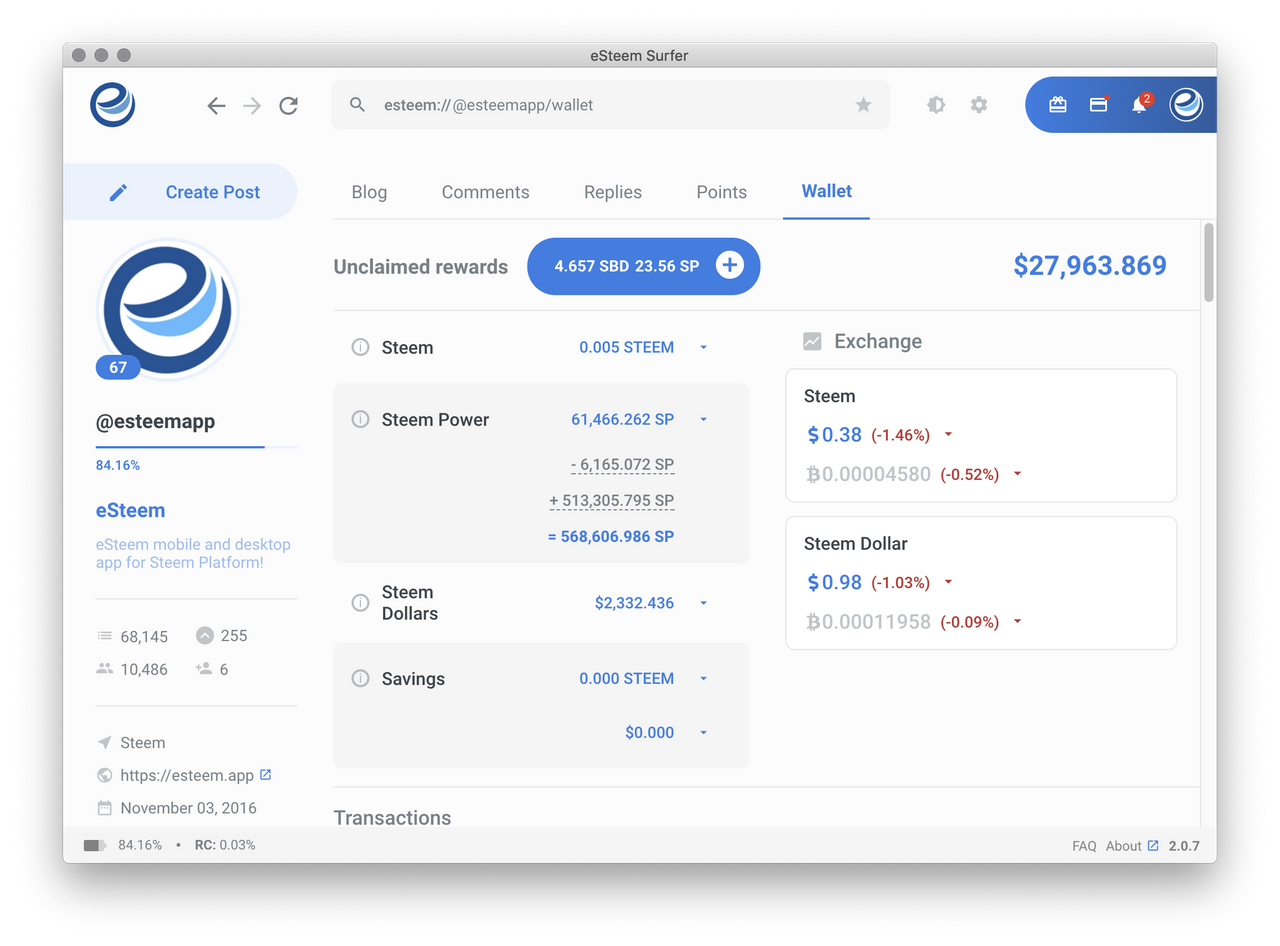 Points
For now you can just collect eSteem Points for different activities using eSteem Mobile and eSteem Surfer applications. Writing posts and comments, reblog, upvote and even reading your feed is giving you some Points. You can not do anything with them yet but stay tuned and just collect them. They might be used to promote your posts, reward other users or exchange to Steem soon.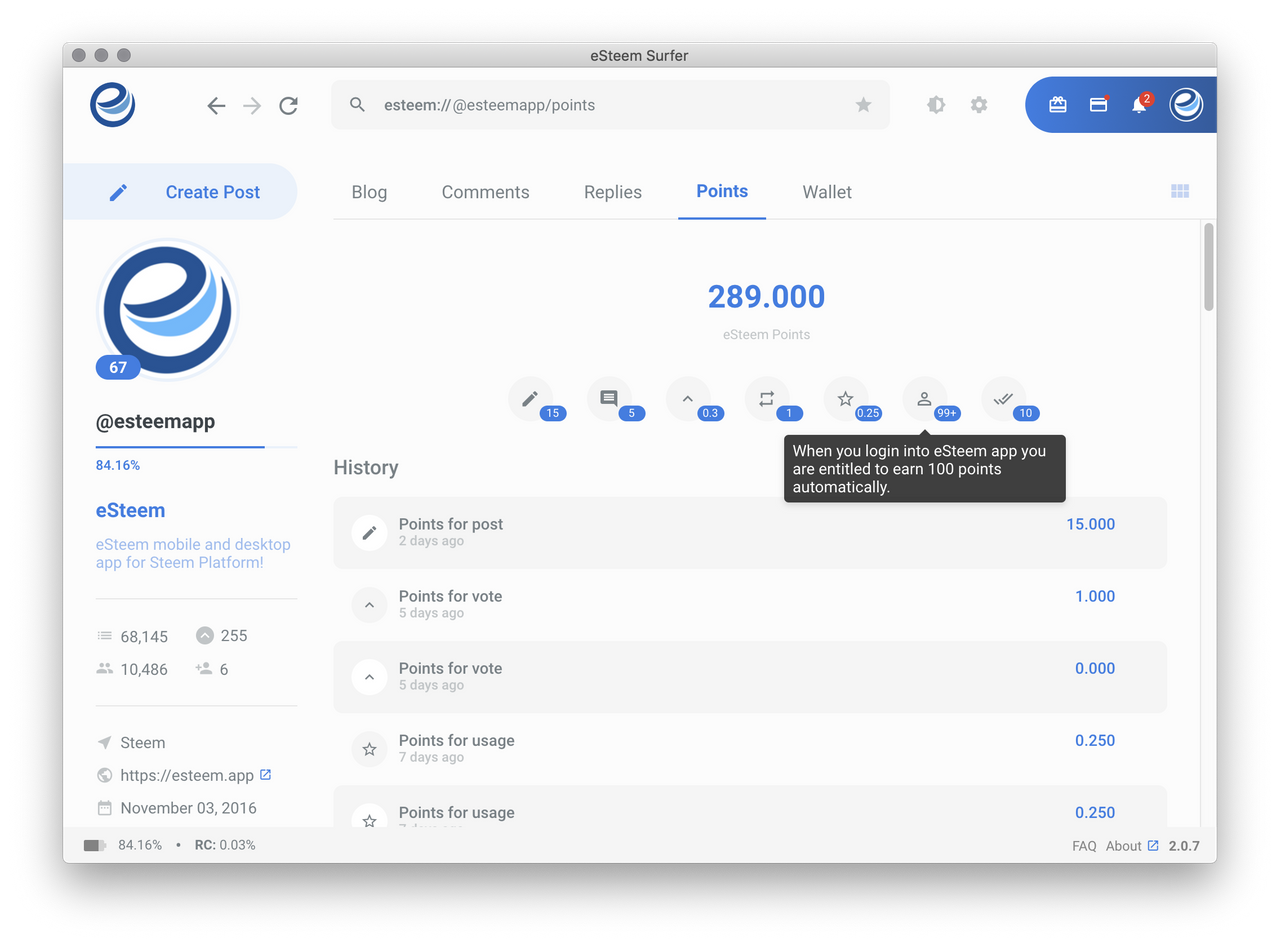 What's New in Surfer 2.1
New Pointing system integration
New Success & error indicator added to schedules
New Posting permission error handler
Improved Catch entry image improvements
Improved Render helpers
Fixed Active account bug
Fixed Reblog button
exe file for Windows users
dmg file for Mac users
deb and rpm files for Linux users
Source code: https://github.com/eSteemApp/esteem-surfer
Report bugs: https://github.com/eSteemApp/esteem-surfer/issues

Looking for mobile experience?
Check eSteem Mobile for iOS and Android with push notifications, bookmarks, favorites and other handy functions synced with desktop version.

| iOS | Android |
| --- | --- |
| | |

info@esteem.app
🌐eSteem.app | 👨‍💻GitHub | 📺YouTube
✍🏻 Telegram | 💬Discord | Patreon