On this occasion, I was interested in discussing the Aceh Society and their culture. Acehnese are well-known for being very religious and having an indigenous culture that is identical with Islamic values. Between Aceh culture and Islam cannot be separated. This harmonization between adat and Islam develops in various aspects of the life of the Acehnese people.
In its implementation, the Acehnese people adjust their religious practices to the prevailing customs and culture in society. This can be seen in the socio-cultural life of the Acehnese people. Aceh culture and Islam are difficult to separate because of Islamic law has become part of the culture (adat). Instead, culture (adat) becomes part of Islam.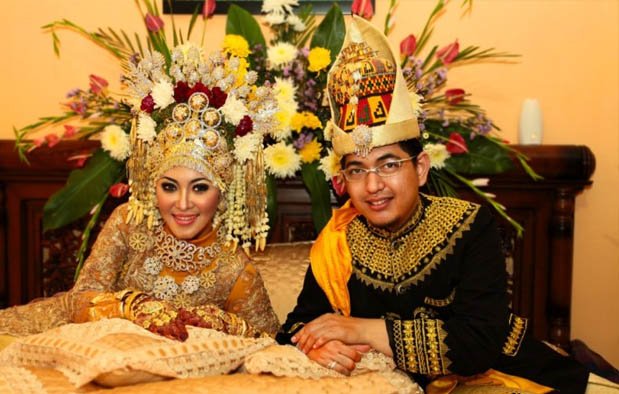 [Source]

In relation to the above, in Aceh society there are two cultural provisions (adat) are applied, that are:
Provisions of Allah SWT that have not changed throughout time
Culture of the people of Aceh must be based on Islamic law.
Thus, Islam and culture (adat) Aceh become an inseparable package. Islam and culture blend together and are very closely related to the life of the Acehnese people. So, Acehnese traditional culture is very thick with Islamic values. Conversely, Islam cannot be separated from Acehnese traditional culture.
Culture can be said to be the fruit of human thought which is influenced by environmental factors, place and time in order to achieve happiness. Because of this there are many models of human-generated culture in the world, such as secular culture, Marxist culture, atheist culture, materialist culture, socialist culture and so on. The fruits of thought become the custom of society which eventually becomes a culture.
Acehnese traditional culture contains religious values based on Islamic law. therefore, the value of Islamic law must be imbued and reflected in the Acehnese traditional culture. According to the Chairperson of the Aceh Customary Court, the use of the term "Aceh culture" was not appropriate, he was more in agreement to use the term "Aceh Traditional Culture". Because the term has a philosophical, historical and idealized impact on the people of Aceh.
Therefore, Aceh Indigenous Culture has the image "Adat dengon hukom lagee zat dengon sifeut" (culture with law like substances with properties). So, the use of the term "Aceh Traditional Culture" shows and reflects there is attachment between culture and law, not like the culture which is termed for "culture" in general.
Besides that, Acehnese people have special values related to Islamic law. Therefore, Aceh culture must not be separated from Islamic Shari'a. Like every work done by the people of Aceh, it must be intended "because of God" and in important and good work according to Islam it must begin by reading "Basmalah". This does not exist in other cultures only exists in Acehnese culture. So because of that, no one gambled read a prayer at the gambling place. While in all other events the people of Aceh are required to start with Basmalah.
It is important to note that the traditional culture of Aceh is not just peusijuek-peusijuk, it is only the smallest part of the culture of Acehnese custom. In the implementation when carrying out custom such peusijuek must be carried out according to and in line with Islamic law such as reading basmalah and prayer. Customary values cannot be lost. Values based on the Shari'a should not change, the format may be anything. Another example in dressing, the value is covered nakedness, the model is up to anything, the point is that the value.
If we look further, that we will find the philosophical values contained in Aceh Traditional Culture in accordance with the teachings of Islam contained in the Qur'an Al-Hujurat Verse 13.

[Source]

Based on the content and purpose of the verse above, we are created to live in tribal and national life to know each other with one goal, namely to get happiness. Happiness will be created if we fellow human beings complement each other.
In that verse above, termed "Lita'arafuu" (knowing each other). The word lita'arafuu can be interpreted as a market, in the market we can produce works, such as producing cakes, other products, including sophisticated tools at that time for human happiness in the world and as Muslims of course, happiness that hopes is happiness of the world and the hereafter. Between the happiness of the world and the afterlife there must be a balance.
Based on the description above, it can be concluded that the AcehTraditional Culture and Islam cannot be separated because between the Acehnese Customary Culture and Islam it has become like a package that integrates very closely. So it is not surprising when "Aceh" be said was spontaneously in the brain of anyone who heard "Aceh" will think that is "Islam".
---

Thanks For Your Time
The Best Regards, @ijoel