It cannot be denied that we are currently living in the technological era. The presence of technology in our lives has brought many changes and significant impacts.
Day by day, technology is the more developed, where technology continues to experience development over time and the level of sophistication is even higher. It's no wonder why there are so many sophisticated technologies now appearing in our lives.
This is why technology is often and always associated with the internet. Because the internet is an integral part of information and communication technology. One of the goals created by technology is to help and provide convenience in various aspects of life, both ease of work activities, communication, and even to overcome various problems and problems that exist in the community.
Technology not only helps and makes it easier for people to do activities of work but also offers new ways that are far more effective in doing their activities and work, so that the impact also affects the culture that already exists in society.
Therefore, it can be said that the benefits of this technology are very much for human life but not infrequently also the negative impacts arising from these technologies especially in social life in society.
1) Dependence on Technology
It is undeniable that the development of technology today has influenced the social behavior of individuals and society in general. The fact that society has relied heavily on technology. One of them is that the community has relied heavily on increasingly sophisticated communication technology. This makes one do not have to meet directly to speak for a while or tell something quickly. Communication with family, friends, relatives, or other people becomes easier and more efficient.
We must admit that the development of communication technology is indeed very helpful, but on the other hand the development of this technology can also be detrimental. The more sophisticated development in the field of technology has been caused a lot of impacts (negative and positive). In the sense, the more sophisticated technology, the more its impact. At present, there are many kinds of technology that we use in life such as gadgets, smartphones, and even other applications that are increasingly in demand by many people. It allows us (users) to access the internet with easier. However, we must not forget and neglect that these technological developments cannot be separated from the positive and negative impacts.
2) Increased User Growth and Duration of Time Used for the Internet
Once the internet is found, developments in the technology field continue until there are social networking media like Facebook, WhatsApp, Twitter, Telegram, Instagram, youtube, technologies and other social media. That all has an impact on increasing internet users drastically.
This year, WeAreSocial and Hootsuite are launching Global Digital Report in 2018. According to the report from We Are Social and Hootsuite, there are now more than 4 billion people worldwide who use the internet. This shows that internet users currently have more than half of the world's population. Based on the latest data shows that nearly a quarter of one billion new internet users for the first time in 2017.[Source]
The new data shows a lot of amazing numbers from the world of the digital world (Internet user). In the report, Indonesia also was included in it. It was explained that the number of internet users in Indonesia reached 132 million people. This number shows that half or more than 50 percent of Indonesia's population can access the internet (internet users). While in the same report also explained from hundreds of millions of internet users in Indonesia, 60% have accessed the internet using smartphones. Not only in terms of increasing access, but also the duration of time used to access the internet.
From the reports of Wearesocial, shows that the world average uses the internet for six hours per day to access the internet through various devices. If this duration is multiplied by the number of world internet users, then the duration of internet usage by all people in the world can reach more than 1 billion hours to go online this year (2018).
In addition to that, the interesting from report about Indonesia is that in terms of internet usage time, Indonesia ranks fourth in the world with an average duration of using the internet for 8 hours 51 minutes every day. Indonesia only lost slightly from Thailand which had a duration of 9 hours 38 minutes, then Indonesia also lost compared to the Philippines 9 hours 29 minutes and Brazil with a duration of 9 hours 14 minutes. Indonesia's rank defeats developed countries such as Singapore which have an average duration of 7 hours 9 minutes, China 6 hours 30 minutes, the United States 6 hours 30 minutes and Germany 4 hours 52 minutes.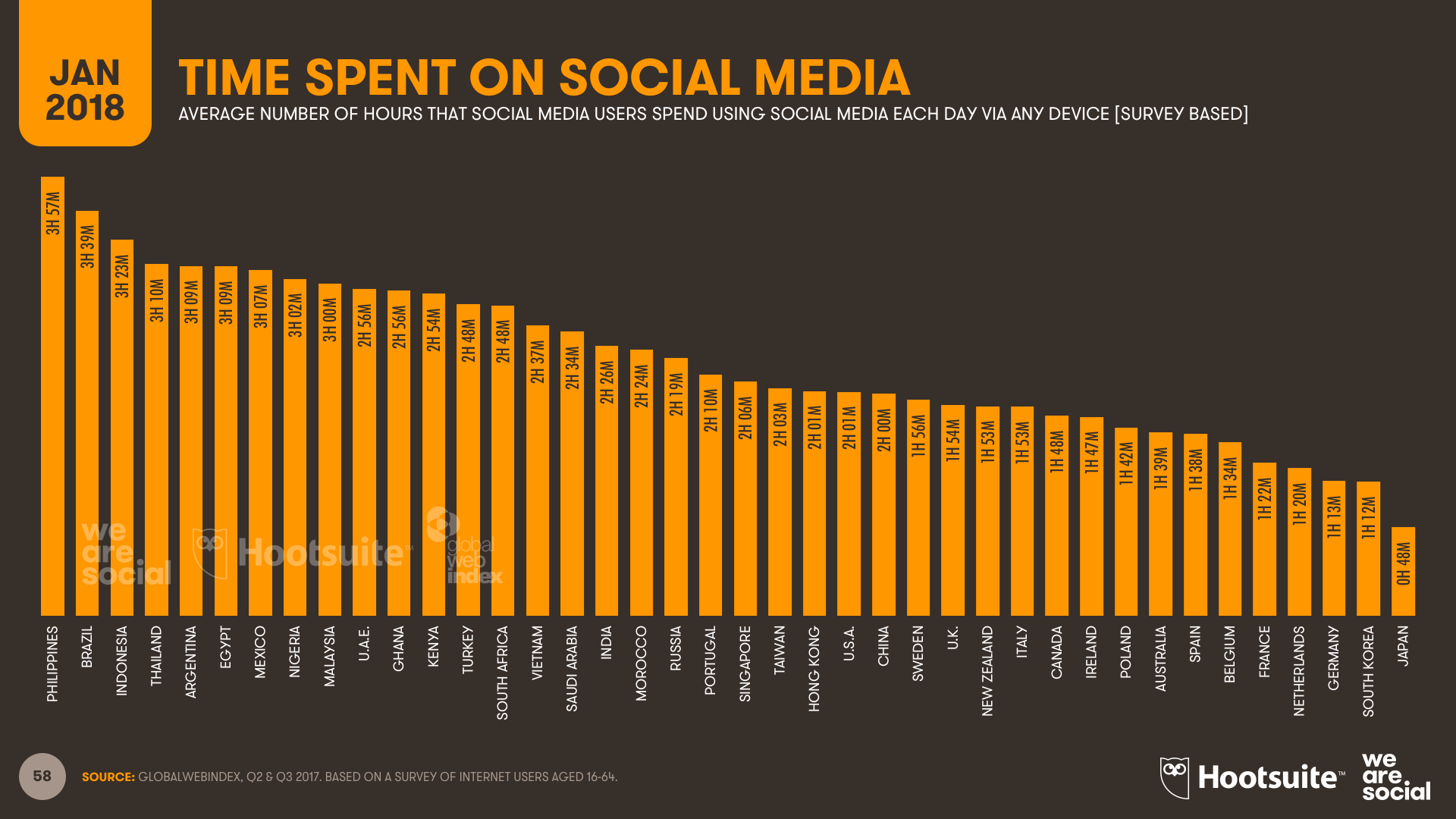 [Time Spend On Social Media]
Based on these data that internet use is many dominated by socializing activities in cyberspace. This is proven by the large number of social media users in the world, reaching 3,196 billion users. Indonesia itself in terms of the number of social media users reaches 49% of the population of internet users in the sense that almost half of internet users in Indonesia have social media. In terms of the growth of social media users themselves, Indonesia is the third largest country with a growth rate of 23% or 24 million users in the past year.
This is evidenced by 2 (two) cities from Indonesia occupying the position of two cities with the largest number of Facebook users in the world, namely the city of Bekasi with 18 million users and the City of Jakarta with 16 million users. Although, this number is strange (irrational) and also needs to be questioned because it does not reflect the actual population. Because the Bekasi population itself is currently based on data from the Central Statistics Agency, it still reaches 2 million people. While Jakarta is considered to have a population of 9 million.
In addition, Indonesia also occupies one of the largest countries using Instagram with a total of 56 million users. Instagram is one of the most popular social media in the world. That means almost all smart phone users in Indonesia are Instagram users. In terms of using Instagram, Indonesia ranks fourd in the world after the United States, Brazil and India in April 2018.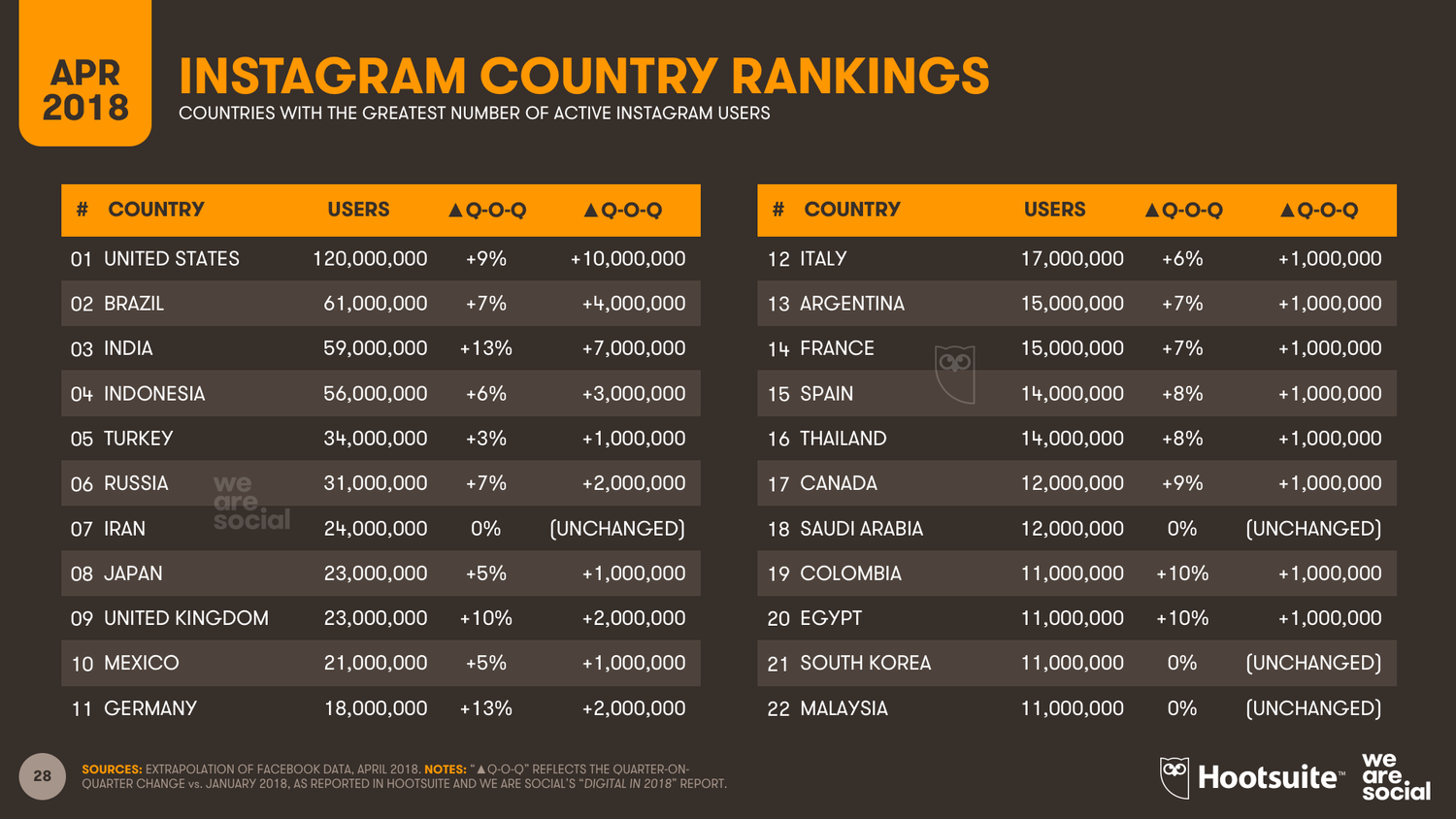 [Instagram's Top Countries by Active Users, April 2018]
The growth and increasing number of internet users also affects the growth and increase of social media users and smartphones.
Based on the data and descriptions above, it can be concluded that the largest internet users are still dominated by social activities in cyberspace, where most users use their smartphones for social activities, communicating. Although the data and descriptions above are not specifically favored by decentralized social media users, it does not mean that decentralized social media users such as steemit, scorum, or weku. Even so far socialized social media is more in demand by the world community. And the time goes on decentralized social media users like steemit and my will grow dramatically. Therefore, socialization, and steem promo need to be carried out so that the community knows that there is social media that can generate money and is very relevant for investing.
Apart from the data and descriptions above, in this case we hope that people around the world really feel optimistic about this technological development and use it for positive things, both as communication media such as Facebook, Twitter, WhatsApp, Intagram, or as blogging media and to get pay such as steemit, weku, scorum and others.
In particular, the people of Indonesia, as reported by Wearesocial, puts Indonesia in the 7th rank of the world as the most optimistic country that sees the internet as a technology that is able to open up many new opportunities and opportunities and not as a technology that poses a threat to the nation and country.
Reference:

Thanks For Your Time
The Best Regards, @ijoel