Teaching is not an easy job but it is one of the difficult jobs. Moreover, working with minors will be even more difficult, especially when meeting these children in large numbers in one class where teachers will be very tired of their various behaviors.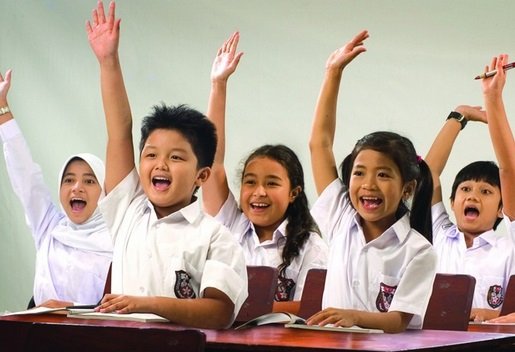 [Source]
Out there, there are many experienced teachers facing them and the teacher always develops precise strategies in managing the class as I mentioned above. Not a few of their strategies are deliberately uploaded to social media or the web and disseminated in order to help other teachers in achieving the same success in terms of educating school-age children.
Likewise with me, in this article, I will review the exact tips that you can practice in class and these tips are very effective and hopefully useful for teachers in teaching and managing classes to be more efficient and effective.
1) Create rules and apply them consistently
On the first day, the teacher must make and establish regulations as learning contracts between teacher and student, whether it is related to the consequences of negative behavior or rewards as a reward for positive behavior of students when learning activities take place. With the rules made by a teacher in the classroom, students will be more directed and give the impression that the teacher is a serious educator who wants the learning process to be more qualified. In addition, with regulations, students will be motivated to increase their awareness to avoid behaviors that should not be carried out during the learning process.
2) Use positive language
Every time you tell someone not to do something, the first thing that emerges from the head of the child you are telling is to imagine things you should not do. For example: "Don't smoke in class!" The student in question will surely imagine himself smoking in class. So, avoid negative words like "don't" and so on, but use positive language, such as: "Prepare your writing instruments", avoid the phrase "Don't miss your writing instruments"
"Close the door slowly" avoid the phrase "Don't close the door hard"
"Listen to your teacher and pay attention", avoid the phrase "Don't be noisy!"
In addition, when notifying rules to students. Don't use the word "punishment" but it's better to use the term "consequence" instead of the word "punishment".
3) Give praise to the effort of students
Sometimes there are some teachers who give praise to a student because the student has done what the teacher wants. It is clearly not the slightest kindness to the student, which is only a realization of the wishes of a teacher.
The best praise is a compliment for something that is indeed needed and for the good of the student concerned, such as "I saw that Rayya Al-fathiya had prepared her book on the table, it indicated that she was very ready to learn". Remember to make it a habit for students to do things according to their needs, but not to do something to get attention and pleasure from their teacher.
4) Avoid attitudes and actions that can embarrass students in class in front of their friends
Taking actions that can embarrass students is not a good idea For example: when a teacher gives an example of a child by humiliating him in front of his friends. If you find your students making a mistake, talk to students outside the class, so that the student does not feel humiliated in front of his friends.
5) Understand the differences will student abilities and make sure students master the material provided
Not all students learn the same way and speed. Some of students are fairly quick to master but there are also those who are the opposite. For students who are classified as slow to master, teach slowly and check their understanding on a regular basis so as not to be left behind in the lesson, make sure they are not pre-qualified when learning the concepts of a subject matter. For students who have above average abilities and are quick to understand the material, give additional concepts as extras, this will have a good effect on them in deepening the material.
6) Make contact and consult with students as often as possible
Make contact and consult student development with parents as often as possible. Take advantage of being present at parent-teacher meetings if the school holds a conference or meetup. Show that you want to work together with parents in educating optimally their children to develop their qualification. If you can make good relations with parents, you will easily open a dialogue between parents, students, and teachers. This will obviously result in feedback and excessive trust from parents to the teacher concerned.
7) Interactive Learning will be effective
Do something and show students how to do it. Next, ask them to share what they got from what the teacher practiced. After that, ask students to do something like what the teacher has done and discuss in class. If you do it slowly and seems slow when you do it for the first time, there is a guarantee that students will understand and mastering the material.
8) Get student attention at the beginning of learning
The way to get attention from students, you don't need to say "Everything is silent, learning will start" it sometimes backfires. Just let students be aware of your presence until they silence themselves and ask their friends to be quiet and pay attention to you. But if this method doesn't work, you can immediately take the noise by asking directly about a problem that is challenging and interesting.
I guess just this about "Good and true teaching tips for elementary school students plus very effective". Hopefully this article can be useful for teachers. Don't forget to follow me, resteem and upvote.
Thanks
Regard @ismazahara