Hello friends, Hope you all are in good health. After all this time I vacuumed (not actively writing here (steemit), this time the situation and political dynamics motivated me to write, with the hope that this could provide enlightenment for the Indonesian people in determining and giving their choice to the right leader for realizing Prosperous Indonesia.
Do you still remember that the ILC program that was broadcast live on Tv One?
[ILC: Youtube]
The event was hosted by Bang Karni ilyas, held until late at night. Most likely, millions of Indonesians that night, including me, watched the ILC program.
Very Phenomenal Young Ulama
How not, the title chosen was very tempting, which the day before it was advertised via social media, which discussed the figure of a fenomal scholar, called Ustadz. Abdul Shomad (UAS).
ULAMA, one word that has very deep meaning. If this word is attached to someone, then many people will respect it.
The discussion took place tough with the presence of several great speakers, both from the Prabowo camp, and from Jokowi's camp.
There was one interesting session which became the spotlight, when one of the politicians from PDIP explained and stated that the Ulama did not have a place to sit in the top seat of the government.
However, this statment was later denied by the deputy of General secretaty of Indonesian Council of Ulama, Ust. DR. Zaitun Rasmin, Lc., MA. this statetime then became viral, that:
The artist (movie star)can be a leader, especially the Ulema who better understand the situation.

There is already a lot of evidence in our country, led by Ulama (although not the president) and in other countries. Our role model is that the Messenger of Allāh became the leader. Bilal bin Rabah, who was originally a slave, was also the leader (after some time).
This cannot be denied anymore and shows how much the role of the Ulama in leading this country (Indonesia).
This ILC program, most likely, the country Palace also witnessed this program in order to get more info, to then build a new strategy, maybe even including Jokowi following the updated results of the ILC Tv One program.
The day before, the court heard the strong news that the figure of Prof. Mahfud MD as one of the initials "M." people near Jokowi, will become Jokowi's vice president.
Clothes have also been measured, Curriculum Vitae has also been prepared because it has been requested by Jokowi.
However, the development of the flow of information via the media, especially Social Media such as FB, tweeter, Instagram, and Television, show that is how the central role of the Ulama is, is a "magnet" for Muslim voters.
This is where Jokowi's blunder, and maybe the people behind him who have been meddling with the decisions that will be issued by Jokowi and participate in monitoring the media, especially the one word: "ULAMA".
Jokowi was hooked by one word: "Ulama"
His glance, before was not to the Ulama circle immediately turned to the figure of the Ulama (sorry: unfortunately, the scholars chosen by Jokowi were over 70 years, exceeding the age of the Prophet 63 years, with physical conditions that are no longer Prima, etc.) Prof. Mahfud MD was no longer glanced at. Just because of one word: "ULAMA".
The attitude and decisions taken by Jokowi and the people behind him were very unfortunate because they only chose the age-old scholar in general (umur ghalib), he was just waiting for death.
The registration limit is narrower and only 1 day remains. Finally Jokowi, through a joint meeting with senior officials of his coalition party, decided that it was the ulema who had to be elected.
Jokowi's Reason For Choosing K.H Ma'ruf Amin
In just a matter of hours, Jokowi appeared on the screen and surprisingly declared and announced KH. It was Ma'ruf Amin who was chosen to accompany him, with the reason:
He is an Ulama, even the chairman of the Indonesian Ulema Council, even someone who is elder and respected by one of the Islamic organizations in Indonesia.

KH. Ma'ruf Amin, wants to embrace most of the 212 alumni to take sides and support them.

etc.
Political Attitude and Prabowo's Genius
While in the opposition camp, Prabowo's father has been guerrilla since the previous two days tirelessly and a little sleep to visit ("pick up the ball") the chairmen of his coalition Party, one of Prabowo's goals is to further strengthen the mutual ties that have been pledged among them.
You can imagine how tired the General moved from the residence of a political party leader, to the residence of the next party leader. However, perhaps God has bestowed upon him a strong and healthy physique, let alone a former soldier and trained commander at a young age.
Another aim is to strengthen the party officials that the mandate that has been delegated to him to determine his nominee, is submitted to him to determine for himself.
Prabowo, with full consideration and there is still a risk for the Democratic party (not PKS, PAN, let alone Gerindra) that the figure chosen is:
Not from a coalition party, but from an internal Gerindra party cadre.

A "man" who is energetic, visionary, and loved by mothers (aka younger and handsome. Sorry: do not compare with the fortress).

Abundant wealth whose wealth has been proven to have been used to build the capital city of Indonesia, Jakarta. How many contributions can it be made to social activities, let alone been viral when he was presented with a donation proposal by one of the social organizations (Dompet Dhuafa), then he wrote: Whatever the value, just write it yourself).

A leader who is trained and experienced in leading thousands of employees, with a charismatic, calm, and intelligent figure.

Can be a cadre/successor for the future leadership, if Prabowo has been 2 periods.

etc.
Prabowo also tried to convince the party's officials that this choice, God willing, "Not wrong", and with that endeavor, paid off: Party Leaders: PKS and PAN, legowo (agreed), despite getting 500 billion rubbish each party, all were ignored . Keep going and catch up. Time is getting closer to the deadline for registering presidential and vice presidential candidates.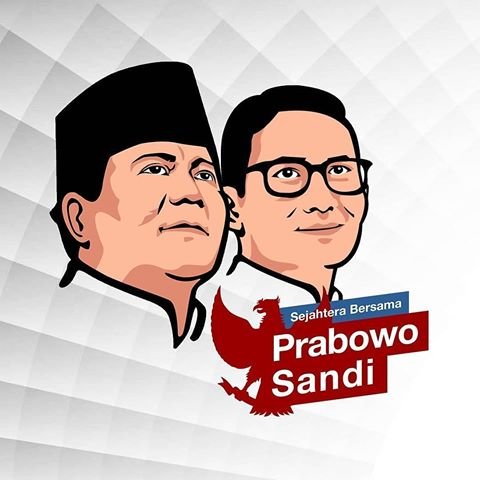 [Image Source]

Finally, at around 11:30 a.m, Prabowo announced that the companion he had been waiting for so far had already existed and that he was the SANDIGA SALAHUDDIN UNO.
Jokowi, This time, be provoked with one word: ULAMA.
[Image Source

There are other aspects that are less noticed that:
1. Age. Psychologically, the subconscious without words, will see the physical comparison between the two vice presidents.
2. Today's voters are smart. Along with the increasing frequency of "learning" the situation on Medsos, which is not easy to just lead to one destination, for example the mass of 212 will be taken over by Ma'ruf Amin in the name of "Ulama".
Remember, 212 alumni, mostly scholars, are mostly in Prabowo's party, especially the ma'amro of the Makkah axis: DR. Habib Rizieq, and other great scholars who cannot be called one by one.
NU citizens who are notices K.H. Ma'ruf Amin is an NU elder, expected to gain a very large vote. Remember, once again, NU today is also divided, until there are those who call themselves NU "Straight Line" plus the intelligence of NU citizens through Medsos monitoring over the years, Jokowi's performance according to some serveyors, shows below 40% satisfaction.
Prabowo, has chosen the right partner who is no less superior than the vice presidential candidate.
A candidate for vice president with a vision: Economic Strengths Towards a Sovereign Nation.
#2019GantiPresiden, and Welcome to the New President of 2019.
A wave of real action with the slogan # 201 replaced president, continued to churn like a snowball, which increasingly cornered Jokowi.
One more!
Today's society is smart and knows Jokowi's chosen direction to Ma'ruf Amin, namely: Ma'ruf Amin will only be used as a "tool", to boost his voice from Muslim voters, even though the public is aware and reflecting in 2014, the figure of Jusuf Kalla , used as a tool to reap the votes of Eastern Indonesia.
Society Is Smart!
The bottom line:
Jokowi has been provoked, Mahfud MD has no longer been seen by him, in other angles, the stronghold of the opposition is smart and calculating after UAS does not want to be a vice presidential candidate, with full risk, "against Ijtima 'ulama 1", but the Ulama remain legowo (agreed) with the final decision of the General, Mr. Prabowo Subianto.
God willing, #2019GantiPresiden, and Welcome To The New President.
Thanks For Reading
Regards, @lugi