1. INTRODUCTION
It could be argued that exchanges are some of the major problems of the cryptocurrency industry, and this will not be far from the truth.
A primary complaint by users of exchanges, is the way they are treated by these exchanges. Highlighting this fact is a lack of a functional customer support system.
When customers are not handled properly, they will leave. This could also mean that the industry suffers a loss of traders, due to the activities of some exchanges.
On the other hand, some exchanges do not plan for the long-term, or even the near future. Thus, when a considerable number of new users join the exchange, they are not able to meet the needs of everyone, and their matching system chokes. For some others, it is being shut down, as a result of running on the wrong side of the law.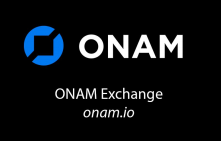 ONAM is an exchange that has identified a number of problems that are not right in the cryptocurrency industry, and they want to ensure that this abnormalities are taken care of, so that customers can focus on carrying out their activities and also getting a profit from it, rather than incurring losses, before they even make a move.
2. PROBLEMS IDENTIFIED WITH EXCHANGES
I. SAFETYON EXCHANGES AND SECURITY BREACHES
There have been several major hacks carried out on exchanges, since 2011. Exchanges lost $266m in 2017, and in the first half of 2018, $731m has been lost already.
II. SCALABILITY LIMITS
Many exchanges are not equipped for changes that might occur in the crypto industry. With the entrance of new traders of different levels, matching engines of exchanges were unable to support the requests during peak periods. Major exchanges are not exempted from it.
III. MARKET MANIPULATION
Cryptocurrency markets are filled with spoofing, wash-trading, pump and dump and momentum ignition. In traditional markets, this will not happen, because there are regulations in place, unlike on crypto markets.
Having regulations in place will go a long way in ensuring this is curbed.
IV. POOR CUSTOMER SUPPORT
At the top of many users list is a lack of adequate customer support. Sometimes, users need attention to their problems immediately, which may have to do with access to their accounts and funds. When their issues are not handled, they are unable to operate, and this also leads to loss of resources.
V. POOR MARKET LIQUIDITY
Poor order books ensures that fluctuations in prices can occur in seconds, meaning that the market is very volatile. When there are large gaps between ask and buy bids, manipulations are easier to be implemented. Some exchanges are also known to employ underhand tactics, in order for them to profit from fluctuations in prices.
VI. COMPLIANCE TO REGULATIONS
Investors need to be protected, and regulations need to be set in place to ensure that people can be held accountable. When project owners fail to deliver on promises made to investors pre-ICO, there is no one to enforce settlements. This is a primary reason why there are many exchanges being shutdown by the SEC.
3 HOW ONAM IS TACKLING THESE PROBLEMS
I. SECURITY
ONAM makes use of innovative solutions such as Advanced Threat Prevention, Intrusion Detection, and Trade Surveillance systems, to ensure the safety of its users. This is to go with industry wide security features, such as Two-Factor Authentication, DDoS protection and anti-phishing. ONAM also ensures that its databases are encrypted, and that they are also able to detect threats in real time.
II. SCALABILITY
ONAM ensures that scalability will not be an issue by preparing for what will come in the future. They are able to process in excess of 10 million transactions per second, and they also have a low latency rate of 40 nanoseconds.
III. MARKET MANIPULATION
ONAM ensures that trading activities will be monitored for abnormalities, with the aid of innovative solutions such as Real-Time Market Surveillance, Supervision and Compliance system-that are powered by machine learning. ONAM will be able to generate Suspicious Activity Report for regulators..
IV. CUSTOMER SUPPORT
ONAM envisions a situation, where user issues are handled within 15 minutes of support tickets being created. It is expected that they will also have live chat support around the clock, within the first six months of operation.
V. POOR MARKET LIQUIDITY
Incentives is the tool ONAM aims to use in attracting volume traders, large market-makers and miners to its platform. Order books of multiple exchanges will be utilised, and they intend to solve issues related to high spilage and manipulations in the market.
VI. REGULATORY COMPLIANCE
By retaining a top legal firm in the United States that is well versed in handling such issues, ONAM has ensured that it will not fall on the wrong side of the law, and put the funds of millions of users in jeopardy. ONAM believes that being totally complaint and being transparent will boost investor trust, which will ensure the growth of its platform.
4. ONAM's FEATURES
More than 10 million transactions per second; low latency of 40 nanoseconds.
State-of-the art security system, powered by machine learning.
Advanced order types such as Take Profit, Trailing Stops, Iceberg Orders, Good Till Canceled, Fill or kill, along with other industry wide technologies.
Margin Lending: Ensures ONAM's users can earn interest on funds provided to traders.
Margin Trading: Gives users the ability to increase their trading power, by paying a little fee in percentages.
Composite Index Fund: Ensures users have better ways to have access to crypto assets.
Paper Trading: This will ensure that those that aren't experts can test run the system and understand how it truly works, before investing funds.
Modular UI: It gives users the ability to modify their trading pages to meet their specific needs.
Auto-Trading
Trading Assistant: This is powered by machine learning, and it generated Trading Alerts and Signals
Social Media and Market Sentiment Analysis Tool: It analysis market conditions and ensures that traders can make better decisions.
Market Scanning: By inputing specific details, traders can find coins and tokens that meet their specific trading needs. This ensures that the process is automated.
Advanced Charting: Any asset can be charted within the website, and the need for other sources will be done away with.
Trading experts to educate new and intermediate users on on how to be more effective in their approach to trading.
News and announcement feed: Ensuring users are kept up to date.
Push Notifications
OTC Trading
Multi-language UI
Multi-language 24/7/365 live chat support for users.
FIX Servers for institutional traders.
Affiliate Program
Advanced and custom API's
** 5. EXCHANGE FEES**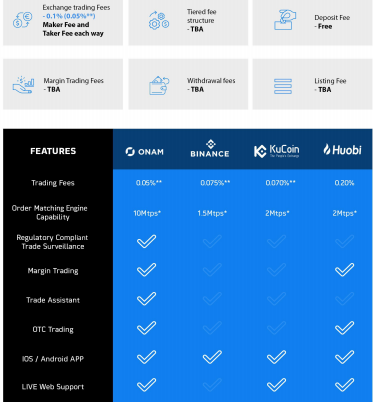 6. EXCHANGE UI PREVIEW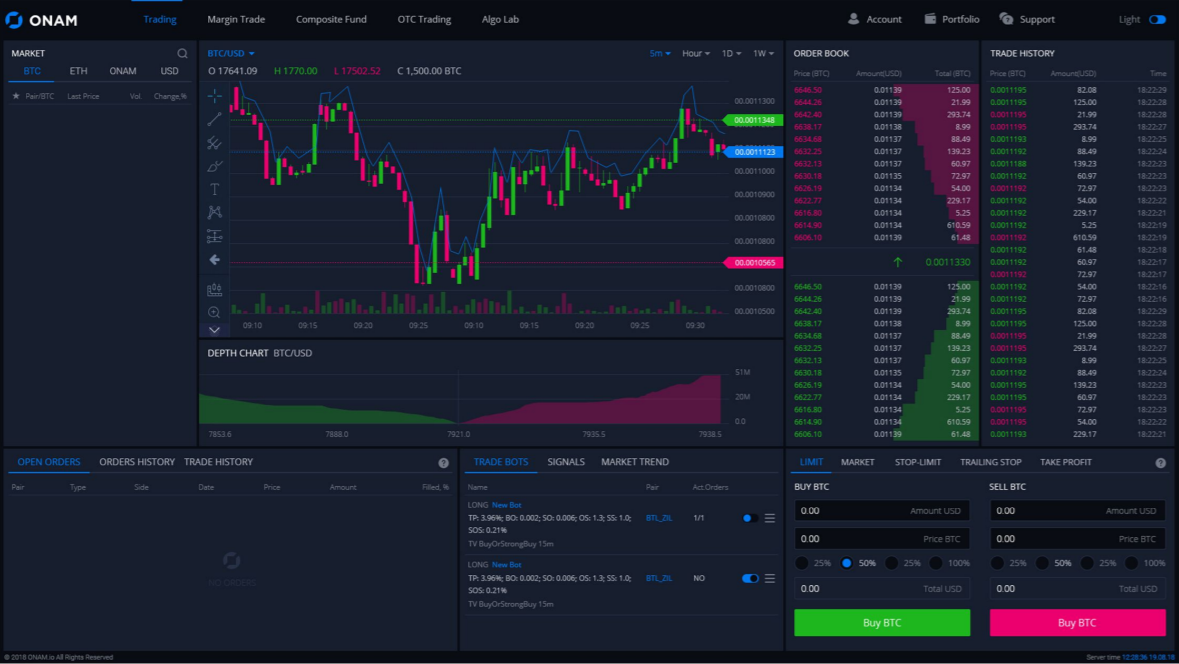 Exchange UI Preview
7. ICO AND TOKEN SALES
Being a holder of ONAM's token, ONAM will ensure that users will have more advantages, and a richer experience when trading.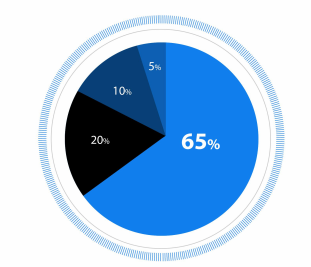 Token Allocation
65% is allocated for its ICO.
20% is reserved for the team, and this won't be made available to them at once.
10% will be allocated to ONAM's emergency reserve.
5% will be reserved for bounty programs, advisors and strategic partners.


Token Sales Fund Allocation

50% will be set aside for development.
25% will be allocated to marketing/PR.
15% will be assigned to day to day operations.
10% will go towards legal expenses.
6.0 USE CASES
Coas Holdings is a corporation involved in high stakes trading in volatile crypto markets. Usually, individuals invest with them, and they pay out returns on their endeavours.
Unfortunately, the major exchange being used by them was hacked, and they also lost access to their major trading account. Some investors got wind of the hack, and wanted to be sure that their investments were safe, but due to the fact that communication was poor between Coas Holdings and their exchange, their explanations to their investors left them unsatisfied, and this ensured that new investors were also hesitant to invest.
After a while, the exchange got in touch with them, and they got back most of their funds. However, they had already lost a considerable amount of investors and it was a little too late.
Being left upset by this, Coas Holdings moved their portfolio to ONAM, where they noticed that response to customers is top notch, and they even have more tools to work with, than they ever had. Transaction fees are lower, and they are not scared of matching issues anymore. This ensures that they can focus fully on generating much needed profits for their corporation, and their investors as well.
7.0 SUMMARY
By ensuring they work with regulators, ONAM is positioning itself not to fall on the bad side of government policies. Being found wanting can lead to closure of their exchange, and even a loss of funds for investors.
This can also single-handedly ensure that investors will stay away from the platform. Having all issues taken care of will show that ONAM means business, and it is here for the long-term.
Fees charged by some exchanges can be a burden for traders, especially the ones with little funds to work with. When fees are low, users will be glad to make use of a service, and they will be able to make more gains in the market.
Having low fees will also ensure that more traders will be attracted to the ONAM project, rather than go elsewhere.
By combining multiple tools under one platform, ONAM is positioning itself to become the only solution a trader will ever need. Doing this also ensures that traders can work more efficiently, and they will also have a higher chance at succeeding.
Having the fastest transactions and matching ability means that ONAM is prepared for users that will storm its platform in the near future. As the platform grows, more resources will be needed to meet everyone's needs, but irrespective of any calculations, this can happen at any time, and rather than be caught unawares, ONAM has prepared very well for this eventuality.
Seeing poor customer service is a major pain for customers, when such issues are handled on time and also resolved, users will be buoyed and will be more likely to stick to ONAM. Some issues are a matter of life and death, and showing your users that you care about their safety and well-being builds that trust, and inspires confidence.
TEAM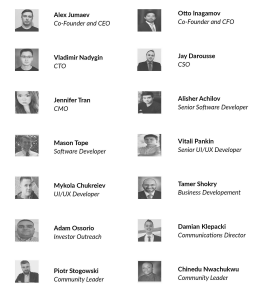 ADVISORS




ROADMAP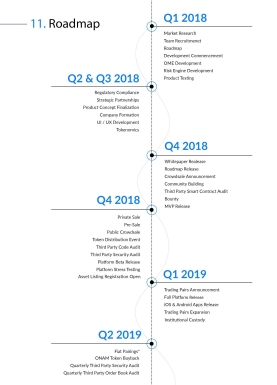 MORE INFORMATION & RESOURCES:
ONAM Website
ONAM WhitePaper
ONAM Telegram
ONAM Reddit
ONAM Medium
ONAM LinkedIn
ONAM Instagram
ONAM Twitter
https://steemit.com/crypto/@originalworks/1300-steem-sponsored-writing-contest-onam
Twitter:
https://mobile.twitter.com/iswapee/status/1062390197986443264
onam2018 onamtwitter