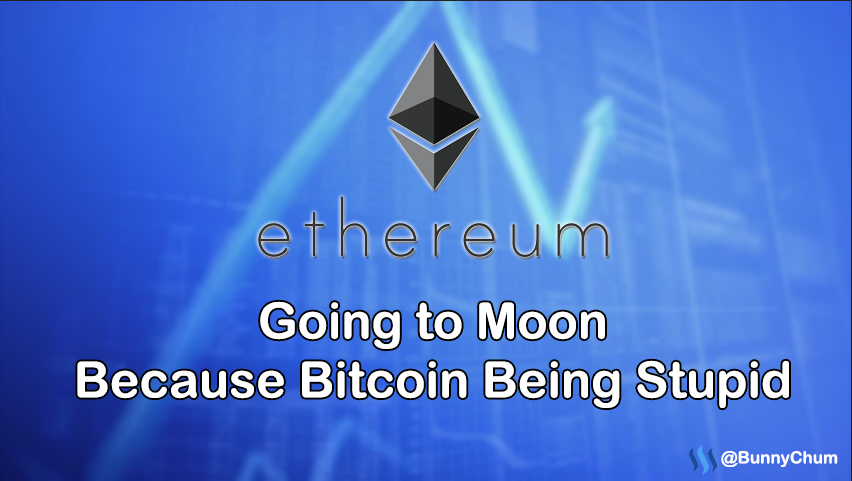 We all know about upcoming Hard Fork of Bitcoin Segwit 2x happening in November 2017, This hard fork has created a lot of confusion as well as expected to create a lot more complications in bitcoin network.
As it is not only coming up with another bitcoin chain split but also going to create a possibility of "Replay Attack"
If you want to know more about "Replay Attack", please refer to my previous post by clicking here
With all this mess in bitcoin network, it would be safer for people not to spend their bitcoin, and of that happens, people would start looking at alternatives to make transactions and trade.

Why Ethereum?
Anonymous Transactions

After the recent update ethereum has started making transactions anonymously. Now this was one reason, why people were looking at ethereum only in prospect of being a framework of blockchain and creating Decentralized applications or launching personalized cryptocurrency under ERC20 tokens.

Lower Transaction Fee lower than ever

Now believe it or not but there has been experiments, where people tried to send Ethereum transaction with the transaction fee lower than $0.01, and transactions didn't get stuck or pending but still got mined and went through with no issues. This is a huge deal which bitcoin can not provide specifically at this moment.

Decentralized Mining

Ethereum mining is based on Equihash Algorithm which is currently ASIC proof, Which means Ethereum can only be mined through Graphic Processing Units (GPUs). This makes a cryptocurrency very powerful and decentralized. However in near future ETH has decided to shift it's consensus mechanism from PoW (Proof of Work) to PoS (Proof of Stake) by doing that ETH mining will be gone and instead of mining, people with more ETH coins will be earning more ETH coins on the basis of staking it on the network.

ETH Trading Pairs on Exchanges

One of the major aspects of ETH going to moon would be ETH is not only listed on all the major exchanges but also being paired with other cryptocurrencies for trading, I believe trading would not be stopped at all and People who want to trade on any of the exchanges let it be Bittrex, Poloniex or anyother major exchange, They have the option to trade with ETH pairing rather than trading in BTC pairing
I am not a financial advisor by any means, I would request you to do your own research before investing in anything.
These are the facts that i have analysed so far, please correct me if i am wrong in any manner or missed something. As i love to improve my self (humans makes mistakes).
Please let me know your thoughts, what you think about ETH going to moon in the comment section below.
---
Follow Me: @BunnyChum
---