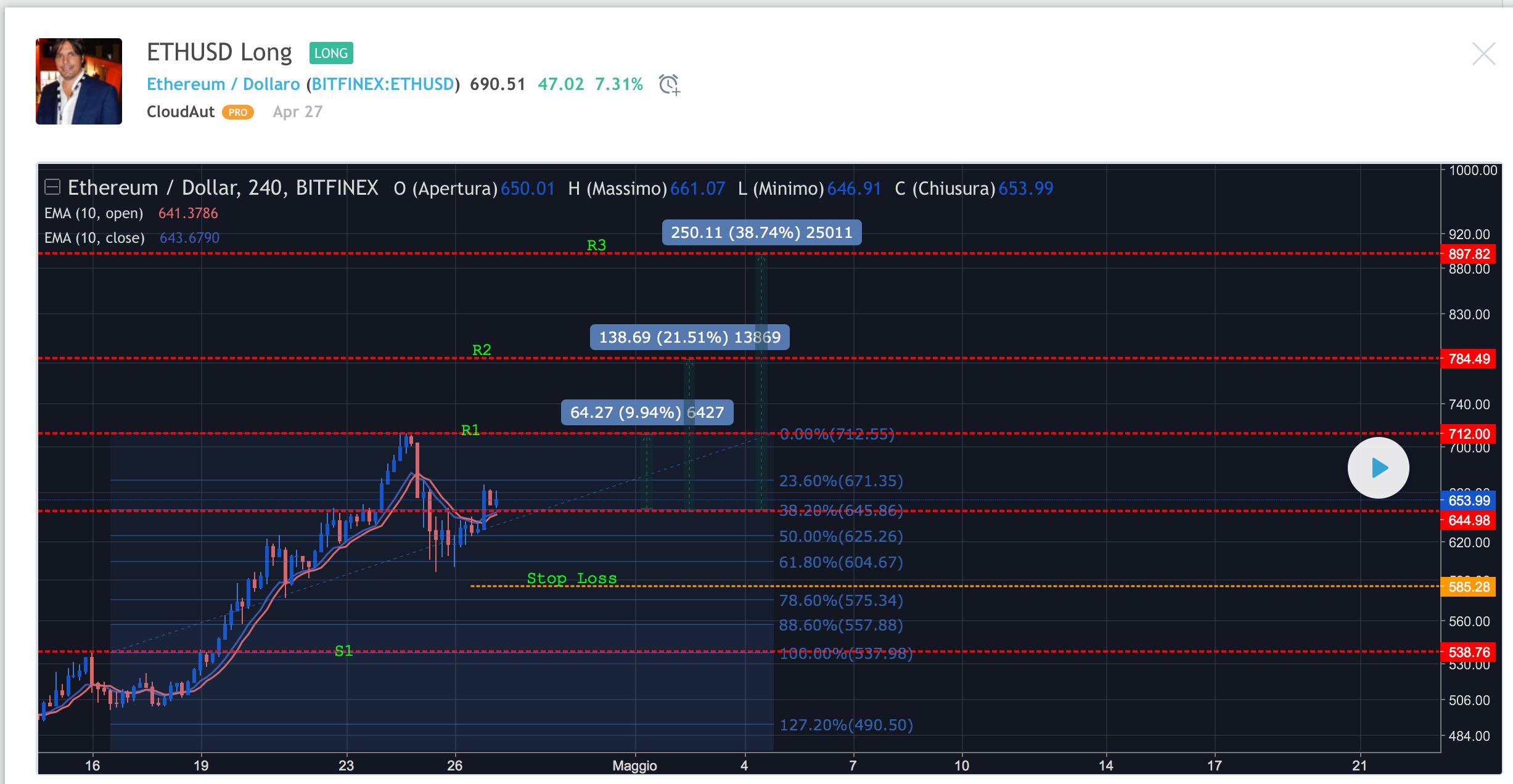 On April 27th I indicated my idea of ​​trading on Ethereum for the next period. I have identified three likely targets with targets of 10% to 20% and 40% respectively. Obviously I also indicated a Stop Loss placed at about 7%.
In the analysis I did I entered the Fibonacci retracements on the last rally in a time frame h4. What happened was first a retracement to 61.8% and then return to go up to break through 38.2%.
My Long entry was right on the 38.2% level test, after it was passed.
I have noticed that very often the price movement of ETH / USD satisfies the levels of Fibonacci and for now things are going well.
In my trading idea it is expected that when you touch a goal the stop loss should be put on the previous level. Therefore, as soon as we touch the R1 level, the stop will go to put just to break even, or on the level of opening of the trade.
This is my idea of ​​trading and it is not a financial advice.
Idea di trading su ETH/USD del 27 aprile 2018
Il 27 aprile ho indicato la mia idea di trading su Ethereum per il prossimo periodo. Ho individuato tre probabili target con obiettivi rispettivamente al 10% al 20% e al 40% di profitto. Ovviamente ho indicato anche uno Stop Loss posto a circa il 7%.
Nell'analisi che ho fatto ho inserito i ritracciamenti di Fibonacci sull'ultimo rally in un time frame h4. Ciò che è accaduto è stato prima un ritracciamento al 61.8% per poi tornare a salire per andare a sfondare il 38.2%.
Il mio ingresso Long è stato proprio sul test del livello 38.2%, dopo che è stato oltrepassato.
Ho notato che molto spesso il movimento dei prezzi di ETH/USD soddisfa i livelli diFibonacci e per adesso le cose stanno andando bene.
Nella mia idea di trading è previsto che quando si tocca un obiettivo lo stop loss va messo sul livello precedente. Pertanto, non appena toccheremo il livello R1 lo stop lo andrò a mettere proprio a break even, ovvero sul livello di apertura del trade.
Questa è una mia idea di trading e non è un consiglio finanziario.
You can follow me on:
Tradingview: https://it.tradingview.com/u/CloudAut/
My website : https://www.piattaformetrading.eu