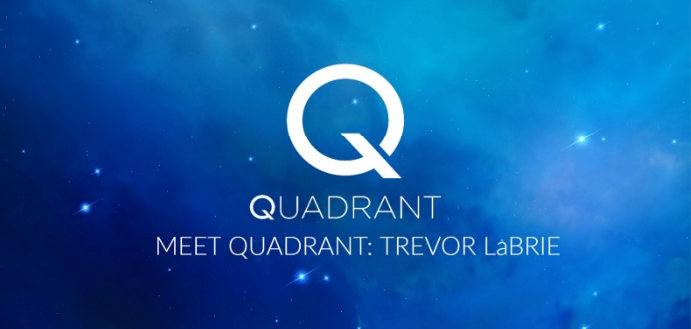 Over the past six months Quadrant Protocol has announced agreements with 30 strategic growth partners around the world. We are currently planning a world tour to meet the best Big Data & AI professionals and attend meetings with industry leaders, as we look to meet and help startups upgrade their products by better utilizing their data.
As a project we have emphasized from day one the importance of listening to the needs and concerns of our community, and of helping them solve those problems. As we approach the conclusion of our ICO, we recognize the strong need to hire somebody who can transform our contacts within the data industry into future users and clients. That is why we are pleased to introduce our new Partnerships Manager, Trevor LaBrie.
Trevor will be responsible for creating mutually beneficial long-term relationships with private and public organisations at an international level assisted by our regional directors and partners. He will be working alongside me, providing his expertise in commercial relationships to help ensure that Big Data and AI communities are given access to new incentives, and that they have input into the future development of Quadrant's technology.
Before joining Quadrant Protocol, Trevor enjoyed a long career in the software industry in many parts of the world, working in both North America and Asia. Most recently, Trevor has been responsible for building and managing commercial relationships in the software security industry, including with a number of Fortune 1000 companies.
"Mike had me very intrigued with our first conversation," says Trevor when asked why he decided to make the jump to Quadrant. "After meeting Mike and some of the team members in person, I knew it was going to be a great fit."
We are delighted to have Trevor as part of the team, and i can't wait to get to work with him! His expertise in sourcing, building, and maintaining commercial relationships make him an integral part in our plans for building inroads into global Big Data and AI communities. We invite you all to offer him a warm welcome and good luck in the new role!
We will be happy to respond any of your questions through our Telegram group: t.me/QuadrantProtocol!