PUBLIC SERVICE ANNOUNCEMENT: CRYPTO IS NO SURE THING!
Inventor of Etherium, Vitalik Buterin, twitted a sobering reminder: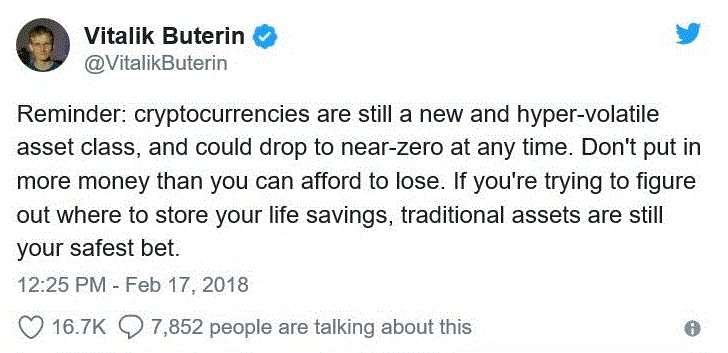 Advising investors, he recommended investing in 'traditional' assets adding:
'Cryptocurrencies are still a new and hyper-volatile asset class, and could drop to near-zero at any time'
The volatility of the cryptocurrency market in general leaves plenty of room for great gains and equally great loses! With predictions of great increases as 2018 continues, what the recent correction has taught us is to be mindful and informed about your investments.
Don't invest more then you're willing to loose, advice that's always echoed from time to time...and for good reason...
Summed up from: http://metro.co.uk/2018/02/19/bitcoin-price-hit-near-zero-co-founder-rival-cryptocurrency-ethereum-warns-7323855/?ito=cbshare
Like the post?: UPVOTE | FOLLOW | RESTEEM