2019 was a massively busy year here at The Excel Club and I really hope that you enjoyed the content and learning resources created to help you learn and master Excel.  This year we reached the top 650,000 websites in terms of Global internet engagement as ranked by Alexa.com and that is all down to your continued support.  It is a massive milestone and a ranking we hope to improve on in 2020
This year we published over 40 new and free Excel resources and today we are sharing a list of our most popular resources that we published though out the year.  This list has been complied based on views and is shown in reversing order
So if you are ready, lets take a look at the Top 10 Excel Articles from The Excel Club in 2019 ( shown in reversing order)
10. How to carry out a VLOOKUP within Text in Excel 
8.  Tips for Analyzing Categorical data in Excel 
7.  3 Excel Hacks you need to Know 
6.  Excel 101 – Getting Start with Excel 365 
5.  Excel Power Tools – The Future of Excel 
4.  XLOOKUP V's VLOOKUP – 8 Limitations Removed
3.  Simple Explanation of Machine Learning Shown with Excel – Part 1 
2.  SWITCH function in DAX for Excel Power Pivot and PowerBI 
And in number 1 spot, The Excel resource published in 2019 that receive the most views is……..

So that's it.  The Excel Club top 10 articles and resources for 2019. I really hope that you have had a great year and I look forward to Excelling with you in 2020
 Do you want to start collecting rewards quickly for learning Excel?  Then you should try:
10+ Excel Learn and Earn Activities YOU can do Today

SIGN UP FOR OUR NEWSLETTER TODAY – GET EXCEL TIPS TRICKS AND LEARN AND EARN ACTIVITIES TO YOUR INBOX
SIGN UP
Take A FREE course with us Today!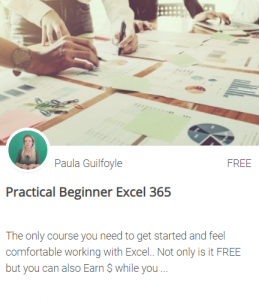 The Ultimate Excel Formulas Course
includes XLOOKUP and will soon include Dynamic Arrays
---
Cross posted from my blog with SteemPress : http://theexcelclub.com/top-10-excel-articles-2019-from-the-excel-club/
---