Greetings to all, dear friends. I continue to acquaint you with the project ProBit and in this article I will tell you about the ProBit platform's trading interface. So let's start:
Important part of the ProBit platform is its unique interface, which will appeal to both experienced traders and those who are just starting their way into trading. The platform will have a modular panel that will help to create a comfortable working environment for the trader.
Fully Customizable Dashboard Components
With the platform's customizable layout, users are empowered to move and resize each of the dashboard components according to preference. This allows the user to move the most relevant information into line of sight in accordance to his/her trading style. The dashboard components available to ProBit users are: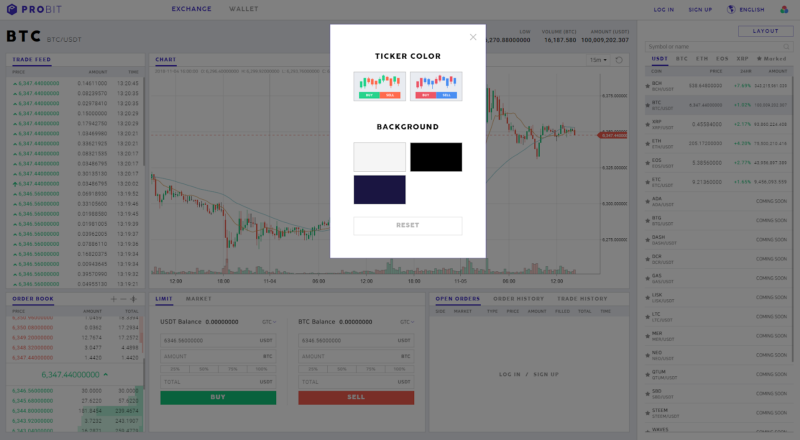 Chart
The chart gives a clear, no-fuzz view of the basic candlestick price and volume information. And true to ProBit's commitment to providing customization, users may choose their preferred ticker and background colors upon clicking on the button on the upper-right.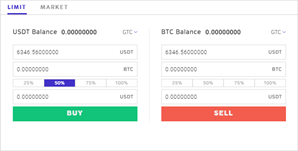 Order Box
The order box allows users to place their orders using a market trade, limit trades and stop-limit trades with the usual order types (i.e. GTC etc.). Uniquely, ProBit makes portfolio allocation easier for users by allowing portions of the account balance to be calculated into an order with just one click.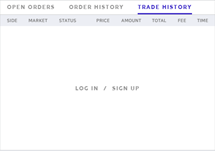 Trade History
Users are able to review all their trades on this panel including open order, order history and trade history.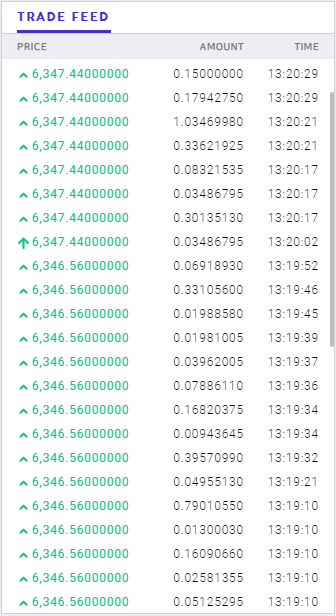 Trade Feed
In the trade feed panel, users are able to see the details of different trades that have gone through including the amount and time stamp.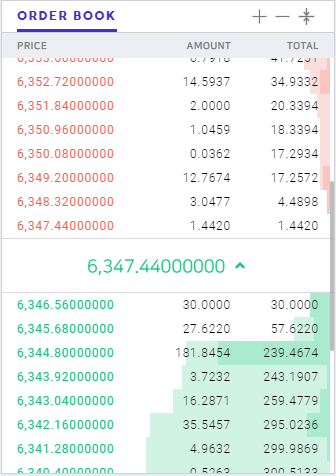 Order Book
Order books are lists of orders in which an exchange records the interest of buyers and sellers in a digital asset in terms of price. Clicking on the upper-rightmost button will re-center the panel's view to the price at which level buyers and sellers match and agree a trade on the digital asset.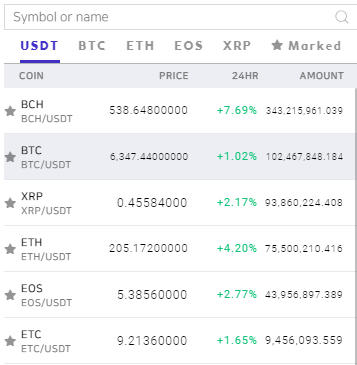 Side Bar
On the side bar, users may search for their digital asset of preference and find basic, necessary information that they are looking for. ProBit will have 150 or more cryptocurrencies and several
hundred trading pairs in the launch window. The following five coins will be supported as quote currencies: Bitcoin (BTC), Ethereum (ETH), Tether (USDT), EOS (EOS) and the ProBit Token (PROB).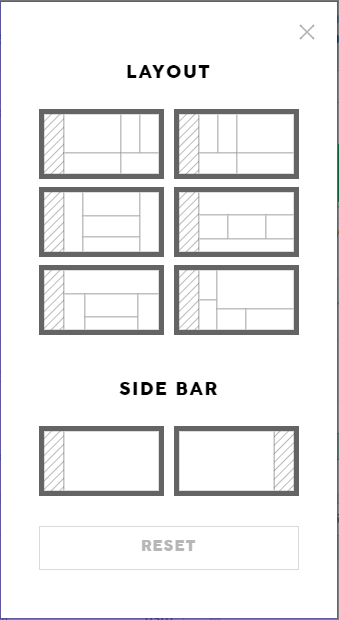 Default Layouts
Although ProBit allows full dashboard customization, the platform has some preset layouts new users and traders may begin with. Having spent time with these layouts will make users realize which panels they want most at which positions on their screen. Also, users have the option of moving the side bar to the left or the right-side of the screen for utmost convenience.
Get a feel of what's it like to trade within ProBit's platform by visiting the demo site.
Register NOW!
The token ProBit has a great potential of price growth that will allow to get profit to investors. Important role in this is played by the fact that 20% of the profit of Probit Exchange will be directed to the redemption of PROB and that the sample was not distributed either in the bounty or in the Airdrop.
ProBit Token (PROB) Main-Sale:
ProBit Exchange always strives to break the industry norm and now we did it again by having a ONE-DAY SALE! ProBit Tokens (PROB) will be available for purchase for a limited time from 03PM of Dec. 11 to 3:00 PM of Dec. 12 UTC. Learn more about PROB at https://www.probit.com/
TELEGRAM | FACEBOOK | TWITTER | LINKEDIN
Originally published at medium.com on November 14, 2018.