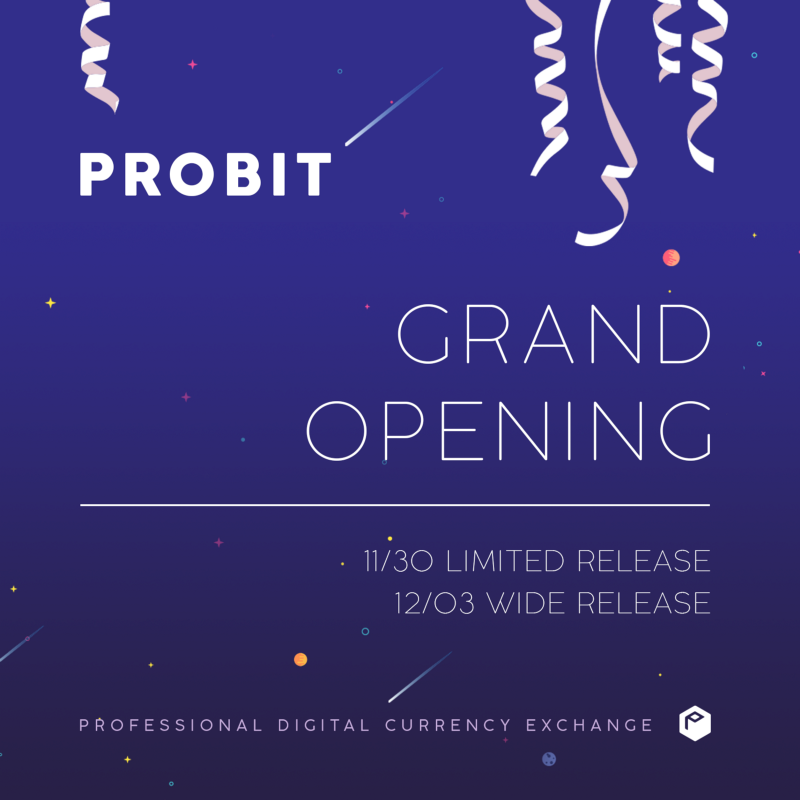 Join us at our trading platform! We will announce new events and meetups soon!
Remember to follow us on our social media channels to get the latest news on ProBit Exchange!
Facebook: https://www.facebook.com/probitexchange/
Twitter: https://twitter.com/ProBit_Exchange
Telegram: https://t.me/Probit_announcements (Announcements)
Telegram: https://t.me/ProbitEnglish (English)
Telegram: https://t.me/ProbitKorean (Korean)
Register NOW!
The token ProBit has a great potential of price growth that will allow to get profit to investors. Important role in this is played by the fact that 20% of the profit of Probit Exchange will be directed to the redemption of PROB and that the sample was not distributed either in the bounty or in the Airdrop.
ProBit Token (PROB) Main-Sale:
ProBit Exchange always strives to break the industry norm and now we did it again by having a ONE-DAY SALE! ProBit Tokens (PROB) will be available for purchase for a limited time from 03PM of Dec. 11 to 3:00 PM of Dec. 12 UTC. Learn more about PROB at https://www.probit.com/
TELEGRAM | FACEBOOK | TWITTER | LINKEDIN
Originally published at medium.com on November 14, 2018.