There has been a new advancement in our mission to take STEEM to the next level. Every new listing on any exchange will strengthen the community and the blockchain as a whole. In clear words, it will impact the price of the token positively over a period of time. Stay tuned!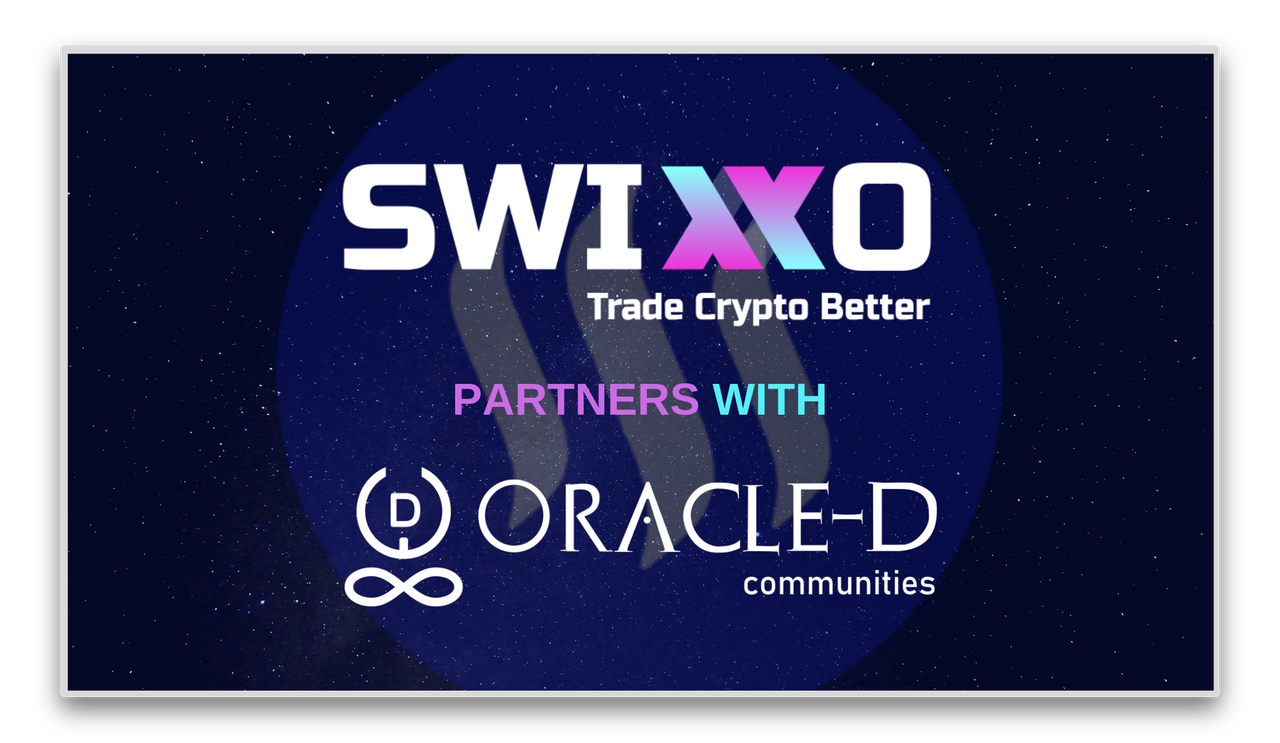 Introducing Swixxo
Swixxo is a newly launched cryptocurrency exchange with low fees powered by a cutting edge trading platform.
Swixxo offers its Swixxo Crypto Asset Platform (Swixxo CAP) to users. The platform is intuitive, reliable and secure. With access to a wide range of cryptocurrencies , which we are continuously expanding, our trading application's simplicity pleases beginner traders, and its powerful order functionalities are loved by experienced traders. We continuously enhance our platform according to our users needs.
Source: https://swixxo.com/about-us/
You can checkout the market view from here to get an idea of the look and feel for the platform: https://trade.swixxo.com/sessions/market-view
See the fee structure here: https://swixxo.com/fees/
Swixxo Lists STEEM: A Partnership with @Oracle-D
Yes. This happened! Oracle-D is cooperating with Swixxo to help with the onbaording process into the Steem community. Swixxo are open to listing other STEEM related tokens (SMTs and Steem Engine Tokens) as well. So in case you want your token to get listed, please enter through the listing application through this link: https://swixxo.com/add-your-coin-token/
The Swixxo Steem account is @swixxo. They have recently opened it and will start making announcements soon! Please go follow and be ready for more cool announcements in the near future.

Source: https://swixxo.com/category/announcements/
Beta Testers Required
Since the platform is relatively new, Beta testers are required. So if you are reading this and interested, please signup through the link HERE:
Perks For Beta Testers:
If you enter beta testing through above link, you are eligible to get the following benefits:
Free trading in beta phase.

1 month additional free trading.

Thereafter 15% life-time discount on trading fees.
So what are you waiting for? Start trading your favorite cryptocurrencies including STEEM.
Contacts
Support inquiries: support@siwwxo.com
General inquiries: info@swixxo.com
Corporate inquiries: corporate@swixxo.com
Marketing info: marketing@swixxo.com
Legal inquiries: legal@swixxo.com

Oracle-D
is a new STEEM blockchain business venture bringing new investment into the ecosystem. Founded by @starkerz and @anarcotech, we previously were co-founders of the #promo-steem and @steem-ambassador projects, and we developed the CAMPUS curation system, which is a fully decentralised system for distributing rewards.
Core Mission
We remain apolitical, and our number one goal is to raise the price and utility of the STEEM blockchain, improve culture and education about the blockchain, and create opportunities which support exceptional quality content creators through collaboration with investors and clients. In other words, to add as much value to the blockchain every day as we can.
Account Creation API
If you are a DApp owner, your might be interested in our new account creation API. It helps small DApps with little SP or RCs to create their own sign up process to onboard new users on the Blockchain. You can read more about it in this blog or directly go to http://go.oracle-d.com/acapi to register. It is available only for the DApp owners and not for the regular endusers.


You can support us in the following ways:
Upvote & Resteem this blog and spread the word about Oracle-D and our campaign.
Support our writers and their content which will ultimately empower quality on the STEEM Blockchain.
Join our curation trail in SteemAuto to maximize your curation rewards.


Upvote @Oracle-D witness by going to https://steemit.com/~witnesses
or directly through SteemConnect
Any kind of contribution is much appreciated and thank you for being a part of this Journey! Also, please do not hesitate to connect with us for any kind of collaborations that can help the STEEM Community grow.


Connect with us at the following: