As a matter of fact, the advent of the blockchain technology has brought a lot of innovations to the crypto currency ecosystem. Different projects are emerging every day making use of the innovations of the blockchain technology . The innovations of this blockchain technology came inception of bitcoin in 2009. Since then alternative cryptocurrencies have emerged in thousands and this has increased the market capitalization of cryptocurrencies.
Consequently, there is a high demand for conversion of Fiat to crypto currencies and vice versa. In view of this demands, the Deex Exchange was created.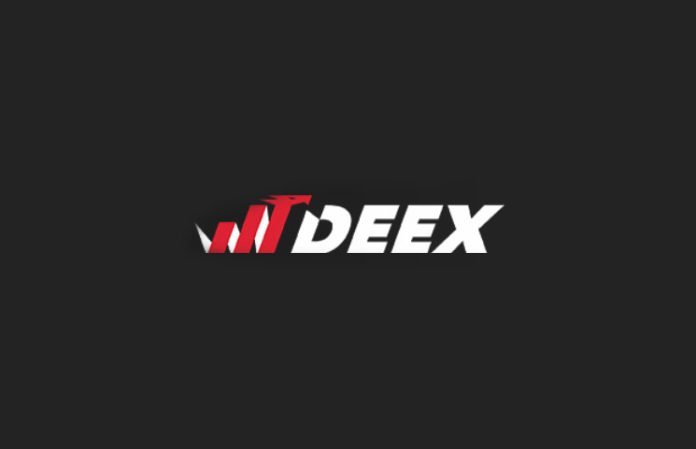 WHAT IS CRYPTO CURRENCY EXCHANGE?
Crypto currency exchange is simply a platform where cryptocurrencies could b traded and converted to other cryptocurrencies or Fiat and vice versa. Crypto currency exchange is classified in two - The Centralised and The Decentralised exchanges
THE CENTRALISED EXCHANGE: This a type of crypto currency exchange where that users do not have a say in the decision making. Everything about it is controlled and directed by a central body. Example of such Exchanges are: Poloniex, Bittrex BitFinnex etc.
DECENTRALISED EXCHANGE:
This is a type of crypto currency exchange that does not have a single decision making center. It allows it users to be involved in the decision making. Participant are given the opportunity to interact with each other. It is a new trend in the crypto currency ecosystem that allows its participants to be actively involved in the exchange activities.
WHAT IS DEEX?
DEEX is a word formed from Decentralised Exchange. Deex is a decentralized cryptocurrency exchange. Deex is an Exchange that provides decentralization and transparency at all levels.
Deex conducted its pre-sale and token sale in January 2018 and by January 16, 2018, the company's token sale had raised over 4,000 ETH, with a total of 2.4 million deex tokens sold.
WHY DEEX?
DEEX was given birth to because of the problems of centralised system of exchanges. Centralised exchanges have series of problems ranging from inadequate security, unfair competition dangers of sanction and political risks.
In view of the problems mentioned above, DEEX was created and designed from a decentralised point of view, in other to handle all or most of the problems of centralisation.
HOW DOES DEEX WORK?
Deex is a decentralized financial ecosystem that operates on the BitShares 2.0 platform whose aim is to create a platform that replicates the features and functionalities of centralized exchanges without their major bottlenecks.
The major problems with centralized exchanges are security threats, unfair competition, danger of sanctions, and more. These exchanges keep all customer funds and data in a single, centralized place, creating a major security threat.
Deex is targeted at solving this problem by creating a decentralized exchange with all of thee features of a centralized exchange while addressing the challenges of centralisation in exchanges.
In the Bitshares 2.0(Graphene), users will have complete control over their assets, while still enjoying features you would enjoyed in a centralized exchange.
BitShares 2.0 allows for 100,000 transactions, for example. It also allows for the creation of smart contracts.
BENEFITS AND OUTSTANDING FEATURES OF DEEX EXCHANGE
The aim of Deex is to create a decentralized financial ecosystem whose outstanding benefits are:
Integration of a Two-factor authentication to enhance adequate security of users funds.
A built-in P2P messenger in the platform
A decentralized, transparent blockchain fund called the Deex.fund
Deex exchange has ability to restore accounts after losing access to your password
The platform has a high liquidity across a large number of trading pairs.
There is a 24-hours technical support.
Deex exchange has a Hardware cryptowallet that support for cold storage of crypto assets.
There is a desktop and mobile applications for convenient trading.
Deex exchange has a seamless and user friendly interface new and existing traders.
FOR MORE INFORMATION PLEASE VISIT LINKS BELOW
Website : https://www.datablockchain.io
Whitepaper : https://www.datablockchain.io/pdf/whitepaper.pdf
ANN : https://bitcointalk.org/index.php?topic=3361159
Telegram : https://t.me/DBCIO
Twitter : https://twitter.com/DBC_IO
Facebook : https://www.facebook.com/datablockchainio-210421122875853
Author: anelka
Btt link: https://bitcointalk.org/index.php?action=profile;u=2273527