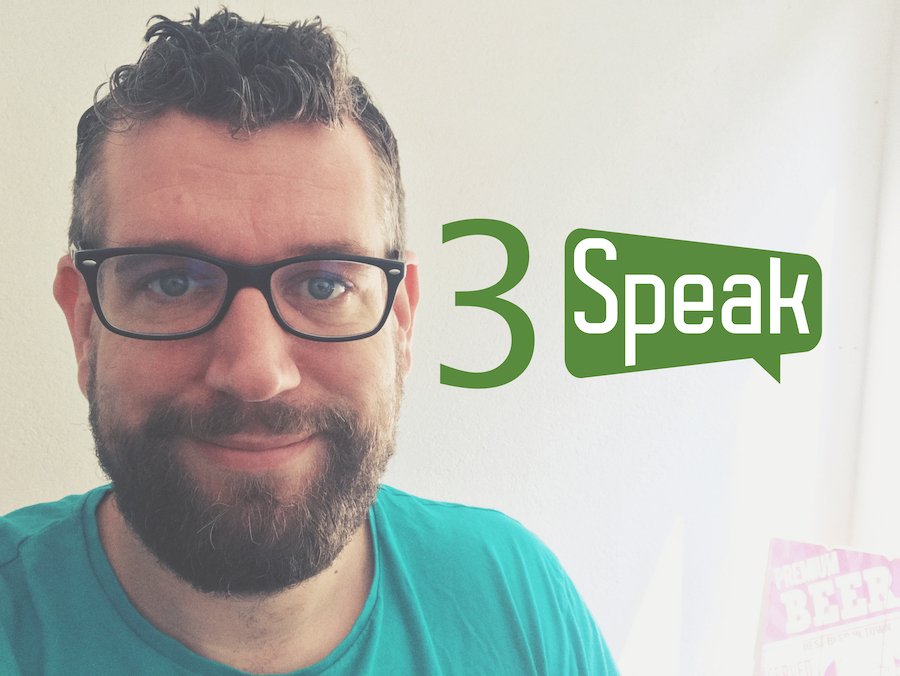 ---
3speak.online is a platform developed for video hosting and live streaming build on Steem and will initially start as a home for the deplatformed content creators of the internet.
Later it will open the doors to more content creators and introduce an advertisement model for revenue.
The platform revolves around two currencies. The STEEM token and their own SPEAK token.
In this post, I will showcase the features of the platform I like best.
The most impressive one for me is their Steem onboarding feature through Facebook, Google, Instagram or Twitter.
But to start off this is what it looks like:
---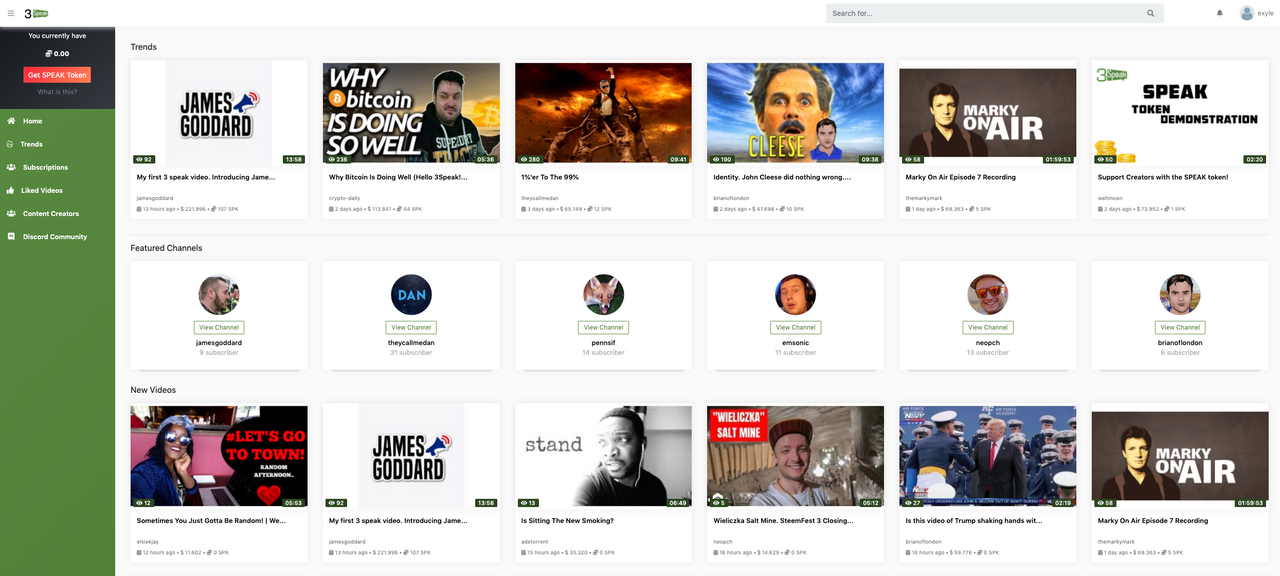 ---
On the top, you find the trending video's. You can also find featured channels and new video's on the same page.
When you click on a video you are taken to the player.
The video loads instantly in HD and all the playback options are there: Full screen, HD on/off and speeding up of the video. It's also possible to leave a comment under the video here.
(I actually asked for the speeding of the video option a couple of days ago and it was implemented about an hour later. It sure shows the development speed of this project.)
---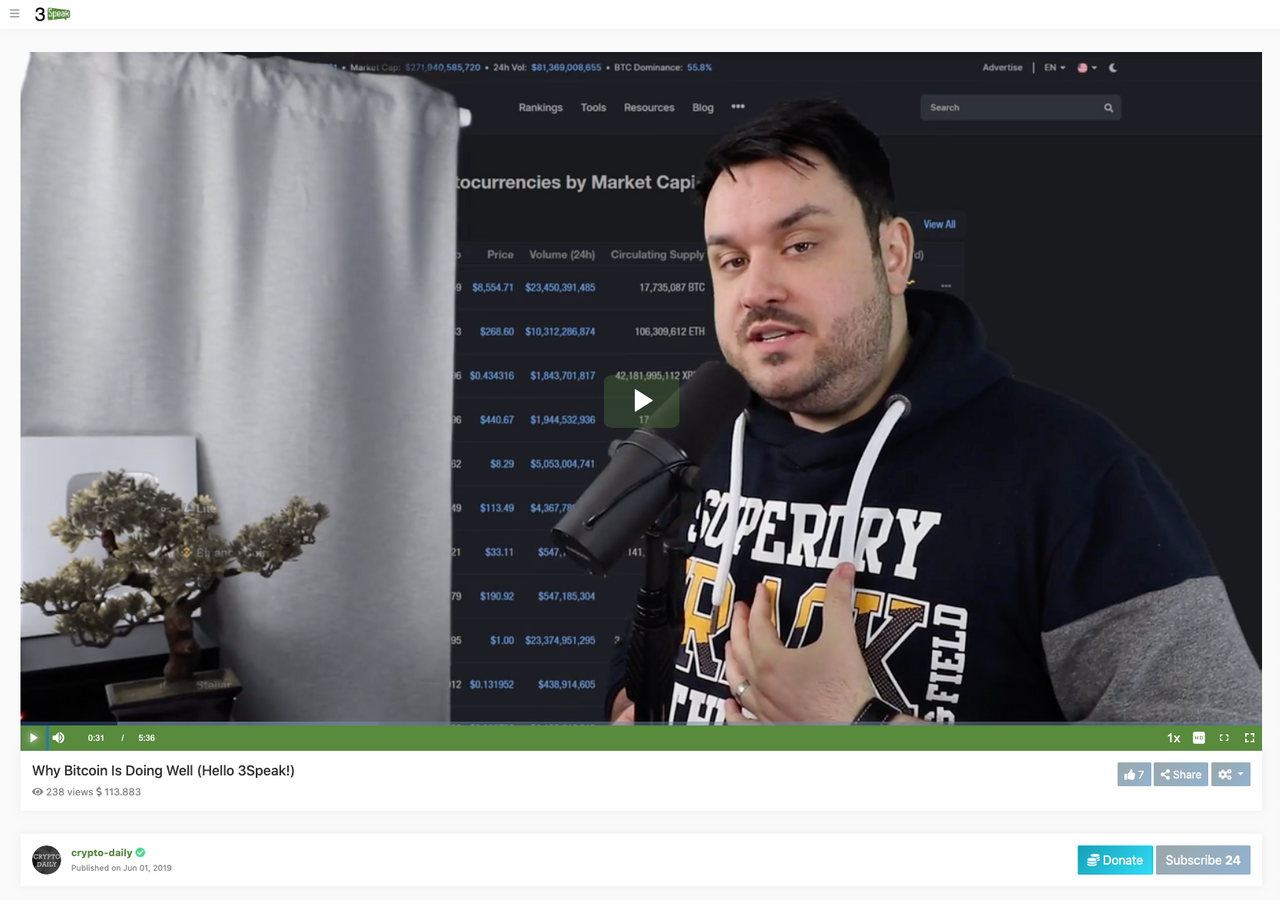 ---
Just like on Steemit.com it's possible to upvote content on 3speak.online by users.
3speak.online also have their own curation team and have access to currently 3.6 million Steempower which is very decent and this will ensure a decent payout for the current content creators.
Of course, with more content creators joining this will dilute (if the price of STEEM stays the same) so focusing on other revenue models makes sense.
They are working on this.
Besides upvoting, it is already possible to donate to your favorite content creator.
This model works well on Twitch (Streaming platform) for instance.
I can see it working here especially because this model is what most people know.
This is how it works on 3speak.online.
---
Donations and the SPEAK token.
---
On the bottom right you might have noticed a donate button.
---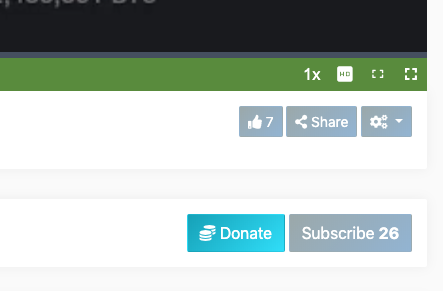 ---
This is where the SPEAK token comes in.
On the platform, it's possible to buy SPEAK tokens with your credit card.
The SPEAK token is a non-blockchain token and it can be used as a donation towards your favorite content creator.
I currently have none in my wallet as you can see:
---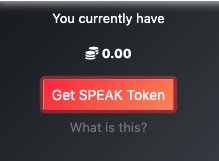 ---
So I invested in some tokens. I decided to buy 285 SPEAK tokens.
---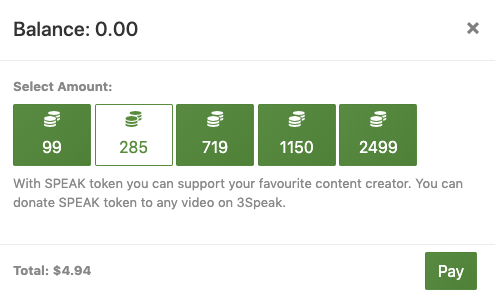 ---
After filling in my CC details and going through the payment I was greeted with this message:
---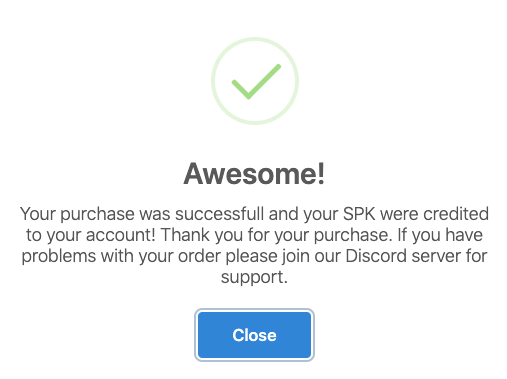 ---
And the tokens were instantly credited to my account.
---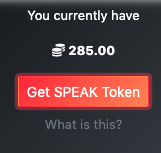 ---
I went back to the video I showed in the top and pressed the "donate" button.
This message popped up.
---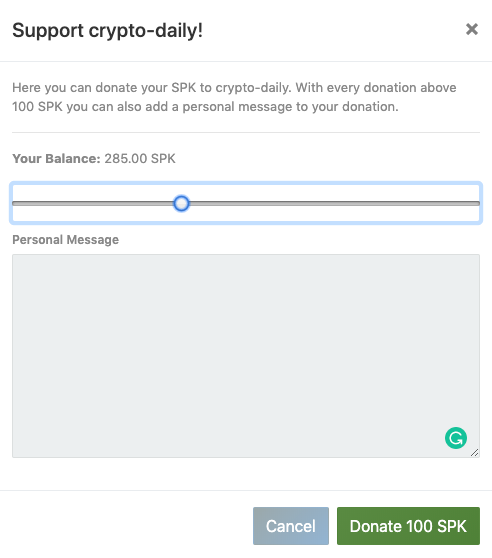 ---
If you donate more than a 100 SPEAK you get to send a personal message with the donation.
I went with it.
---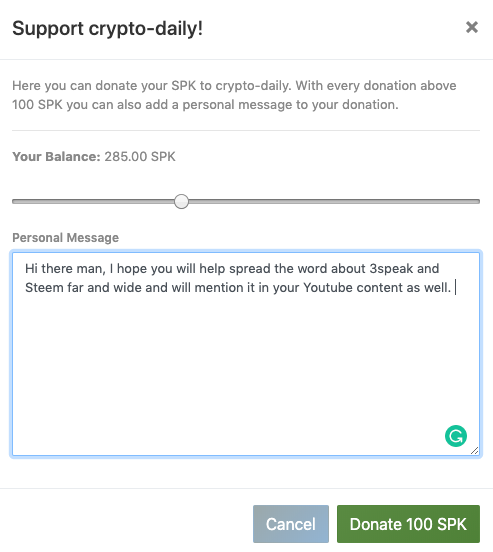 ---
When I pressed the button it was awesome again! :)
---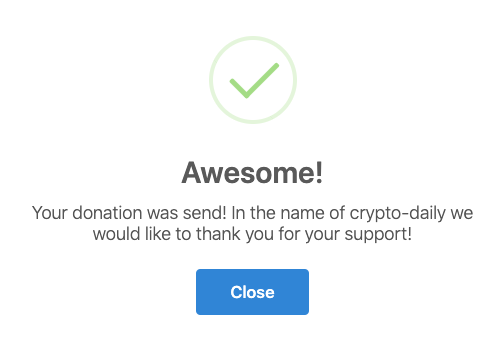 ---
I do believe donating works better on live streams when there is engagement with the audience but this was just to show how it works.
My balance after donating adjusted accordingly.
---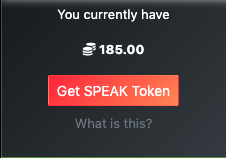 ---
The donating aspect was a very smooth experience.
And this brings me to the last feature I want to show and what I think is the best one of the platform so far.
---
The onboarding process.
---
When you log in to 3speak.online for the first time you get to choose from several signup options.
---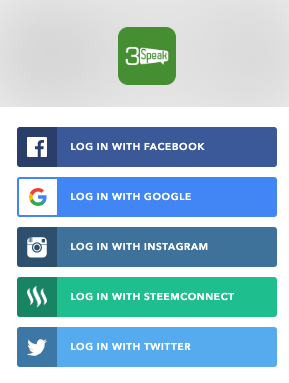 ---
When you choose a non-Steem option you can still use the platform like normal.
The way that works is well thought out.
Your Google, Facebook, Instagram or Twitter account will under the hood be connected to one of the six 3speak proxy Steem Accounts.
So while you think it's you making the comment on 3speak on the underlying blockchain level it's actually one of the proxy accounts. But you will never see those as a user and the comment will be done in your name and displayed as such.
While you comment and interact with your favorite content creators a virtual score is being kept of how much STEEM you would have earned if you did have a Steem Account.
If you earned enough STEEM through your interactions you then will get rewarded with a free Steem account and that looks like this:
---

---
When you click that button and create your Steem account you are now onboard the Steem blockchain.
I think this experience will feel frictionless and this whole idea is pretty damn genius IMHO!
Conclusion
---
I'm very impressed by the way 3speak.online functions so far and how all the features work.
But the real test is, of course, dealing with the masses.
They already managed to get deplatformed content creators to the platform but what will happen when they bring their whole following over is yet to see.
When all those people start to watch the videos and interact everything still needs to be smooth.
It will be a true test!
But the first premise. Pretty damn impressive!
---
Staying up-to-date.
---
If you want to stay up to date about 3speak and all the development that's going on a good place to start is their discord channel. This is the link: https://discord.me/3speak.
---

---
Please consider us for your witness vote if you think we deserve it here:
---
Vote for @blockbrothers via SteemConnect
Set blockbrothers as your proxy via SteemConnect
---
We are the creators of Steemify a notification app for your Steemit account for iOS.
Get it Here: