Here is how you can download a copy of everything
I stumbled across this article today, which contains clear instructions on how to download an archive of all the data Facebook has ever collected from you.
On one hand, it's clear that they have all the photos you ever uploaded, all the updates you ever posted, all the friends you are connected with.
But when you see every message you ever wrote and every ad you ever clicked on, and every advertiser, who has your data, that is a little creepy. Even though of course they would have it. Why wouldn't they?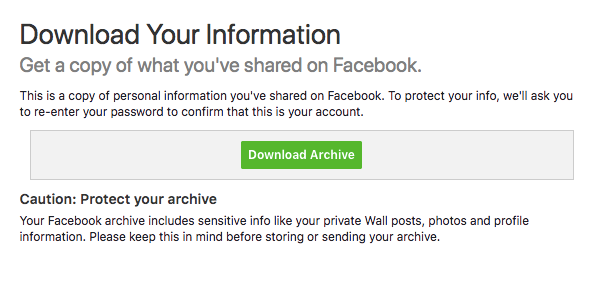 It's quite helpful to see this download in front of you. It makes you think, and allows you to become more conscious and make a new choice.
Maybe you want to delete some images, some posts, or a whole bunch of messages.
Maybe you'll be more careful from now on with which pages you like or which events you attend. You can still attend those events, but does it need to show on your profile?
They know who you are
Your list of "likes" gives a complete and easy overview of what kind of person you are, for anyone who would go through it - whether it's a human or a bot. Maybe you don't care, maybe you do.
I'm quite protective of my data and I do not connect with people I have never met. I have less than 200 "friends" and I constantly "clean" my friends list if I'm not in touch with people anymore. I also like to think I'm pretty careful with what I publicly post or share. But looking at my archive, it has crypto written all over it... So that part of my life is not a secret anymore :) if I ever thought it was one.
Now, what might Facebook - who really doesn't like crypto at the moment - do with this information about me? Will they restrict my followers and friends from seeing my posts? Will it affect my personal and business pages in other ways? There's no way to know, apart from they can do whatever they want with the information they have about me. There is absolutely nothing I can do.
Awareness creates responsibility
The only thing that is in our control, is if and how we will use Facebook going forward. It is completely within our responsibility to choose whether we want to give Facebook another piece of the puzzle about ourselves with every click we make on their platform.
For many of us, the solution might not be to completely stop using it. I personally still benefit way too much from the business groups I'm in, and it would be absolutely stupid to leave them.
But I will pay extra attention and pause before I click anywhere, knowing that my click will get registered and will have an effect that I can't control.
Contrast
Besides a higher awareness, another good thing to come out of this exercise for me personally, is the confirmation that we really need decentralization. At least I would welcome it, especially when it comes to my personal data.
When I looked at all this personal information about myself, my first thought was, "On a decentralized blockchain, this simply wouldn't happen!"