Giving birth in a foreign country is something I never planned to do. When I got pregnant here in Panama, we realized this would be a reality for us. I have given birth five other times, but every birth is different. Here is Part 3 of my birth experience at a private hospital in Panama.
If you are just now seeing these, be sure to check out my other posts about the baby's birth. Here is Part 1, Part 2, and Part 3.
---
---
The doctor comes in shortly after we make it to the room and tells us they aren't going to bring us food and we can go get anything we want from in town. It was around 8:00 pm. She tells me that they should check us out around 9 am after the baby is released. I don't need a release since I'm an adult and can leave when I want. She says that the nurses shouldn't bother us any more that evening as the pediatrician has already given them rules about no bathing, rooming in, no formula, etc.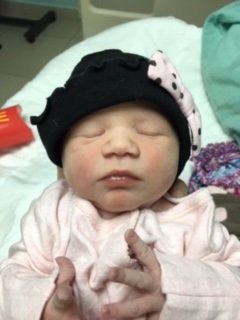 She leaves and Ben heads out to get us some food. He comes back a while later with the tastiest McDonald's chicken sandwich I've ever had!
While he is gone, a nurse comes in and asks if the baby has eaten, pooped, and peed. The nurses don't speak English so I'm the only one who can talk to them. I tell the nurse she hasn't yet and she tells me that it needs to happen soon or they will give her formula. (Ridiculous, no way that will happen!) Another nurse comes in for blood pressure check and temperature.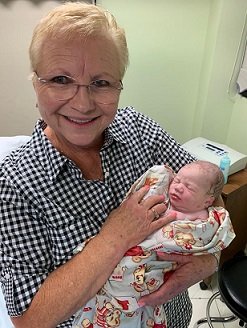 Nana and grandbaby #13!
We make some phone calls and obligatory announcements of her birth. We decide it is time for bed and Nana is going to use one bed while Ben, Kalana, and I sleep in the other. I'm not putting her in that bassinet because they will come in and take her if she's in it! Well, I was right about that!
At 11:30, after we've all fallen asleep, they come in to take her footprints! I ask if this can be done tomorrow and she tells me that it must be done now. So the lights come on and the footprints are taken. She leaves and 30 minutes later a nurse comes in to ask if she has pooped and eaten. Yes, she has. Then she leaves and comes back in a few minutes to make sure she has peed as well. Yes, she has. Every time the light must be turned on, everyone sits up and looks at the nurse.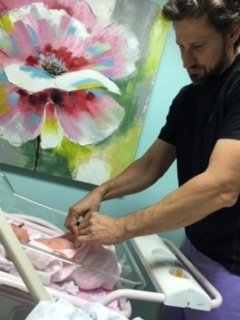 The only time the bassinet was used!
30 minutes later 3 nurses come in and take my temperature, blood pressure, and try to convince me that dead-asleep Kalana would rest better if I would put her in the bassinet. I tell them that she's just fine where she is, and they leave. 30 minutes later, another set of nurses come in to tell me that they are going to come get her at 6 or 6:30 and give her a bath. No thank you, she doesn't need a bath. They are shocked that I don't want her to have a bath. Then another round of blood pressure and temperature with the lights on. This would almost be comical if I weren't so tired. At around 1:00 am they finally left us alone.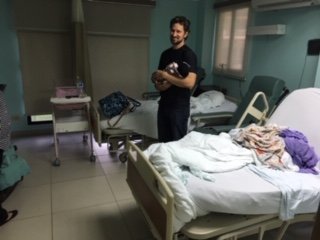 Our room - 13B
She made little noises or cries throughout the night, but slept great right next to me, although my rest was not so great. We were thankful to only have one night of this!
---
Check back for Part 5 where we get to check out of the hospital and go home!
---
---
I am a mom to six kids who lives in Panama. We relocated here about 2.5 years ago and love it. If you're interested in knowing more about Panama, check out the link below and plan to come on a Panama Relocation Tour!