Giving birth in a foreign country is something I never planned to do. When I got pregnant here in Panama, we realized this would be a reality for us. I have given birth five other times, but every birth is different. Here is Part 3 of my birth experience at a private hospital in Panama.
If you are just now seeing these, be sure to check out my other posts about the baby's birth. Here is Part 1 and Part 2.
---
---
The doctor decides to time my uterine activity and says that if I don't have 3-4 in 10 minutes that she wants to do something to get them going. While timing them, I have 4-5 very good contractions. By the end of that 10 minutes, I am ready to push. I push a few times during contractions and receive some coaching on how to do it more effectively - you would think that I could remember how to push since this is my 6th baby!! The foot stirrup gives out again. I'm told to push whenever I feel a strong contraction, but wait until the worst part of the contraction and push until the pain stops.
The nurse is trying to help me by making little raindrop motions on top of my belly. It is really annoying and the doctor finally realizes that I don't like it and asks her to stop. Apparently it's to stimulate my uterus. Every push, the nurse also does a football type tackle on my back, helping me to push myself up, while she also leans her forearm on the top of my belly to help push the baby down. I push this way a few times and I'm seriously done. Give me a c-section, epidural, whatever, but I am done.
The doctor then says that she thinks the baby will come in just one more big push. Okay, I can do that. Ben is supposed to catch the baby and cut the cord. I close my eyes and give one big push and then realize I have a lot of relief and there is a baby sitting on my stomach! Ben said he caught her and put her up to me! Then he got to cut the cord after a few minutes.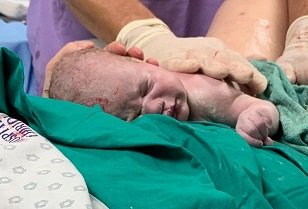 First picture of the baby!
The baby was crying and gurgling on my chest and was covered in vernix and blood. She was a delightful pink color. My little Panamanian Chiricana was making her presence known!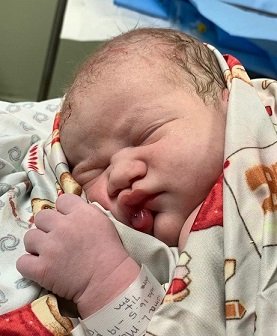 The pediatrician takes her for about 2 minutes to measure her and weigh her. We have already requested a list of items – like no bath, staying in the room with me at all times, etc. – and all of these items are followed. The pediatrician speaks English, but didn't say much. She did ask me if I wanted any chips or anything from the pharmacy (while in labor).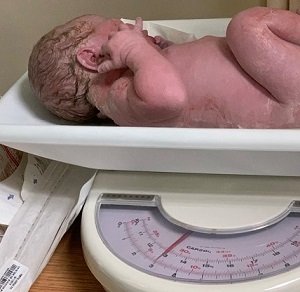 The doctor then takes care of me while Nana holds the baby. A few times, they pour freezing cold sterilized water on me to clean me off, and give me a good scrub with some rough towels.
All looks good, so it's time to transport me to my recovery room. We hope to only stay a few hours, but we're told we must stay overnight. Baby was born at 7:15pm.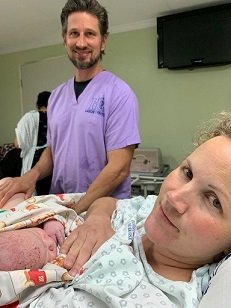 Yep, I was tired.
A gurney is brought in and I am asked to get on it. Another interesting move. Nana then carries the baby down the hall, Ben carries the bags, and I ride on the gurney to the elevator. We are taken to the recovery room 13B and asked if we want it to be private or semi-private (with a roommate). We choose private and have 2 beds to sleep on! They then want me to move from the gurney to the hospital bed again. They take my blood pressure and temperature and leave the room.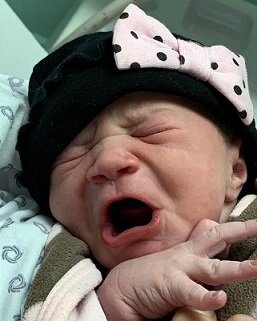 Sweet crying baby.
We finally have some peace and quiet to tell Nana the baby's name. Kalana LouAnn - We just liked the first name (which means "the heavens") and it's Hawaiian like mine. The middle name is a combination of both grandmother's middle names. Nana loves it.
---
---
Stay tuned for Part 4 to see what a night in this Panamanian hospital was really like!
---
---
I am a mom to six kids who lives in Panama. We relocated here about 2.5 years ago and love it. If you're interested in knowing more about Panama, check out the link below and plan to come on a Panama Relocation Tour!