Day One / Two of our Journey to Arkansas
This year's journey was different, with varying mask requirements in different states and uncertain behaviors and attitudes during this alleged "pandemic".
Using my phone, I was able to capture much better moments and it's my pleasure to share them with my blockchain buddies.
We usually stop at Effingham, this time for tie-downs so the tarp won't blow away. Lauren bravely entered (maskless) into the FORBIDDEN WALMART to acquire some goods for our journey.
We also stopped at Wendy's for a 50 nuggets for the family... I know, not the best dinner.
Cuba? Did we travel too far south?
Our last stop of the day is in Cuba, where we had a reservation at a Motel.
It was pretty late when we arrived and I was having trouble staying awake, but Lauren helped me keep my mind on the road. Rooms were ok, but the non-smoking was a smoking room at SOME point for sure!
The next morning, we tied down the trailer and got on the road, making sure we had everything from the motel room... but we later discovered we left the deodorant. Oh well.
The Tale of the Forbidden Playground Equipment
We came to a rest area with a playground, but the equipment had yellow tape all over it. Apparently COVIDS from last spring like to hang around playground equipment.
We looked at the yellow tape and saw the word CAUTION. We took their advice and used caution as the girls slide down the slide.

Using Caution to slide down the slide. It's be easier without the yellow tape.
I'm not an anti-authoritarian parent, in fact we believe strongly in the rule of law - however in this case we did not allow the paranoia of others effect our moment at the rest stop.
Then we thought we would get in trouble.
Somebody must have told on us (bunch of kids without masks, playing on playground equipment) and a guy with a man-bun came out to see what was going on.
He saw children playing!!!! ~gasp~
I saw him on his cell phone, pacing back and forth, trying to figure out what to do. Whatever the voice told him, didn't involve chasing us away. He hung up his phone and lit a cigarette. We packed up the kiddos and drove away as Mr. Man-bun inspected the equipment for COVIDS.
Chic-Fil-A Mask Enforcement
If you're catching a theme to this journey, it is traveling with children with no masks. I didn't realize that this was such an issue.
We don't have many Chic-Fil-A's up north, so we made a plan to stop in Branson for some yummy chicken. The dining room was closed, so we had to squeeze our 12 foot trailer through the drive-through. For fast food, the Chic is expensive!
Rather than eat in the car, we sat at the out-doors dining area. The people there were very friendly, as the Chic is famous for, but when our four-year-old needed to use the bathroom, they said we could not enter without a mask on our face. Hmmm.
Lauren again (my anti-mask heroine) swiftly got in and out with our little one without issue and neither wearing a face covering. We discovered that it's rare for someone to make an issue out of it, although Lauren said the lady who said we could not enter gave her a look. (We're not lepers!)
The chicken was good, BTW. Worth the hassle, might even keep them in business!
We stopped at a gas station afterwards and NOBODY WAS WEARING MASKS, found out it was Branson city ordinances that mandated masks and the gas station was outside city limits.
Arriving at the Homestead
We completed our journey through Missouri and into Arkansas. We didn't know how the vehicle would handle the mountains on the last leg of the trip, but it did great.
We didn't think our vehicle could get up the mountain with the trailer, so we hitched it up to Zac's truck and it got up fine. Save us a ton of work, as we were planning on leaving it at the bottom of the mountain and making multiple trips up with the goods.
We spent the rest of the day setting up camp for the night. My oldest did a great job building the camp fire for dinner while daddy and mommy set up the tent.
Cooked some hot dogs on the fire and took a deep breath. We made it to the Homestead!
That Completes Our Journey to the Homestead
It was a tiring two day journey, usually takes 10 - 12 hours under normal conditions, but closer to 20 hours for us. :-)
We were excited to begin our Sukkot adventure and the next week plus was very exciting for us. We got to visit with interesting people, including @papa-pepper who camped next door to us.
I plan on covering all the days (if I can), so I'll continue this series to the end!
Bless the Most High!
---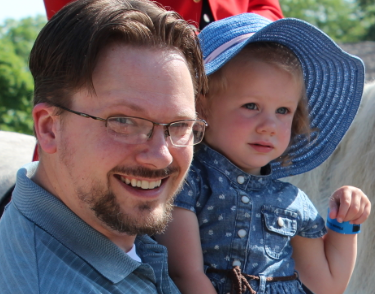 Benjamin Turner: God fearer. Rooted in Messiah. Husband of @lturner. Father of FIVE wonderful children. The guy behind the camera. Blockchain enthusiast.
Bless the Most High!
Teach Your Children Liberty from Sin
We encourage parents to teach their children principles of Godliness, beginning with the Word and an understanding who God is and what His Son has done to form a relationship with us.
No one can lay a foundation other than the one already laid, which is Jesus Christ. If anyone builds on this foundation using gold, silver, precious stones, wood, hay, or straw, his workmanship will be evident, because the Day will bring it to light. It will be revealed with fire, and the fire will prove the quality of each man's work. 1 Corinthians 3:11-13
Teach Your children Liberty from Tyranny
(Read below for a coupon code for 50% off these excellent books)
Second to this is the principle of self-determination and freedom, lest we loose the ability to teach our children the first principle in future generations. Our children read the Tuttle Twin books, specifically to learn libertarian principles, which most people learn later in life. These books are useful for our family, and yours, to teach children concepts that seem complicated, but are made simple in these books.
The TUTTLE TWINS made the puplication "Current Affair" Check out the books here.
When a leftist rag rips apart a book, you KNOW it's good.
The Tuttle Twins series is among the most wretchedly contrived, grotesquely unethically indoctrinating, cliché-ridden heaps of steaming garbage I've ever had the misfortune to read. Written to bring young people into one of the most disgraceful political tendencies in the world before they have the critical thinking skills to recognize it, it is a hideous fraud and an ugly twisted farce.
No better endorsement than that! Use the coupon code CURRENTAFFAIRS for a WHOPPING 50% off your purchase! Check them out here.

The author of the Tuttle Twins books, Connor Boyack with his favorite quote from the leftist rag "Current Affairs"
If you like my content, please consider a generous upvote and SHARE
I appreciate my readers and do my best to read and respond to your comments. Thank you for your support, it's what keeps the lights on!
sir, i upvote you for your upvote i thank you dear