---
Will wonders never cease! I actually finished this past weekend with a pretty commanding victory over my opponent. This win was pretty great on several levels and I will get to all of them in a little bit.
Right now, let me give you the breakdown: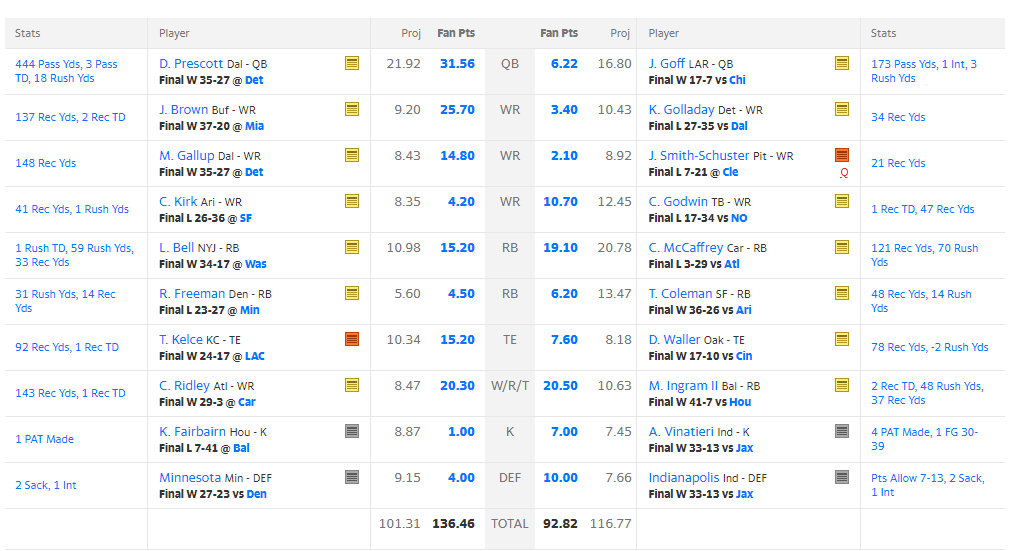 ---
Dak Prescott was by far my top performer this weekend. I was pretty nervous about the Cowboys/Lions game. My home state pride had me cheering for the Lions, but secretly I wanted the Cowboys to have a good game since I have their QB and one WR on my team.
Prescott put up a monster 31.5 points and secured the win over Detroit for Dallas. I only had one wide receiver whose performance I was a little disappointed by. I was limited with who I could play because of bye week for some of my main guys.
Bell's numbers were closer to what I expect from him each week given the amount of talent he has. Freeman was pretty disappointing at running back, but my other players more than made up for him. Ridley putting up twenty points in my flex position was a welcome surprise.
My kicker and my defense were pretty unimpressive. Hopefully next week they can turn things around. Well, my kicker at least. Minnesota is on bye next week so I will need to find a replacement for that defense.

---
As you can see had the tables been reversed this week my bench would have been absolutely zero help for me. Likewise my brother in laws bench wouldn't have been much help for him either. Even if he had made the proper substitutions I don't think he would have been able to beat my score.
As I mentioned before, my win this week was very important. Paired with a win from @mrsbozz, she is now in sole possession of first place in the league because the team I beat was tied with her. In addition to that, I have now moved up from seventh place (out of eight) to sixth place tied with my sister in law.
If I can squeeze out a couple more wins I might actually make it to the playoffs! That is pretty unbelievable given how my season started!