Arnica: medicinal properties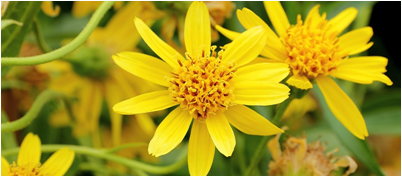 Source
**Arnica**: It is a yellow flower with thistle in the center.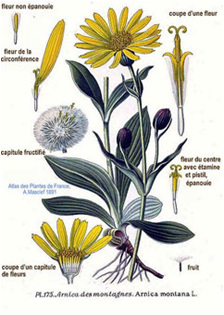 Source
Collection: During the flowering of the plant it is dried in the sun.
Parts used: Flowers and rhizome.
Properties: Anticongestiva, desinflamante, tonic of the circulation and nerves. It has stimulating, very energetic effects; it makes you sweat and at the same time urinate. It is good in case of gout, rheumatism, paralysis, concussion due to a fall or blow, epilepsy (diseases in the patient falling out), neuritis.
In these cases the amount of tea or infusion should be small.
It prepared 30grs of leaves in 100grs of water and is supplied as an infusion or tea.
The tincture of arnica is used 5 drops in half a glass of water to react a faint due to a blow, fright or fall.
For friction: Dye and hot water are used in equal parts to make frictions in case of contusions, bumps or dislocations and blood spills under the skin.
In infusions, 15 grs of flowers per 150 grs of hot water infused 3 times a day will be used.
Do not exceed the dose.
---
---
Thank you for reading!
---
---