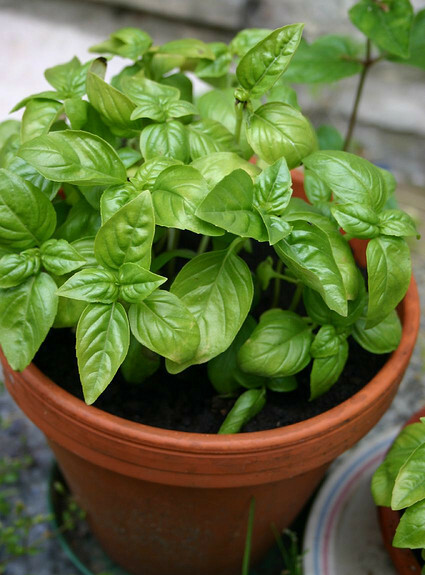 Hello friend of the farm today I am going to talk about basil is a very common aromatic plant to plant at home and that can also be used in the kitchen. It is very easy to plant it, it is only necessary to put it where it receives direct sun and to irrigate it frequently, what we must take into account is that it is an annual plant, that is to say that it must be planted again every year. One of the ways of planting is to make nurseries and then transplant them to a pot or planter.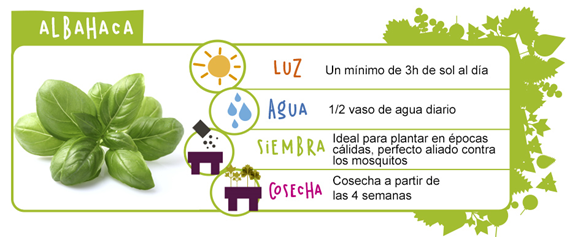 SOURCE
The seeds to sow basil can be collected in the autumn by extracting them from an adult plant, and keeping them for planting in a paper bag, or by buying them at a horticulture or gardening center.
The basil is a plant that does not resist frost or low temperatures, so the best time to plant it will be in late or late spring. Thus, we will ensure that growth is adequate and always in perfect condition.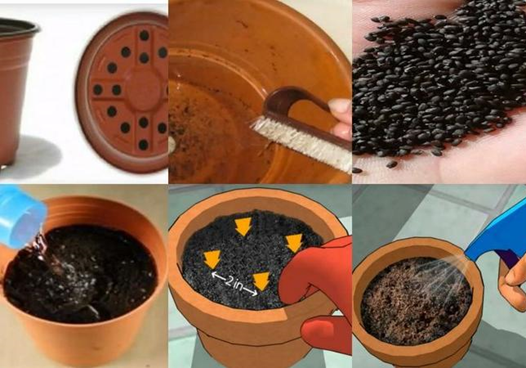 SOWING BASIL
To plant basil at home is to prepare the seedbed that we will use for it. A good option is to use a shallow container, approximately between 5 and 10 cm, which you must fill with fresh soil and fertilizer.
The seeds are planted at a shallow depth (1 cm) by making holes with your finger in the soil, depositing two or three seeds per hole and carefully covering with soil. Once this process is finished, you should water the entire seedbed with water. This should remain in a window, balcony or terrace to receive direct sunlight, and should be watered every one or two days.
!(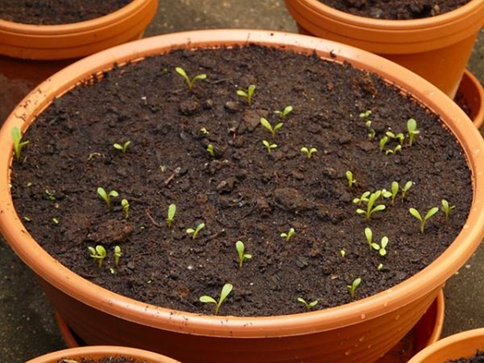 )
SOURCE
The basil seedlings sprout between 10 and 15 days after planting, and you can keep them there until they have 6 leaves (about 8 - 10 cm high). The transplant should be done in the morning, before the nursery receives the sun full and before watering the plants. You have to be very careful with the basil seedlings so as not to spoil the roots. Before transplant, you must have a prepared pot (about 20 or 30 cm high) with fertilized, dry and not very compacted soil.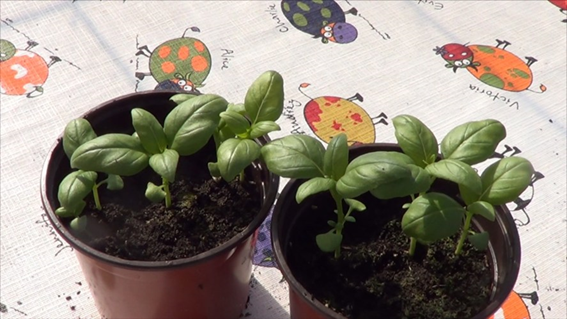 SOURCE
In the pot, make a hole with your hand or a gardening shovel, and deposit the seedling, taking care that the roots do not bend. Then, add soil to cover the stem a little, and compact the soil a little by supporting the palms of the hands near the stem and pressing gently.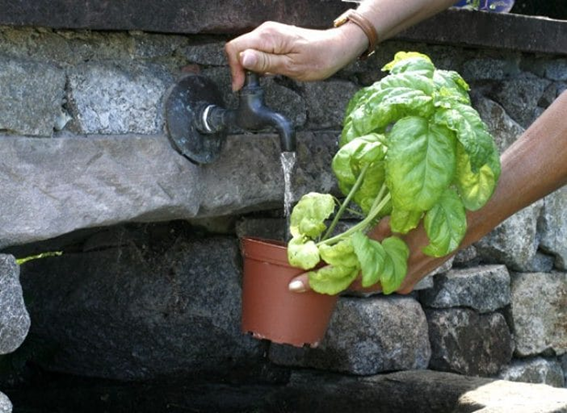 SOURCE
Finally, the entire surface of the soil must be irrigated abundantly. The watering of the basil should be frequent, but in small quantities, that is to say, that it does not remain waterlogged. You can see here more tips on how to care for basil. Once the basil plant grows, we will have fresh leaves from early summer to mid-autumn, and sometimes even more.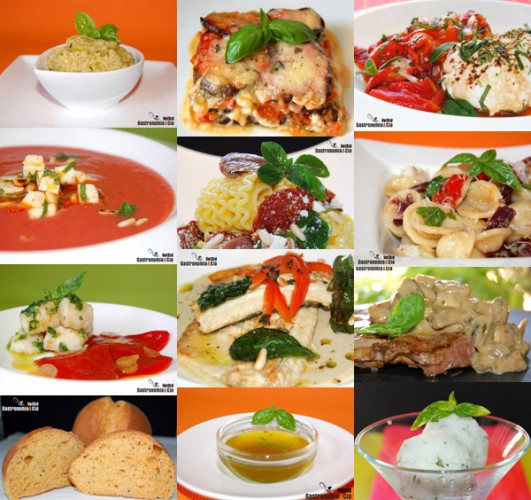 SOURCE
THE BASIL IN THE KITCHEN
If you want to discover good ideas for using basil in your kitchen, here are some recipes: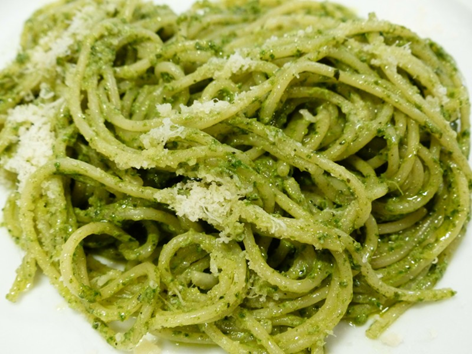 SOURCE
HOW TO MAKE SPAGHETTI IN THE PESTO
INGREDIENTS:
350 g of spaghetti
30 g of basil leaves
20 g of pine nuts
1 clove garlic
100 g of Parmesan cheese
4 tablespoons of olive oil
Water
Salt
For the preparation of the sauce, we chop the basil and the pine nuts in the mortar. It is recommended to use fresh basil because it will bring more flavor, you can see here how to plant basil at home
We add the garlic and cheese to pieces.
We crumble it all while we are adding the olive oil slowly, stirring constantly with the pestle or mace, until the initial paste turns into a sauce, consistent but without losing the texture of the sauce.
As for the pasta, we will boil the spaghetti with plenty of water and a pinch of salt until they are al dente. Remove and drain the pasta once boiled.
Mix the pasta with the pesto sauce and decorate the dish with basil leaves.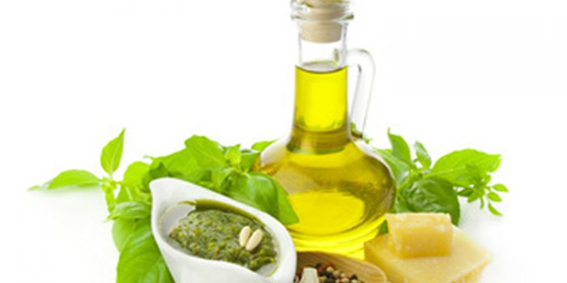 SOURCE
HOW TO MAKE BASIL OIL
You will need to:
1 cup fresh basil
2 and 1/4 cups of extra virgin olive oil
Glass jar with airtight seal
To prepare this homemade aromatic oil you will need two cups and 1/4 extra virgin olive oil, a cup of fresh basil and a glass container with airtight seal.
The first thing you should do is clean the basil leaves well. To do this, use a clean cloth or kitchen paper and rub them carefully. In case of having sand, pass them first by water. Then, put a saucepan with water on the fire, introduce them and heat them a little. It should not boil, so one minute is enough.
When the leaves have been blanched a little, cool them by inserting them in a container with water and ice. Drain well to remove excess water and crush. You can crush them with the blender, with the blender or manually with a mortar, as it suits you best.
As you start mashing them, start adding the oil little by little and continue to crush everything. When you have it well crushed, you can strain it to remove the remains of basil leaves or leave it as it was if it was completely liquid.
At this point, you have two options. The first is to use it as you have to dress your salads or complement your favorite dishes and, the second, put it in a glass jar and let it soak between two weeks and a month to intensify its flavor. If you opt for the second, you have simply reserved it in the jar, add a few basil leaves that you should change every two weeks, close it and leave it in a cool place, free of moisture and where direct sunlight does not reach. Do not store it in the refrigerator.
Although you do not want to macerate it, it is always more advisable that you keep it in a glass container for better conservation.
TIPS
The basil leaves lose most of their perfume shortly after being cut, so pick them up when you go to use them. Use basil sown at home, will have a much richer and savory taste at meals.
SOURCE:
https://hogar.uncomo.com/articulo/como-sembrar-albahaca-en-casa-6643.html
https://www.google.com/search?q=albahaca+en+la+cocina
Thanks for reading my article.