Between hammocks, bags, bracelets and blankets, threads intertwine themselves and give life to the Wayuu culture. The vast spectrum of colors contrasts with the aridity of the desert landscape and the dark skin of their women, who are in charge of preserving the community in respect to the Wayuu tradition expressed through ancestral fabrics.
They are those who, since ancestral times, have taken the reins of this culture which has expanded on the peninsula of La Guajira. It is thanks to them, in large part, that their traditions transcend this territory, honoring the meaning of their name - wayuu, which means 'mighty man' in the Arhuaco language.
Yotocorous constructions - that is, bark of cactus, mud and cactus roofs represent a people who survive and safeguard themselves in an arid and difficult environment such as the desert. There are small houses, a kitchen with wood burning stoves that evoke ancient flavors and various pergolas where visitors are received.
Textile is one of the main skills and charms of this ethnic group: hammocks, bags, bags, blankets and bracelets with different designs and colors captivate the looks of the Arijunas (as they call those who do not belong to their community) everywhere they are exhibited.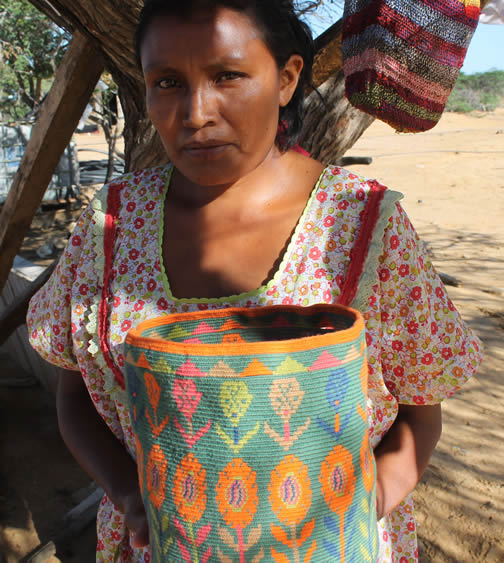 Arelis Pushaina, a wayuu artisan of the Oorokot community in La Guajira, Colombia.
Photo by Paula Restrepo
For them, especially for women, this activity symbolizes something beyond a source of income or economic sustenance. It is related to the essence and vision of the Wayuu woman and her descent.
"The textile has much to do with weaving life, weaving dreams, preparing for life. That is why learning how to weave begins very early in life."- Graciela Cotes, leader of a Wayuu community
From childhood, they are introduced to this art form, which slowly gets perfected during the crucial time of puberty. From their first menstruation, young girls are isolated from the community for a period of several months, as part of a ritual of preparation for their life as women. In this period of time, they are trained from an elderly woman such as the grandmother or mother, who pass on to the younger generation the techniques and the tradition of designing and weaving these unique textiles. Once the girls master this art, they are considered ready to enter the adulthood and they are welcomed again in the community as women.
Wayuu women are the backbone of the culture and tradition of this ethnic group, because they transmit their knowledge and skills from generation on to generation. Thanks to their weaving, they can sell their art creations and sustain their families, and consequently their community.
Wayuu bags have become popular in many countries outside of Colombia; however, their value is sometimes not recognized enough, as they are forced to sell their products at a lower price. For example, to weave a bag it takes up to a month, depending on the size. Our social-responsible activity aims to give value to their art craft in order to preserve the quality of their work and to support them in a more just way.
We, as Mercados Away, have a fair trade partner organization in Riohacha, Colombia, who works closely with Wayuu communities and pay the artisans a right price, agreed among both parties in a transparent way, so that this tradition can continue further and the Wayuu communities can live with their art.
Here are some examples of the colorful Wayuu bags we offer in our online fair trade shop: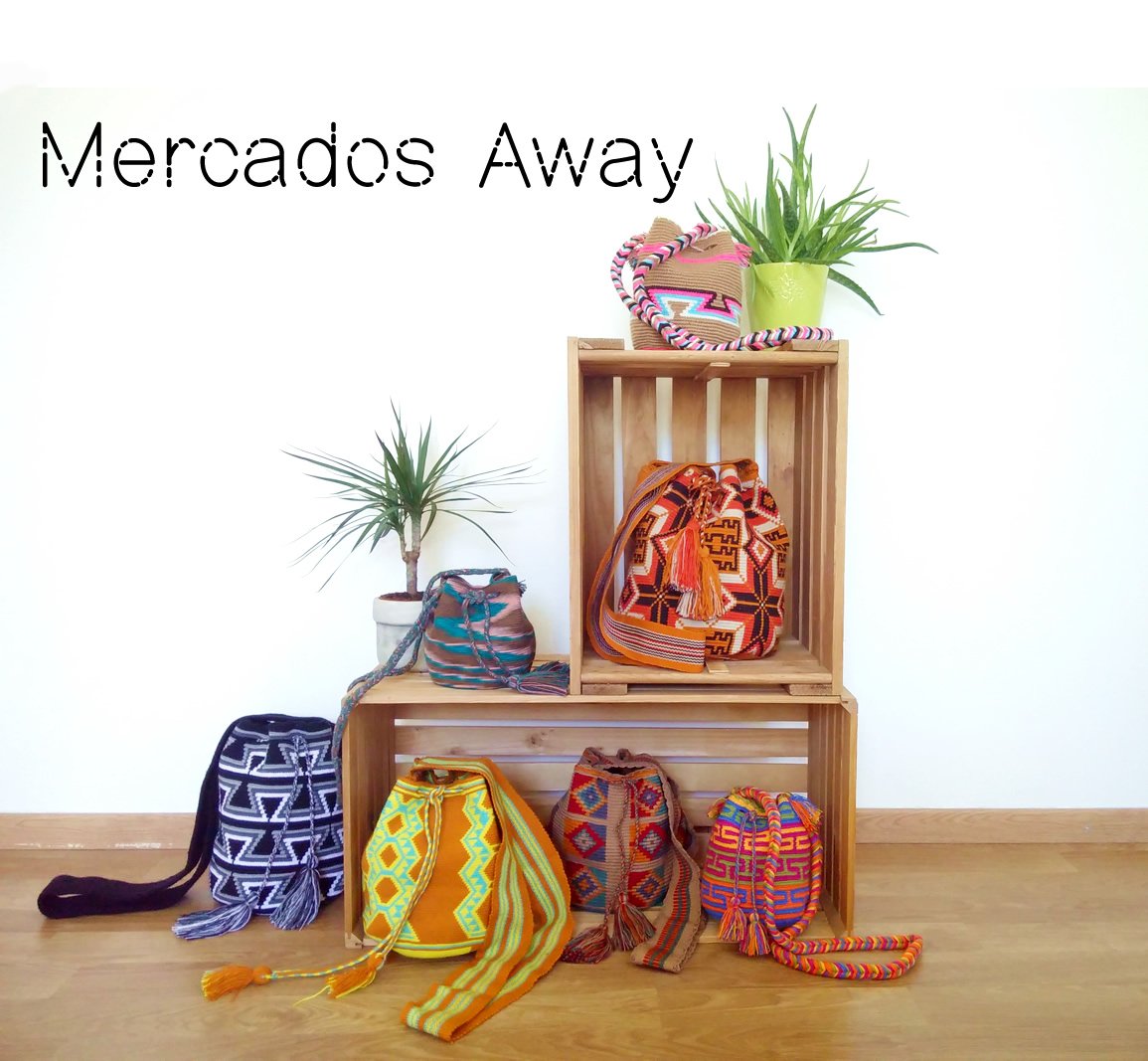 Every bag contains such an incredible value that goes beyond the simple technique and hard work to make one, but taps into the ancient knowledge of the Wayuu women.
Did you know about this ethnic group before?
Have you got a bag already?