There are several festivals that are in great demand for tourists because they are unique and entertaining. But not infrequently, there are also festivals that are very strange, extreme and even tend to be terrible.
A number of countries in the world often hold festivals to attract tourists to their country. Some of them are in great demand for tourists because they are unique and entertaining and very amazing.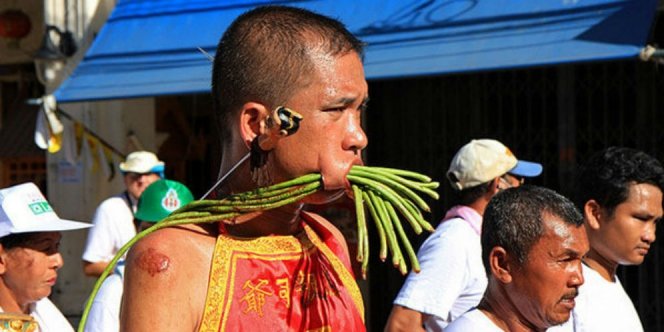 But not infrequently, there are also strange, extreme festivals that even tend to be horrible and frightening. And on this occasion I want to share with all of you and here are some of the most unique and weirdest festivals in various parts of the world.
Phuket Vegetarian Festival in Thailand
From its name, this festival looks like a peaceful and very pleasant celebration. But, but the reality is not like that. Held for 9 days from the end of September, Thai people will take to the streets to celebrate the vegetarian festival.
And this festival is fairly extreme, because when they go to the streets the participants will use household appliances such as knives, swords, even skewers that are plugged into their faces to cleanse themselves of the evil spirits in the human body.
Bog snorkeling
Generally, people look for clear water when they are going to snorkel. But in the snorkeling bog festival which was held in Wales, the participants were required to swim and snorkel in muddy trenches as deep as 100 meters and this made it unique and disgusting.

Huacho Guinea Pig Festival in Peru
This festival is very unique. In the Huacho Cuinea Pig Festival pets are required to play an activity like humans. But they are dressed like kings, farmers, miners, to supermodels.

El Colacho Baby Jumping Festival in Spain
In this festival will be shown men who wear demonic clothes. And then, they will approach and jump over a group of babies placed on top of the bundur. That said, this ritual is intended to ascertain whether the baby's life journey is good or not.
Hopefully what I share this and hopefully it can be useful