Welcome back to another Food Fryin', Spoon Lickin', Bowl Scrapie' Food Fight Friday Contender Post brought to you by... Fast Eddie himself. I'm telling you this local drive up shack has it all but I'm not going to take over the Coolest Kitchen on the Blockchain with the whole Fast Eddie's menu. Trust me, every item I have had from Ed's menu has me tipping on the brink of a food coma. This week I hand picked a contender that is stacked up so high you can barely get your mouth around it. With meat piled high and juices from the sauerkraut drizzling down the side, make rooms for.... if you don't make room in the Food Fight Friday Arena, Rueben will rub some Spicy Honey Mustard in your eyes...
The Rueben at Fast Eddies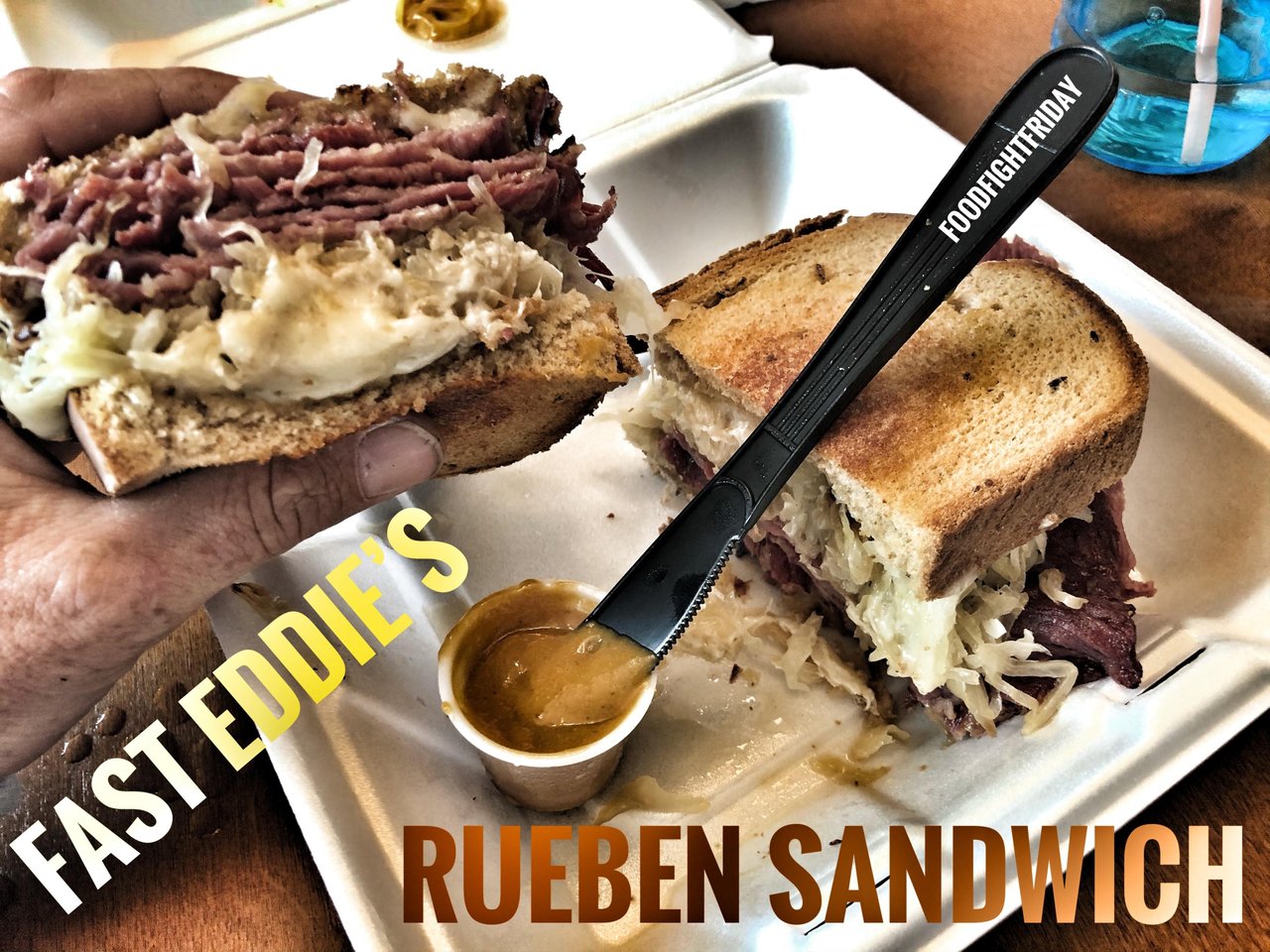 Let me clear the air on this whole "Fast" thing. I'm my opinion they should add just a little something before the word Fast. Like maybe... "Not So"... then it would be Not So Fast Eddies because when you make food they way they do you can't make it "Fast". I mean did you see that Rueben Sandwich in the photo above?? McDonald's or Subway ain't kicking out sandwiches of that magnitude!!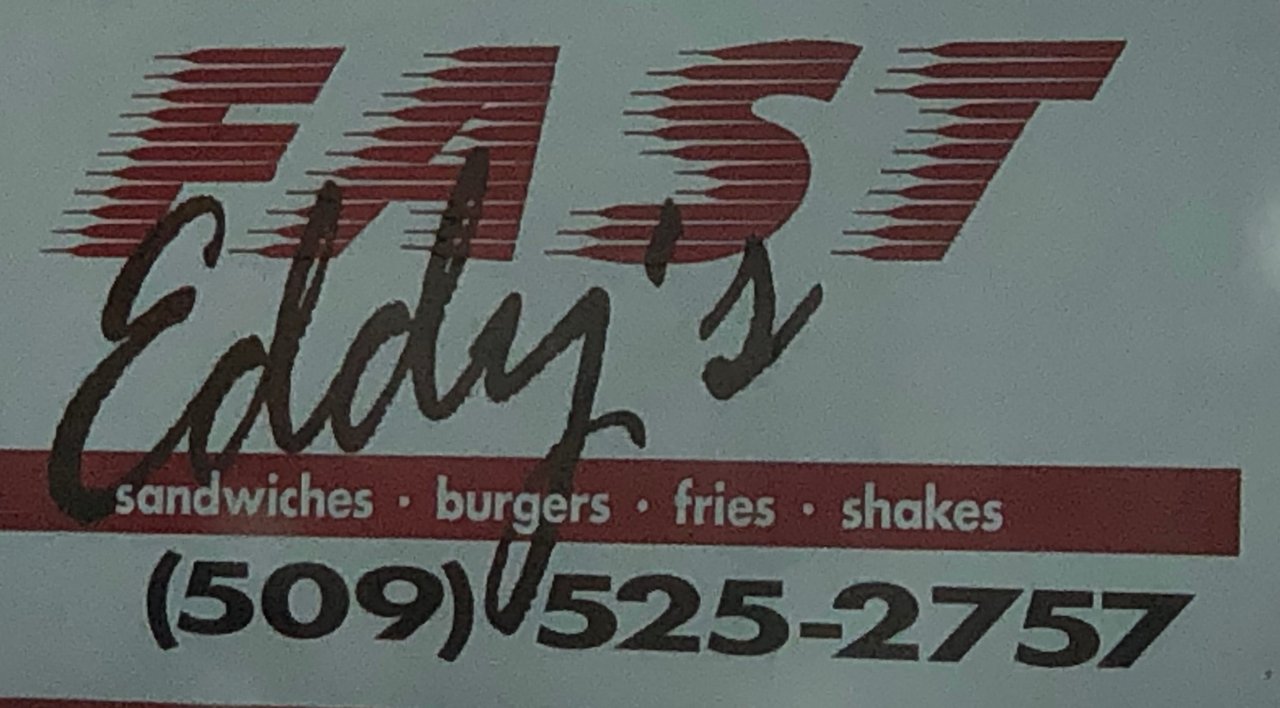 Now one of the benefits I have being a Serviceman and working most of the time right here in town is I am able to enjoy lunch from time to time with my Beautiful Amazing Wife. Now I only have 1/2 hour give or take so efficiency and time management is key. With Fast Eddies being "Not So Fast" I call in the order ahead of time. I'm just a couple blocks away, so I send Mama-Splatts a text asking what she would like from Fast Eddies... I said I was having a Rueben and she said I better order 2 then. Not only is she beautiful but this Woman knows how to eat. Wait... that came out a bit wrong... she likes good food how about that :wink:wink.
This isn't a Drive-thru but a Drive-up. You know, old school style except they aren't on roller skates or anything. They take your order at the window of your car and bring it out to you wether you want to take your meal on the road or sit in your car and get your grub on.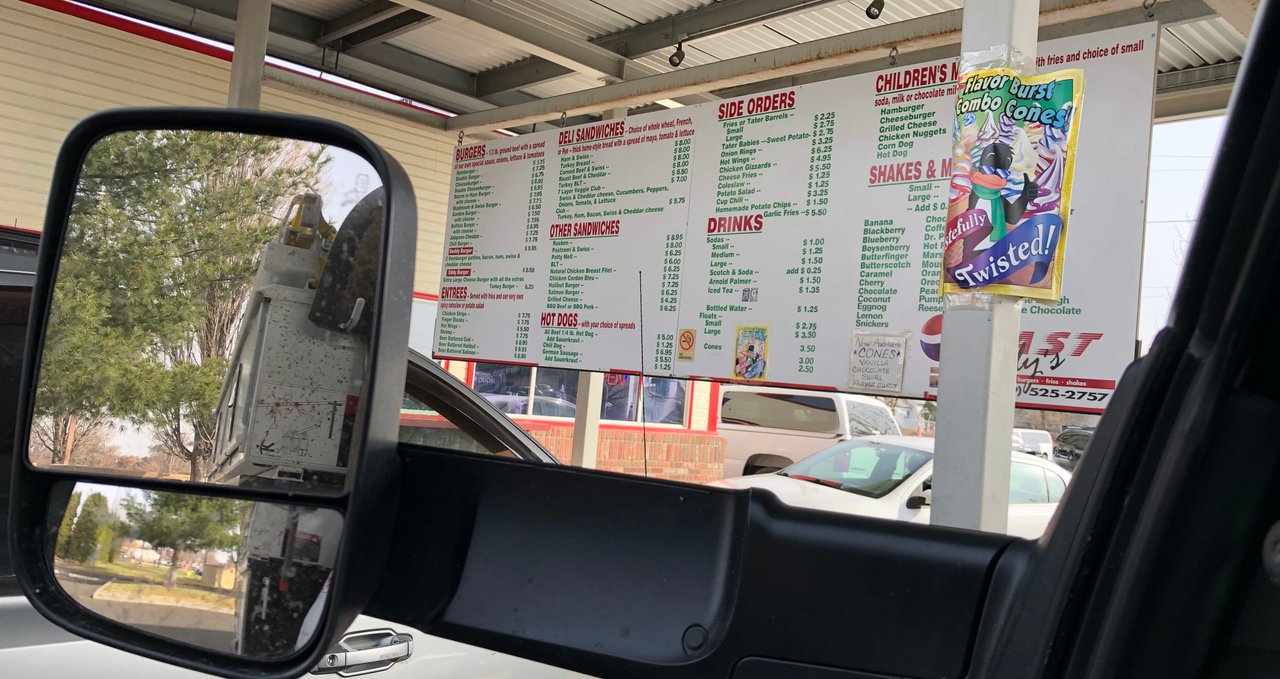 My fellow Fellow Food Flingers know this about me, I love me a Giant Man-Sized burger loaded with everything. :drool:drool. If I didn't have to go to work I would be ordering up one of the best tasting biggest burgers I have ever purchased at a restaurant. Now my burgers typically are the best but when it comes to a restaurant's burger... Fast Eddie's Buddy Burger will take a grown man and turn him into a whimpering whooped puppy dog on the couch, struggling to maintain consciousness as the Food Coma kicks in and takes over his life... too dramatic??? Nope, it's the truth I have been there.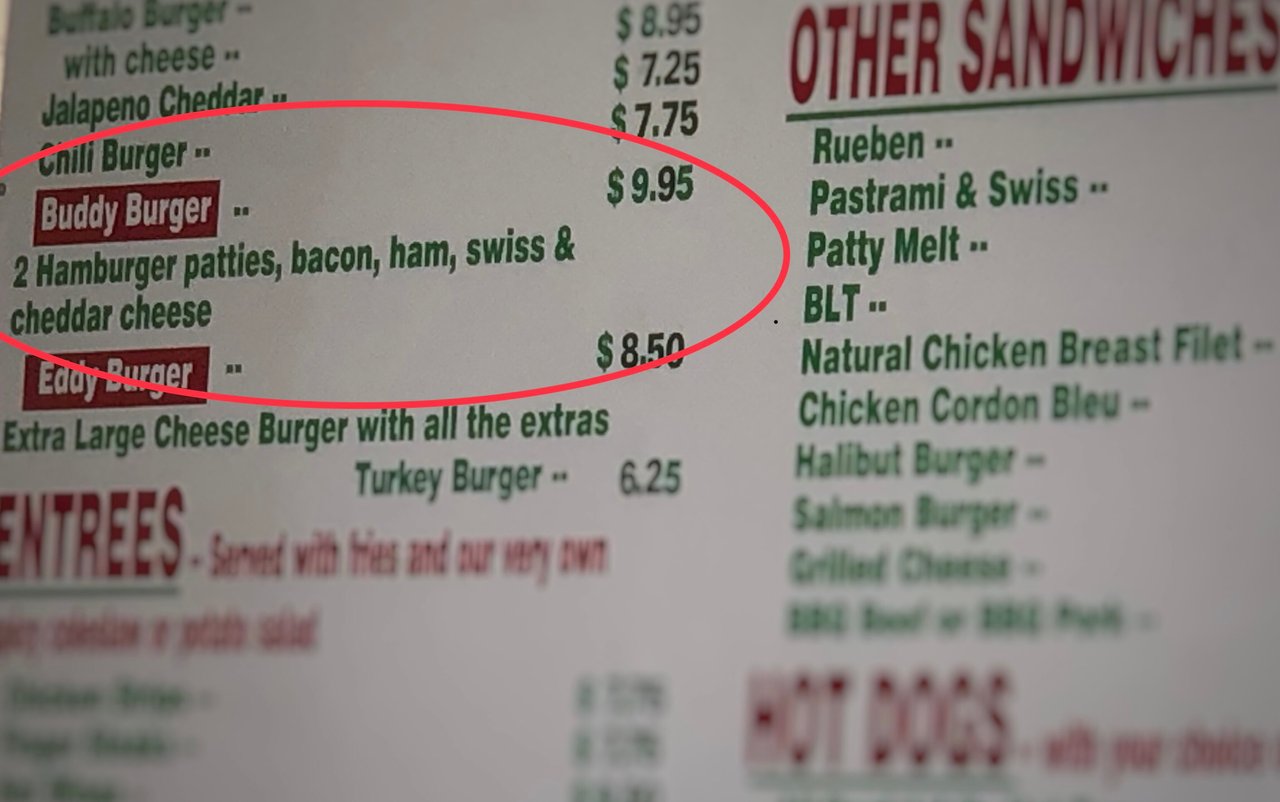 We will save the Buddy Burger for another day, Buddy is definitely a worthy contender to bring to the arena now is just not the time. Sorry Buddy this post is about Rueben, you will have your time to shine soon.. trust me 😉
Alright with the 2 - Rueben sandwiches loaded up, it is literally a 2-3 minute drive to the house. I should have buckled the Rubens in for safety but I was starving and so was Mama-Splatts.
Gotta Goooo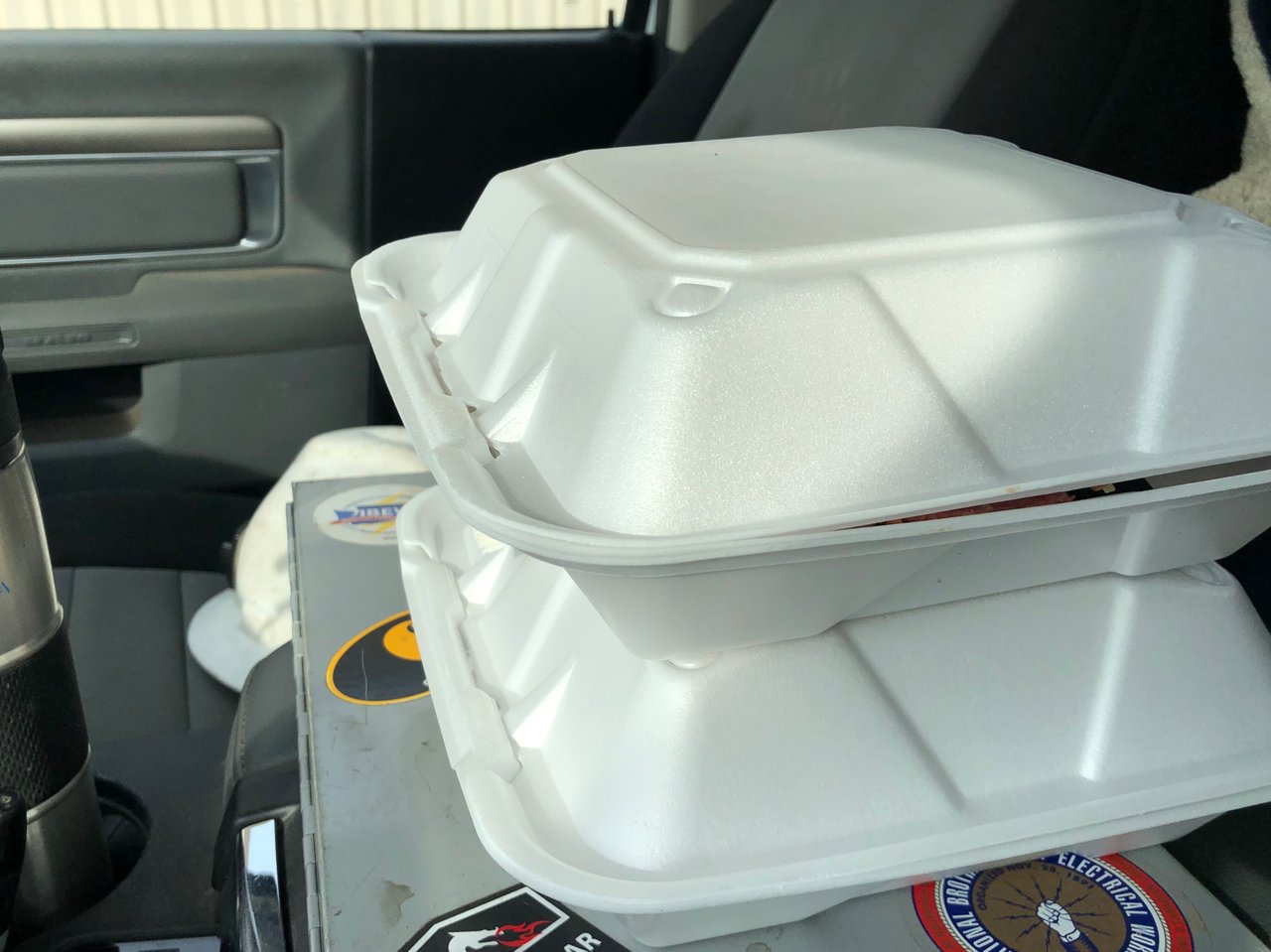 OMG it's almost like opening up a present at Christmas and getting exactly what you have been waiting so impatiently for. Lord Have Mercy on My Stomach!! Would you just look at that Sandwich!!! Pastrami piled high, with a hefty layer of sauerkraut and melted Swiss cheese...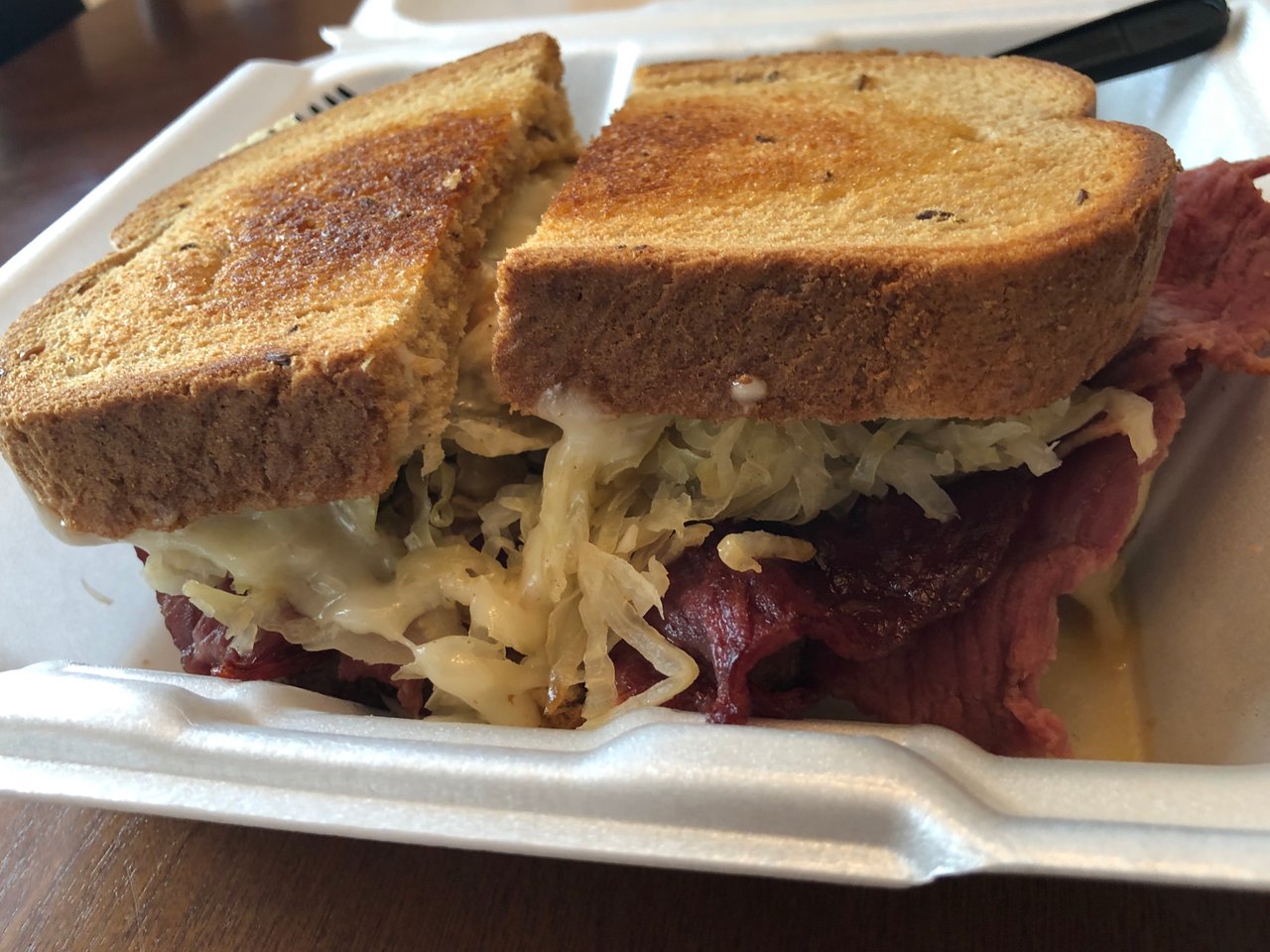 Now let's put the size of this Rueben in perspective shall we? A cross section after a few bites is the only true way to measure the how stacked this Ruben really is... Ya, he must workout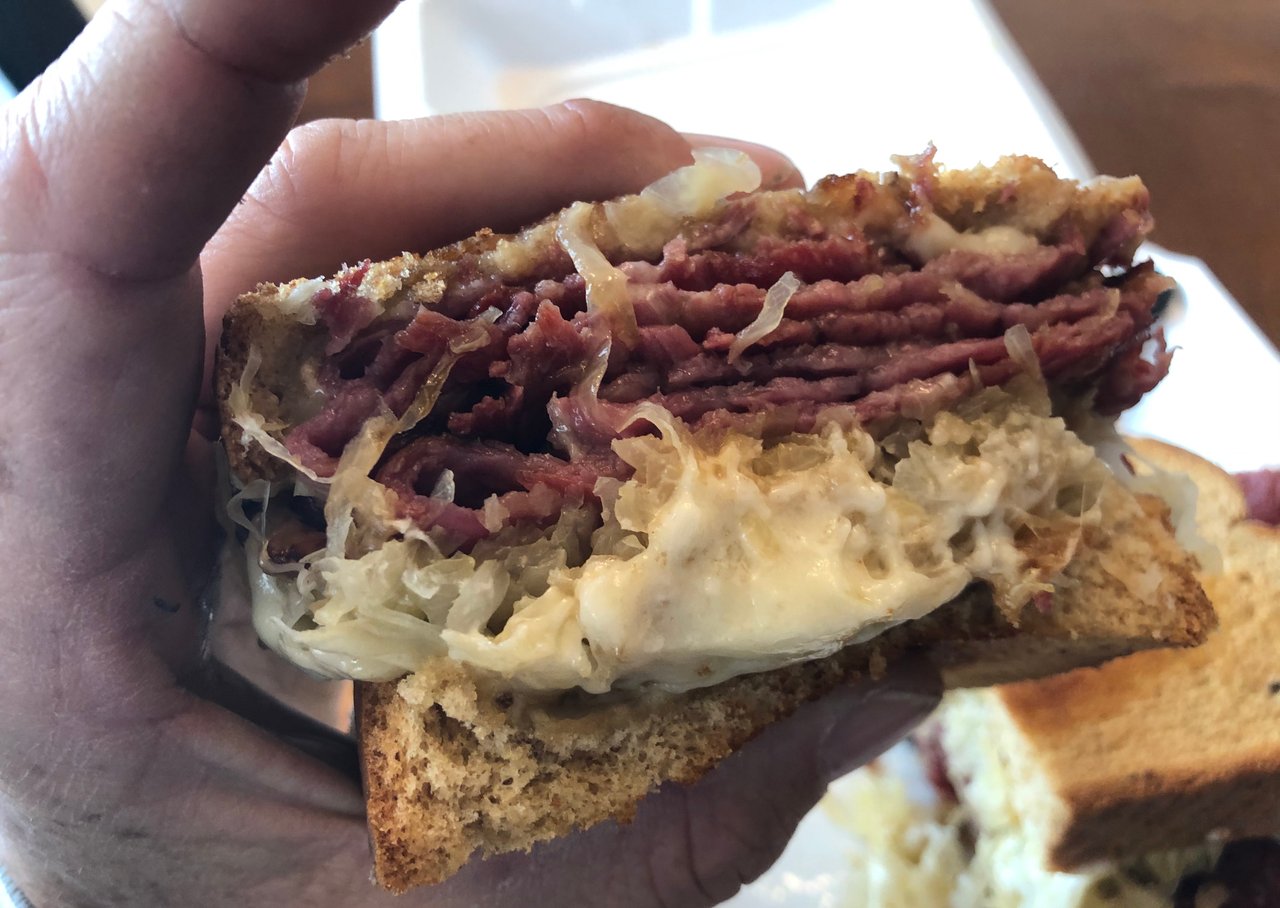 To me what really takes this sandwich to that next level is the little side of their Spicy Honey Mustard. I like to take the provided knife and wipe a little of this spicy goodness on every bite. Now this isn't the Mexican spicy that seems to burn forever. This is the Chinese hot mustard spicy that hits you hard and clears the sinuses then goes away. I believe it is honey mustard with some horseradish mixed in. Every now and again Mama-Splatts or myself would give out a "Wheew" signifying that we just cleared out our sinuses for the 10th or possibly 20th time. Dang, that burns so good!!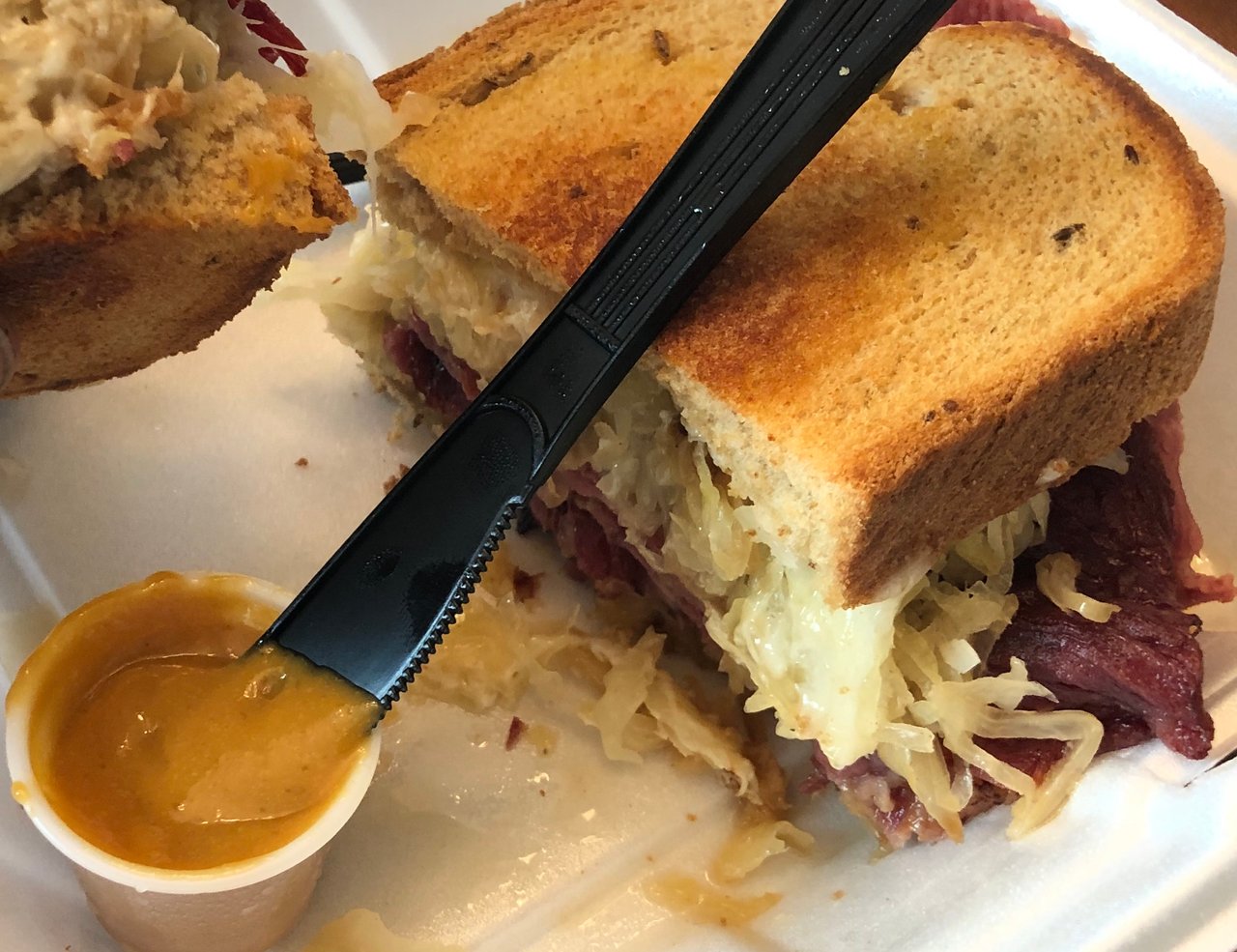 Well my Food Lovers that is the Rueben Sandwich from (Not So) Fast Eddies in Walla Walla, Washington. Mama-Splatts and I out the hurtin' to this Rueben, now its time for me to get back to work. That was just the right amount of tasty goodness to keep me going the rest of the day.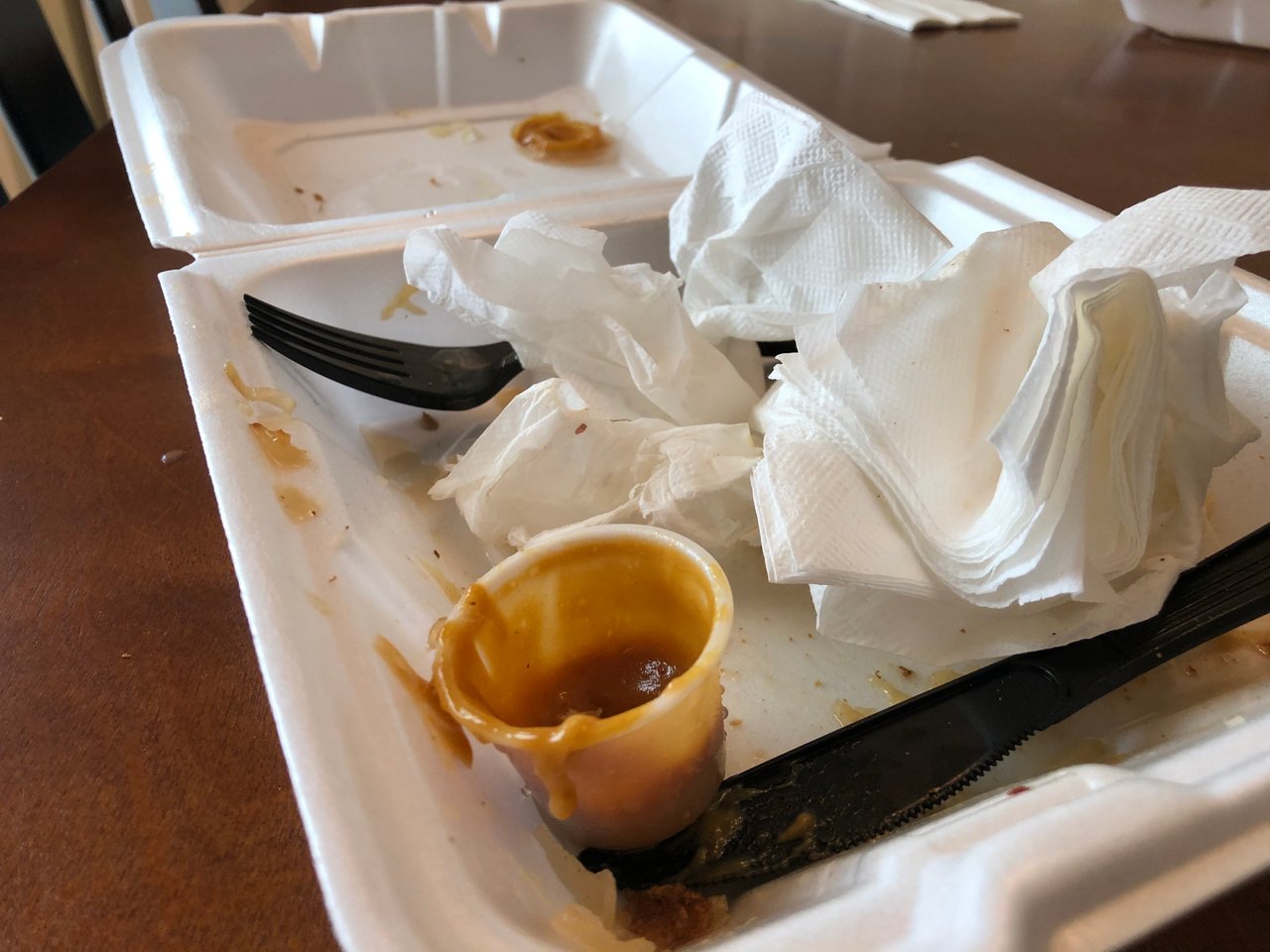 Stay tuned because next time I might be taking on the Legendary Buddy Burger From (Not So) Fast Eddies.
Until Next Time...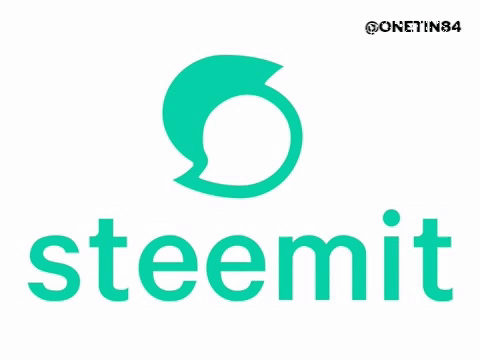 Steem On
and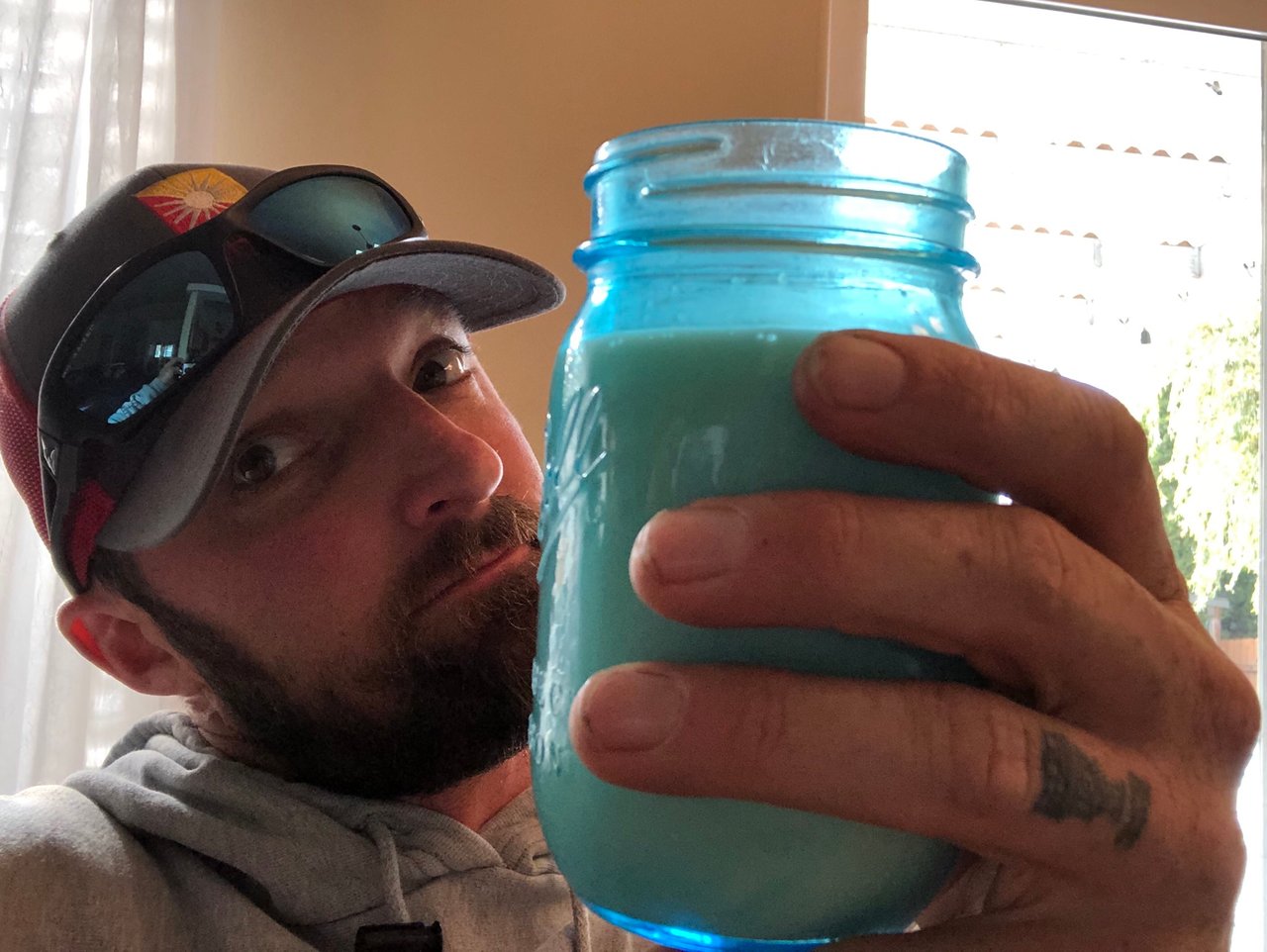 Don't forget to top it off
With an Ice Cold Glass
Of
Raw Milk




Don't forget to mention @splatz
when you encounter a post that deserves a good Splattin'
by the @splatz trail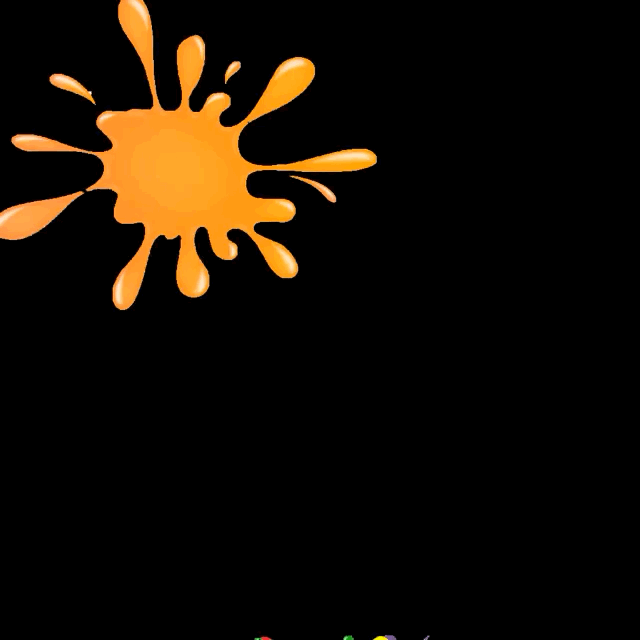 Join the @splatz trail
On Steemauto.com
Where we catch those
Splatworthy Posts
Hot off the Press