Here it is, another Food Fight Friday and I'm back in action. It's been awhile since I've said "what's up Steemit community" . I can only hope you don't hold it against me. I know I've missed a lot and am looking forward to catching up.
Hi my Steemit Friends!!
Although I've been absent it doesn't mean you've all slipped my mind. I'm always wishing my friends well and hoping y'all are having as many exciting adventures as @dandays and I are.
We have finally touched down in England and let me tell you, jet lag is NO joke. It took a good 4 days or so to feel normal again. I had no idea... We have made our way through New York, spelunked around London and are currently checking out the Northern Cities of England. Tomorrow we move into our month long Air B and B which will be nice since we haven't had a home cooked meal since leaving Costa Rica (or should i say Cost-a-rich-no). I cant wait to get in that kitchen and whip up some yummy veggies 😋. I think it's safe to say we've been living off of falafel for two weeks (good thing we like falafel).
So, with all of that moving about and exploring I've let my Steemit game slip a lil (insert tiniest space here). But I shan't let another @foodfightfriday slip by without a contender from me, no sir-y. Today I present to you my latest Food Fight, British edition. Have a look for yourself...........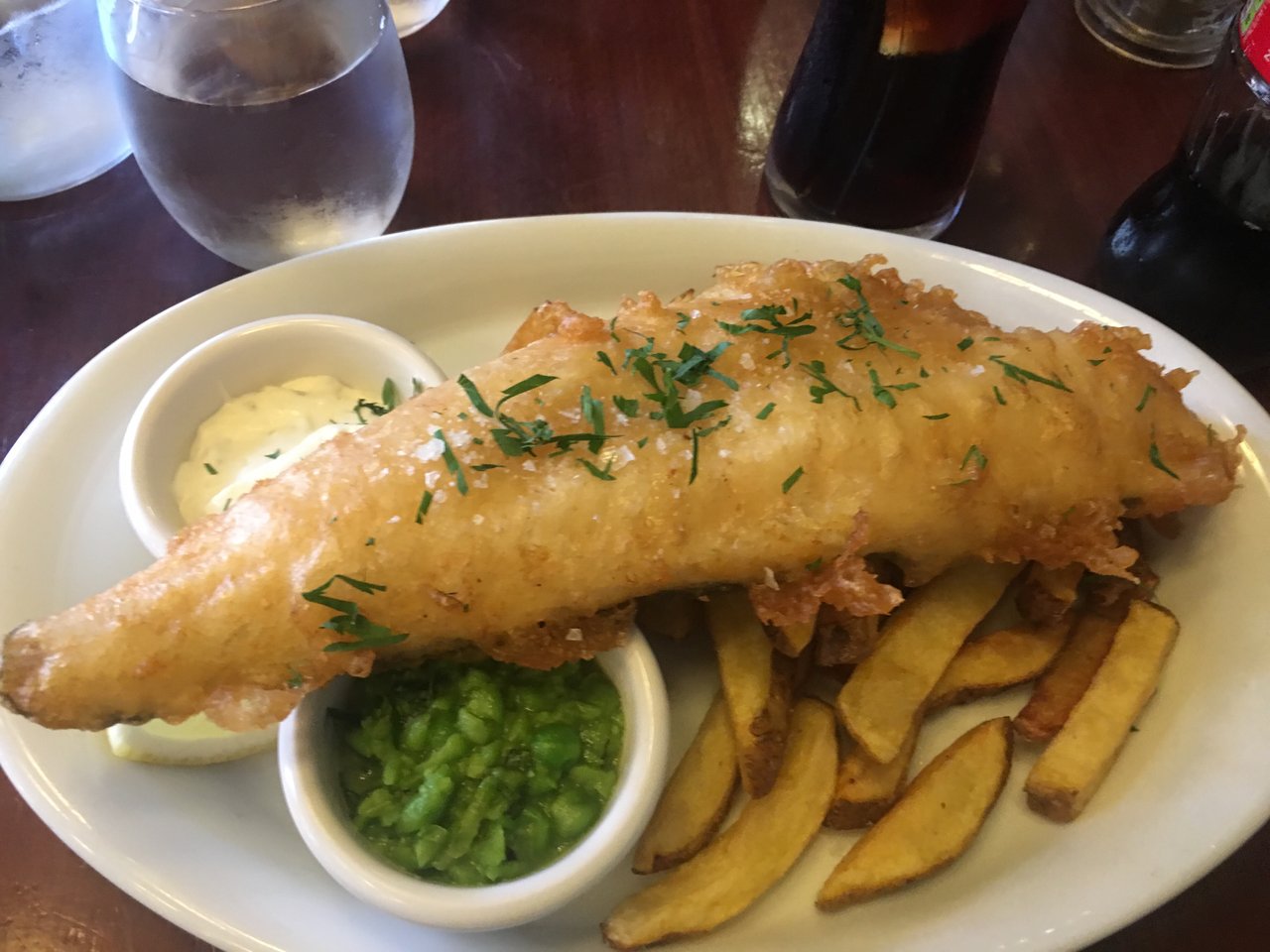 You can't talk about "British edition" anything and not mention Fish and Chips and might I say, the fish and chips are definitely note worthy. What I like about these ol deep fried meals here, is that the Brits use the entire filet of fish, not bothering to cut it up for us lads. I appreciate that in a chippy (aka, fish and chips joint). Now, don't confuse "chips" for French fries. French fries indicate you are getting a thin cut fry where as a "chip" is a thick cut crispy fried potato. See the difference? Neither do I but if you order fish and French fries you're bound to catch a few funny looks 🥴 (like this emoji face here). Those things you dip in salsa are known as crisps by the way. I know, lots to learn here even when we all speak the same language, or is it the same language 🤔?
Anyway, we made a special trip to the nearest chippy on our 3rd day in London. Did I mention that jet lag yet? Day one we hung out at the hotel and went to bed early. Day two we walked around the corner from our hotel to get our phones operational. We weren't going to try and navigate England without WiFi. I mean, who do you think we are, McGivers? After walking for awhile we realized that every single restaurant, business, and phone joint (which there were tons) were ran and operated by people who spoke Arabic. I had NO idea there was such a huge community of "Asians" in England. I've been taught my entire life, whether through the media or in school (United States and there stellar education institutions), that peoples from Pakistan, Lebanon, and India, are all "middle eastern". I don't think there could be a bigger misconception happening in the US. I suppose that's the beauty of travel, the broadening of our truth. When we are only subject to one perspective that's all we know to be true but when we take on many other perspectives the truths are revealed to expand our perceptions to be much closer to the "truth". Little rant but i digress...
All of the walking and gawking got our appetites rumbling so we stopped into one of the many Lebanese restaurants nearby. I really wanted some veggie soup and a salad since literally only consuming falafel pitas in New York. The place we picked had the perfect menu for us. We both got a bowl of soup, and @dandays had a cucumber, tomato, parsley salad with fries. My stomach had been a little weird so I kept it light but perfect. When we finished our food we continued walking.
With one turn we ended up in a downtown type area. Lots of people, lots of coffee shops, and we even stopped in front of a game shop to enjoy the use of their free chess board. It was a perfect day to sip on a strong as shaaat mocha while workers swarmed the sidewalks and we played a game of chess. Yes, @dandays won and I got annoyed at that so one game was all it would be for the day.
We continued on, heading towards what we thought was the direction of our hotel and boom.... An outdoor cafe where people are smoking hookah, watching football (soccer for us weirdos in the US) and drinking tea. I was sold immediately. Being that the cafe was almost attached to our hotel we made a detour to our room to drop some things off and walked right back to the cafe where I hadn't a clue what new obsession was about to wash over me.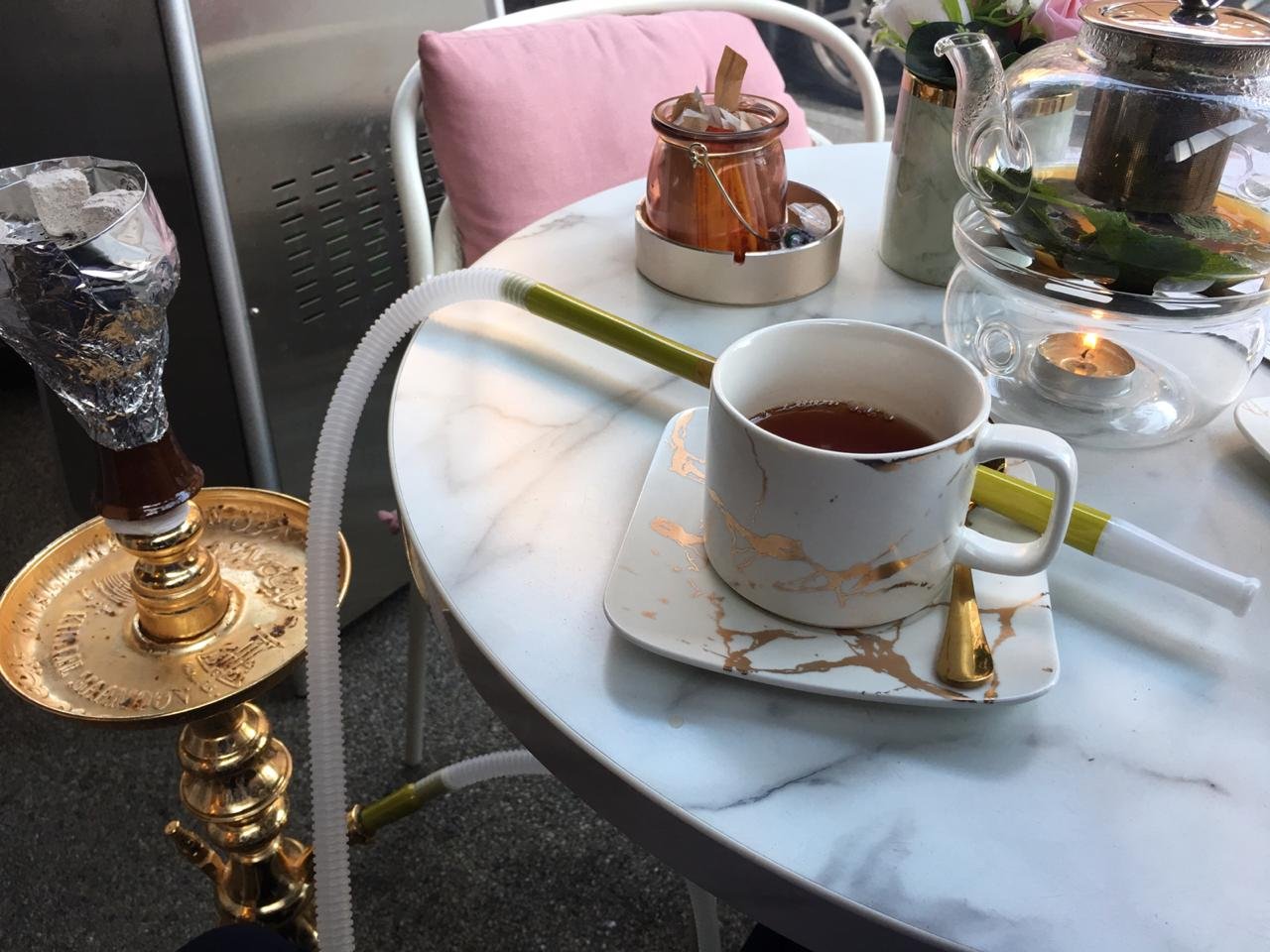 Since neither of us knew what we were doing we asked for a recommendation from our waiter. He kindly suggested a smooth peach flavor accompanied by some Moroccan tea and we were off to the races. I don't know why I haven't indulged in this activity before? I loved every minute of it, feeling like Cleopatra and shizzzz. Haha. After puffing on peach bliss and sipping mint heaven we headed back to our room to get a good nights sleep..... Oh how wrong we were about to be.
After several failed attempts to get some shut eye, 2 Benadryl tablets later, and a few rotations of switching seats with Dandays (one person getting up to go sit in the chair, turning on the TV, turning off the TV, crawling back in bed with eyes closed, only to give up, getting out of bed to move to the chair again) we both submitted to the fact that we weren't going to get any sleep so we might as well go get a coffee. I looked at my phone that read 3:30 am and searched 24hr coffee joints in London. Not as many as one would think 🤔. Train station it is then.....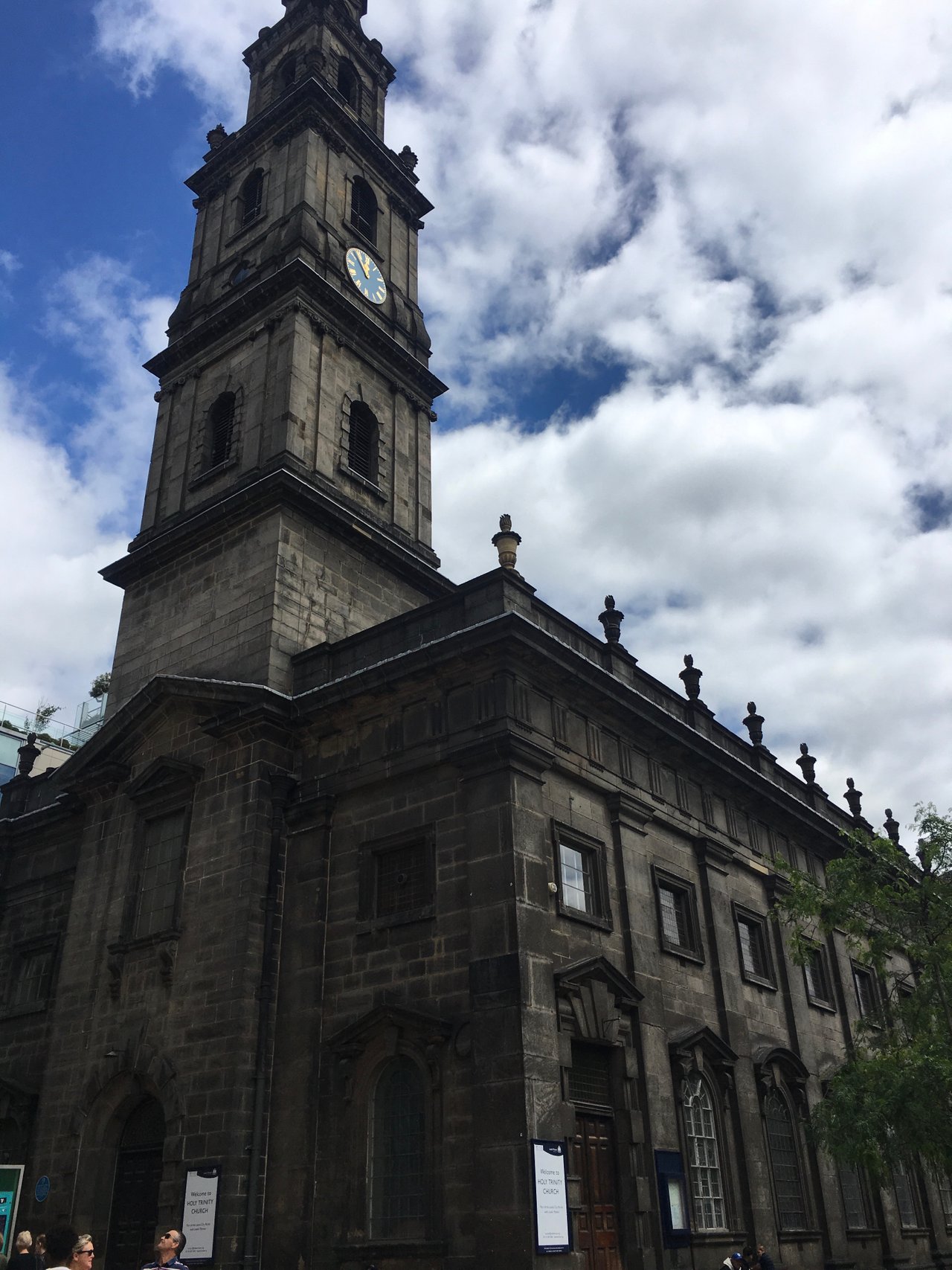 After diddling around on my phone searching for an open cafe, washing our faces, getting dressed and heading down to the lobby, we made it outside around 4:20 am (the time is not lost on me my stoner comrades). To both our surprise it was light outside. Okay, not as light as that picture of the church above would have you believe but light nonetheless. It was neat, like a vampire was itching to make their way off the top of one of them old buildings any minute now. (The grammatical errors in the previous sentence are for effect in case you're well on your way to judging me). Although I didn't happen to get pictures of the massive gothic buildings and churches we walked by nor did I get a picture of the black cab we ended up hailing, I did get a picture of this gorgeous church later on that day. Please accept this in place of my failure :)
Would you believe it if I told you that this post is going in a direction I had no intention of going? I was really only going to show you my fish and chips, then something else, say hi to my fellow triple F buds and then sign off but here I am, writing you a damn novel 🤷🏼‍♀️ Haha...
We made it to coffee and it was indeed in the train station so there was no shortage of people watching. Dandays and I sat down where we met another traveler who we exchanged a chat with. What? I know I'm not British but I do prefer the way they say things... Anyway, there was lots of activity happening around us which was relaxing in a strange juxtaposed way.
After two large coffees, a vegan wrap and a vegan cinnamon muffin later, we had made a plan for the day. An ambitious plan, but a plan nonetheless. It was time for us to head back to our hotel so we could shower and be on with it. It was about 7-8 am in the morning now. We were literally walking zombies. I don't think there was a coffee house that we didn't hit up that morning. Before getting back to the pad we popped into one more Costa Coffee and snorted as much caffeine macchiato, espresso, double, triple, black, sledge fuel as we could manage. We were ready to rock like party stars!
Here's a couple photos taken from my half dead, caffeine charged, delayed jet lagged, bus tour taking ass below.....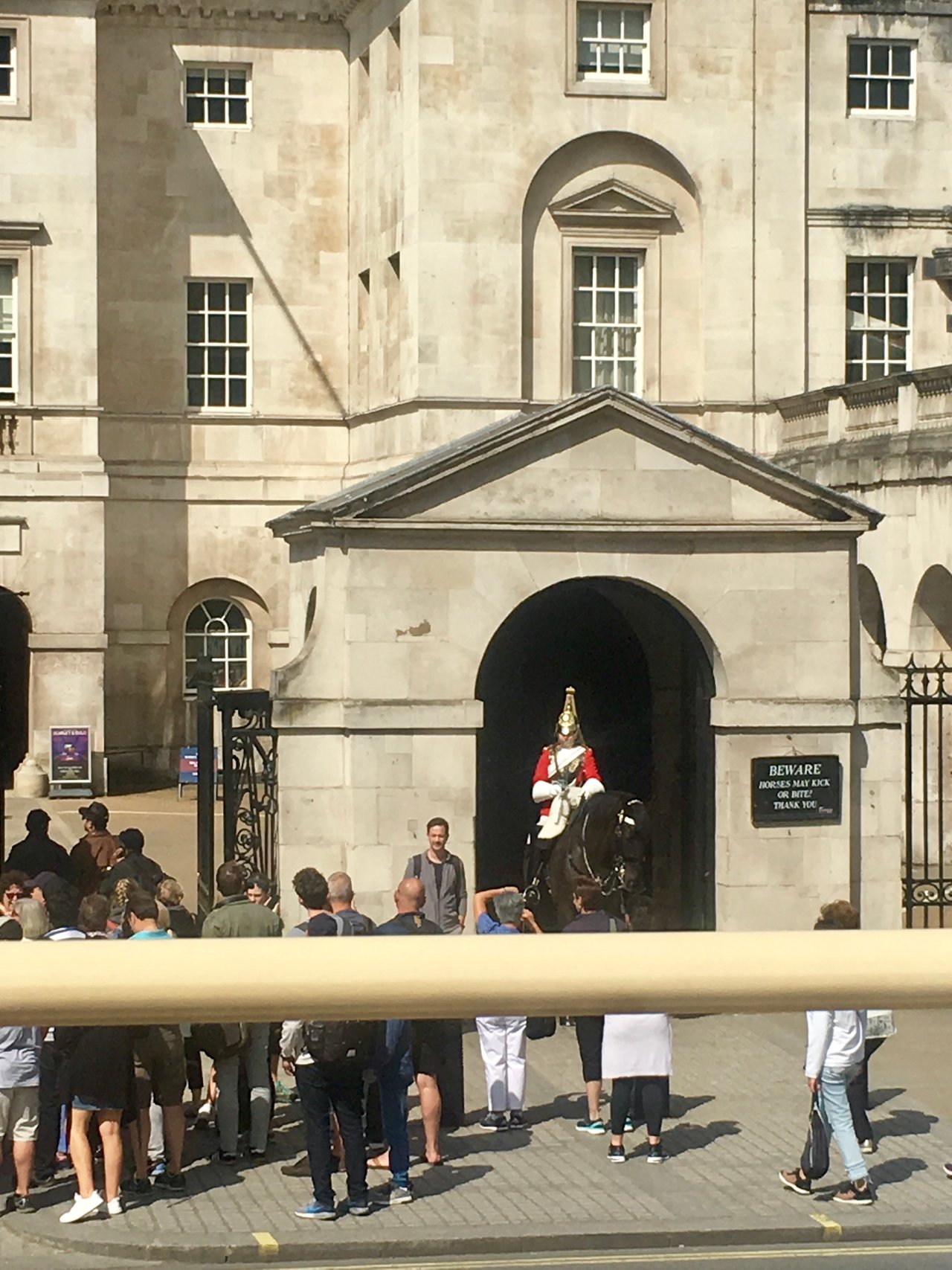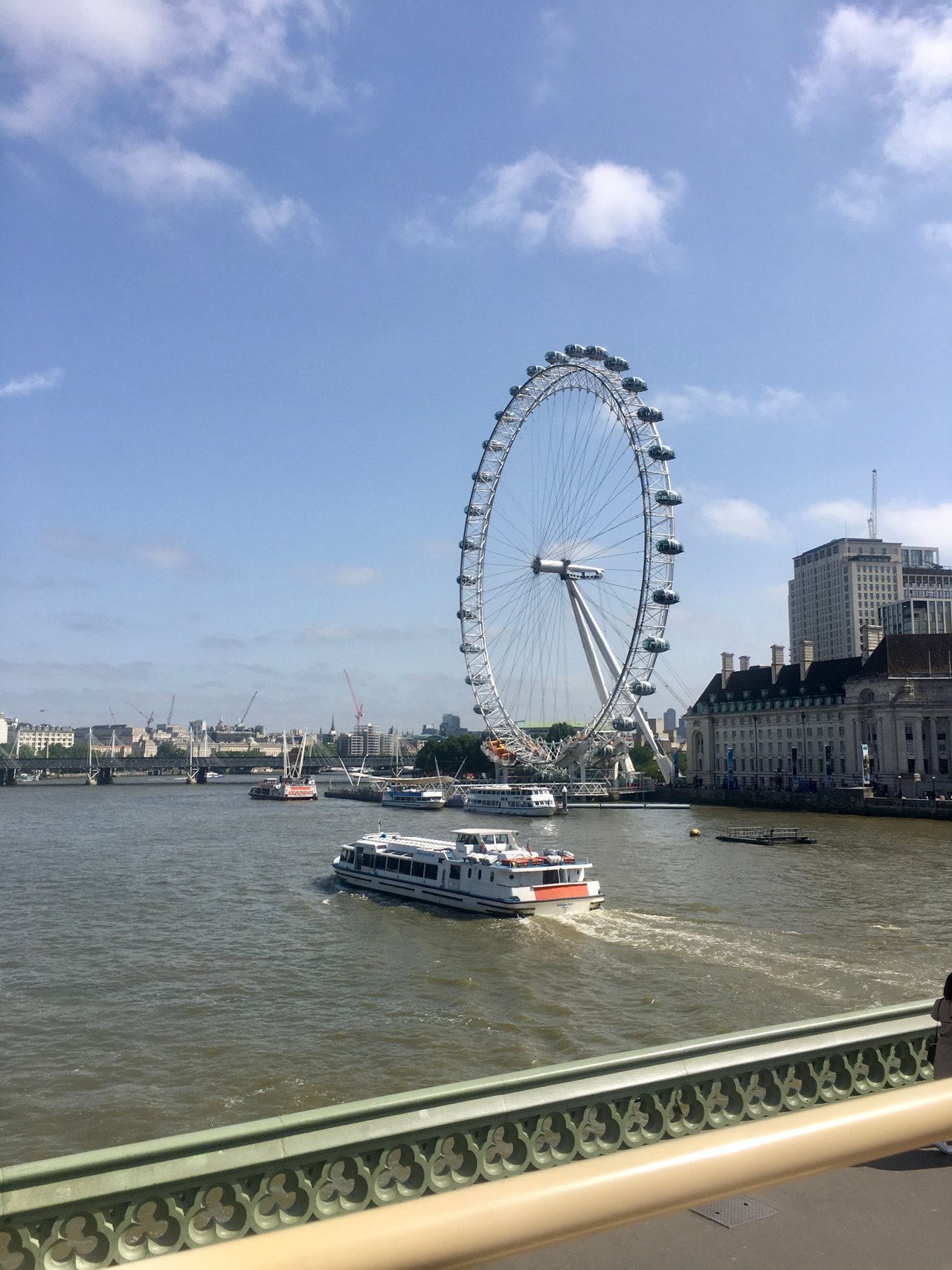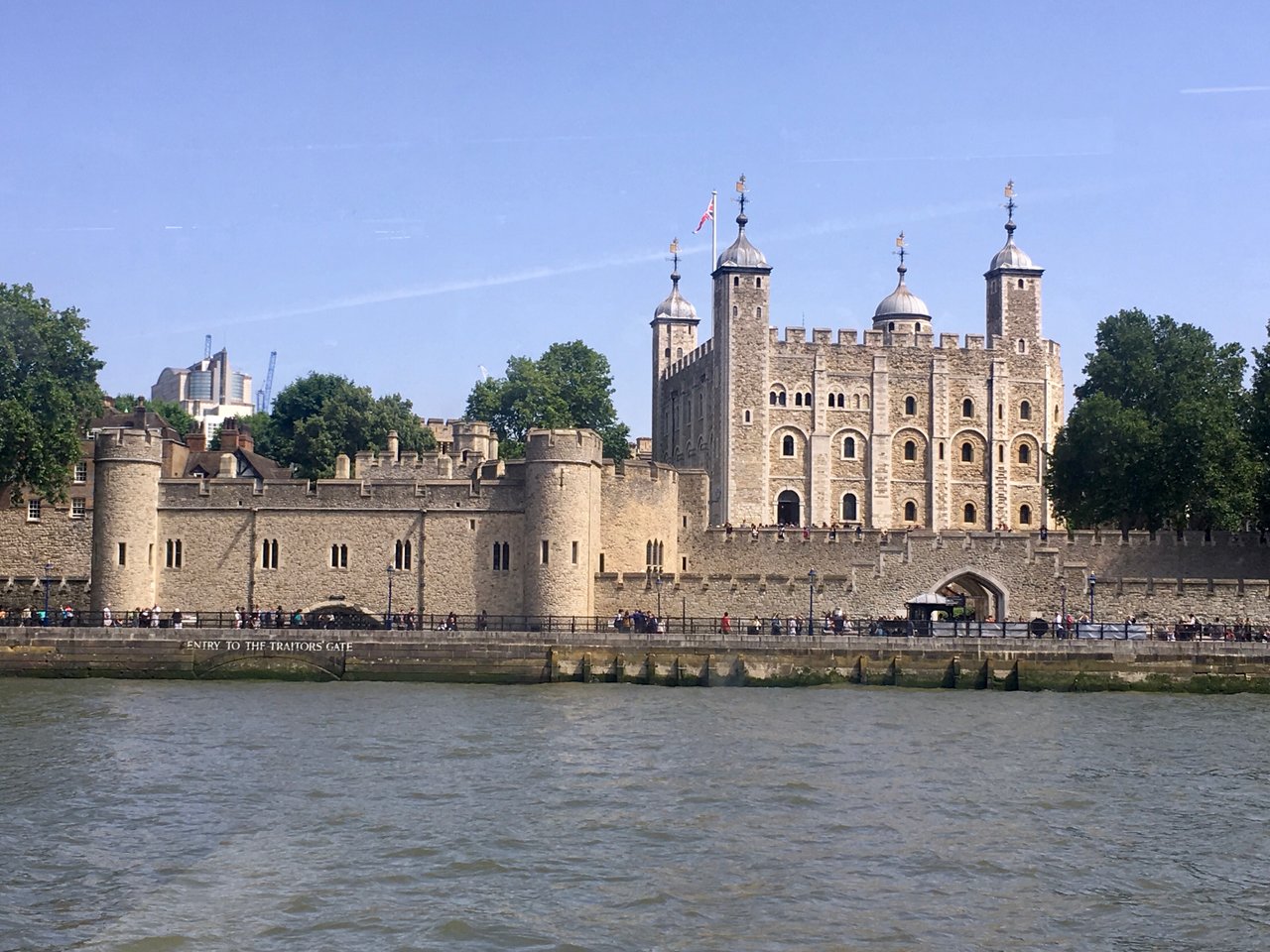 Dandays and I were fighting our eyelids natural tendency to close while the commentator told us all about what we were seeing. Being it was our last day in London, even though we hadn't slept yet, we decided to rally and go find some proper fish and chips when the tour was over. This brings us to 2 o clock and back to my cover photo.
Skip ahead to that night, an over the counter sleeping pill, and a good nights rest and we are on the train to Leeds, England (aka, the North)..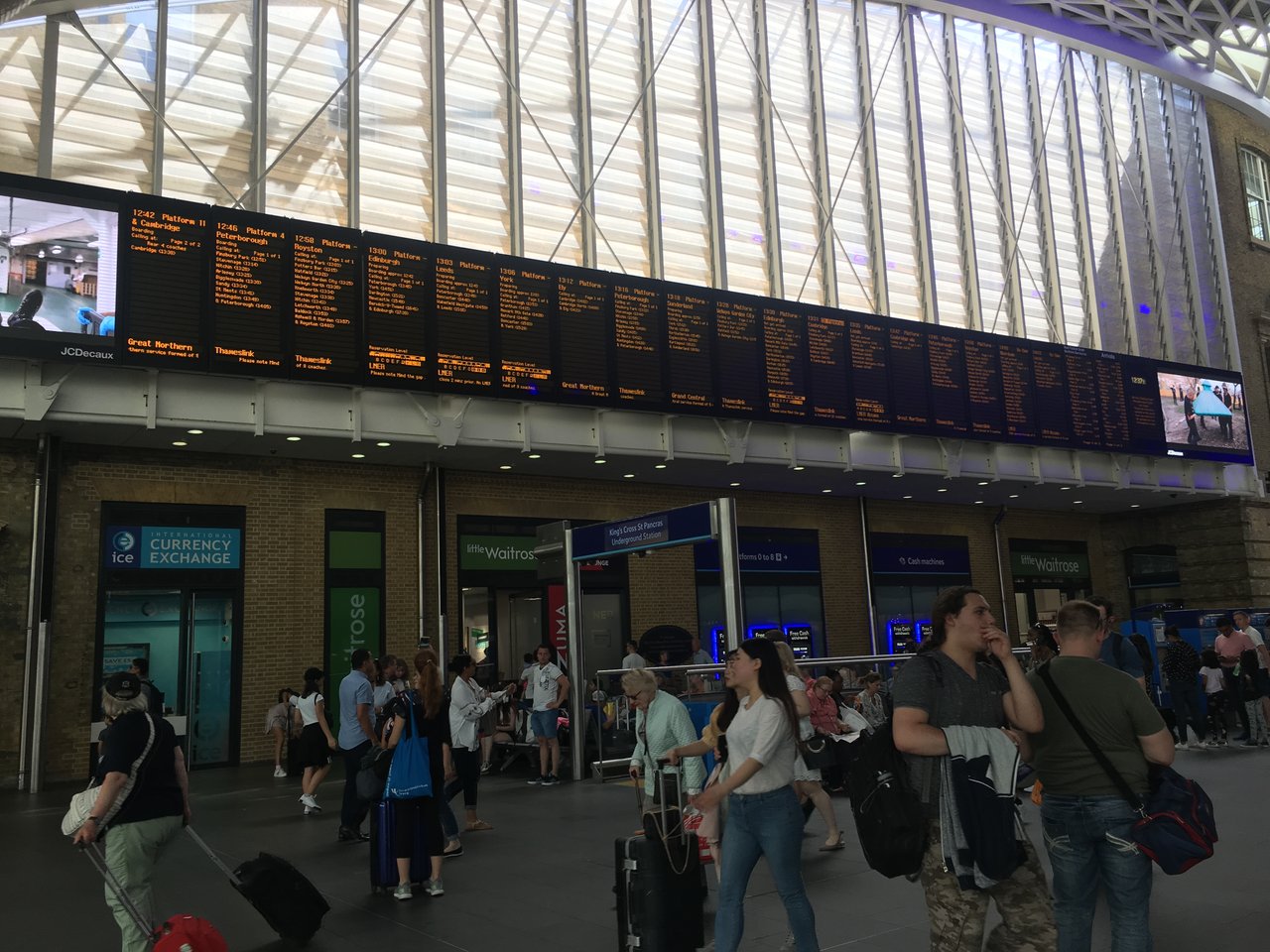 My first train station, ever! I only had to ask 3 other people, some probably seemingly obvious questions before we felt confident locating our train....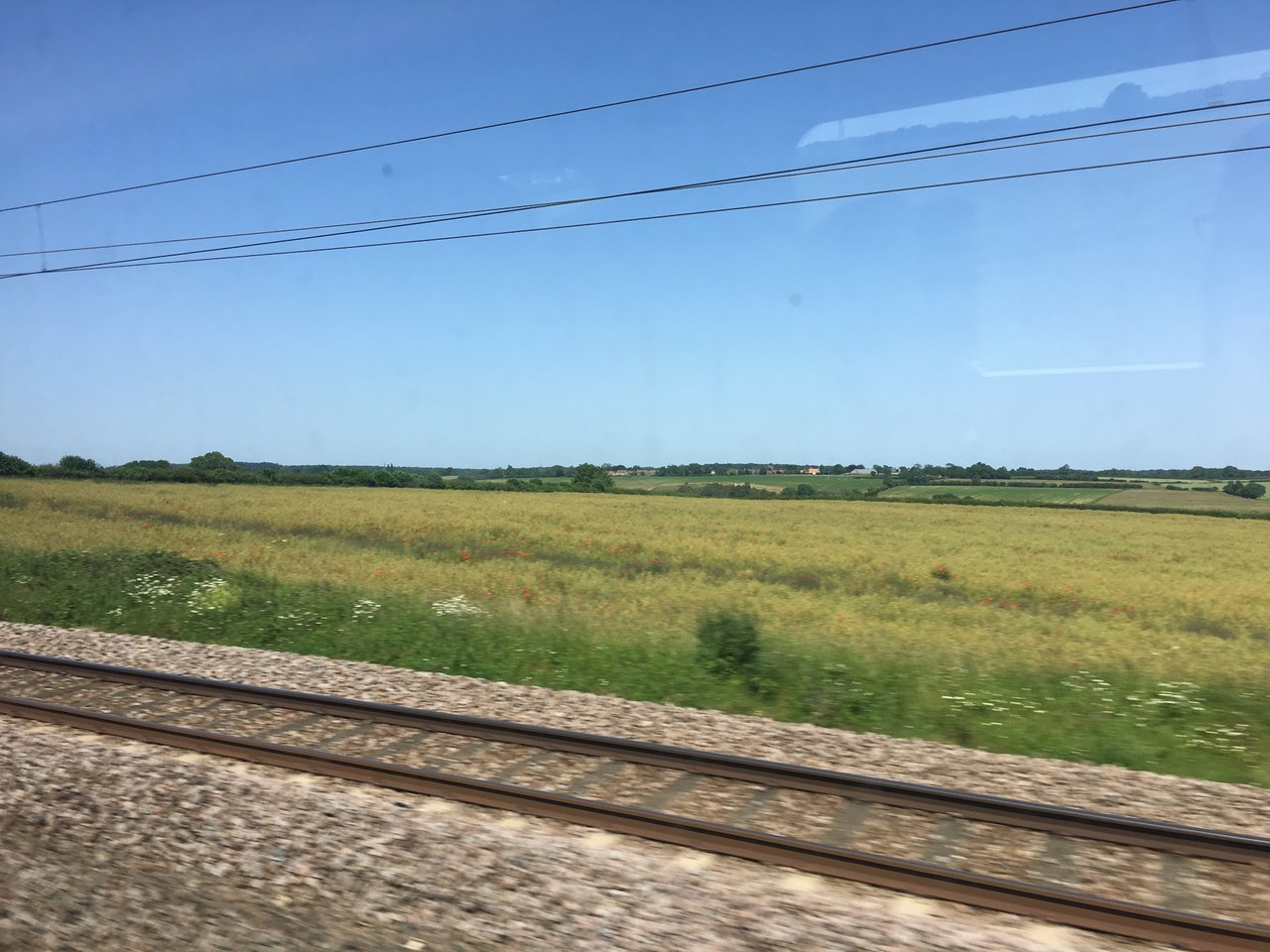 Not a bad view. We ended up right where we wanted to be and although I haven't contended with London's fish and chips yet, I've definitely made my way through my share of shisha lounges and Lebanese restaurants since arriving...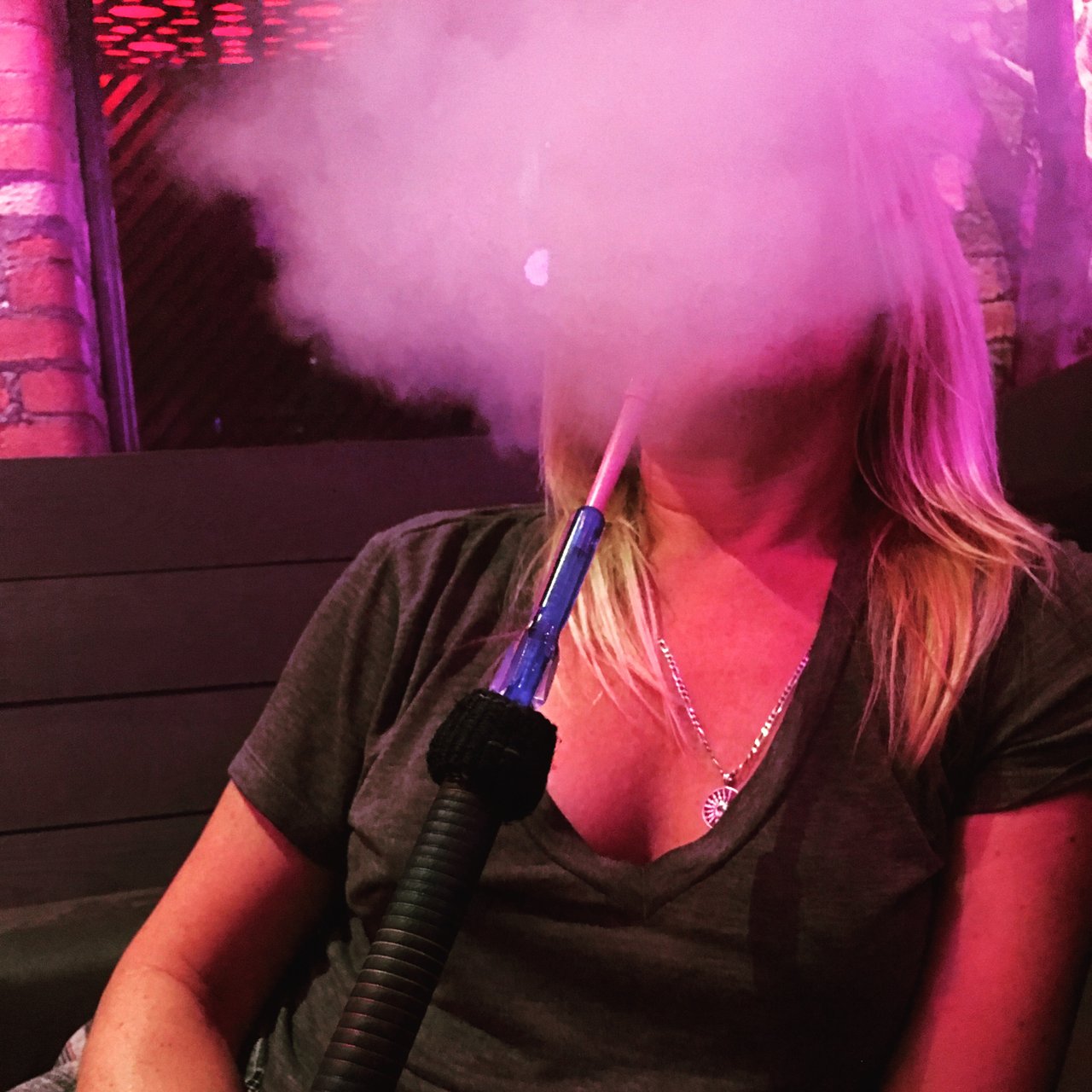 Also, what do you know about baklava?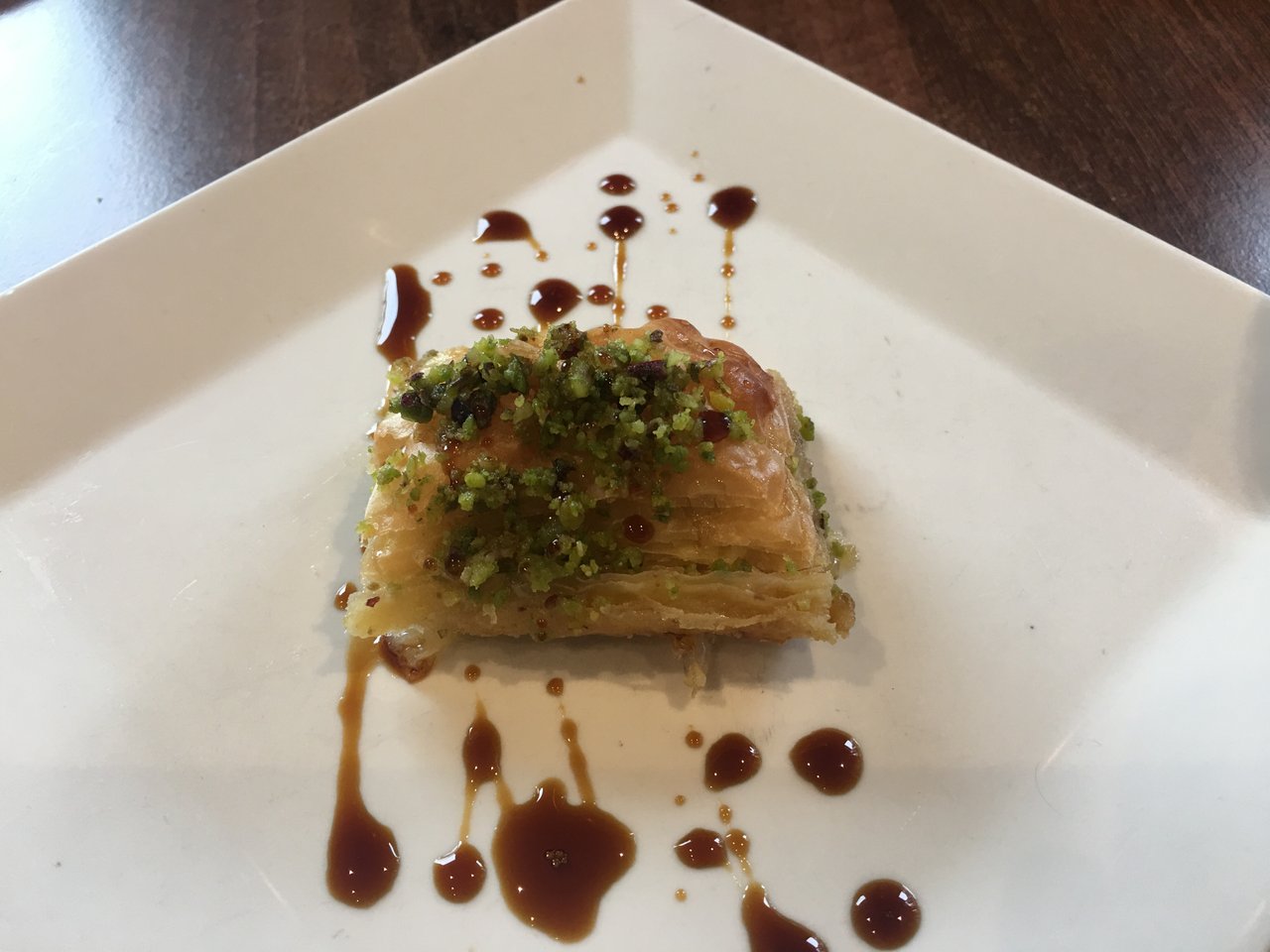 And tonight's indulgences were falafel wraps, licorice shisha and Syrian baklawa treats (that's how the restaurant spelled it but I'm still unconvinced it wasn't a typo).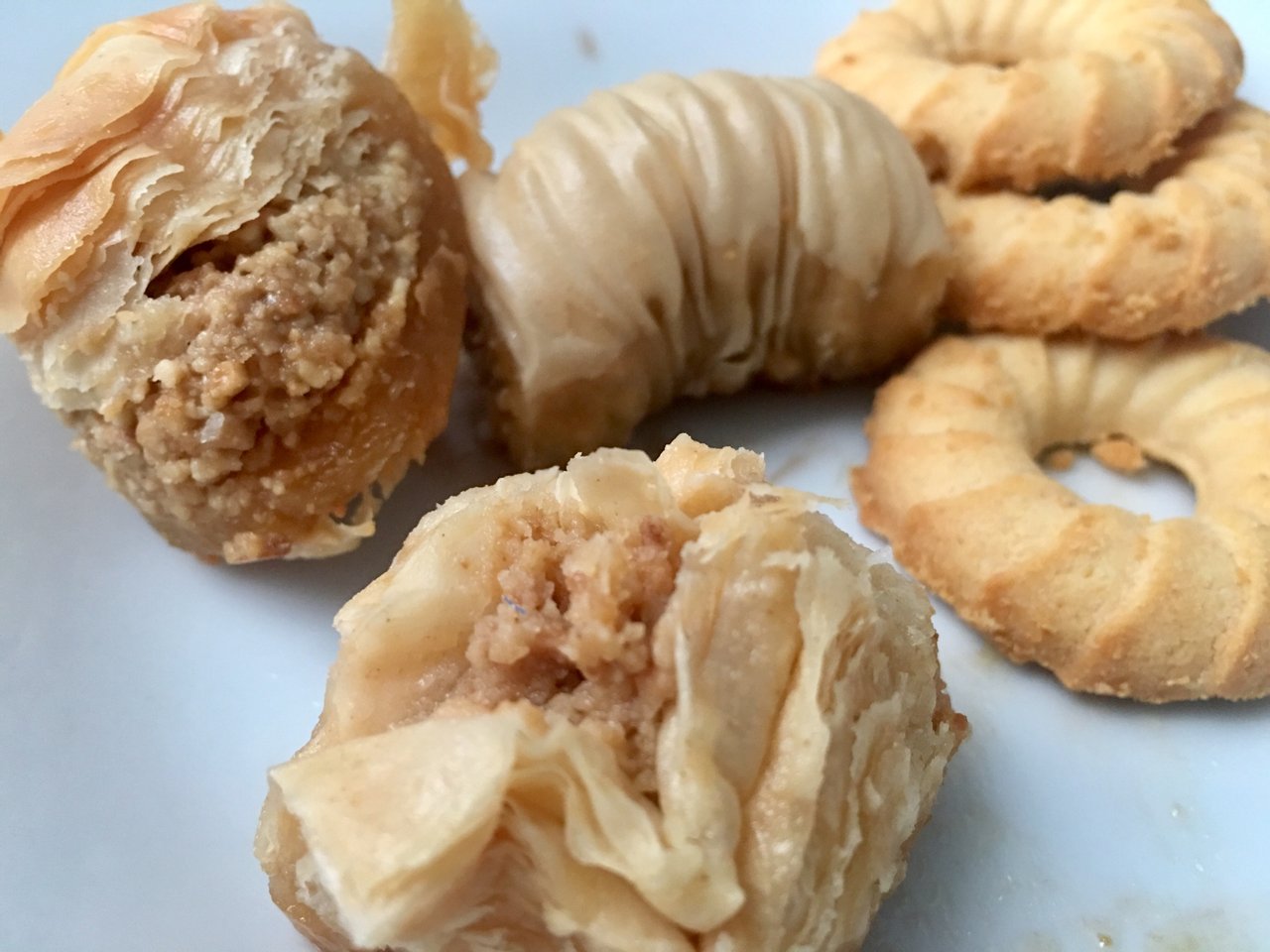 I don't think I'm ever leaving Europe!! Happy Food Fight Friday my friends. Thanks for stopping by!
Pura Vida ✌️