Help! I need a food fight cover photo and I can't decide which one to use. Hola Friends!!!
It's Friday, it's a food fight, it's @foodfightfriday. My husband says "the best Friday of the week". Thanks @jlsplatts and @Dandays for keeping this thing going. When the going gets tough the fighters keep throwing :)
So @dandays and I are in the middle of moving countries again. I know, like little miss "this porridge is too hot, this porridge is too cold, this porridge is too big…" we may never be happy. We are, however, excited to go see a completely different side of the world. It's a side that my Dad was born and raised in too so i'm extra thrilled to check out his old stomping grounds. I just recently told Dandays that my Dad used to love to eat beans on toast. I know what you're thinking "that doesn't sound so bad" but I assure you, it is every bit as disgusting as it doesn't sound 🤷🏼‍♀️ He'd relentlessly try to get me to eat a plate with him but I never wavered. Baked pinto beans over white toast was not my jam. Maybe I'll try a plate in his old hood to finally see what the big fuss was all about…
Anyway, I ramble and I've got some food pictures to share so I'll get to it. Wait… I don't think I've chosen my cover image yet 🥴. My hang up is that the one I'm thinking of kind of looks funny. I assure you as gross as beans and toast maybe the below photo tastes like a cozy winters fireplace party in your mouth. What? People say that!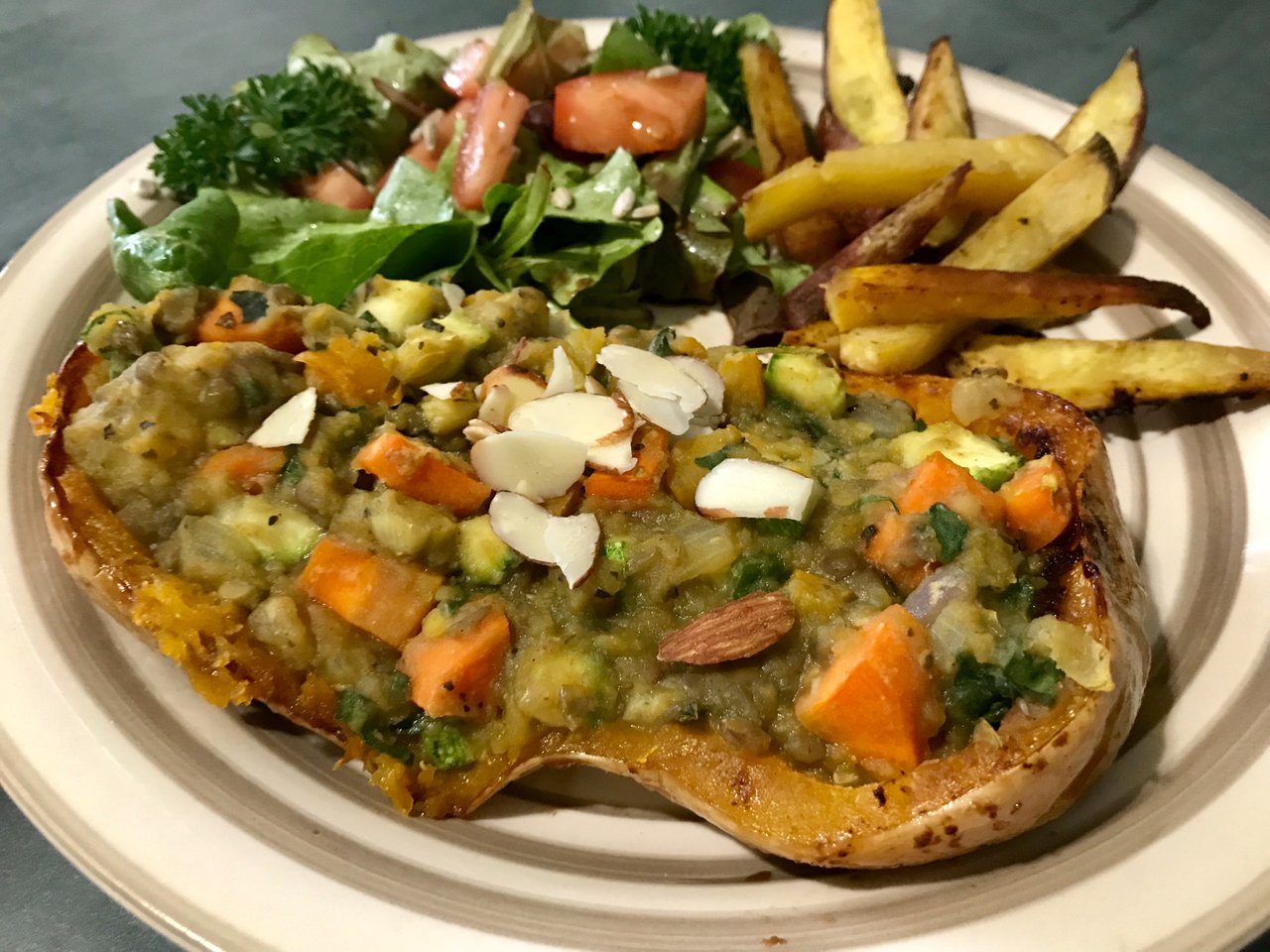 Nope, not stuffed old shoe with a side of fries, it's a stuffed buttnut accompanied by mixed pecan greens and potato wedges. Totally different! (And yes, I just said "buttnut").
The lentil mixture here is bomb too. I made lentils, carrots, potato, zucchini, and veg broth into a thick stew, scooped out the roasted buttnut, mixed everything together and restuffed the squash to finish roasting another 20 minutes then sprinkled with almond shavings and voila! Dinner is served 😋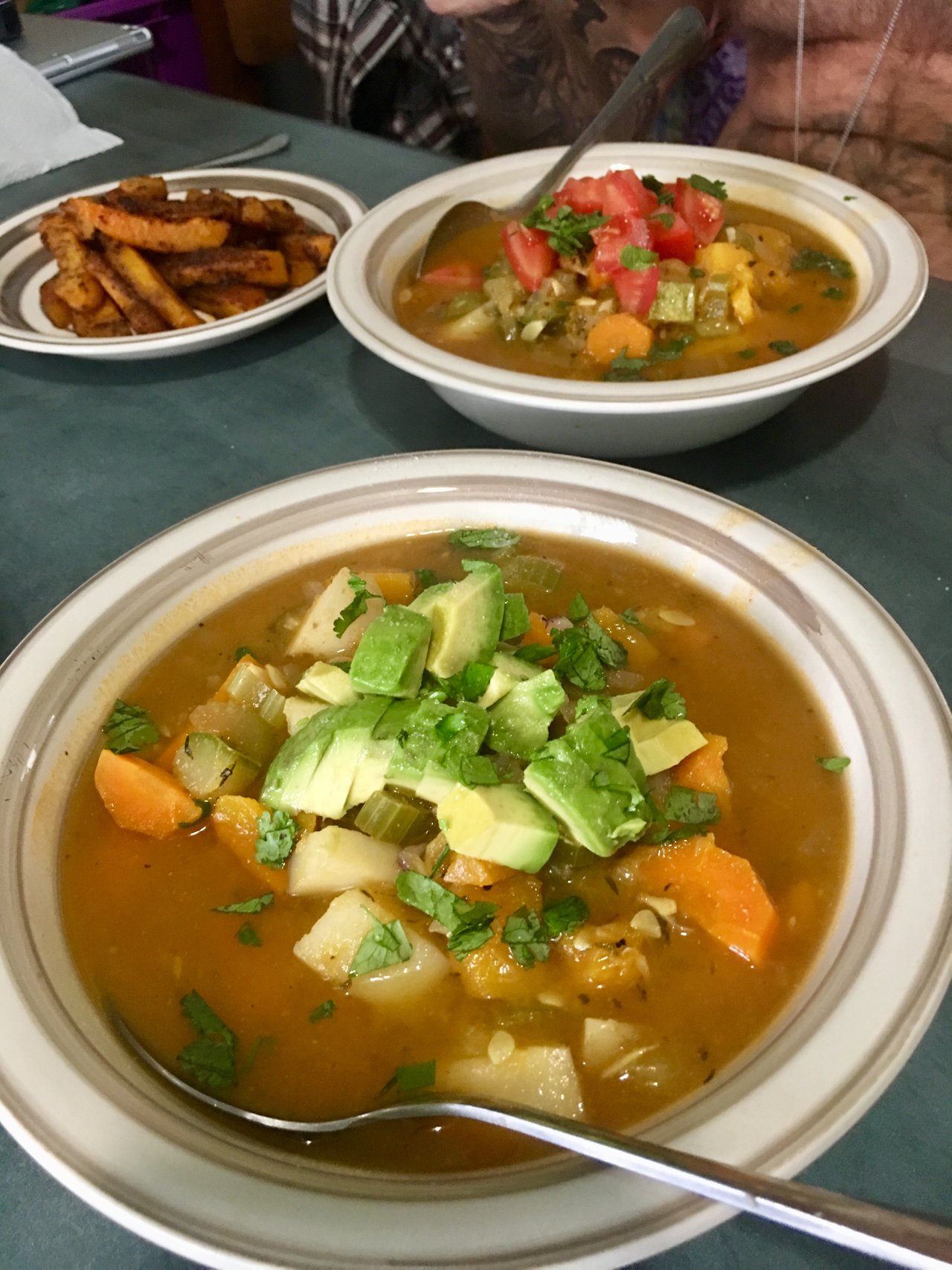 Sticking with a similar color scheme above is my go to vegetable soup topped with fresh avocado for me, chopped tomato for Dandays and on the side, homestyle sweet potato fries. Yummmm
It was raining something biblical for about a week and a half so I took the opportunity to pretend it was soup, stew, chili weather. Sometimes you just gotta soup it up even though the forecast says "suns out guns out".
Check out the focaccia bread I made to go with this pot…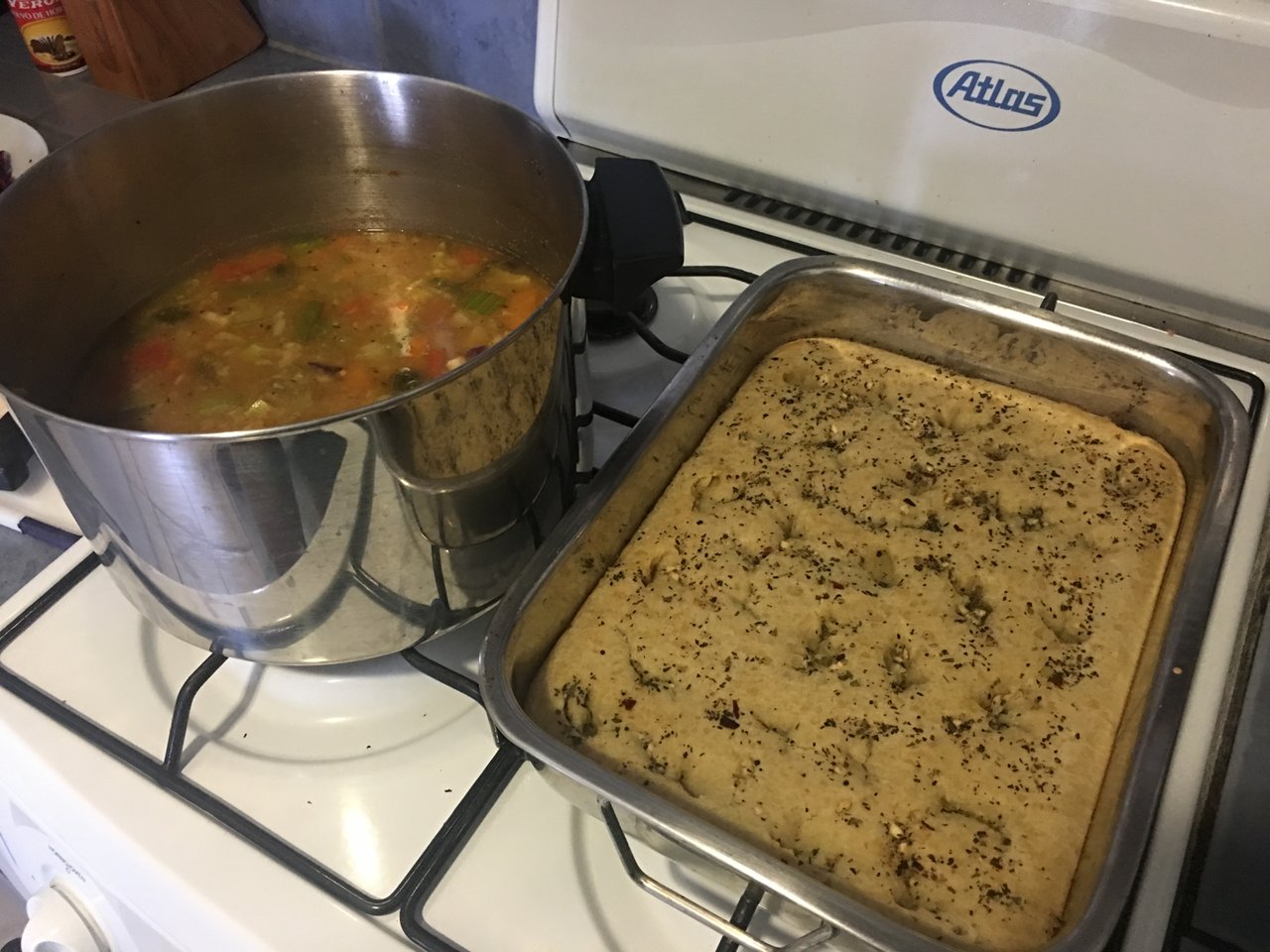 Gluten free and full of flavor I might add…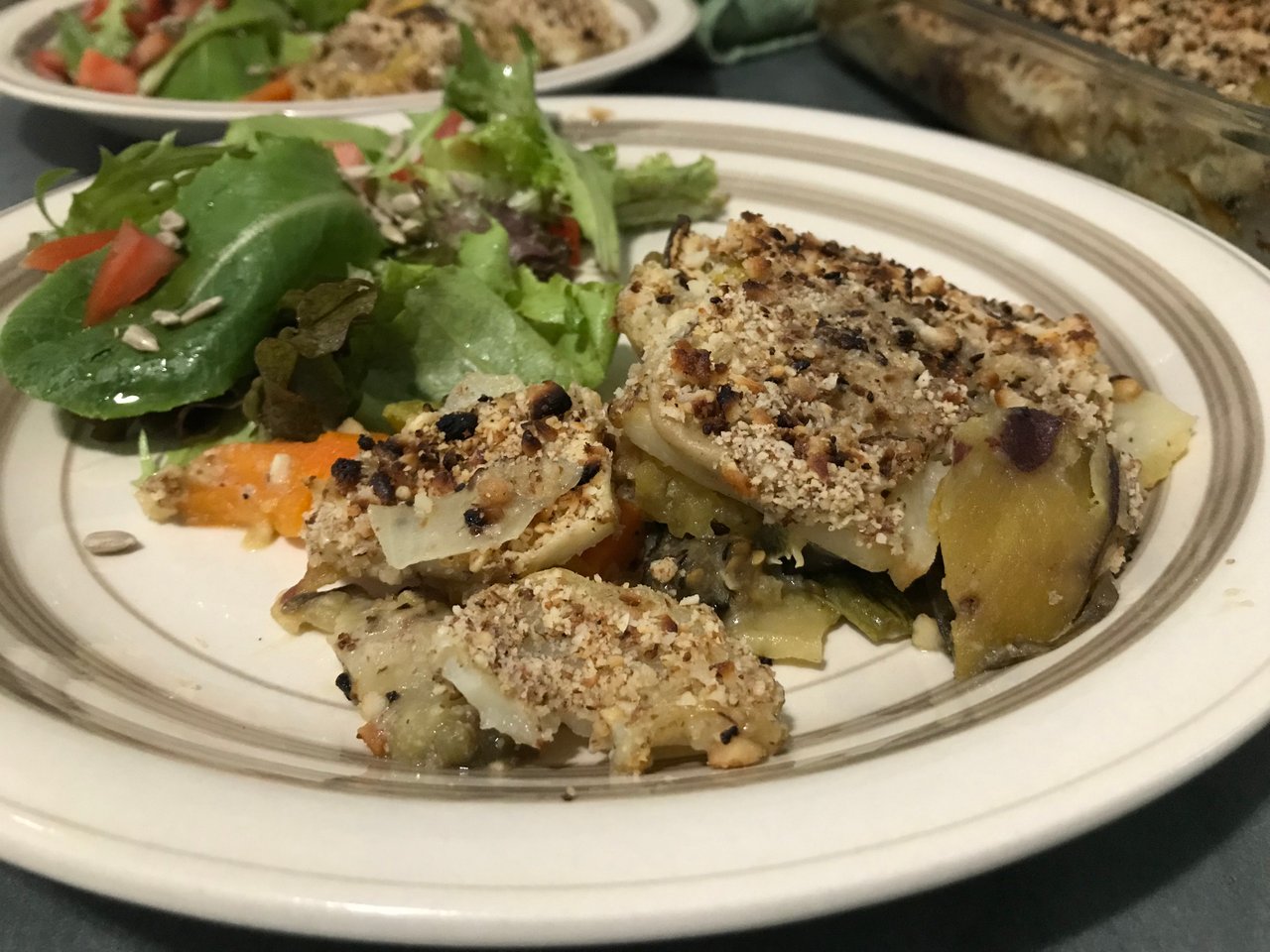 Do y'all know what a potato bake is? What about a casserole? This is my vegan rendition of a potato veggie bake in an almond macadamia nut crust. So yea, it's gluten free (I don't mean to brag but the bechamel is vegan too). This dish was so freaking good. Dandays and I shamelessly killed it in one night. Okay, we left a small piece for the following day but only so we could pretend we weren't inhaling the thing like it's the first meal we've eaten in 6 months. The trick to this was to roast the veggies before layering them and baking together. So so so so delicious!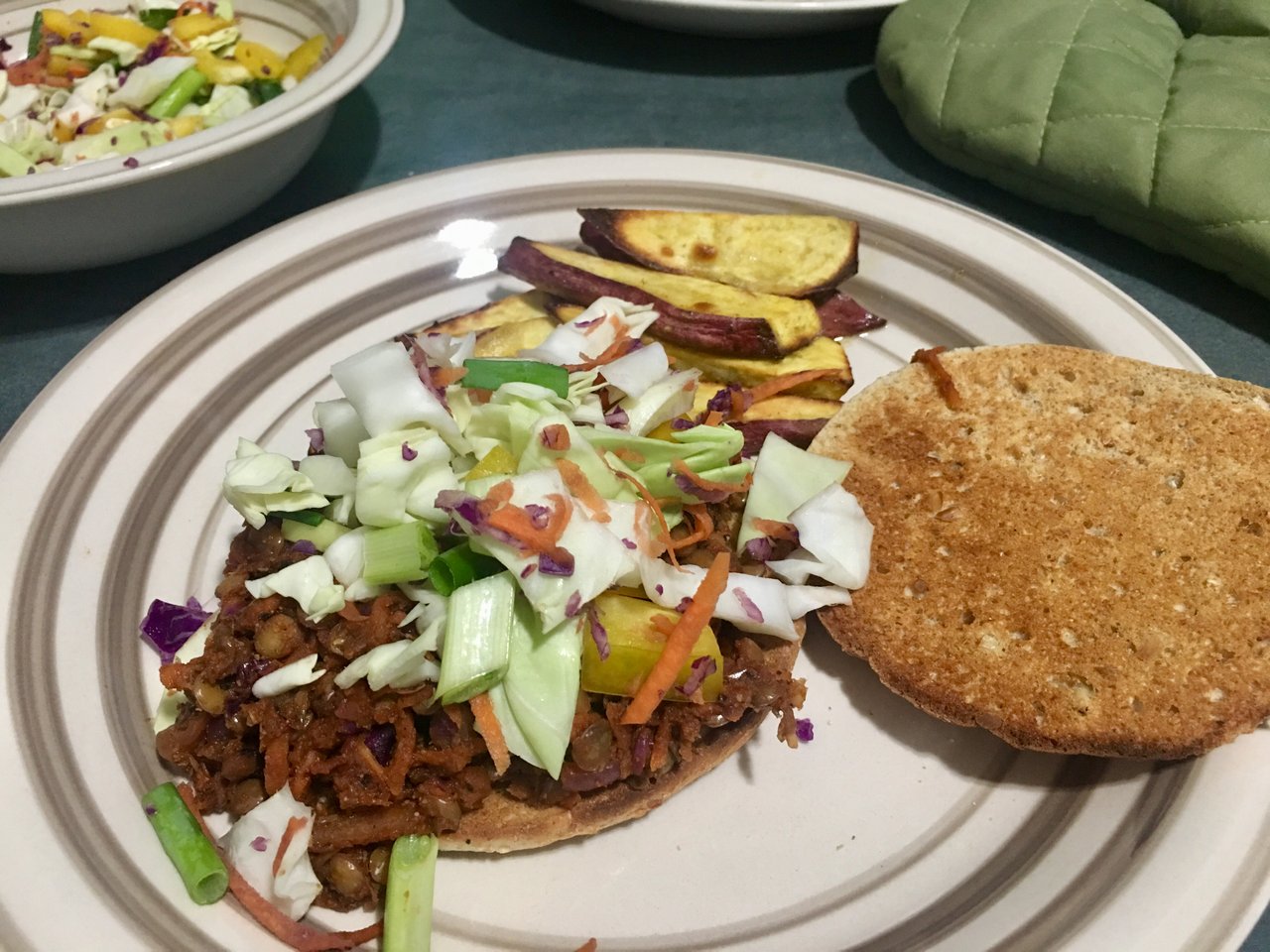 Can you tell what this is?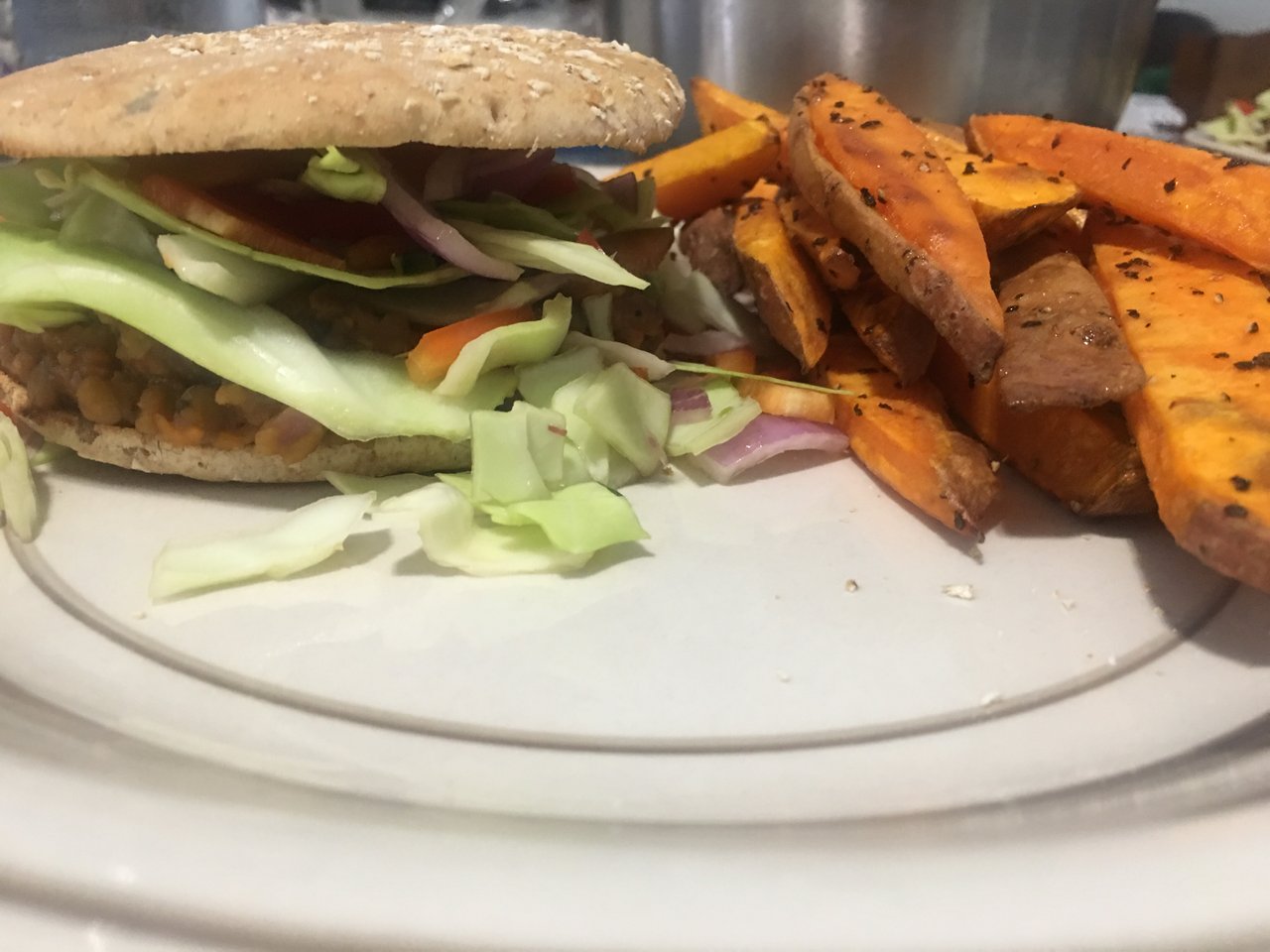 How about now? No, not the sweet potato fries… the sloppy joe. That's right, I'm bringing back the 50s housewife with these casseroles and sloppy joes. Not only is this Joe made with lentils, but I made my own bbq sauce for it to eliminate most of the sugar. The lentils are mixed with shredded carrots to give a sloppy joe ness texture. Dandays thought they were a hit, I was more partial to the sweet potato fries :)
Now, if I was smarter I would have taken photos of the vegan dessert I got from across the street last night or of the homemade falafel and veggies I made tonight. So I guess that's it. That's all the pictures I have to share with y'all. I'm hoping this move doesn't distract me for too long away from Steemit but if you don't see me it doesn't mean I'm not thinking about you. In fact @dandays and I regularly talk about @plantstoplanks and her coolness, @birdsinparadise 's gangster ass recipes, @lenasveganliving with her food photography , @jlsplatts and his dope personality, @janton and his storytelling abilities, @thebigsweed with his compound, his wife @farm-mom and all her maple syrup, plus @nickyhavey, @cityofstars, @paleotwist, @buttcoins, and many many more… we regularly talk about Steemit peeps so don't think I've forgotten about you when I'm not on here. You all have a place at our dinner table wherever we are in the world. You too @weirdheadaches, wherever the heck you are these days 😉.
Happy Food Fight Friday y'all! Pura Vida ✌️