Hi! I'm poking my head in to say "happy food fight Friday, Freaks". I think I heard it's the 1 year anniversary 🤔 or something like that. Of course I needed to drop a line for my faithful foodies then.
Dandays and I have been so consumed with life in England that I've completely let Steemit slip. I really haven't been on here for weeks. Sometimes the hubby gives me the side eye because it's even taken me too long to read his work 😳. I don't know when I'll get back into the routine of things here but for now y'all will have to be happy with the sporadic appearances I'll make from time to time. Plus, I've been collecting pictures of my food and figure today is only the best day to do a picture dump (a picture what? Did she just say what I think she said?).
BREAKFAST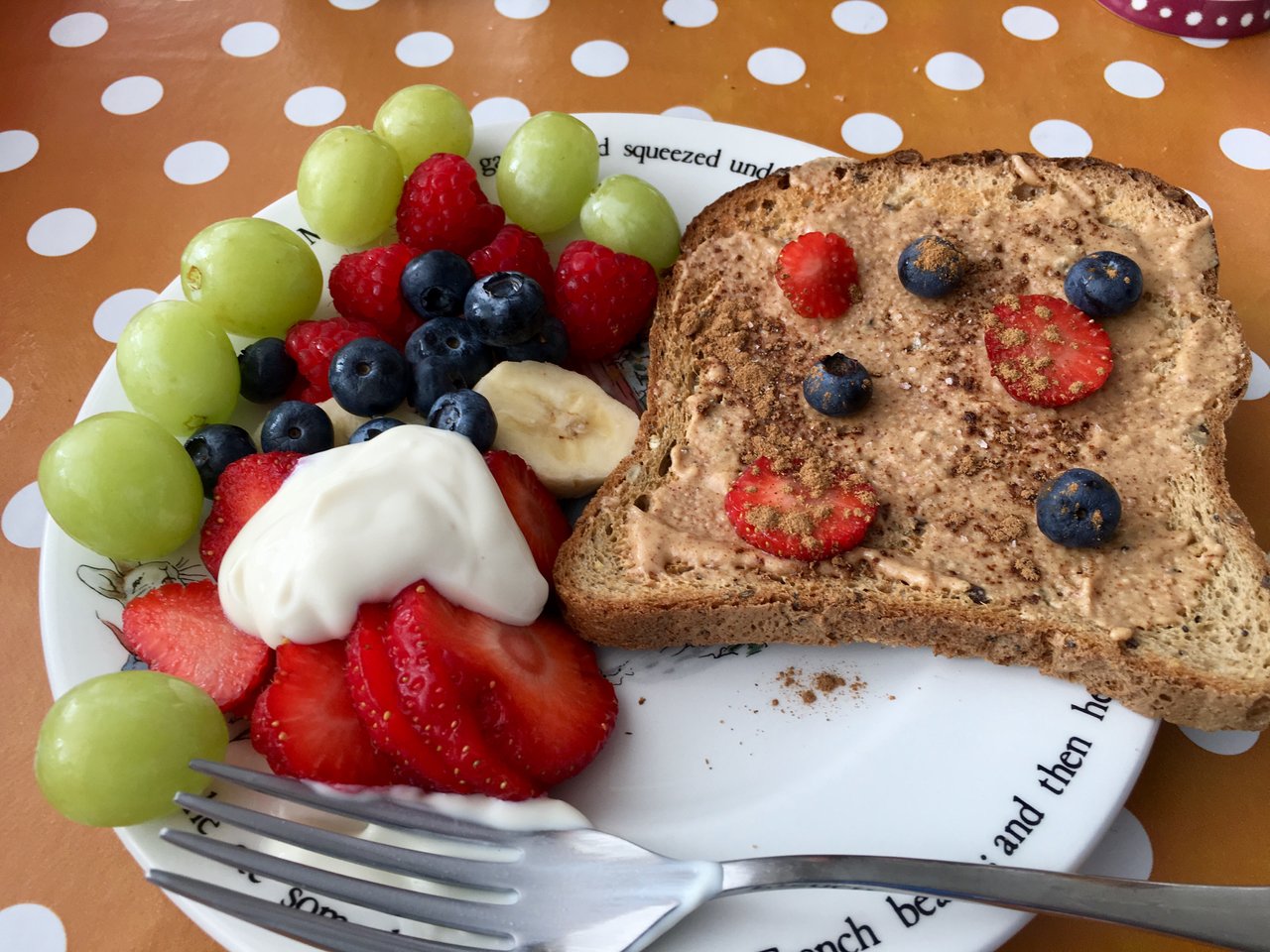 Yum, 😋! I'm all about the brekkie toast these days. A slice of gluten free seed bread topped with some smooth peanut butter, dusted in strawberries and blueberries showered in cinnamon and pink salt. Now that's a description. The side of fruit has a dollop of soya plain Greek yogurt for all the good gut bacteria's. Because who can talk about breakfast without talking about gut bacteria 🤦🏼‍♀️? Haha
Next…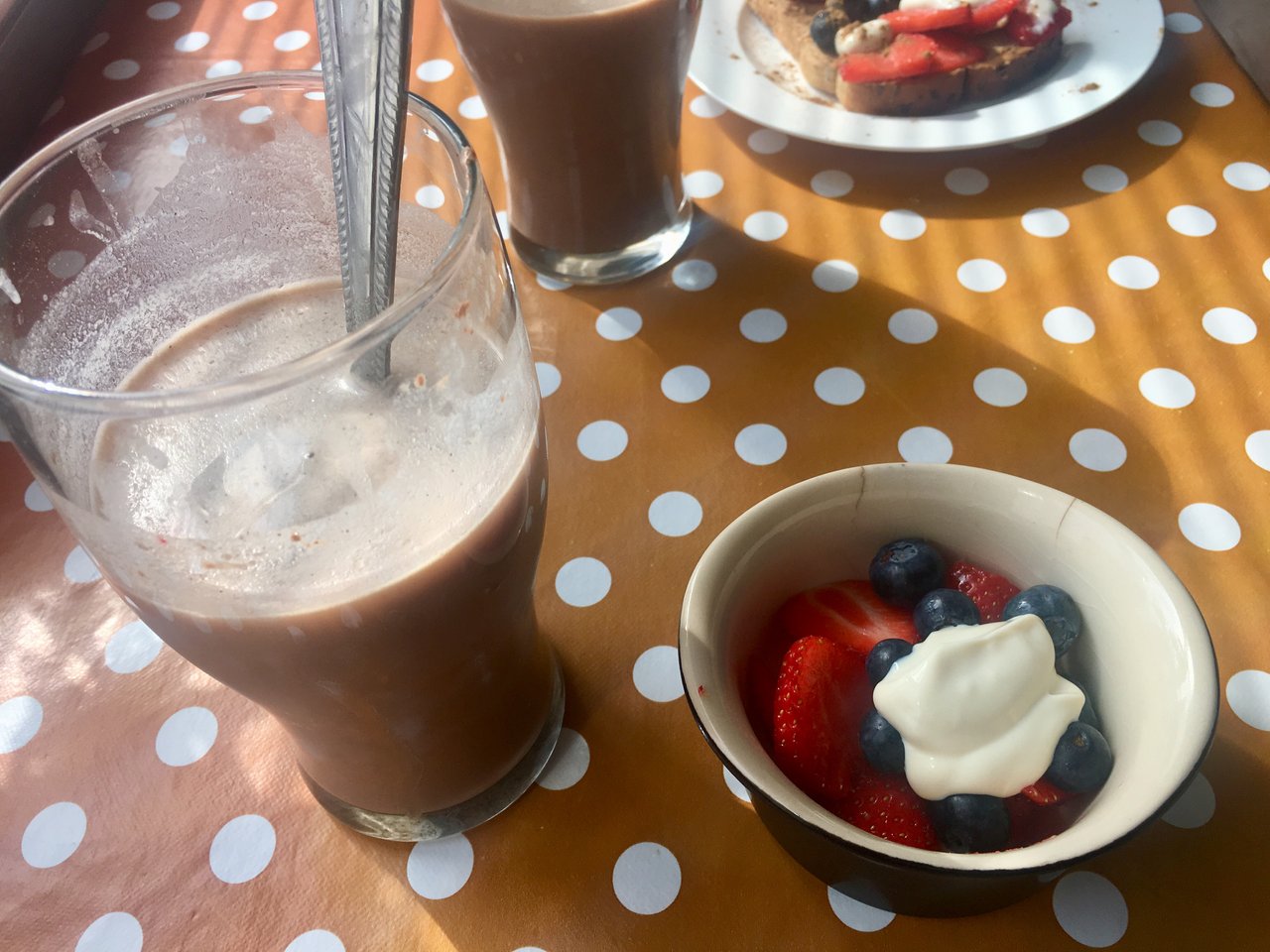 Here we have some Vega chocolate protein powder mixed with 1/2 a cup of almond milk and ice cold water accompanied by a small fruit bowl consisting of two sliced strawberries, a handful of blueberries, and a dollop of that soya yogurt again. Uhhhh yum!
Next…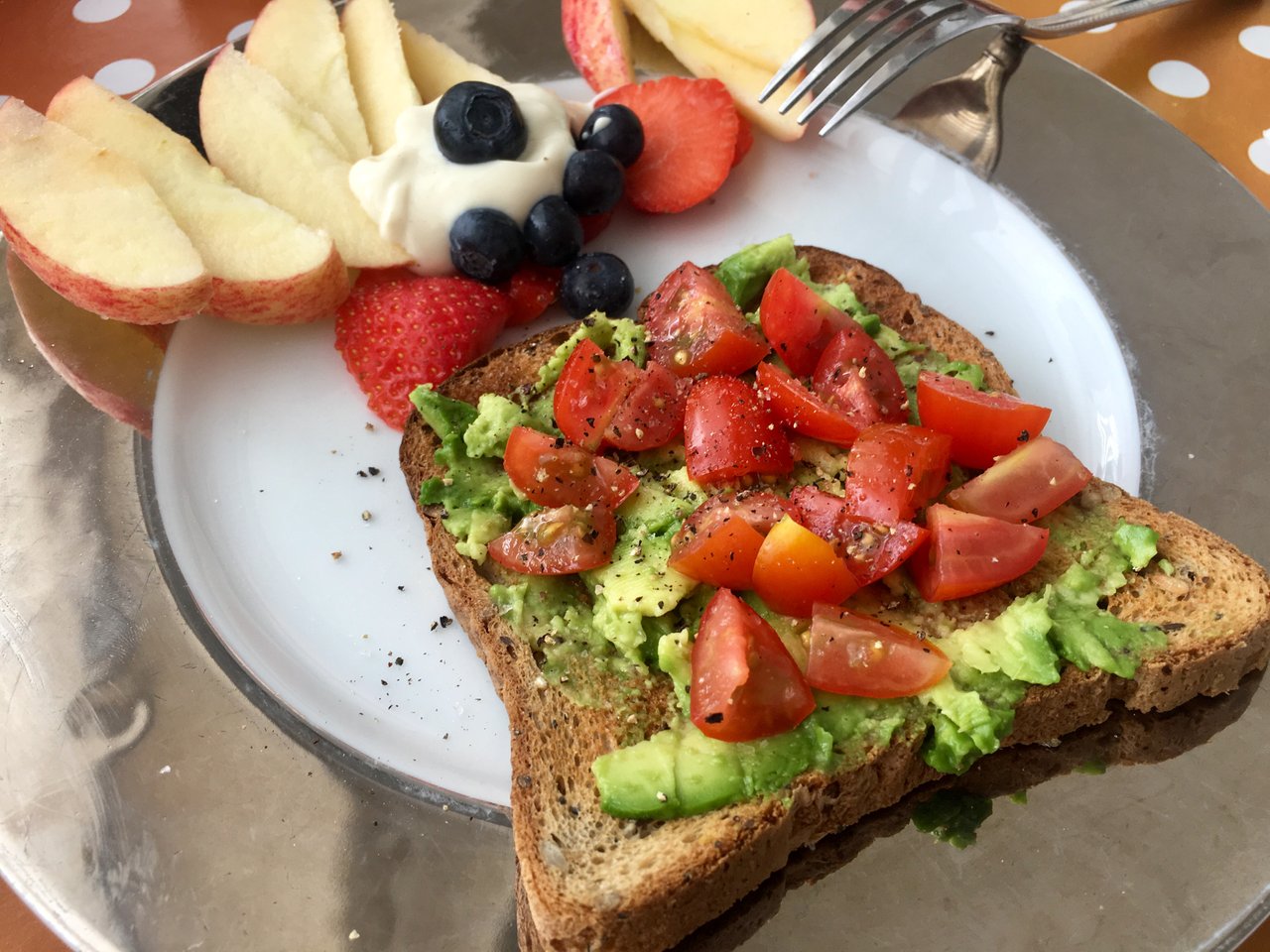 Old faithful right here with the perfectly ripened avocado sliced and lightly spread about a piece of gluten free seed bread, topped with 3 cherry tomatoes, pink Himalayan sea salt, fresh ground black pepper and a pinch of red pepper flakes set aside a quarter of an Apple, 2 sliced strawberries, 6 blueberries and that friendly gut bacteria providing yogurt dollop (yes, I count my berries).
Next…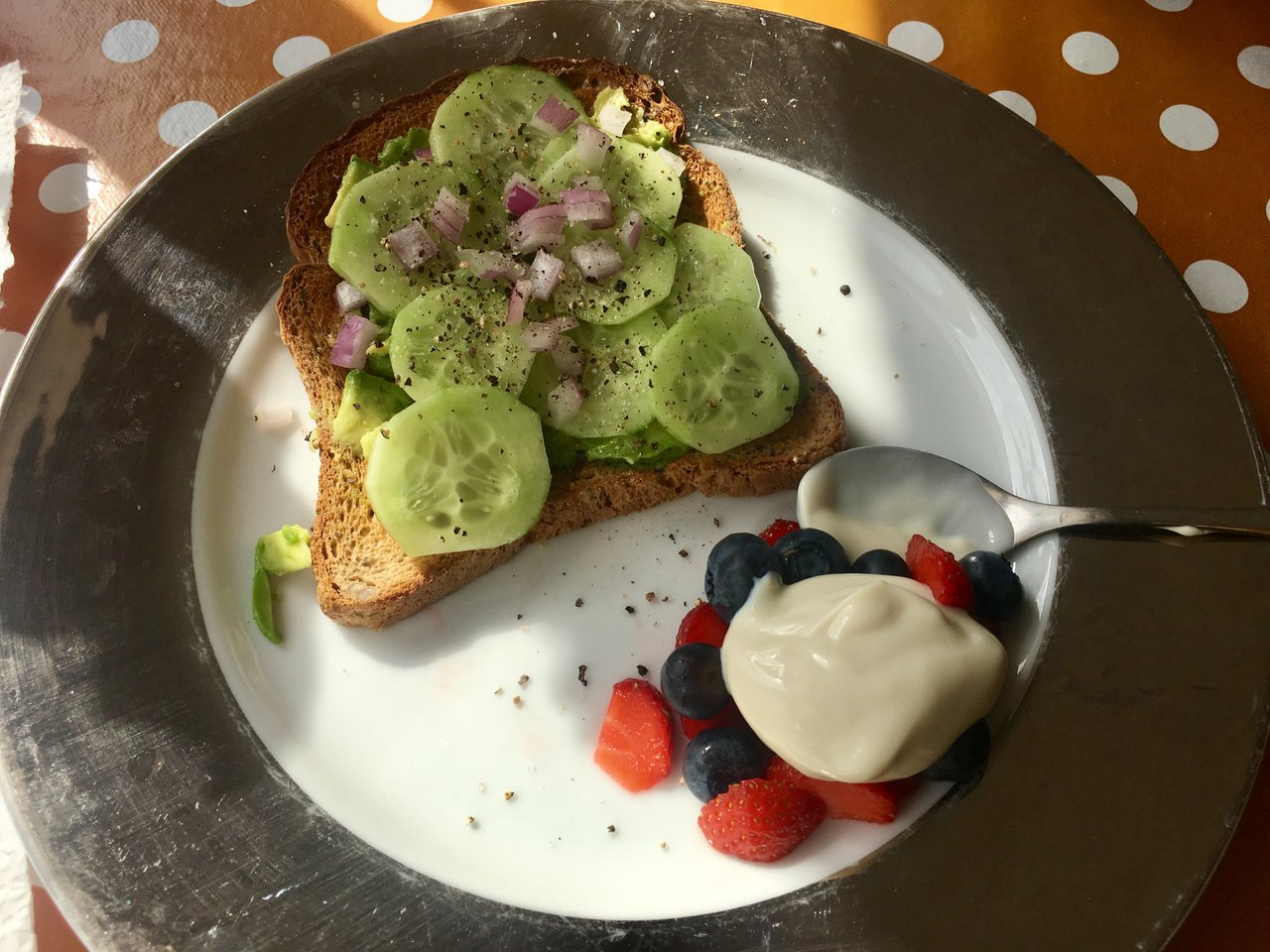 It's been "toast wars" up in here. The cucumber, avocado and chopped red onion make this a refreshing and satisfying addition to the toast rotation. Of course I pair it with my berries and good gut soldiers. I swear, breakfast is becoming my second favorite meal :)
LUNCH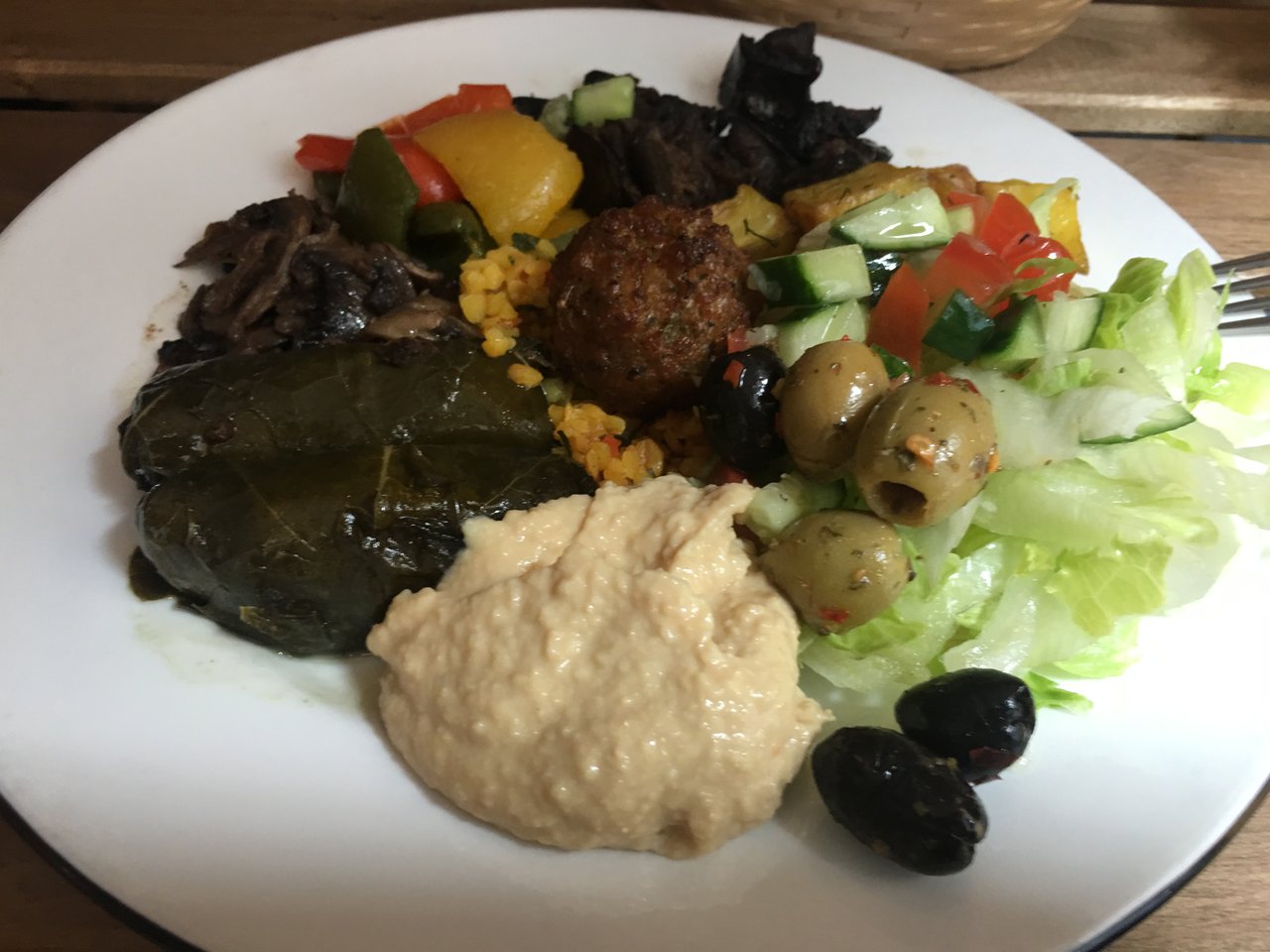 Not the best lunch but not the worst either. This plate is all in all pretty healthy too, especially for eating out. My favorite part is usually the falafel and hummus but in this case it was the stuffed grape leaves or Yalanji, dolmas, dolmathes, whatever you know them as- they are delicious in every language. Everything else was rubbish (get ready for the British slang 🤡).
Next…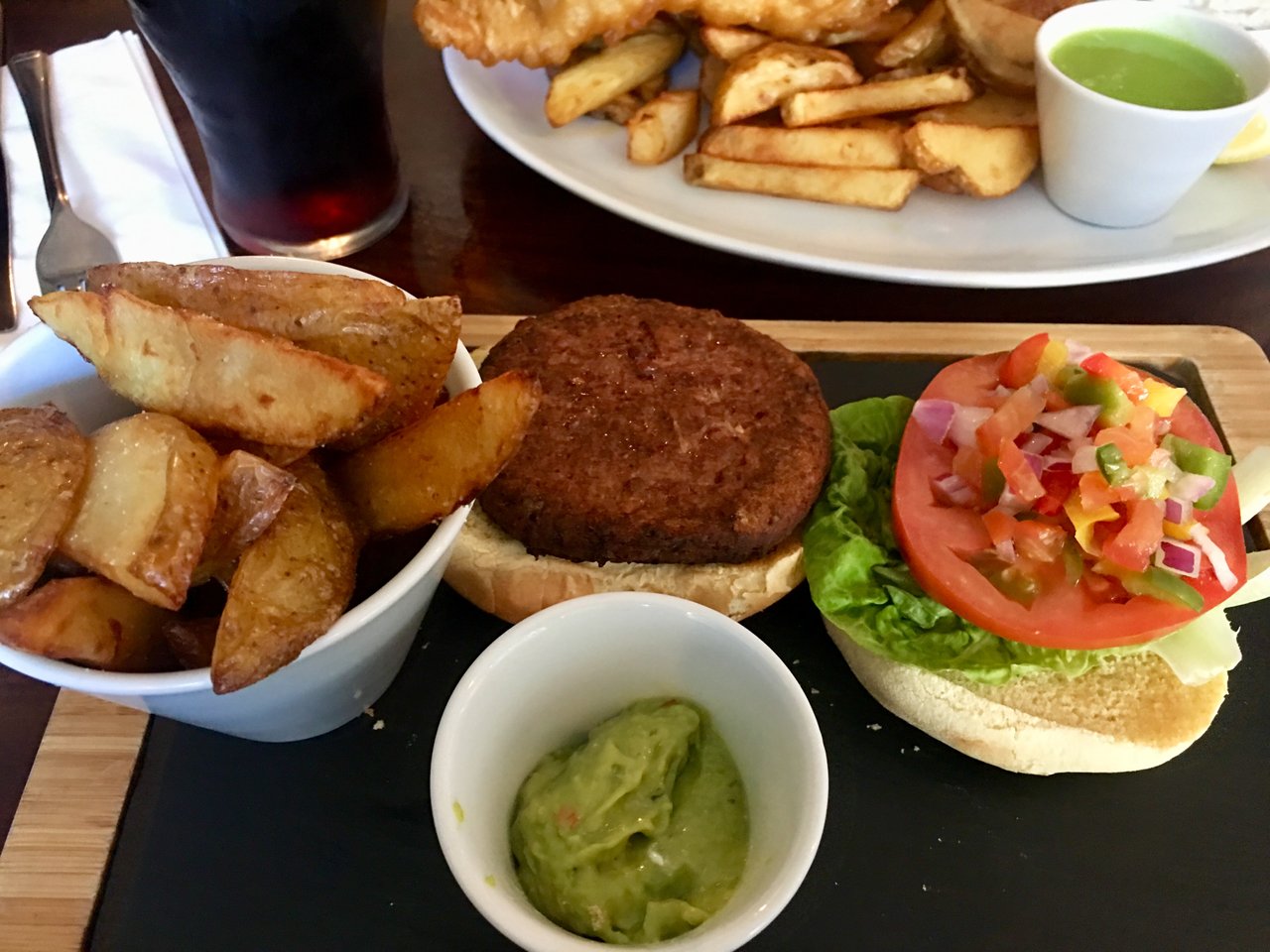 I was told this was a "chickpea burger like a falafel burger" when I ordered it but it actually turned out to be more similar to a "beyond burger". I even had to have @dandays semi convince me that it wasn't in fact an animal. Not a bad a lunch. The best part was the proper "chips" which means that lunch was "adequate" rather than yummy.
Side Note:
Our last week in Costa Rica, @dandays had to, again, convince me that my restaurant plate was not, in fact, a chicken but was the mahi tacos that I had ordered. I totally freaked and took my first bite thinking I had just bit into chicken and completely grossed myself out. I didn't believe Dandays when he tried telling me it was mahi. I even went as far as to run down our server at the bar and tell her that they must've brought the wrong plate. The worst part was that we were freaking starving, stomach crampy and pissed kinda starving. She kindly walked over to our table with her manager and they both told me that my plate was indeed the mahi tacos, not chicken. Dandays looked down in a failed attempt to hide his laugh. At that point I was already psychologically convinced that my plate was chicken that I sheepishly scarfed two out of the three small tacos to curb my appetite and gave the rest to Dandays. Needless to say we only ate there once. Haha
SNACK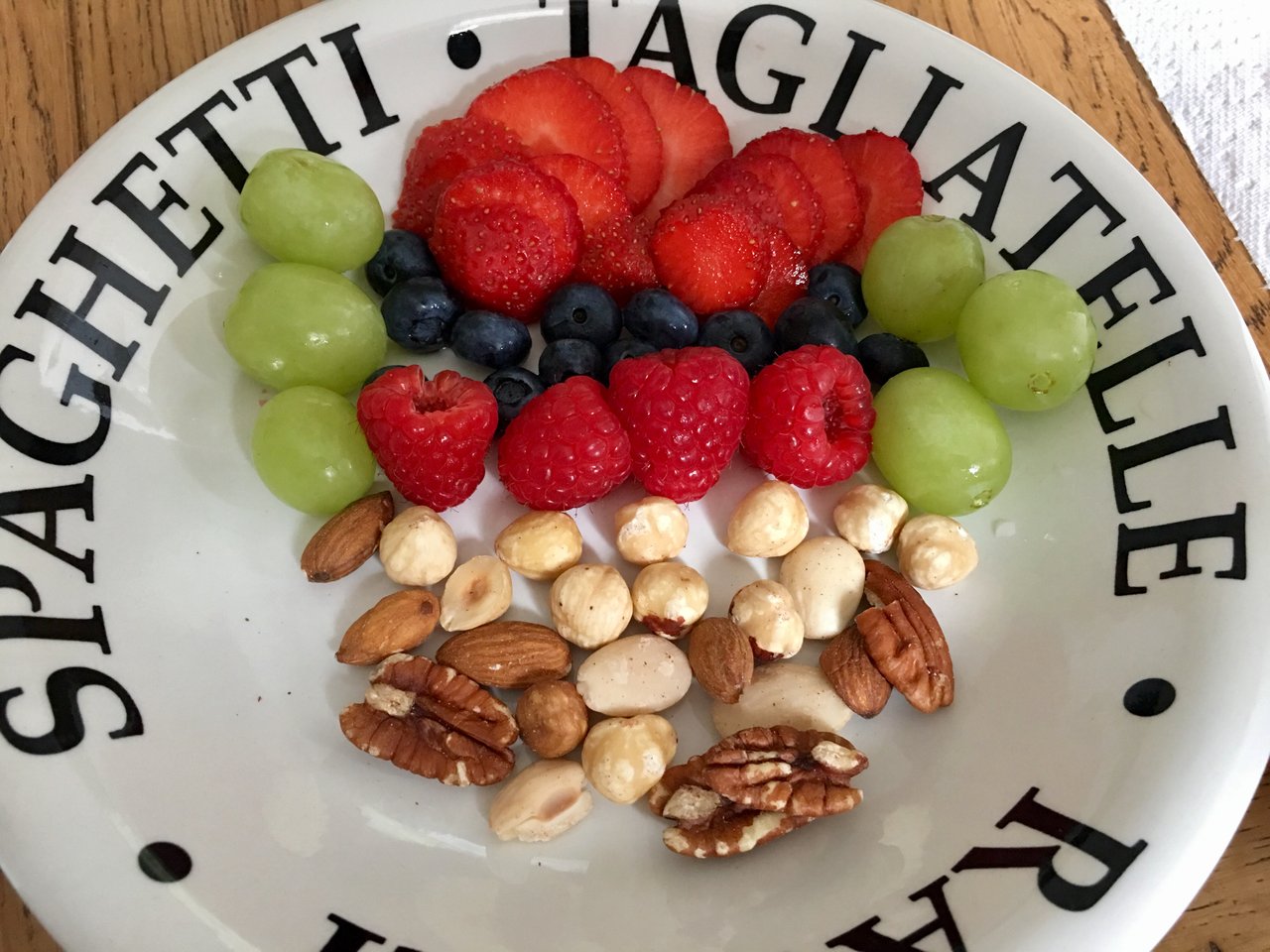 Yes! More fruit, 4 raspberries, 12 blueberries, 3 strawberries, 6 grapes and a handful of unsalted mixed tropical nuts to be exact. I usually pair this with a cuppa. That's British for "cup o tea". My tea game has gotten pretty impressive though, just ask @dandays.
DINNER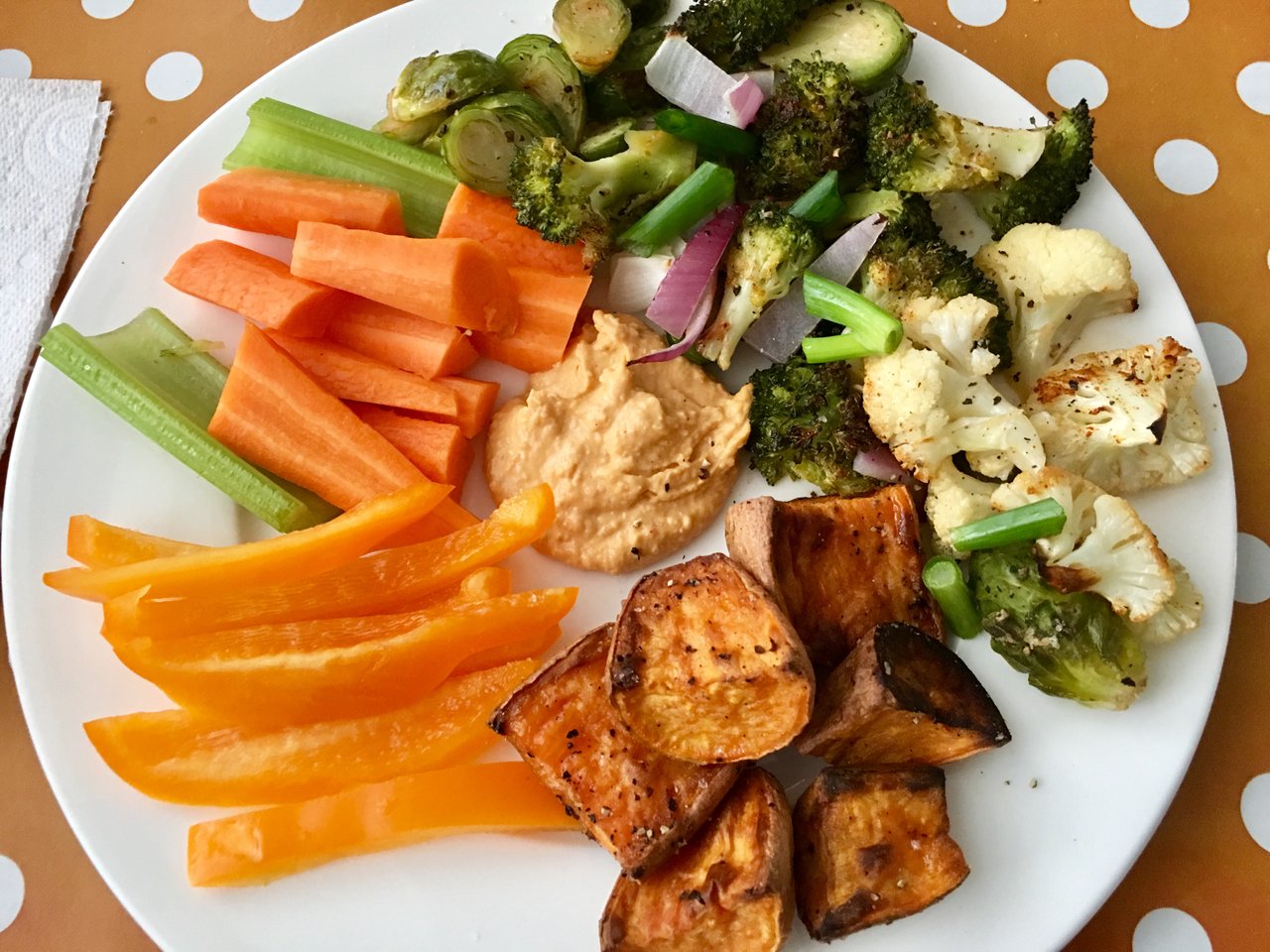 Half raw half cooked dinner plate. Sweet potatoes are my latest addiction (yes, I have plenty), paired with jalapeno houmous (that's how they spell it here), and of course my favorite roasted veggies. I also am appreciating the sweet juiciness of using raw bell peppers as a houmous dipper over pita bread. Yum, and totally guilt free. I know what you're thinking "dang, Dandays doesn't eat much". Don't you worry, his plates always look much more heftier than mine. Plus, I'm still working off all that "I need more biscuits" addiction so my plates a little smaller lately. Losing a couple pounds isn't the same at 35 as it was at 25. It is always much more fun getting the weight on than it is getting it off. At least I'm back on a rigorous running regimen, @plantstoplank 😉. Anyway, I digress…
Next…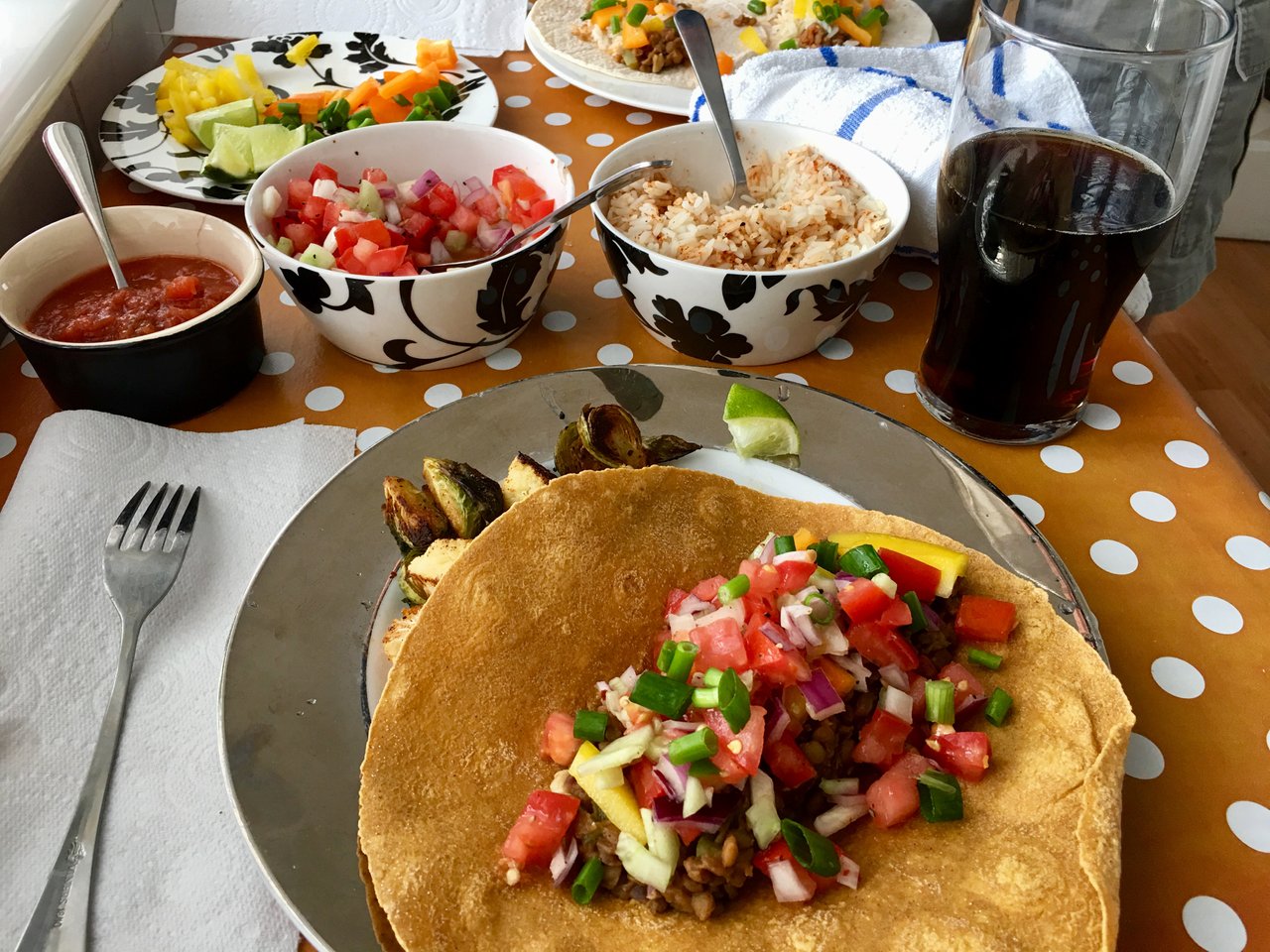 Smokey BBQ lentil tacos rolled in gluten free sweet potato tortillas and accompanied by roasted brussel sprouts. I love me some roasted brussel sprouts.
Next…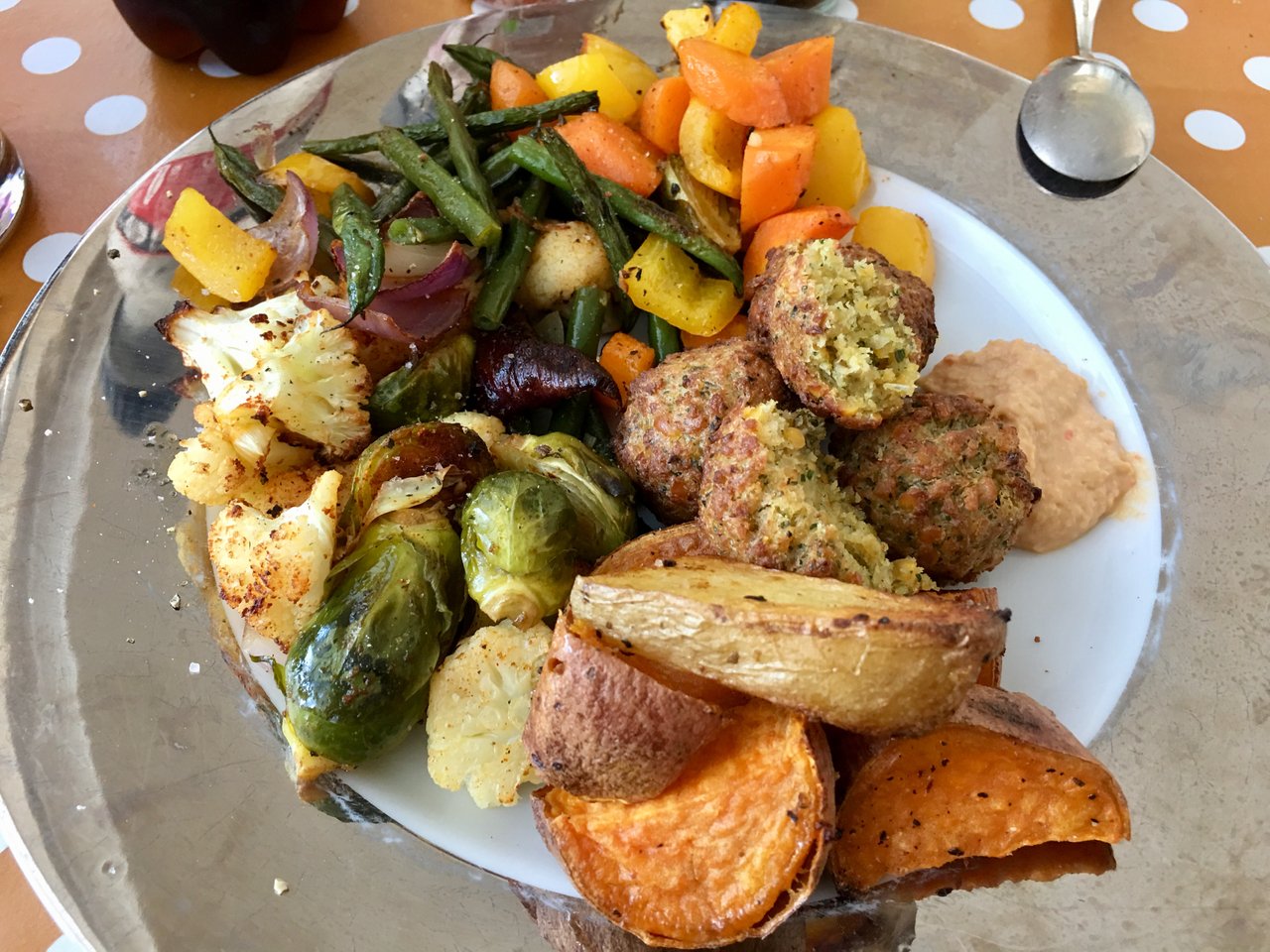 Sweet potatoes (I told you I have an addiction), Mediterranean store bought falafel, sweet chili houmous, garlicky green beans, almost burnt crispy Brussels with almost burnt crispy smoke paprika seasoned cauliflower and a roasted carrot bell pepper mixture. Is there such a thing as a veggie over load?
Next…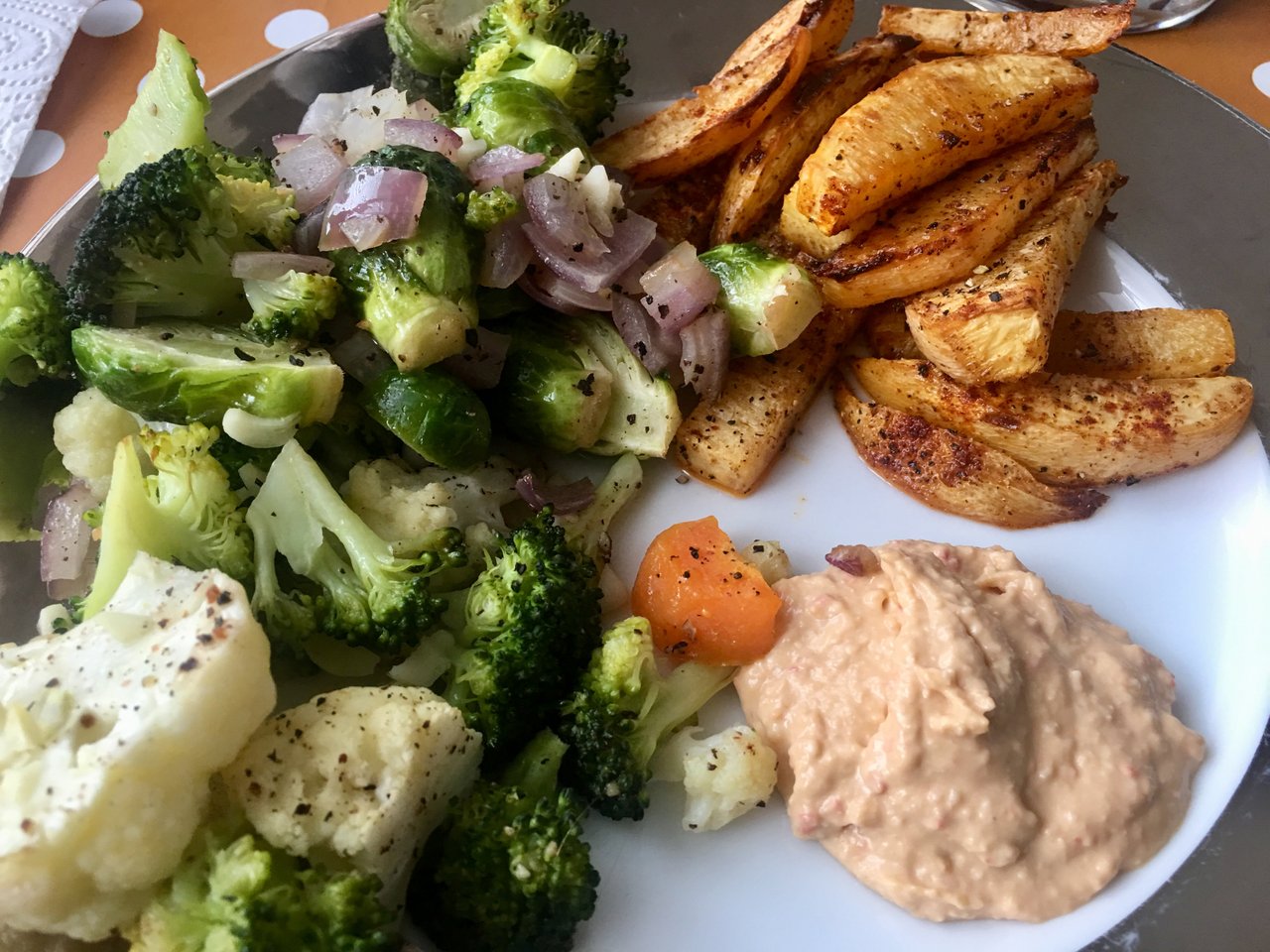 Okay, so I eat houmous for dinner a lot. Don't judge! Those are rutabaga fries by the way. I gave sweet potatoes a night off here.
Next…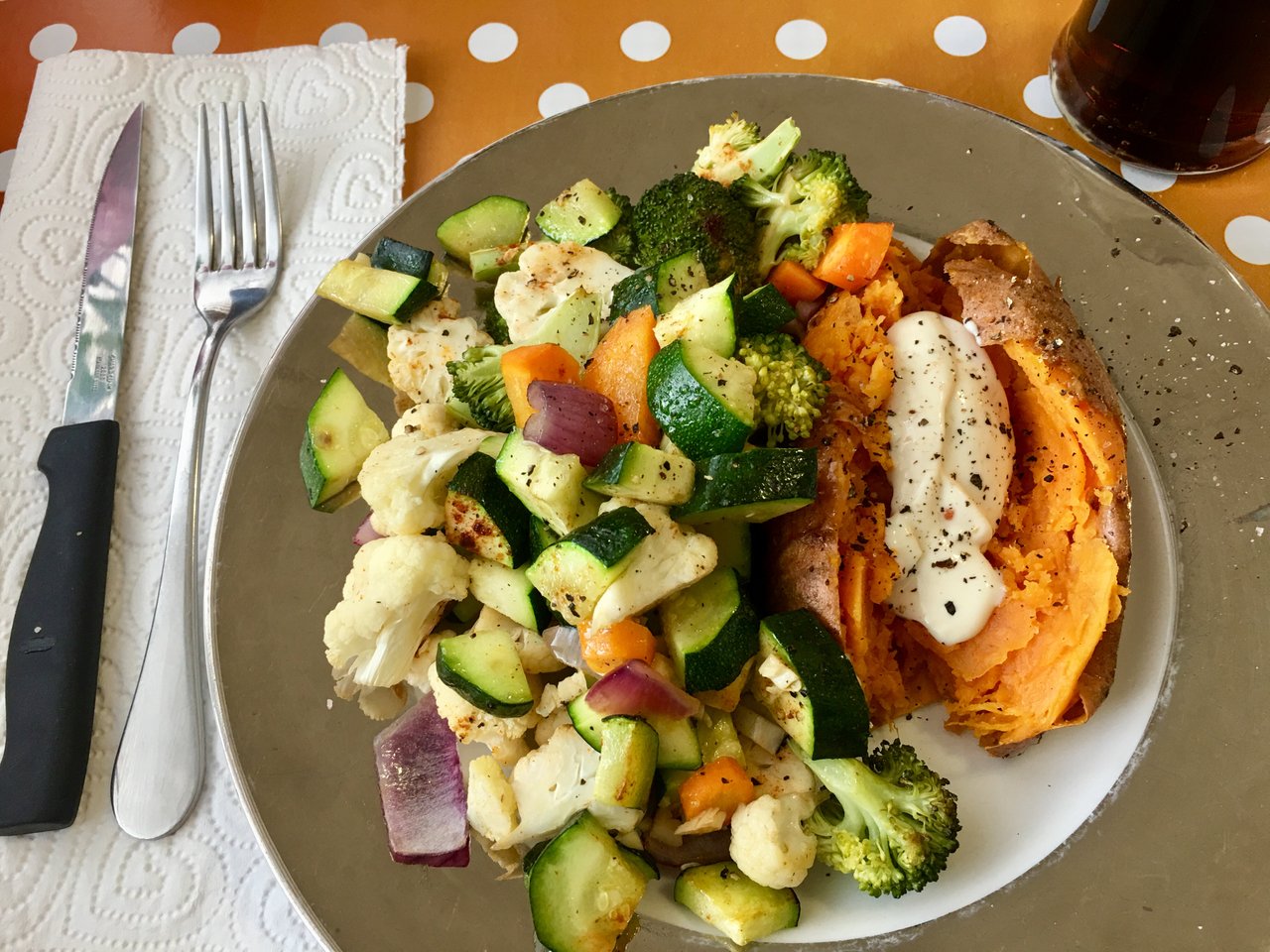 Back at it with the baked sweet potato and veggie medley. I added a dollop of soya plain Greek yogurt for the added benefits. Y'all know what I'm talking about. 🤡
DESSERT
Or as I like to call them "treat plates"…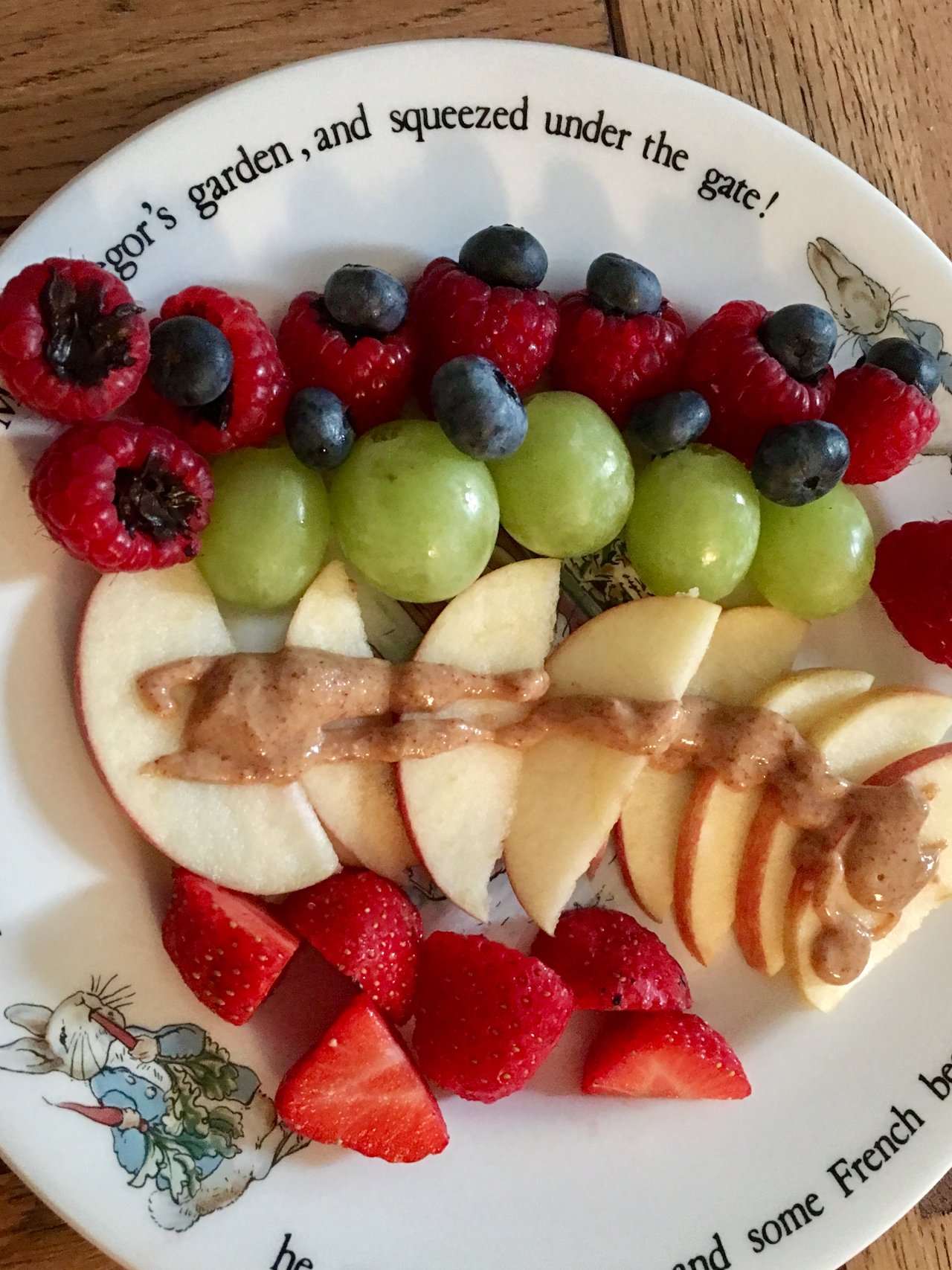 Dark chocolate hand stuffed (by yours truly) raspberries, 10 blueberries, 5 green grapes, 2 sliced strawberries, 1/2 an apple and a drizzle of all natural coconut peanut butter. Since this plate I've added the addition of cinnamon, sometimes a little maca, a pinch of pink salt and a cuppa (cup o tea with warm almond milk and xylitol sweetener). 😋
Next…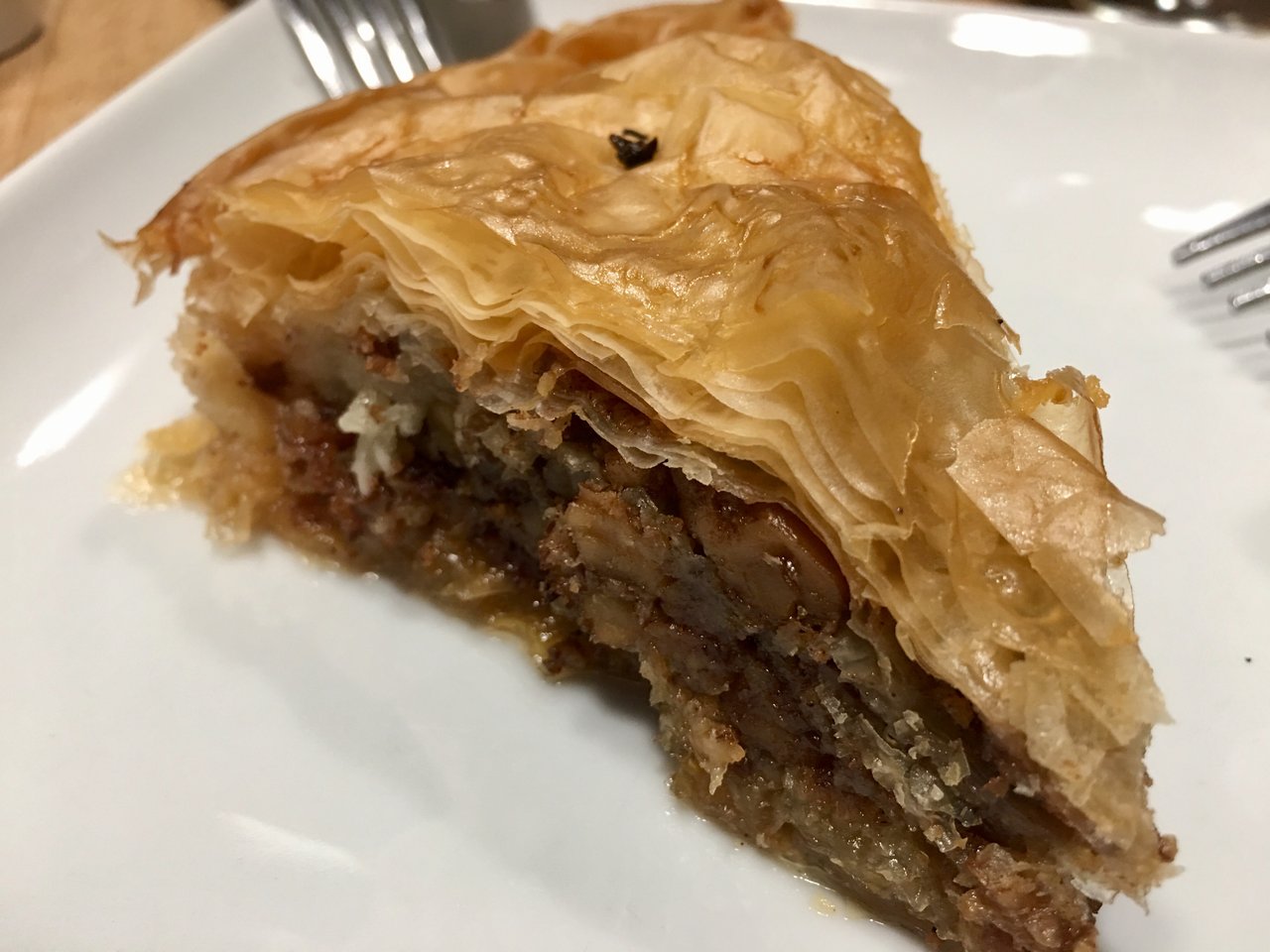 Last but not least I have a slice of proper baklava. This happens to be Greek baklava which I prefer over other baklava because it's made with walnuts over pistachios. Not that I don't love pistachios, I think I have a small nut addiction too, but the walnuts laced with the massive amounts of honey syrup is really where it's at for me. It's not , however, where my pre diabetic ass is at though. That girl is on the treadmill every day now getting her life together so this baklava was a freeze frame of a nice memory. Today, it's all about the yumminess without any of the chunkiness. Just kidding, I love the chunkiness and what's life without a little lovin' in the oven? 🕺🏻💃
Happy @foodfightfriday everyone. I'm really happy to have been able to join you this week. God bless anyone reading this page.
Toodles ✌️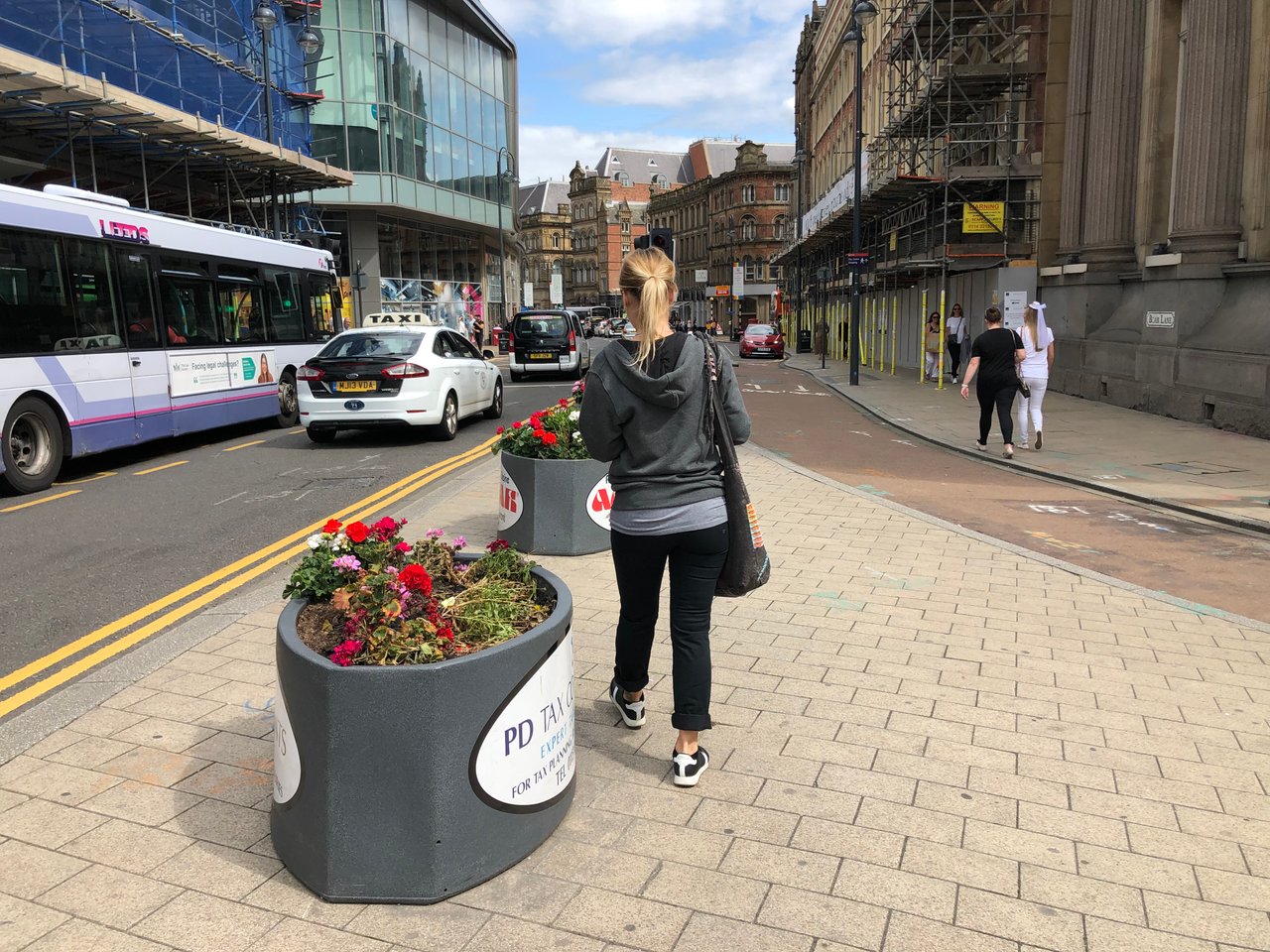 This is me walking off all that baklava so I can go repeat the cycle next weekend 🤦🏼‍♀️ "Damn You Baklava (simultaneously shaking my closed fist in an exaggerated way for the full effect)".