Hi everyone. It's been some time since I last published a Ramble. Life tends to get in the way. After three weeks of on and off labour my granddaughter will be born on Sunday, if she doesn't get her act together sooner. Her mom has been a real trooper through all of this but it's been a busy and stressful time for all of us. I must say, while my Steem posts have suffered, it has been nice to spend so much time with my grandsons.
I don't know if it's because it's summer time or the price of Steem but people in general aren't posting as often. I'm glad to see that the needlework community is growing and posting regularly.
I'm not sure if many of you are aware of the show I've been doing with @shadowspub called "Curation Corner" in the Steemit Ramble Discord on Tuesdays @2pm est. The show is about Manual curation, which is people seeking out quality posts and sharing them with others. This plays an important part in bringing to light good content creators who are often overlooked in the sea of posts on the platform. What does it take to produce a post which will get the attention of the curators? Myself, @artemisnorth, and @shadowspub, along with our guests, discuss posts we have currently curated and what factors in the post contributed to them getting noticed.
Even during my "break" I've been keeping up with posts and promoting our community when ever I get the chance. If you'd like to know how to polish your posts and understand what catches our eye then don't miss our show. If you aren't on Discord, follow @ramblingradio on dLive to watch the live stream..

Onward to today's rambling

@stef1
's beautiful painting was inspired by her time spent with her children at the botanical garden. What I love most about this post is the photos of her artistic process. I'm always amazed by the various ways that artists approach their craft. Beautiful work
@stef1
!

I've enjoyed watching
@vliet
's progress on her amazing Irish Crochet dress. This post shows us how her various motifs will come together to create this one of a kind garment. She shares her challenges and her determination to finish this project, even after being offered money to go buy one "just like it". Frankly, I don't think she'd ever find a dress as amazing as this will be. Super work
@vliet
!

I love the way
@bearone
has approached her tutorial for this poured acrylic art. She is prepping us with all the details of what materials we will need and how to prepare to begin and then makes us wait for the next post. She hasn't even included a photo of what our finished piece may look like. I love the anticipation. Thanks
@bearone
!

@barracudadiaries
has worked hard to finish this embroidered picture of her friend's camper in time for her 50th birthday. She included some new stitches she's learning and her process to create this sweet framed piece of art. Everyone needs a thoughtful friend like this. Great work
@barracudadiaries
!

@gmuxx
is "flexing his drawing muscles" in this humorous and instructive post. He's drawing Glory, the infamous "wild" raccoon who now lives with
@rhondak
and showing us how to create our own using Clip Studio Paint Pro. If you are interested in trying this yourself don't miss his review of the software linked in the post.

— uLog #28 - My Thoughts On Today's Headlines in S.W.O.
— uLog #27 - Updates On The Baby, Life, and Trying New Things.

Join the Fiberartists Curation Trail

If you'd like to be part of supporting the posts that I curate, you can join my curation trail. What that means is if you are part of the trail, when I vote on a quality post, your votes will automatically follow me. The trail name is Fiberartists.
You'll need to sign up at SteemAuto and I'd recommend you use SteemConnect when asked to give voting rights. That makes sure your keys are safe. Once registered, the link to the curation trail is right here. You can set the percentage of vote you wish to use in the settings once you join the trail.

Creatives' Coffee Hour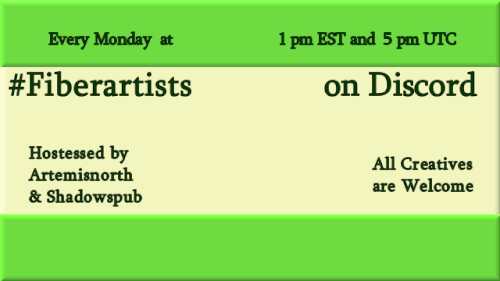 Join in on the fun! Come to the Creatives' Coffee Hour, Mondays @1pm edt on the Steemit Ramble Discord or view it live on Rambling Radio

Pimp Your Post Thursday
Don't forget, Pimp Your Post Thursday takes place every Thursday at 11am and 7:00pm EDT on the Steemit Ramble Discord. Come and join the fun promoting your posts and getting to know others.